The recently-published results of a 12-month study conducted by a team of doctors and researchers from Catania, Italy, shows that e-cigarette use substantially decreases analog cigarette consumption in patients suffering from schizophrenia.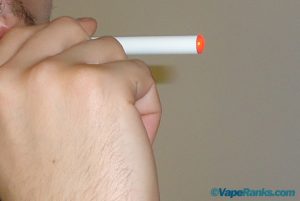 Quitting cigarettes is hard for the vast majority of smokers, but even more so for people suffering from schizophrenia. It's a serious mental disorder characterized by a breakdown of thought processes and by poor emotion responsiveness, affecting millions of people worldwide. Studies have shown that smoking is much more prevalent in patients suffering from schizophrenia than in the general population (in the US, 80% of schizophrenia-diagnosed patients smoke, compared to 20% of the general public), resulting in high smoking-related morbidity and mortality rates among this category of mental patients. Throughout the years, a series of theories regarding the connection between schizophrenia and smoking have been formulated. Some claimed cigarettes help diminish the symptoms of the disorder, while others said tobacco use accelerates its development by affecting neuro-chemical systems in the brain, or that both schizophrenia and smoking are caused by a common genetic vulnerability.
Science hasn't yet been able to identify the relation between schizophrenia and smoking, but what is really important is that cigarette consumption in psychiatric facility is often regarded as a normal social activity, and patients are rarely encouraged to quit. Acknowledging the health risks smokers expose themselves to everyday, and the almost immediate benefits of quitting, a team of doctors from the Mascalucia Psychiatric Rehabilitation Clinic, in Catania, Italy, decided to test the effectiveness of electronic cigarettes on a group of schizophrenia sufferers with no intention to quit smoking, over a period of 12 months. The need for this pilot study involving e-cigs arose from the fact that currently used smoking cessation drugs have serious side-effects. In patients with a history of mental illnesses who have taken the drug vareniciline, reported symptoms include depression, suicidal thoughts, and suicide, and bupropion, another popular stop-smoking drug, cannot be used by people suffering from epilepsy or any condition that lowers the seizure threshold, nor by those who use monoamine oxidase inhibitor drugs. This kind of medical products have proven particularly ineffective in schizophrenia patients, so electronic cigarettes were chosen for their ability to deliver nicotine and "provide a coping mechanism for conditioned smoking cues by replacing some of the rituals associated with smoking gestures".
For this study, the team made up of Pasquale Caponnetto, Roberta Auditore, Cristina Russo, Giorgio C Cappello and Riccardo Polosa selected 20 schizophrenia patients from the Mascalucia psychiatric clinic, who had been smoking at least 20 factory-made tobacco cigarettes per day, for the last 10 years. Of these, they excluded those who reported recent myocardial infarction, angina pectoris, high blood pressure, diabetes mellitus, severe allergies, poorly controlled asthma or other airway diseases. In the end, of the 20 candidates, 14 were deemed able to actually go through the 12-month e-cigarette study. They were asked to use electronic cigarettes ad libitum (up to a maximum of four 7.4 mg nicotine cartridges per day, as recommended by the e-cig manufacturer), and asked to attend six study visits at a smoking cessation clinic. Detailed toxicology and nicotine content analysis were carried out by a laboratory certified by the Italian Ministry of Health.
At the initial visit, their nicotine dependence was measured by means of Fagerstrom Test of Nicotine Dependence questionnaire, as well as their positive and negative schizophrenia symptoms and the levels of carbon monoxide in exhaled breath. Participants were then asked to come back at week 4, week 8 and week 12 to receive cartridge supplies, to have the levels of CO2 in their lungs measured and report any positive or negative symptoms related to electronic cigarette use. At week 24 and week 52 they had to report daily cartridge use (units per day), the number of cigarettes smoked, have the CO2 measured and assess the positive or negative symptoms of schizophrenia. Since the study was observational in nature, no incentives or rewards were offered for smoking reduction or cessation.
After the 12-month study, the Italian researchers reported "surprisingly high success rates" in healthy smokers not intending to quit. The primary finding was a 50% reduction in cigarettes smoked per day (from 30 to 15 cigs a day), in 7 out of the 14 test subjects, at week 52. Two of the patients quit smoking and a substantial decrease in the level of CO2 was reported in all patients. Overall, a combined sustained 50% reduction and smoking abstinence was shown in 9/14 (64.3%) of schizophrenia sufferers. The number of e-liquid cartridges used per day varied from 4 to 0.
The most frequently encountered side-effects associated with the use of electronic cigarettes were nausea, shown in 2/14 (14.4%), throat irritation shown in 2/14 (14.4%), headache shown in 2/14 (14.4%), and dry cough shown in 4/14 (28.6%).  Most of these symptoms appeared in the early stages of the study, but seemed to wane spontaneously by week 24 and were never reported again until the end of the year-long test. Common withdrawal symptoms like depression, anxiety, insomnia, irritability, hunger or constipation were not reported, nor other serious adverse events requiring visits to the doctor or hospitalization. Positive or negative schizophrenia symptoms were not increased after smoking reduction/cessation in patients using e-cigarettes.
This pilot study has "shown for the first time that the use of e-cigarettes substantially decreased cigarette consumption without causing significant side effects in chronic schizophrenic
patients who smoke. The authors of the research believe "these preliminary findings are of great importance considering that chronic schizophrenic patients who smoke are generally not interested in quitting. The large magnitude of this effect suggests the e-cigarette may be a valuable tool of tobacco harm reduction in this special population. These positive findings may be explained by the great compensatory effect of e-cigarettes at both physical and behavioral level; in particular these products are known to provide a coping mechanism for conditioned smoking cues by replacing some of the rituals associated with smoking gestures (e.g., hand-to-mouth action of smoking). In agreement with this, we have recently demonstrated that nicotine free inhalators can only improve quit rates in those smokers for whom handling and manipulation of their cigarette played an important role in their ritual of smoking ."
Although the findings are of great importance, there are some limitations to this 12-month study. First of all, this was an uncontrolled small study, so there is a chance the results observed may be due to a chance finding and they should be interpreted with caution. Also the assessment was done simply by inquiring about symptoms like presence/absence of irritability, restlessness, difficulty concentrating, increased appetite/weight gain,depression or insomnia, a method that is likely to recall bias.
Four of the doctors involved in this study (Pasquale Caponnetto, Roberta Auditore, Cristina Russo and Giorgio Carlo Cappello) declare no conflict of interest, while Riccardo Polosa has received lecture fees and research funding from Pfizer and GlaxoSmithKline, manufacturers of stop smoking medications, and served as a consultant for both Pfizer and Arbi Group Srl (the Italian distributor of electronic cigarettes used in the test).
Sources: International Journal of Environmental Research and Public Health