With most governments around the world considering excessive regulations and taxes for electronic cigarettes, things aren't exactly looking up for us vapers, but we should always keep in mind that the situation could be much worse. A good case in point is the recent arrest of a popular Thai blogger for possession of an electronic cigarette and a bottle of e-liquid.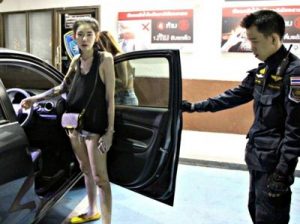 29-year-old Manusaya Yaowarat, a Thai blogger and internet idol, was recently arrested following a routine police checkpoint. Her crime – possession of an electronic cigarette, which has been illegal in the country since 2014. In a video that has been doing the rounds online for the past two weeks, Yaowarat, better known by her pseudonym "Fluksri Maneedeng", can be seen arguing with police officers and being physically assaulted by them as she repeatedly asks "What have I done wrong? Why are you jailing me?".
Unfortunately for the young blogger, the policemen's actions are fully justified under a law that prohibits the import, export and possession of electronic cigarettes in Thailand. People still use them, but they are technically breaking the law every time they do, and face up to 10 years in jail for it. While reports of hefty fines, especially for tourists caught vaping in the country, have been reported in the past, this is the first time I've heard of anyone actually being arrested for simply owning an e-cigarette.
Manusaya Yaowarat was pulled over by police in Pattaya, at the beginning of December, during a routine traffic checkpoint. Upon searching her car, policemen found an e-cig and a bottle of e-liquid, which the blogger admitted to purchasing for 5,000 baht ($153). She was taken to the local police station and subsequently jailed, despite her protests.
Yaowarat was eventually released on bail, but it's unclear whether she still faces charges for her "crime".
So the next time you feel oppressed for not being allowed to vape indoors, just try to tell yourself that things could be much worse.
via Thai Visa