With an estimated budget deficit of $54 billion, due to the coronavirus pandemic, California is desperate to rake in some revenue, and it reportedly has its sight on vaping with a proposed vapor tax which, if passed, will make tobacco cigarettes more affordable than nicotine-containing e-liquid.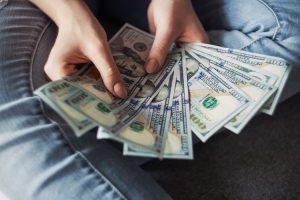 According to the Tax Foundation, when California Governor Gavin Newsom (D) submits his revised budget later this week, it will contain a vaping tax increase allegedly designed to discourage youth vaping in the state. But while it is true that nicotine consumption by youths is a real concern, it deserves a targeted response, not a weed wacker-type approach that affects everyone in the vaping community, be they adult users or businesses. Unfortunately, it gets worse – by imposing an additional tax at a rate of $2 for each 40 milligrams of nicotine in e-liquid, the new vapor tax would essentially make smoking cheaper than vaping.
"Considering that cigarettes are taxed at $2.87 per pack of 20, the proposal means that nicotine users could lower their tax liability by switching from vaping to smoking," The Tax Foundation's Ulrik Boesen writes. "This inconsistency goes against the concept of harm reduction, which is the approach that it is more practical to reduce harm associated with use of certain goods than avoiding it completely through bans or punitive level taxation."
We're not even talking about a level playing field for tobacco smoking and vaping anymore, let alone encouraging the use of the less dangerous of the two, this proposed tax would basically offer a financial incentive for people to go back to smoking. Forget the ample scientific and medical evidence that vaping is considerably safer than smoking tobacco, let's tax nicotine by quantity just so we can destroy the sector and fill our coffers.
The Tax Foundation makes a good point about the idea of an excise tax based on a component of tobacco that experts agree is not the one causing the most health harm. We've known for years that although nicotine is a very addictive chemical, but  it's not the one causing all the health problems and ultimately leading a whopping 50% of smokers to an untimely demise. That's mainly the doing of the tar and the carbon dioxide in cigarette smoke, both of which are byproducts of combustion.
So Newsom's proposed vapor tax does not target harmful behavior, instead it focuses on the addictive component in a product designed to help people quit the known harmful behavior. In a state known for having the highest number of e-liquid manufacturers, it seems designed to wipe out the industry and push vapers back to smoking.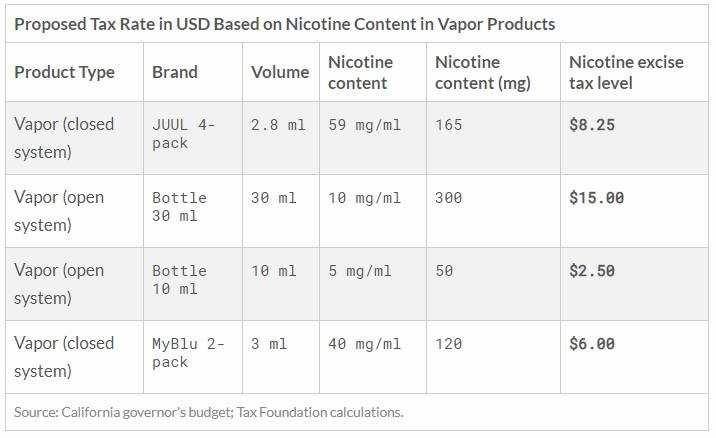 Photo: Tax Foundation
Finally, there is the danger of a black market developing in the state. Cigarette contraband is a clear example of a well-developed black market that is costing the Government billions in lost taxes every year, and with e-liquid tax potentially higher than that on cigarettes, the risk of an unsafe and unregulated nicotine black market is imminent. You would think that the recent EVALI health crisis, which was proven to have been caused by illegal THC cartridges would have taught authorities and lawmakers a lesson, but I guess that wasn't the case.
Governor Newsom's vapor tax would take effect on January 1, 2021 and is forecasted to raise $32 million in the fiscal year 2021, with proceeds being allocated to administration, enforcement, youth smoking prevention, and health care workforce programs.
The likelihood of a new tax bill passing in the context of the global pandemic and the threat of an unprecedented economic recession is very low, but you never know. Plus, the simple proposal of such a tax is bad enough, and speaks volume of what California's Government thinks about harm reduction.
Featured photo: Alexander Mils/Unsplash