Exposure to electronic cigarette vapor may weaken the body's defenses against pneumonia and the flu, according to a study conducted by scientists at the Johns Hopkins Bloomberg School of Public Health.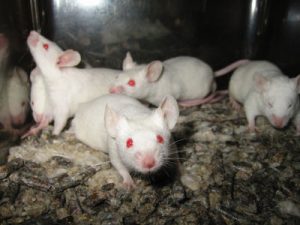 Researchers exposed a group of lab mice to e-cigarette vapor twice a day for two weeks, at a level designed to proportionally mimic the amount a person who vapes daily would normally inhale. They then administered some of the mice with an influenza virus and others with the streptococcus pneumoniae bacteria responsible for pneumonia, sinusitis and other illnesses.
Compared to the control group of mice, the ones exposed to e-cigarette vapor appeared to be less able to fight the illness. Their immune responses was apparently weakened to such an extent that two out of ten mice eventually died. "E-cigarette vapor alone produced mild effects on the lungs, including inflammation and protein damage," said Dr. Thomas Sussan, lead author and an assistant scientist in the Department of Environmental Health Sciences at the Bloomberg School. "However, when this exposure was followed by a bacterial or viral infection, the harmful effects of e-cigarette exposure became even more pronounced. The e-cigarette exposure inhibited the ability of mice to clear the bacteria from their lungs, and the viral infection led to increased weight loss and death indicative of an impaired immune response."
Professor Shyam Biswal, senior author of the study, believe the findings prove electronic cigarettes are not neutral in terms of effects on the lungs. This, he argues, warrants further study in "susceptible individuals, such as COPD (chronic obstructive pulmonary disorder) patients who have switched from cigarettes to e-cigarettes, or to new users of e-cigarettes who may have never used cigarettes."
The new research, published in the PLOS ONE journal, also detected DNA-damaging toxins known as free radicals in e-cigarette vapor, although at levels 100% lower than in tobacco cigarettes. Still, scientists claim they still pose a health risk. "We were surprised by how high that number was, considering that e-cigarettes do not produce combustion products," Dr Sussan in a statement. "Granted, it's 100 times lower than cigarette smoke, but it's still a high number of free radicals that can potentially damage cells."
Unfortunately, this isn't the first study to report higher risk of respiratory infections linked to e-cigarette use. Last year, Laura E. Crotty Alexander, MD, and her colleagues at VA San Diego Healthcare System and UC San Diego found that electronic cigarette vapor may make the methicillin-resistant Staphylococcus aureus (MRSA) bacteria even harder to treat, and a study conducted by researchers at National Jewish Health hospital in Denver reported that e-cigarettes damage healthy cells and can cause respiratory infections.
Professor John Britton, director of the UK Centre for Tobacco Control Studies, didn't contest the latest findings but did point out that the most important point was that harm to the lungs was less from e-cigarettes than from tobacco. "The lung is an exquisitely delicate organ and therefore nobody with any common sense would believe that inhaling heated vapor many times a day would be harmless," he said.  "What matters here is not a comparison of the effects of e-cigarette vapor compared with nothing, but the effects compared with those of tobacco smoke."
"Harm to the lungs will be less with electronic cigarettes than tobacco cigarettes, and any smoker who cannot quit using nicotine, and doesn't find medicinal products effective, would be well advised to try an electronic cigarette," Britton added.
Photo: Aaron Logan