According to a new study conducted by researchers at National Jewish Health hospital in Denver, electronic cigarettes damage healthy cells and can cause respiratory infections.
Very few details about this recent study have been revealed. Apparently, researchers lead by Dr. Hong Wei Chu hooked up one end of the device pictured below to an electronic cigarette and placed cells from the airways of healthy, young, non-smokers at the other end. They found that after just 10 minutes of exposure, the cells were damaged. Moreover, it was reported that the damage lasted for 24 hours or more, and it didn't matter whether the e-liquid used contained nicotine or not.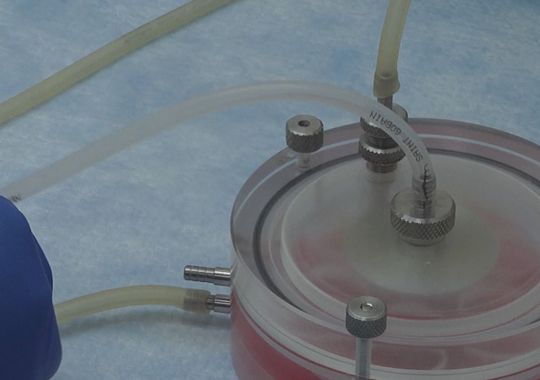 Talking to 11Alive reporters, Dr. Chu stated that the findings are especially troubling since electronic cigarettes are flavored to appeal young users. "When you flavor them that way, not only are they appealing, but, falsely, the user sees them as 'Oh, no big deal. They're not bad for me,'" Chu said.
Unfortunately, that's about all we have on this story so far. It's basically a stub, not a real news report, and yet, as it always happens with negative stories on electronic cigarettes, it was quickly picked up by the media and served to unsuspecting readers, many of which will probably give up on vaping and go back to smoking analogs.
Hopefully, health experts like Dr. Michael Siegel or Dr. Konstantinos Farsalinos will be able to dig deeper into this mysterious study, and shed some light on the matter, as they have done in the past. The problem is not with the result of such research being a negative one, but with the way it is reported, interpreted and fed to the public.