House Republicans rejected an amendment to a spending bill that would require e-cigarettes currently on the market to be subject to a Food and Drug Administration pre-market review process. Republicans based their vote on the fact that the lengthy and costly approval process would drive the vast majority of small e-cigarette companies out of business.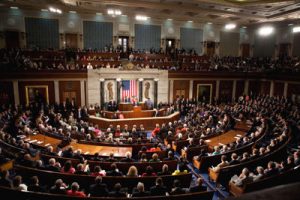 The amendment, which was proposed Rep. Nita Lowey of New York, the top Democrat on the Appropriations Committee, sought to to remove a provision in the bill that exempted e-cigarettes and other unregulated so-called tobacco products from a pre-market review process included in the proposed deeming regulations issued by the FDA in April 2014. Basically, all new electronic cigarettes and those introduced on the market after 2007 would have to apply for approval by the FDA within two years of when the regulations come into effect. The products can still be sold during the review process, but if they are not found to be "appropriate for the protection of the public health" they can be taken off the market.
The Food and Drug Administration is known to take long periods of time to go through the mountains of paperwork and evidence needed to grant approval, and with literally thousands of different products and brands out there, it could take years for new vaping technology to be reviewed and approved. Not only that, but the cost of this process would be prohibitive for about 99% of the vaping industry. The FDA estimated that it would cost around $330,000 per product application, but more realistic estimates put the costs into the tens of millions of dollars. Imagine the accumulated costs for companies that sell multiple e-cigarette models or e-liquids.
Republicans voted 26-23 to reject the amendment, arguing that the pre-market approval process would be too time-consuming and costly and could potentially drive companies out of business. They added that the rejection was merely a technical change that would still keep e-cigarettes launched on the market after 2007, but before the final regulations, under FDA oversight, but allow them to be treated like older models. That sounds like a logical argument to me, but Rep. Nita Lowey of New York characterized the Republican vote as "nothing short of a giveaway to the tobacco industry".
With all due respect to Rep. Lowey, it's her amendment and the proposed regulations of the FDA that are a clear giveaway to Big Tobacco. You see, before the year 2007, the only electronic cigarettes on the market were the so-called cigalikes – small, now obsolete devices that mimicked tobacco cigarettes. The vast majority of brands that still sell this kind of e-cigs are now owned by tobacco companies. That's actually the only type of e-cigarettes they sell. You know, the ones smokers can find in gas stations and convenience stores for when they can't light up. Cigarette companies sell none of the second and third generation e-cigarettes that have been proven to be more effective in delivering nicotine and offering a satisfying vaping experience. Those are the ones that would have to be submitted for pre-approval, not the cigalikes sold by Big Tobacco. So who's helping who?
Public health groups are apparently concerned that without Lowey's amendment, the legislation could make it difficult for the FDA to prevent tobacco companies from marketing these newer products to kids. Leading tobacco control advocacy organization Campaign for Tobacco-Free Kids issued a press release titled "U.S. House Panel Puts Big Tobacco's Interests Ahead of Kids' Health", condemning their vote and warning the public about serious consequences on public health.
"Many of these products are aimed at children, including a substantial number of the 7,000 flavors of e-cigarettes … bubble gum, gummy bears, swedish fish," Lowey said, referring to the now several times debunked gateway theory, which claims e-cigarettes push youths to smoking.
"E-cigarettes is not really smoking," Rep. Andy Harris (R-Md.) told The Hill. "I think most people realize they are less dangerous than cigarettes and yet we're subjecting them to a higher level of regulation." Actually not that many people do, actually. A recent national survey shows just little less than half of American adults (49%) now think electronic cigarettes are as harmful or more so than smoking. And that's all thanks to disinformation from the FDA, CDC and WHO, served up by the media on a daily basis.
Even if the bill goes through without the amendment proposed by Rep. Nita Lowey, it's still bad news for the vaping community. Every single product that hits the market after the final FDA regulations come into effect will still have to go through pre-market review, which will undoubtedly stifle innovation in the industry. Right now, new and improved vaping products are launched almost every day, but how many developers do you think could afford paying millions for every one of their new inventions and waiting years for the FDA's verdict? But do you know who can? I'll give you a hint – they are already making billions by selling potentially deadly cigarettes to millions of smokers around the world.
We can only hope that the FDA changes its proposed regulations for electronic cigarettes, which right now seems very unlikely, or that Congress forces the agency to drop its requirement for pre-market review. Do you believe in miracles?