A new e-cigarette study financed by Scottsdale-based NJOY and led by independent researchers and led by independent researchers Mitchell Nides, Ph.D., and Scott Leischow, Ph.D., found electronic cigarettes show great smoking reduction and cessation potential. The research has been approved for publication in the American Journal of Health Behavior and will be published online on October 1,2013.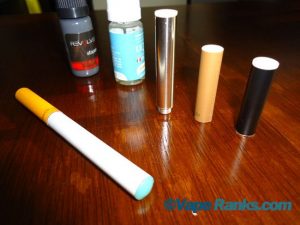 The week-long pilot study evaluated the short-term potential for smoking reduction or cessation of electronic cigarettes, and involved 28 smokers aged 18 – 65, who were not interested in quitting. They were asked to use the NJOY King e-cigarette during the research period, and by the final evaluation stage, 25 of them, nearly 90%, had significantly reduced their tobacco cigarette consumption. Almost a third of those smokers had cut their cigarette use by 50%, and four reported they had given up smoking completely by the end of the trial of NJOY Kings. According to the study, the average reduction in participants' cigarettes smoked per day was of 39%. Researchers also found that e-cigarette nicotine consumption was comparable to that of nicotine-replacement products approved by the Food and Drug Administration. This suggests the used electronic cigarettes deliver enough nicotine to suppress users'craving.
Mitchell Nides, director and co-developer of Picture Quitting, the Entertainment Industry's Quit Smoking Program, said the study didn't follow up with to see whether the participants' cigarette use remained lower after the end of the trial period, but noted that the results are "a very good signal to go forward" and that electronic cigarettes "have tremendous potential as a smoking-cessation aid". He agrees more research is needed but thinks "there's real potential for efficacy, with potentially few side effects."
Dr. Richard Carmona, who joined NJOY's board of directors this spring as chairman of the company's scientific advisory committee told CNBC that "there's no tobacco in electronic cigarettes. We just have a different delivery system [for nicotine] that reinforces the habit of holding a cigarette, but without those toxic, carcinogenic properties." He agrees no health claims should be made for e-cigarettes without the proper science to support them, but added that "if we stopped tobacco use today, 80 percent of the lung cancers would go away—not today, but in the future". As surgeon general during the George W. Bush administration, Dr. Carmona was a fierce critic of tobacco.
This pilot study is another piece of evidence that e-cigarettes can help smokers quit, although it will probably be overlooked just like most of the research that reported positive results about electronic cigarettes.