Asvape Michael 200w Mod Review
The Asvape Michael is a 200W box mod featuring the highly-regarded VO Chipset and an eye-catching paint finish inspired by traditional Japanese paintings. Both the Chinese manufacturer and the board were completely new to me, but what really caught my attention and ultimately made me want to try out this device for myself was the look. It may not appeal to everyone, but it definitely stands out. I've always been fascinated by Japanese culture and I though the Michael would be a worthy addition to my growing collection of mods.
Before we get into the review, I just want to point out that Asvape offers different versions of the Michael mod, The one I received, with the Japanese art style, is called "Devil's Night Edition", but they also have a "Walking Dead" model, which is supposed to be a tribute to Michael Jackson's "Thriller", and a "Stabilization Wood" version, which costs a whopping $280, more than twice the price of the other two Michael mods. Not sure why that is, but unless it's gold plated, that's an insane price to pay for any dual-18650 vape mod.
A Look at the Contents
They say first impressions are very important, and the Asvape Michael makes a very good one thanks to its packaging. It comes in a large rectangular box, with a glossy picture of the device and the Asvape logo, on the front, and a list of contents and company information on the back. The box itself actually slides out from a sturdy cardboard holder, and opens by raising one of its corners to reveal the device. It may not sound very impressive, but it really looks a lot better than most of the packaging used these days, and reminds me a lot of the boxes used by the large cigalike companies like V2 Cigs and Apollo, back in the day. They put a lot of effort into presentation, and it's nice to see some companies doing the same today.
Inside the box, we have the Asvape Michael Devil's Nice Edition sitting snug in a large foam holder, and if you take that out, you'll also find a small cardboard box containing a micro-USB cable for charging/firmware upgrades and a small user manual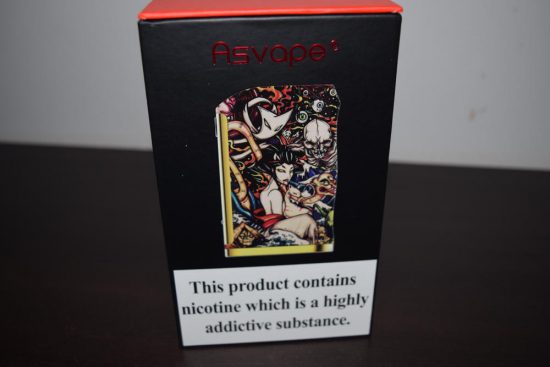 In terms of contents, the Asvape Michael kit is pretty standard, but, like the mod itself, it is definitely a looker.
Design and Build Quality 
The Asvape Michael measures 91.5 mm x 60 mm x 28, which makes it considerably larger than most dual-18650 mods on the market today. The largest I have seen this past year was the Smoant Charon, but the Michael 200W is even bigger in all respects (length, width and thickness). I do prefer smaller devices, like the SMOK Alien or Wismec Predator, because they feel much better in the hand, but I do appreciate that the size of the Asvape Michael gave the designers more space to showcase the badass Japanese artwork. Plus, I know that there are vapers out there who actually prefer these bulkier dual-battery mods.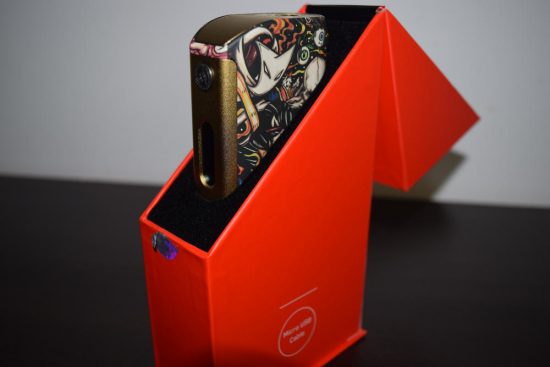 I have no idea what the Asvape Michael is made of, because most of it is coated in a special material which I can only assume is a polymer clay. Some people are referring to it as a rubberized finish, but it's definitely not that. It does feel soft and smooth to the touch at first, but just tap on it with your fingernail and you'll see it's a lot tougher than rubber. It feels like hardened Fimo to me, so that's what I'm going with.
The coating on the Michael looks perfectly smoothed out, but run your fingers over it and you'll feel that the texture is irregular, kind of like the artwork on it was drawn in relief. It wasn't, but it definitely feels that way to the touch.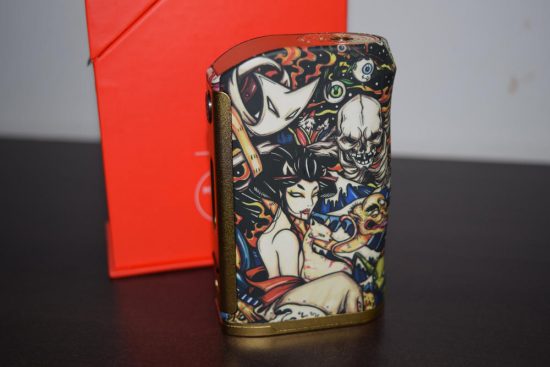 The Japanese style artwork covering both sides of the Asvape Michael is very well done. The Chinese company claims it was created by a "famous illustrator", although they don't bother naming him/her. The design features, geishas, skeletons, creepy eyes, snowy mountaintops, all blending together to create an eclectic effect. It will definitely not appeal to everyone, especially those who prefer a cleaner, inconspicuous look, but I for one find it appealing. The only thing I don't like about the artwork is that it's the same on both sides of the device. I would have much rather that the whole thing feature a single continuous design all around the mod, instead of a mirrored image, but otherwise it's pretty cool.
The few visible bits of metal are on the top, around the 510 connection, on one of the narrow sides of the box mod, around the LED display and buttons, and the battery door on the bottom. As far as I know they are made of aluminum, but I am not 100% certain, and Asvape doesn't specify what type of metal they are using.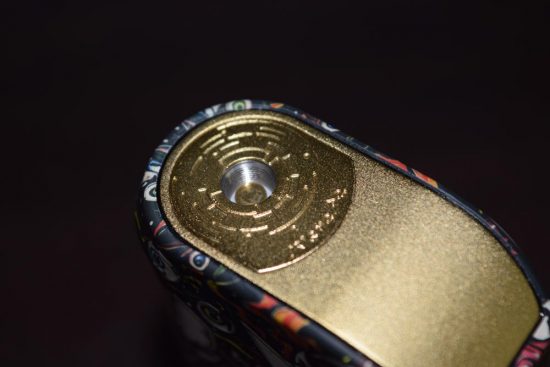 The Michael has a very solid-looking 510 connection, featuring a spring-loaded pin that looks gold plated and has a fair bit of travel to it. You can easily fit a 28-mm diameter atomizer on this device without any overhang whatsoever, and even a 30 mm one will look decent, although it will overhang a little bit on the sides. The connection is made out of stainless steel, but is covered with a golden aluminum plate to match the rest of the metal parts.
The metallic fire button is probably the most impressive design element of the Asvape Michael, featuring both the company logo and its motto. "Aequitas. In Asvape we trust". The display is medium size but has a very efficient layout, offering a wealth of information, and is bright enough to be visible even in strong sunlight. The "+" and "-" buttons are covered by a black plastic bar,. and underneath that is the micro-USB port.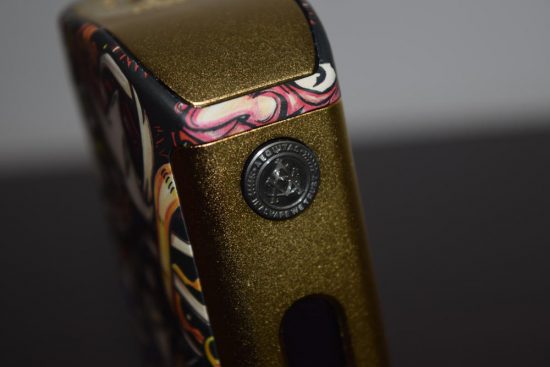 Finally, the battery door is by far the most disappointing element of the Asvape Michael. It's basically a metal plate that slides over the mod on a kind of rail system, locking in place with the help of a pair of magnets. The problem is that it does not work as well as the designers intended. For one thing, it rattles every time you set your mod down on a hard surface, or even when you tap it with your fingernail. The rail system isn't very sturdy either, and I've noticed that it takes very little pressure to slide the battery open. I can't say that it has come off by accident in the two weeks that I've been using it, but seeing as I can slide it open with my little finger, it's definitely not the most solid battery door I've ever seen, not even close.
One other thing I've noticed was that if I shook the mod vigorously, I could hear the batteries moving inside the vape mod. This doesn't happen under normal usage conditions, but I don't think it's right for the batteries to be rattling like that, ever.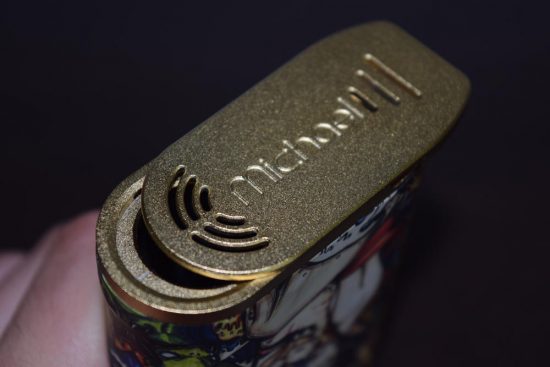 If it wasn't for that battery door, I would say that the build quality and design of the Asvape Michael are impeccable, but this is a $120 vape mod, and such flaws are simply inexcusable. I have no idea who came up with that battery door, or how it got approved by quality control, but they should definitely come out with a version 2 or something, because it just doesn't match the overall quality of the device.
Menu System and Navigation
The Asvape Michael is powered by the VO chip, and the Chinese company seems very proud of that, mentioning it every chance they get, both on the box, on their website and even on the mod's display, when it turns on. I have never used VO chip device before, so getting used to it took a while, but I eventually became familiar with it and I actually grew to like it.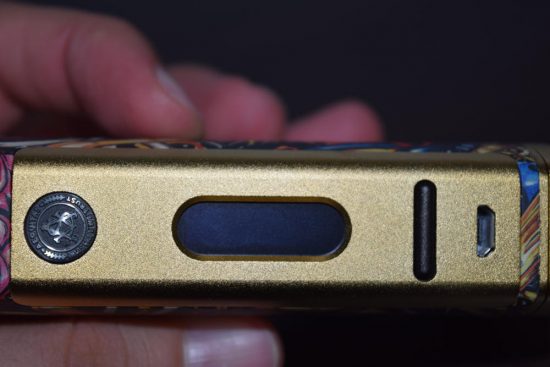 Most vape mods are turned on and off by pressing the fire button five times in rapid succession, but that it only half-right for the Michael 200W. You do turn it on by pressing the fire button five times, but when it's on, pressing that button five times once again, actually takes you into the settings menu. And this is where thing get really confusing for new users. The navigation is completely different from any other mod I've ever used, and it requires some patience to figure out. I'll try to explain it in a nutshell, but there's nothing like hands-on experience.
Once you access the menu, you'll notice that the "Power" indicator in the lower left corner of the screen is highlighted. Now, what you need to know is that the "+" and "-" buttons are used to browse through the different sub-menus, and the fire button is used to browse through the various settings of those sub-menus.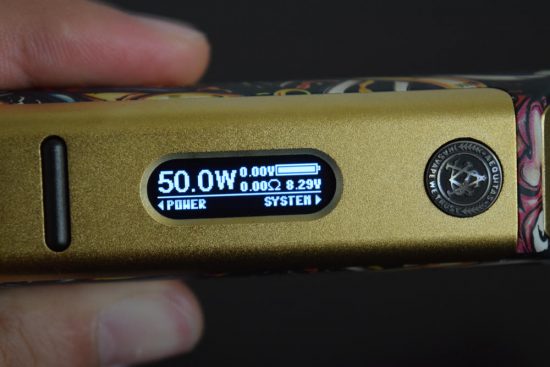 For example, if you press the "+" button while "Power" is highlighted, you will jump to "Temp" mode, press it again and you're in "Bypass" settings, one more press and you jump to "VPC" (power curves). Say you want to set the Asvape Michael to temperature control for titanium. When you're in "Temp", instead of pressing the "+" or "-" button, press the fire button, and you will see the highlighter move over horizontally to the first setting in temp. mode. Press it again, and it jumps to the material selector. The default is "316" which is actually stainless steel, press the "+" and "-" buttons until you get to titanium and then press the fire button to make the highlighter jump to the next setting, "System". This last setting shows up in every sub-menu, because it's the only way to actually exit the menu or shut down your device. Once "System" is highlighted, press "+" to exit the menu, and the "-" to shut down the device. If you press "-" instead of "+", you'll accidentally shut down the Asvape Michael every time.
The Asvape Michael has a couple of interesting features that you don't see on every advanced mod these days. For example, in temperature control, you have a setting called "NC". When highlighted, when you press the "+" or "-" button, it changes to "AC". For what I can tell, NC stands for Normal Control, and AC for Automatic Control. In NC, you can make adjustments to the temperature and wattage output as you would on any other mod, but in AC, you can't make any adjustments, the mod just reads the resistance and sets the temperature to whatever it considers appropriate. I haven't played with it too much, as I don't usually use temp. control, but it seems like an interesting feature, especially for beginners.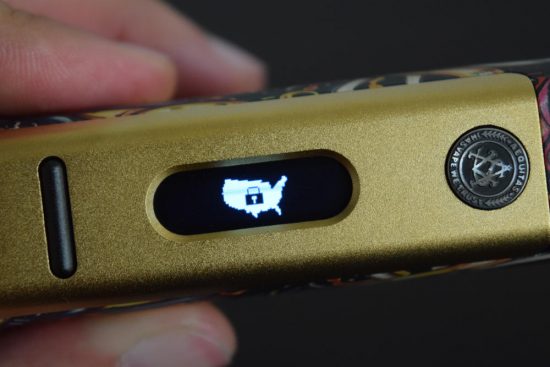 Another interesting feature of the Asvape Michael is the VPC, or virtual power curves. Here, you can create your custom preheat settings, by adjusting five points on a power graph, with each point representing a second. For example you can set the first point to 120W, then bring it down to 100W, 90W, 80W and 70W, and the mod will follow this pattern for the first five seconds, and continue to fire at the last power setting for the rest of the draw. The VPC mode allows you to save five different power curves, to use with your different atomizers.
One thing you'll notice missing completely from the Asvape Michael menu is the TCR. This is an advanced setting that allows you to tweak the temperature coefficient for every material you're using. Most vapers don't even mess with it, but for advanced temperature control enthusiast, this is a significant con.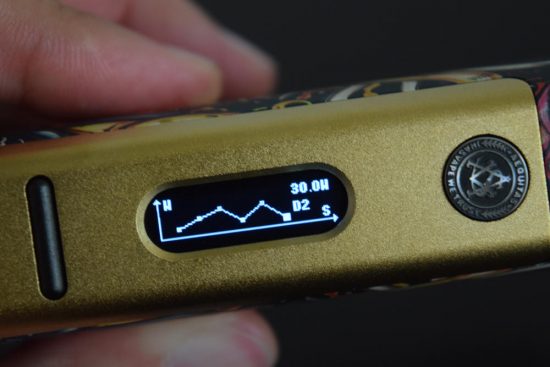 As I mentioned before, the display of the Michael 200W box mod is not the largest I've seen, but thanks to a well thought out layout, it manages to offer a lot of information. You have the current wattage/temperature on the left, and on the right side of the screen, there is a battery indicator, the resistance of the atomizer, a real-time voltage indicator, and the combined voltage of the batteries. There is no puff counter, but I don't know anyone who actually uses that anymore, so it's no big deal.
One thing I would have liked to see is separate battery indicators. This way, if one battery drains faster than the other, you'll just stress the other battery, and you won't even know it.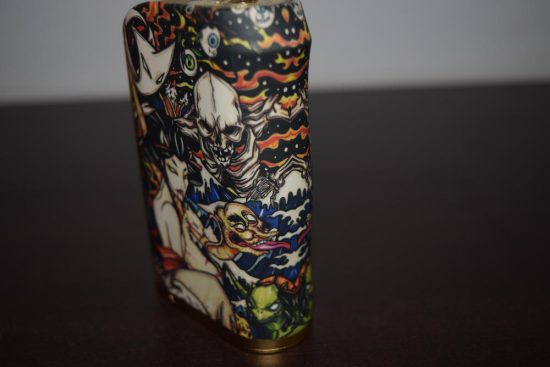 Overall, while the menu and navigation do take some getting used to, once you become familiar with them, you'll realize that they are not complicated at all, just different.
Battery Life and Performance
While offering an estimate on battery life is virtually impossible on a variable wattage/temperature device powered by external batteries, I can share my experience with the Asvape Michael, to give you an idea of what you can expect. I've been using this mod with a couple of LG HE2, 2500 mAh batteries, at 70W, with an 0.25Ω coil, and I've been getting about 8-9 hours of vaping out of it. That's actually a bit better than I expected, and I credit should go to the VO chip for draining the batteries to about 3.1 volts, before cutting power and displaying the "low battery" warning.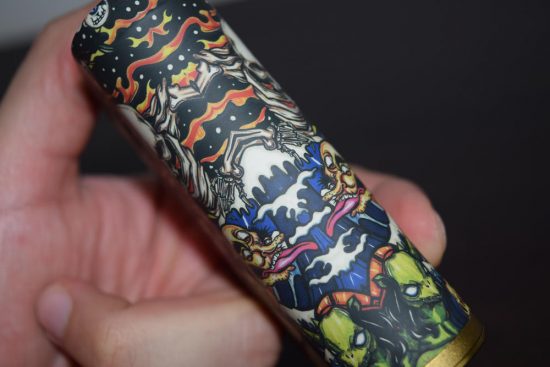 I have mostly been using the Asvape Michael 200W in power mode, and it has been performing flawlessly. There is virtually no delay on the fire button, you just press it and it activates the batteries instantly. The power ramp up is pretty impressive as well, especially if you make use of the VPC feature. The button is nice and clicky, I've had no misfires, so there's really nothing bad I can say about it.
Can the Michael box mod really output 200W of power? Most definitely, maybe even a bit more than that, and I for one appreciate the manufacturer's honesty. Instead of advertising it as a 220W or 225W device, they went for a realistic estimate that their device can probably surpass, with two charged up 18650 batteries working in series. I don't vape at 200W, so I can't speak from experience, but given what we know about the maximum output of two 18650 batteries in series, and the reputation of the VO chip, you can definitely expect the Asvape Michael to do 200W.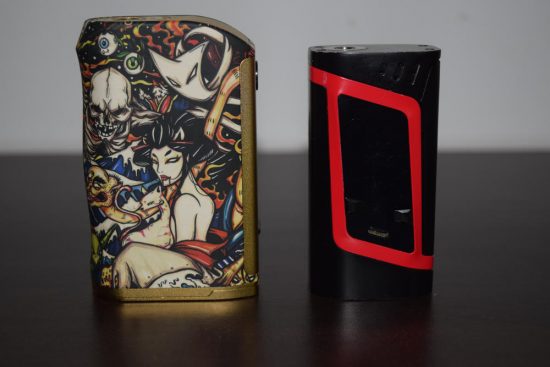 Temperature control is not really my thing, but I did test the Asvape Michael with a stainless steel dual-coil build on my GeekVape Medusa Reborn, and it seemed to handle it very well. It never jumped out of temperature control mode, regulated the power output to keep the temperature at the set level, and never felt underpowered, like other mods do. One interesting thing I noticed about temp. control, is that if you fire the coil with no e-liquid, the mod somehow detects that, and displays a "no e-liquid" warning. I don't know how it can tell, but I thought it was pretty interesting.
Performance-wise, I have nothing to complain about. The Asvape Michael works great in power mode, which is all I'm interested in, but temperature control seemed solid as well.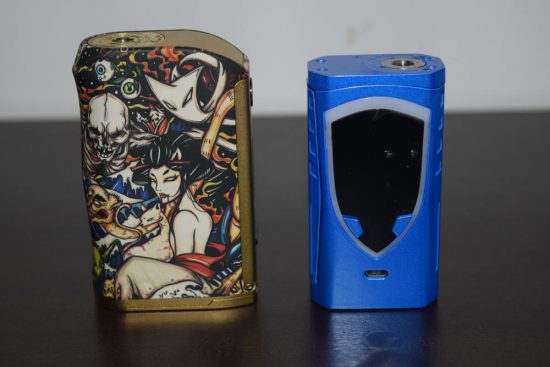 However, if there are any problems that I have not noticed, the Michael is firmware upgradable, so they should be fixed by the manufacturer. You can download the software suite from the Avape website. It's very easy to install and work with, and I noticed that the company regularly puts up firmware upgrades to improve the performance of this device.
Conclusion
The Asvape Michael Devil's Night Edition is definitely one of the most interesting vape mods I've reviewed lately. I love the looks of it, although I know they don't appeal to everyone, and am especially impressed by the feel of that polymer clay in the hand. I don't know how it will hold up in the long run, or if it can take a drop of two, but for now, it looks and feels great. The size may be a problem for some people, but they have many other smaller dual-battery devices to choose from, so I can't mention that as a con. But I can certainly say that about the battery door, and I sincerely hope they come up with an improved system on a future version, if Asvape ever comes out with one. Performance-wise, I have nothing bad to say about the Michael. It does what it says, has plenty of features to play with it, so I was pleased with it.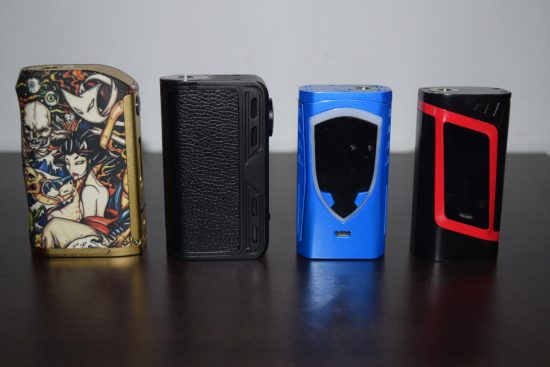 If you're looking for a special vape mod and can afford to pay over $100 for it, you should definitely consider the Asvape Michael Devil's Night Edition. It's not perfect, but it is unique.