V2 Cigs Review
If you've been reading up on electronic cigarettes, chances are you already know about V2 Cigs. They advertise themselves as the number one e-cigarette brand online, and to tell you the truth the web really is full of V2 Cigs ad banners and reviews, so I'm inclined to believe them. But of course, popularity doesn't always equal quality, and that's why I decided to invest in one of their starter kits, just to see if the products really live up to the hype.
A Look at the Contents
As soon as I opened the mail box and saw the V2 Cigs kit inside, I was impressed. I know packaging doesn't really affect performance in any way, but we all know how important first impressions are. I had ordered their Standard Starter Kit, so I definitely wasn't expecting a very big package, but it turned out to be the largest e-cig kit I had ever seen. The flip-top box with the V2 Cigs logo on a nice white and blue background was pretty sturdy as well, compared to other more flimsy packages I had reviewed in the past. It seemed pretty full as well, and knowing that I had only ordered two batteries, two packs of cartomizers and a couple of chargers, I was curious what else was in the box. It turned out more than half the space was taken up by those plastic holders, so no surprise goodies for me, but I can't say I was disappointed, as V2's packaging really won me over. I could tell they really put a lot of effort into the design and presentation, and that really says a lot about them as a company.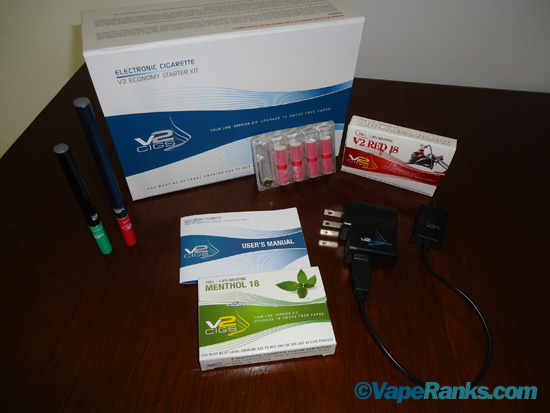 On to the actual contents of the V2 Cigs starter kit. Like most other cigarette-like (cigalike) e-cig suppliers, they sell the tried and true KR808D batteries in short, standard or long sizes,  in both automatic and manual variants. I opted for a short manual battery rated at 150mAh and a long automatic rated at 380mAh. I already had a few standard size KR808s and I was kind of curious about V2's extra-long batteries. They both seemed to be of good quality, although the plastic button on the manual did seem a bit loose and made a rattling sound when I shook it. The 5-cartomizer blister packs come in nicely designed boxes with detailed warnings about the legal smoking age and nicotine, and the USB charger features the V2 Cigs logo which lights up when in use. Unlike other companies, they also include a handy wall adapter in their Standard kit.
All things considered, I found the V2 Cigs Standard Kit to be a pretty good option for someone who wants to start their vaping experience without breaking the bank.
Battery Life and Overall Performance
I've always been a fan of the good old KR808 battery, so I was expecting no less than top performance from those included in my V2 Cigs starter kit. I've had them for over a week, and in order to make sure they work properly, I have been using them exclusively ever since. I wasn't expecting too much from the 150mAh battery, considering its size and the fact that manuals tend to need recharging more often, but I got around 4 hours worth of vaping out of it, which was pretty decent. If you're looking for an e-cigarette that's roughly the size of an analog and works great, this is definitely an option to consider.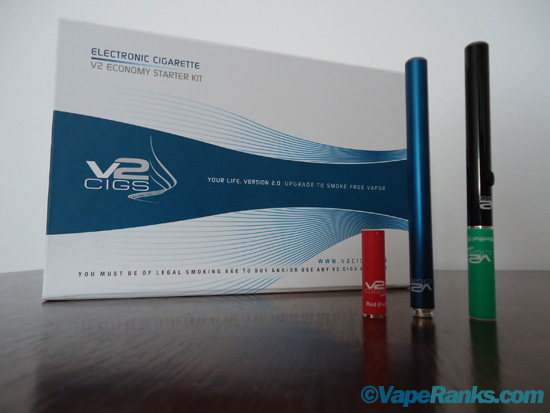 But I was really impressed with the 380mAh battery. At first I was a little put off by its size. This thing is 110mm-long by itself, and 140mm-long with a cartomizer attached, so you definitely won't be fooling anyone into thinking you're puffing on a tobacco cigarette. But it's also much less noticeable than the eGo batteries of the tank system and the Halo Ultra Tank, and the high mAh rating means it will keep you vaping for longer. I was also impressed with the moderately sensitive switch which powered the battery at the slightest draw but wasn't affected by environmental factors like wind or loud noises. Heavy vapers will probably need at least two of these batteries to get through the day, but for casual ex-smokers this one battery is going to be enough. I consider myself an average vaper, and for me the two batteries that came with the kit were enough. I just charged them before going to bed and I was all set the next day. For a couple of cigalikes, albeit one was slightly longer, you can't ask for better battery life.
Another great thing about V2 Cigs batteries is they are regulated at 4.2 volts, instead of the usual 3.7 volts. Used with the same standard resistance cartomizers, they produce hotter vapor, and more of it. And last but not least, the automatic batteries are actually sealed, which makes them a lot less vulnerable to damage caused by e-liquid leaking from the cartomizer. We've seen the same type of batteries used on the awesome Bloog MaxxFusion, and I'm glad to see V2 Cigs using the same high-quality products.
Vapor Production
I was aware of the KR808's vapor production capabilities, so I had high hopes for my V2 Cigs e-cigarettes, and they didn't disappoint. Even though most of their e-liquids are a PG-dominant mix of propylene glycol and vegetable glycerin, I got a satisfying mouthful of vapor with every draw. That was due in part to the long cutoff time of the batteries, which I never actually reached. I like my draws long and smooth, but you need a pair of really good lungs to suck on an e-cigarette for 10 seconds straight. Of course, the increased voltage of the batteries also plays a big role in the high vapor production of the V2 Cigs electronic cigarettes.  While they can't compare to larger, more complex vaporizers, the cigarette-like V2 Cigs are more than enough for someone looking for a smoking-like experience without the smoke.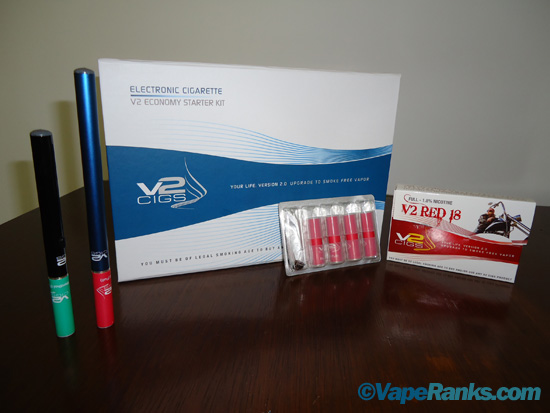 E-Liquid, Flavors and Cartomizers
As I mentioned, V2 Cigs e-liquid is a mix of propylene glycol and vegetable glycerin, which is supposed to give users a good throat hit as well as great vapor. However, even though I opted for full strength 1.8% nicotine tobacco and menthol juices, the throat hit was not what I expected. It didn't matter if i took short or long draws, all I got was a light-to-mild hit, which wasn't very satisfying. I'm not sure if it has to do with the e-liquid or the cartomizers, but if you used to smoke strong tobacco cigarettes, you might want to go for an even higher strength.
The flavors, I'm sorry to say, were the most disappointing aspect of my experience with V2 Cigs. I had read all kinds of great reviews of their Red and Menthol e-liquid but I wasn't at all impressed with them. I guess it just goes to show you how subjective a matter juice taste really is. The nutty aftertaste of the Red tobacco was way too strong for me, so much so that it made be a bit nauseous after vaping it for long periods of time, so I simply stopped using it for a day or two. On the other hand, the menthol had what I can only describe as a slight medicinal taste that reminded me a bit about the bad experience I had with South Beach Smoke flavors. As I said, I read a lot of forum posts and customer reviews praising V2 Cigs flavors, but they just weren't to my taste.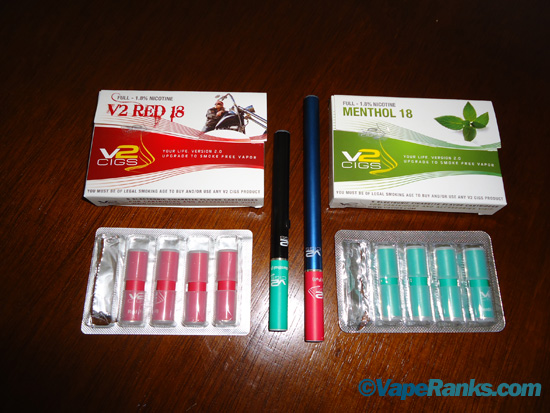 The cartomizers seemed a lot less prone to leaking than all the others I've used until now, so that's definitely a plus for V2 Cigs, but on the downside, the company decided to glue the plastic caps to the metal body of the cartridge, thus making it very tough for users to refill them. I understand they are disposables, but you should be able to use them more than once, if you so choose.
Conclusion
If not for the disappointing e-liquid flavors and one-time-use cartomizers, I would say V2 Cigs e-cigarettes are on par with the best I've ever tried. The batteries look and work great, vapor production is way above average, and the standard kit as a whole is a complete package for any beginner vaper. The price is also in the "acceptable" range, and if the reputation of their customer service is anything to go by, you shouldn't have any problems getting replacements or your money back should anything go wrong with your order.
The Good
great presentation
sealed automatic batteries
impressive battery life
good vapor production
lifetime limited warranty
several customization options
The Bad
sealed cartomizers
e-liquid flavors (subjective)
Battery Life and Performance