VooPoo Finic Fish Review
VooPoo has been riding a wave of popularity ever since it launched the now legendary Drag 157W mod, but that was over two years ago, and the Chinese manufacturer isn't as highly regarded as it once was. Online scandals regarding shady practices and series of eagerly awaited product launches that didn't really live up to the hype have hurt VooPoo's reputation, but the company is determined to turn things around. But can they do it with a fish shaped pod system? Well, let's check out the VooPoo Finic Fish and find out:
A Look at the Contents
The Finic Fish pod system comes in a small black box with a window to the device inside and the VooPoo logo on the front, and a list of contents, warnings and a scratch-and-check authenticity sticker on the back. It's not the most eye-catching packaging I've ever seen, but VooPoo is known more for the quality of their products rather than their original packaging.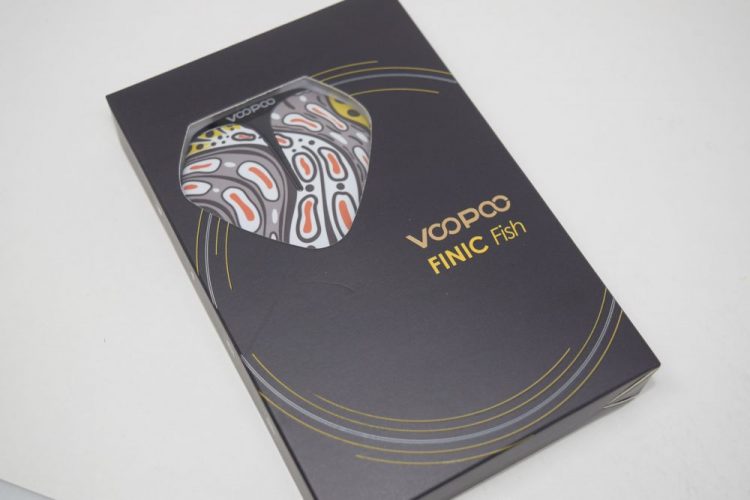 Inside the box, we have the Finic Fish, a spare refillable pod, a micro-USB cable for charging and a user manual. It's pretty much your average pod system kit, except it's missing something really important – a second pod. Myself and most other reviewers have been saying that companies need to include a spare pod in their kits for a long time, but so far most of them don't seem to be hearing any of it. VooPoo is definitely not the only company guilty of this, but that doesn't excuse them. The lack of a spare pod is a big, as far as I am concerned.
Design and Build Quality
As its name clearly suggests, the Finic Fish pod system is designed to resemble a fish. That's what VooPoo says, anyway; I personally see think it looks more like a fish scale or a guitar pick. It's definitely not the most common shape for a pod system, but I guess it could prove a competitive advantage, at least among vapers looking for something different.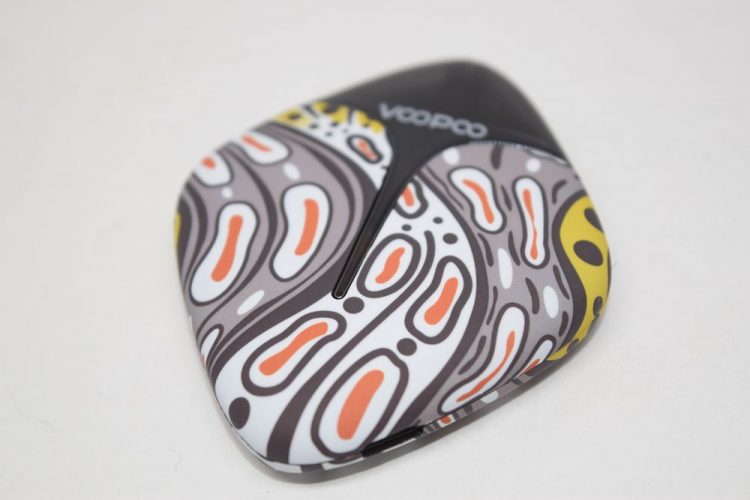 The Finic Fish measures 56mm x 66mm x 13 mm and weighs only 27 grams. That makes it one of the lightest, if not the lightest, pod systems on the market, and it's all thanks to its plastic/PCTG body. This thing is as light as a feather, so if you're looking for something that you can put in your pocket and forget about, the Fish is definitely that. I prefer metal, though, because it just makes devices feel more durable, and while I'm not calling the Finic Fish flimsy – it's been holding up alright so far – it definitely feels that way to me.
The PCTG finish of the VooPoo Finic Fish comes in several colors and patterns, from the simple white, black and blue, to artistic designs with abstract names like Squama or Footsteps. I received the latter version, Footsteps, which kind of looks like an abstract painting. It's pretty cool, but what I really liked was the texturing. You can feel all the little details of the design just by sliding your thumb over the device. It reminds me a lot of the Asvape Michael mod.
Sadly, apart from the appealing exterior, there's really nothing about the Finic Fish that stands out. VooPoo says it's powered by the same exceptional GENE chip that made the Drag mod so popular, but really it's just a really dumbed-down version of that. It's supposed to control the voltage, and I guess you could say it does a good job, but it really doesn't seem superior to the chips in most other vape mods I've tried.
The pods a re made of tinted plastic and hold up to 1.7ml of e-liquid. They feature a 1.6 ohm coil, but resistance is about all the company seems willing to reveal. We don't know what material it's made of, or what kind of coil it is. I'm willing to bet it's not a mesh coil, otherwise VooPoo would have probably mentioned it on their website. The fill port is on the side of the pod, and it's medium sized, meaning you could fit a 30ml bottle dropper in it, but anything larger than that isn't going to work.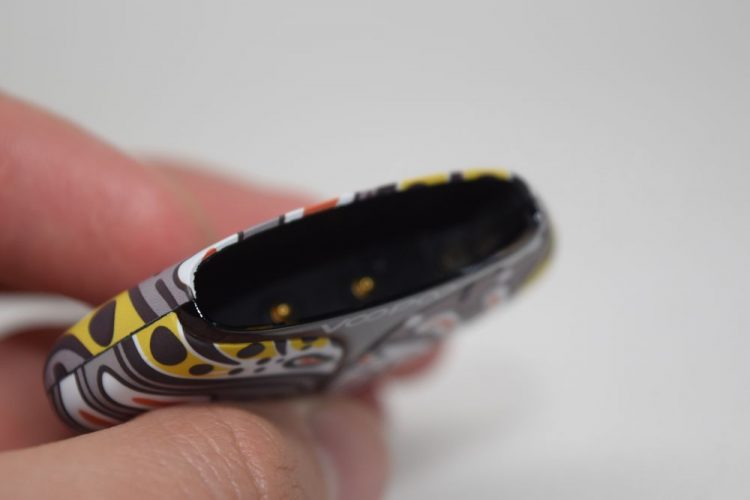 Like most vape pods, the VooPoo Finic Fish relies on two pairs of magnets to keep the pods in place. They do a pretty good job, as the pods have minimal movement.
One last noteworthy detail would be the LED indicator, which lights up in three different colors to give you an estimate of battery life. When the light is green, you have between 100% and 60% battery left, blue means the battery is between 60% and 20%, and red indicates that it's time to recharge your Finic Fish.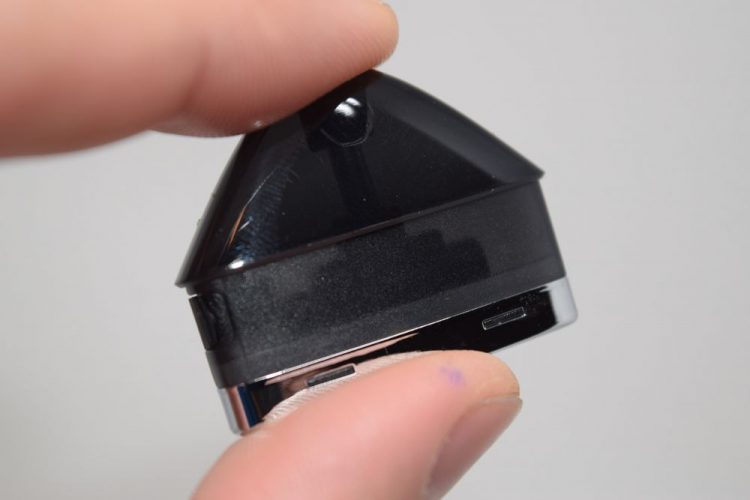 Battery Life and Performance
The Finic Fish has a battery capacity of 350mAh, which is slightly lower than the current average for vape pods, which is 400mAh. Still, it could be a lot worse – the JUUL comes to mind – so I won't consider that a huge con. Still, do I wish it had the 650 mAh battery of the Renova Zero? You bet!
So far, I would say that the word that best describes the VooPoo Finic Fish is 'mediocre'. The presentation is kind of 'meh', the design of the vape pod is nothing special, the plastic body didn't really blow me away and it doesn't have the most impressive battery life. To be honest, that holds true for performance as well.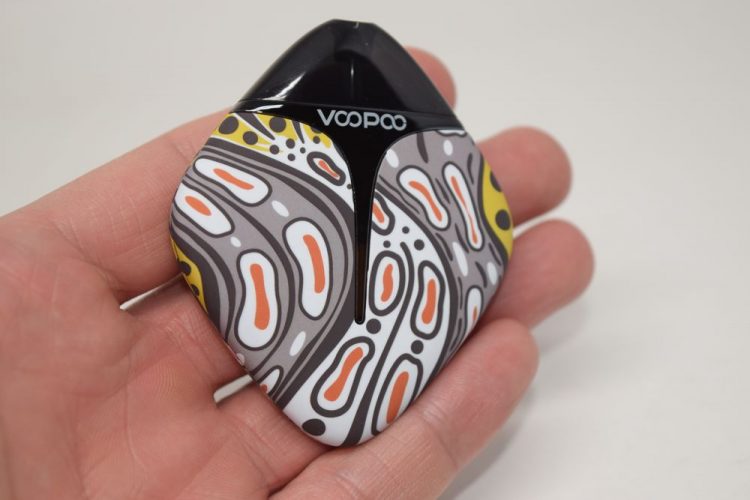 The Finic Fish works great for direct lung hits, but it's a pain in the behind to use for mouth-to-lung. It has one of the loosest draws I've experienced on a pod system, but that's not really the problem. After all, some people actually like that. The issue I've had with it was getting the switch to activate the battery without doing direct-lung hits. Sadly, I have been unable to do that consistently. It would work in the beginning and throughout most of the draw, but as the intensity of the suction dropped, the LED indicator went off and the device stopped heating the coil.
Bottom line, the VooPoo Finic Fish works well in direct lung mode, but if you're looking for a pod system with a tight draw, reminiscent of a tobacco cigarettes, there are better devices out there.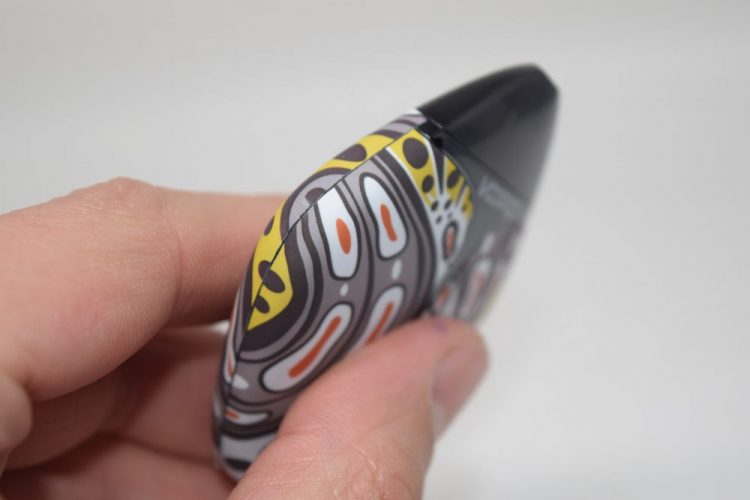 In terms of flavor, the Finic Fish once again proved mediocre. You do get some flavor, but it's nothing special, and it gets blander as the battery voltage drops. Vape pods in general aren't exactly known for excellent flavor, but even when compared with other pod systems, this one falls short.
Conclusion
I really wanted to like the VooPoo Finic Fish and maybe that was part of the problem. I really expected something special from the company that created the Drag, one of the best vaping devices ever, and all I got was just another run-of-the-mill pod system. Maybe my reviews comes off as too harsh, and I admit my disappointment may have gotten in my way of my objectiveness at times, but it wasn't intentional. It's just that, apart from the artsy exterior, there was nothing notable about this device.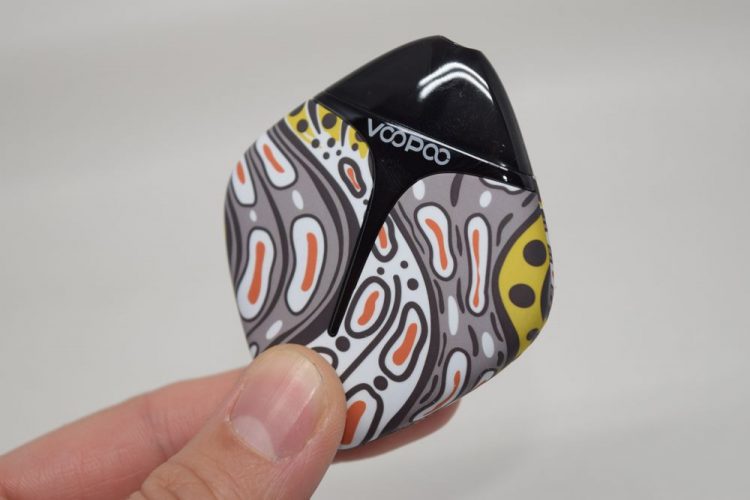 Despite all the controversy around the VooPoo brand, I'm still a big fan of the company. I loved the original Drag and the Alpha One as well as the new VooPoo X217 mod, the Drag 2 was not bad either, but the Finic Fish really doesn't even deserve to be mentioned in the same sentence with all those devices.
The Finic Fish pod system was sent to me directly by VooPoo for the purpose of this review.