Laisimo Wyvern 235 Review
The Laisimo Wyvern 235 is one of the slickest vape mods I've seen in a while, which really isn't very surprising considering that the Chinese manufacturer claims that it was inspired by Ferrari's FXX K concept sports car. It's also one of the smallest and definitely the lightest dual-battery devices I have ever used, and comes packed full of interesting features, like a large color OLED display, fast charging and firmware upgrades, as well as 235W power output. It definitely looks and sounds impressive, but let's see if really lives up to the hype.
A Look at the Contents
The Laisimo Wyvern 235W comes in a red-and-black cardboard box, with a picture of the device on the front, and a list of contents, technical specifications and company information, on the back. It's pretty much the standard packaging for this kind of devices, although I have to admit that the color scheme was a nice tough, at least when compared to those bland black boxes that most companies use these days.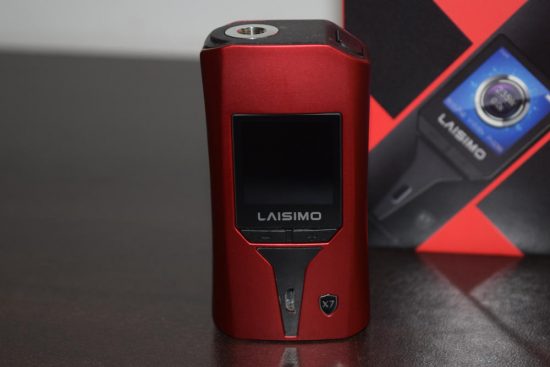 Inside the box, we have the Wyvern 235 mod placed in a foam holder, a micro-USB cable for charging and firmware upgrades, as well as one of the most detailed user manuals I have seen lately. It's packed full of useful information and pictograms, which are sure to come in handy if you've never used Laisimo products before.
All in all, a standard package, nothing to write home about, but nothing to complain about either.
Design and Build Quality
Laisimo says that the design of their Wyvern 235 mod was inspired by a Ferrari sports car, but the first thing that comes to my mind when looking at this device is a cool flip-phone. I loved those things, and the Wyvern looks just like that. It has the same size. same lines and even a square display that looks like the external screen of a flip-phone. Looking at it straight from the front, without seeing how thick it, the Laisimo Wyvern 235 looks a lot more like a cool little flip-phone that it does a Ferrari FXX K.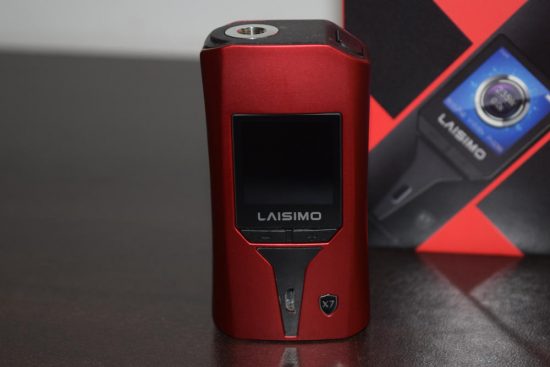 As I mentioned, this is one of the smallest dual-18650 mods I've ever seen. It measures 85.7 mm x 46 mm x 30 mm, which makes it about the same size as the popular SMOK Alien 220W. But whereas the Alien has a bit of weight to it, the Laisimo Wyvern 235 is as light as a feather, and if you remove the magnetic battery door at the back of it, this mod becomes even lighter. It turns out that there's a perfectly good explanation for this – while the battery door and front panel of the Wyvern 235 are made of zinc alloy, the rest of the rest of this thing is made of a hard plastic. It's good quality plastic, but plastic nonetheless. That's a big con, in my book. The materials may not be everything, but you can tell a lot about the general quality of a vape mod by how it feels in your hand, and the Laisimo Wyvern 235 feels very cheap. It's a shame really, because the design really deserves better.
The weight stops being a problem once you insert two 18650 batteries, since the plastic frame of the mod is covered with metallic plates both on the front and back, your hand doesn't come in contact with it too much.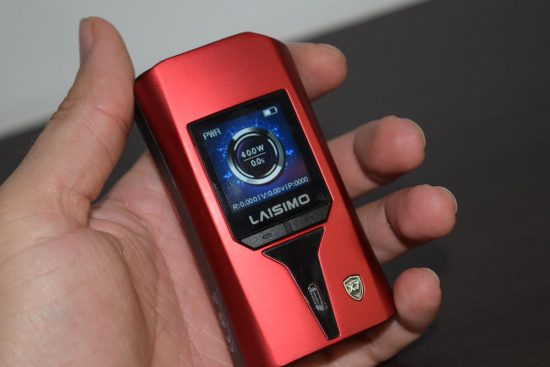 The battery door is not the best I've seen, but it's decent. I've heard people complaining that it's poorly designed and that it wobbles in the hand, but I've had no issues with it so far. The door basically covers the whole back of the mod, and can be removed by sliding it down. It has a big magnet at the top and a small notch at the base which slides into a small orifice on the bottom of the mod when you put the door back on, essentially locking the door in place.
Inserting the batteries is very easy since the compartment is completely exposed, and each slot has several polarity indicators, so you're never confused about which way the batteries should be facing.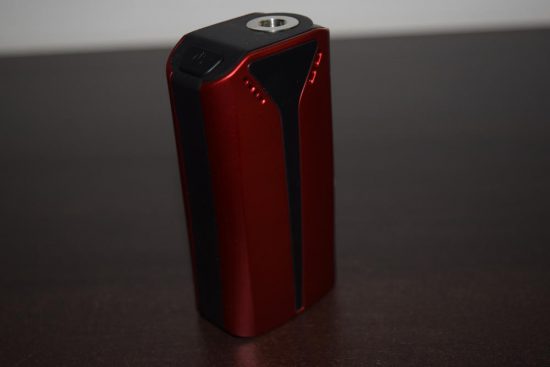 The fire button is located on the top right corner of the device. they basically sliced off the corner and put the button there, for some reason. I've heard people praise Laisimo for this unusual placement, claiming that it's very easy to press both with the thumb and index finger, depending on how you're holding it, but I'm having trouble getting used to it. It's not awkward, or anything like that, but I just feel that a fire bar, like on the SMOK Procolor or the Alien works much better on such a small device.  It may also be the fact that it's relatively small and protrudes from the mod just a little bit.
The 510 connection seems press fit onto the mod, but feels very solid, so I doubt you'll ever have problems with it coming off or even moving around. It has a gold-plated, spring-loaded pin with quite a bit of travel, and looks like it could fit most atomizer with no overhang. Unfortunately you do get a bit of overhang on one of the narrow edges of the mod, due to a poorly implemented lip design. Even though the Laisimo Wyvern should fit atomizer up to 25 mm, anything over 22 mm, will overhang on this plastic lip, not the actual edge of the mod. I don't know how this got past quality control, but it does affect the look of the mod quite a bit. Hopefully, Laisimo will find a way to fix it.
The front of the mod features a large rectangular color OLED display, the "+" and "-" buttons, as well as a micro USB port for con-board charging and firmware upgrades. There's also a small "x7" logo, although I'm not sure what it's supposed to mean.
Overall, the Laisimo Wyvern 235 looks really good at first glance, but a closer looks reveals a few problems, like the heavy use of plastic and the poor lip design at the base of the 510 connection.
Menu System and Navigation
I had never used a Laisimo vaporizer before, so the interface of the Wyvern 235 was completely uncharted territory. I actually needed to consult the user manual a few times, because all the familiar button combinations didn't seem to work. Once you get used to it though, it's a very simple menu.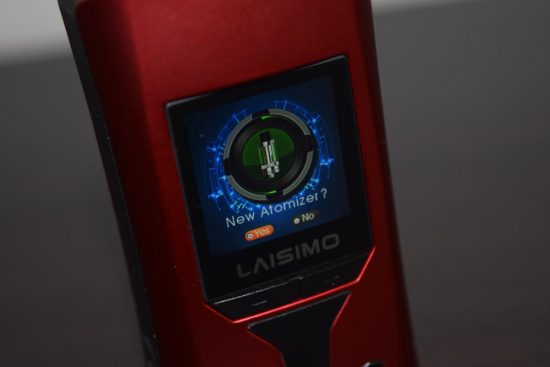 Turning the device on and off is very simple – all you have to do is press the fire button five times rapidly. However, once you turn it on, you have to go through a couple of steps before you can vape. Every time the Wyvern turns on, it asks you of you are using a new atomizer, even if you have no atomizer attached. Once you select "yes" or "no, you jump to another screen, where you can select between "PWR" (power mode), temp.mode for three different materials (stainless steel, titanium and nickel), as well as two "DIY" modes, which basically let you adjust the TCR. If you don't select any of these modes for 5 seconds, the Wyvern simply selects the last mode it operated in before being shut off.
For me, the problem was getting back to this mode-selection menu from the home screen. Pressing the fire button three times, like on most mods, took me to a secondary menu, where I could restore the mod to default settings, upgrade the firmware or check the firmware version, but not browse through the menus. Thanks to the user manual, I learned that I had to keep the "+" and "-" buttons pressed for a couple of seconds to access mode selection. Once I figured this out, the rest was pretty easy, but without the manual, it would have taken me a while.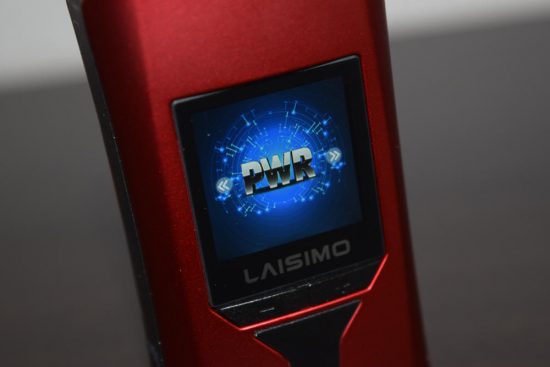 Apart from these two menus, you also have a few button combinations, like power button and "-" to have the mod read the resistance of the atomizer, or power button and "+" to lock all the buttons. But that's pretty much all there is to it. I wish there was some sort of pre-heat function as well, but I guess you can't have everything.
The home screen of the Laisimo Wyvern is both well-thought-out and nice to look at, thanks to a reasonably high resolution and all the nice colors. You have the power/temperature and puff timer/wattage displayed in a 3D metallic bubble in the center of the screen, the current mode in the top left corner, battery indicator in the top right one, and at the bottom are the atomizer resistance, real-time voltage and puff counter. That's pretty much all you need to keep an eye on while vaping. The screen is about the same size as that of the SMOK Procolor, and bright enough to see in strong sunlight.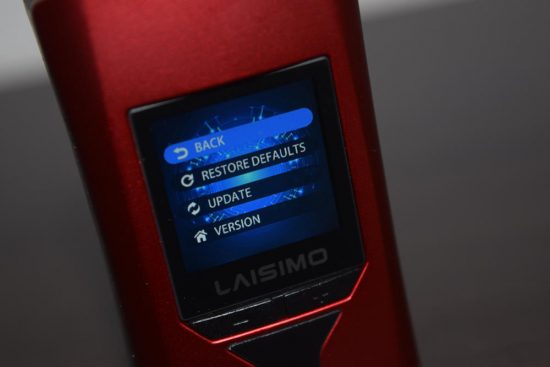 All in all, the Laisimo menu and navigation were a bit different than what I was used to , but once I got the hang of it, I found them very easy to use. I don't get why the "new atomizer" question pops up every time you turn on the mod, instead of taking me directly to the home screen, and I wish it had a pre-heat feature, but overall I was pretty happy.
Battery Life and Overall Performance
Since giving you a fair estimate on the battery life of a variable wattage device is virtually impossible, all I can tell you is that during the one week I have been using mine for, I got around 9-10 hours of use out of it, which is on par with most of my other dual-battery devices. I have been using it with a couple of LG HG2 3000 mAh batteries, and the HorizonTech Arco tank, at around 70 watts.
The Laisimo Wyvern 235 also features balanced charging, as well as fast on-board charging (around 1.8 amps), but you should know that you can't use it as a passthrough while charging. Basically, when you use the mod for charging, you can't vape on it. That's unfortunate, but you should think of it as a safety feature.
In terms of performance, I have encountered no issues while using the Wyvern. It works great in both power and temperature control mode, the fire button is very responsive and never gets stuck, and the firing delay is virtually non-existent. You just press the button and it fires instantaneously.
However, I seriously doubted that a dual-battery mod could have a real power output of 235W, regardless of what resistance you're using, but since I never vape at that level, and don't have the technical knowledge to test it myself, I started to do some research online. Sure enough, with fully charged batteries and only certain resistances, the Laisimo Wyvern outputs just over 200W. But that's only when batteries are at full capacity, because as their voltage drops, the Wyvern becomes seriously underpowered. According to some reports, it sometimes barely reaches 150W, despite being set to 235W.
This huge difference between the real wattage of the Wyvern and the one advertised by Laisimo didn't really bother me, since it only occurs at high wattages (150W+), but it's still a pretty serious issue, one I hope the Chinese company resolves with a firmware update.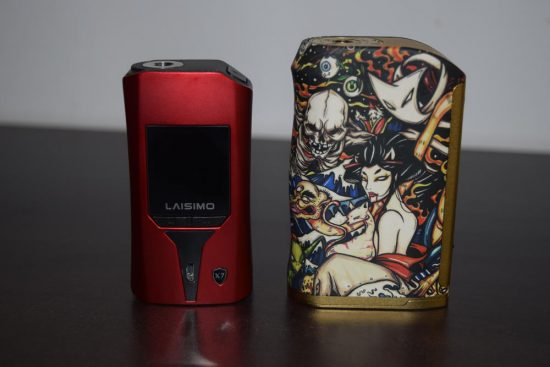 Conclusion
I really wanted the Laisimo Wyvern to be as good as it looked, but, unfortunately, it does fall short in some respects. For starters, the quality of the materials isn't as high as I would have liked, atomizers over 22 mm diameter overhang even though they shouldn't, and the device is apparently seriously underpowered at high wattage levels. That said, it does have some strong points, as well. It's small, light and better looking than most of its major competitors, the colored OLED display is gorgeous, and the menu system and navigation are easy to use once you get the hang of them. In the end, deciding whether to buy this mod or not depends on how much you're willing to compromise.
The Laisimo Wyvern 235 was sent to me for the purpose of this review, by GearBest who have it available for the unbeatable price of $36.99