Augvape Druga Narada Pro Review
Hot on the heels of Augvape's Druga Narada pod system comes the Narada Pro, an all-in-one system designed in collaboration with UK online retailer Vaperizzo. It's definitely one of the tiniest AIO vaping devices available on the market, but don't let that fool you, as this thing is impressively powerful and advanced for its size. Let's check it out in greater detail:
A Look at the Contents
The Druga Narada Pro AIO comes in a black, rectangular cardboard box featuring a picture of the device on the front, and a list of kit contents, some technical specification, manufacturer contact information and a scratch-and-check authenticity sticker on the back.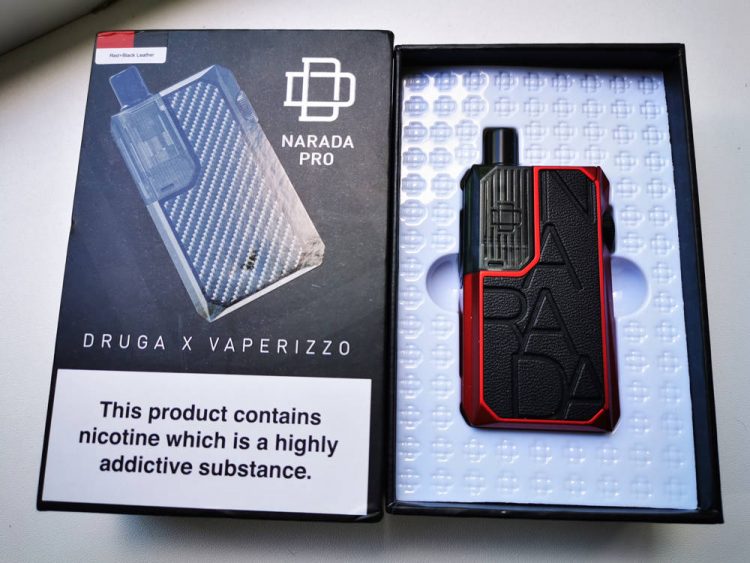 Inside the packaging we have the Narada Pro sitting in a plastic holder, and underneath that we have a smaller accessory box we're we'll find a USB Type-C charging cable, two coil heads, a user manual and a warranty card. Augvape only included one refillable pod, but it does come with two coil heads, so I wouldn't consider that a con.
Design and Build Quality
The first thing I noticed about the new Narada Pro when I took it out of the box for the first time was how tiny it was. At just 82mm x 19mm x 40mm, this is one of the smallest, most pocket friendly AIO vaping devices money can buy. It's pretty light too (137 grams), without feeling cheap, so if that's the kind of setup you're looking for, the Narada Pro is definitely worthy of your consideration.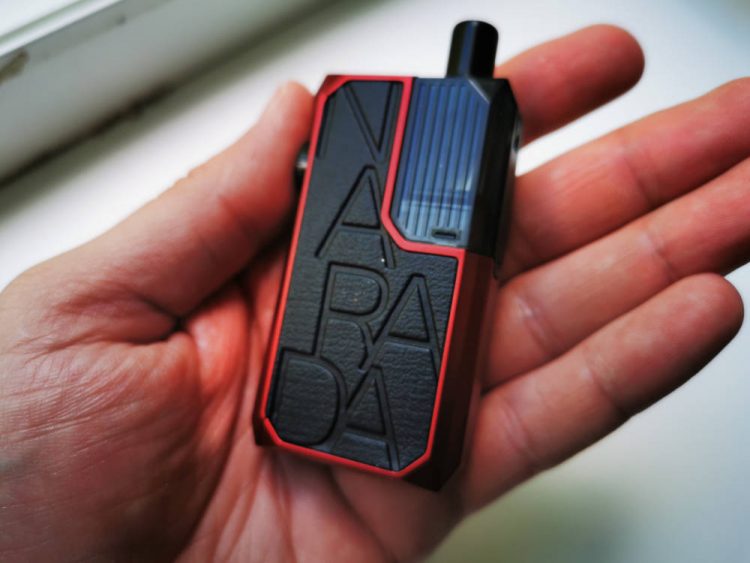 Design-wise, Augvape's latest Druga device is shaped like a really small box mod, only it comes with a detachable pod, and a single button which also acts as a wattage adjustment knob. The review sample I received was labeled as 'red black leather' on the box, but the side panels turned out to be more rubber than leather. That's not necessarily a bad think as the rubberized finish feels nice to, but it's nowhere near as nice as the leather on the new VooPoo Drag X and S.
You can also get the Druga Narada Pro in carbon fire and wood imitation finishes, both of which look pretty good, but I wish Augvape offered even more variants to choose from. All of them have a sturdy zinc alloy frame.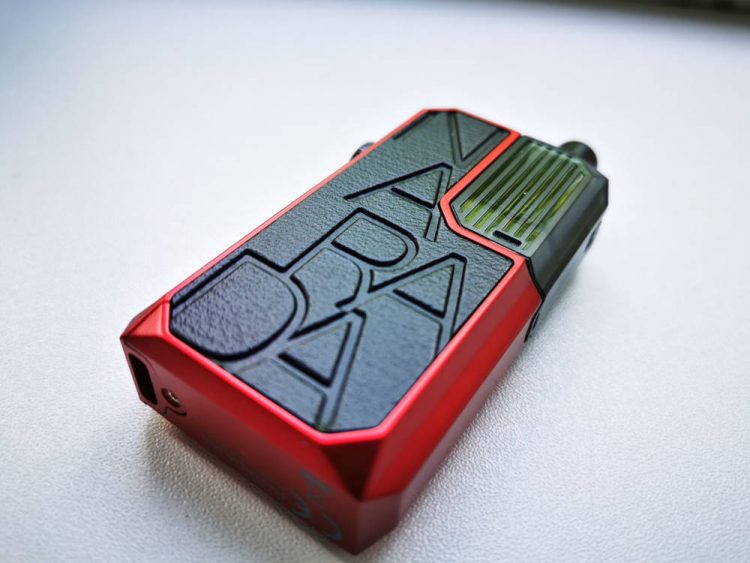 The fire button on this tiny vape mod is nice and clicky, feels very solid, and also acts as a wattage adjustment knob. To fire it, you just press it, and to adjust the wattage – between 5W and 30W – you spin it as a wheel. That's a very clean way of getting rid of the classic + and – buttons, and Augvape even implemented a three click combination to lock the wattage so you don't accidentally mess up the wattage by rotating the wheel.
On top of the Narada pro, next to the pod's drip tip we have a small but very bright OLED display that shows not only the wattage, but the resistance of the atomizer and the level of the battery as well. Augvape did a very nice job with the screen layout, so even though it's tiny, all the information is still clearly visible.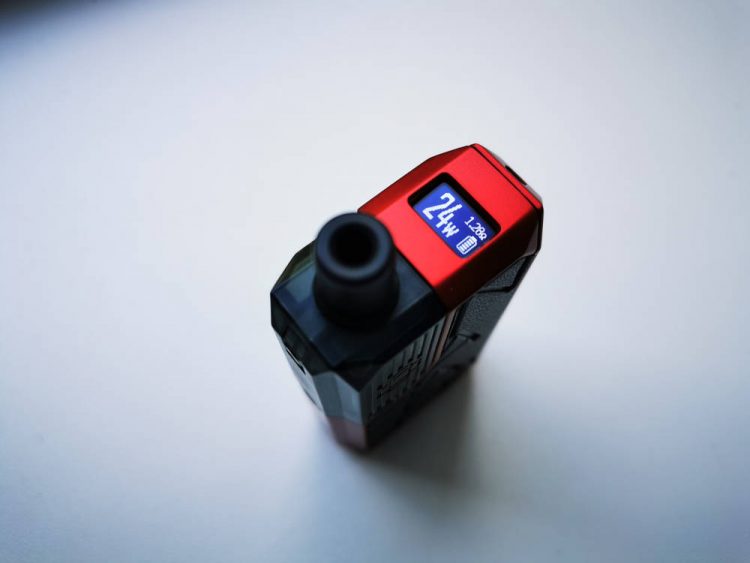 Finally, on the very bottom of this all-in-one system, we have the charging port. I love that Augvape decided to upgrade to the USB C interface for charging, but on the other hand I hate that they placed it on the bottom. That means you can never charge the device upright, and even though I've had no problems with leaking yet, I'm never comfortable charging my devices on the side. Sure, you could remove the pod while charging, but that's extra work and no one likes that…
The refillable pod that the Narada Pro comes with is a bit different than the pods we usually see on pod mods and pod systems in that it attaches to the corner of the device, from the side, and is press fit into place rather than magnetically attached. The system works fairly well, although you do have to align the pod with the mod for it to click perfectly into place.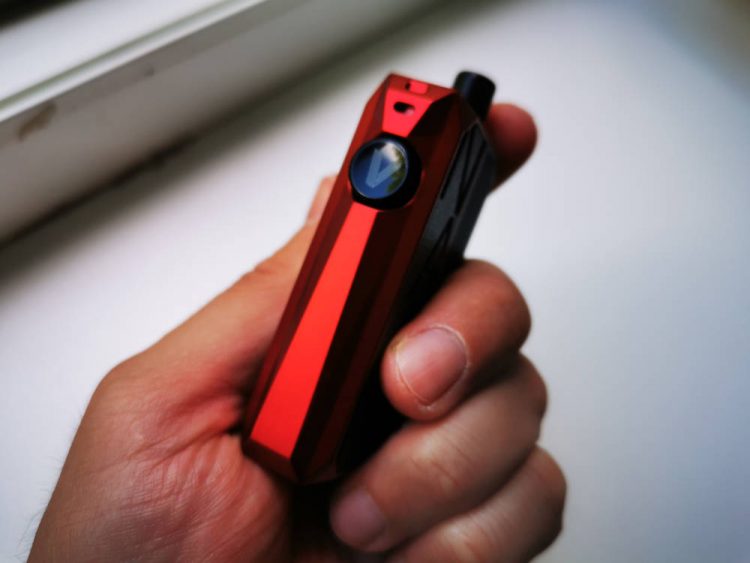 One slightly thing I did noticed while using the Augvape Narada Pro is that because the power button is located opposite the detachable pod, I would accidentally press it while trying to attach the pod after filling it. It din't always happen, but because the pod has to be pressed into the mod, I would sometimes grab the pod for leverage and push the button. It's not a major design flaw, just something I thought was worth mentioning.
The pods hold up to 3.7ml of e-liquid, which is more than enough for a device this size, and have a decently-sized fill port on one side, and a rudimentary airflow control system on the other. I use the word "rudimentary" lightly here, as the sliding knob labeled as an airflow control slider is pretty much useless.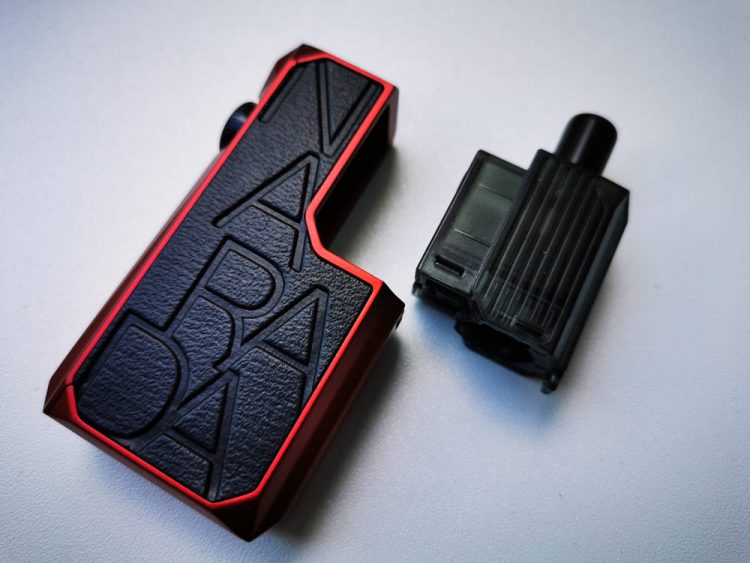 While slightly tinted, the pods offer a clear view of the e-liquid level inside, so you don't have to constantly detach them to see if you're about to run out of juice. They also come with a detachable and replaceable 510 drip tip, which you don't normally see on AIOs and pod mods these days.
The coil-heads attach to the Narada Pro pod through the bottom, you just have to make sure to align the metal tab sticking out from the base of the coil-heads with the gap on the bottom of the pod. They feature double o-rings on the base, so leaking is extremely unlikely, and they are very easy to attach and detach, which is always a pro.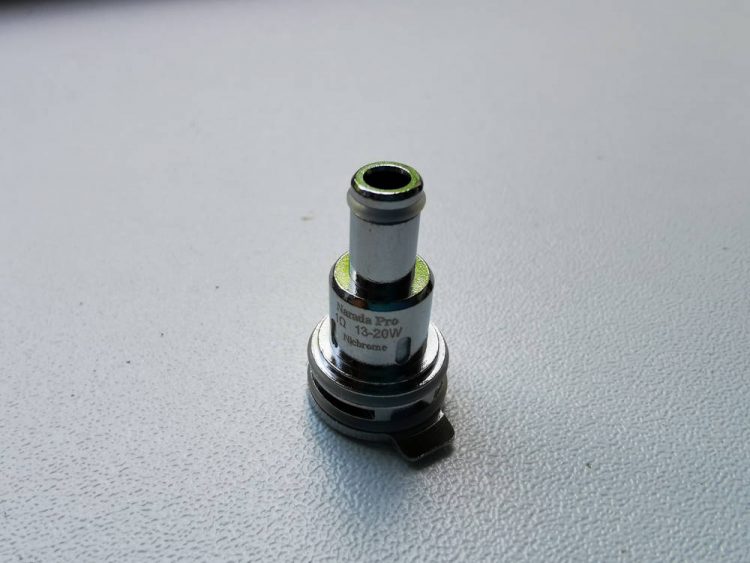 The guys at Augvape were nice enough to send me the Narada Pro RBA for this review, which doesn't come included in the kit. If you're a new vaper, or if you're simply a casual user, you probably don't care too much about building and installing your own coils, especially on such a tiny base, but I'm sure there are many advanced vapers out there looking at the Narada Pro precisely because it is RBA compatible.
To be perfectly honest, I am not a huge fan of AIO RBAs. It's not that they don't perform well, but that they are such a pain to work with, because of the lack of build space. The Narada Pro RBA is no different, real estate is really limited, so you'll probably be able to get away with a 2.5mm diameter coil at most. It's decent, but again, getting in place and making sure you don't bend the fragile wire in the process is a bit of work.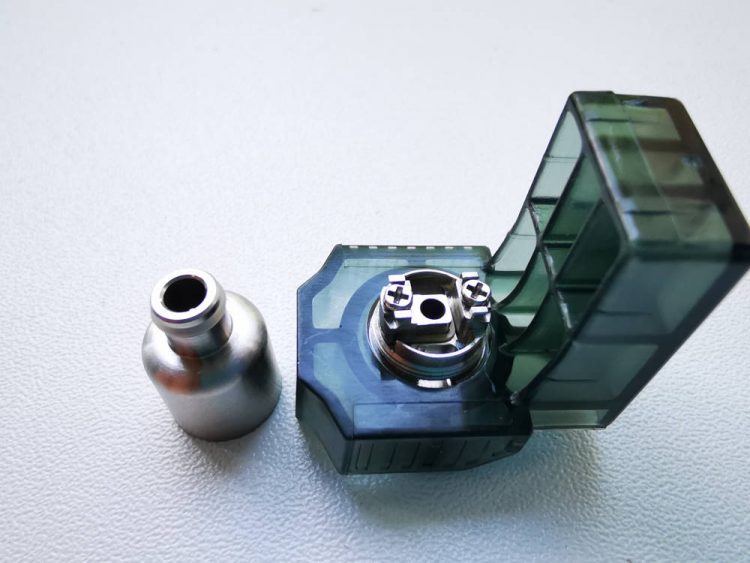 I did like the fact that Augvape RBAs ship with a sort of plastic test deck that attaches to the mod just like the pod. It's basically the frame of the pod with a slot to insert the RBA so you can test it out and make any necessary adjustments before inserting it in the pod itself. That's ingenious design right there. But, as I said, the RBA is optional, the majority of vapers probably won't be interested in spending extra on it, and the few who will, well, they'll probably like it.
Battery Life and Performance
As I already mentioned multiple times in this review, the Druga Narada Pro is a really tiny all-in-one vaping system, so it has limited battery life, at least when compared to pod mods like the VooPoo Vinci or Vaporesso Target PM80. But then again, its 950mAh battery capacity is on par with that of the Lost Vape Orion Plus pod system, which is a bit taller, albeit thinner, device.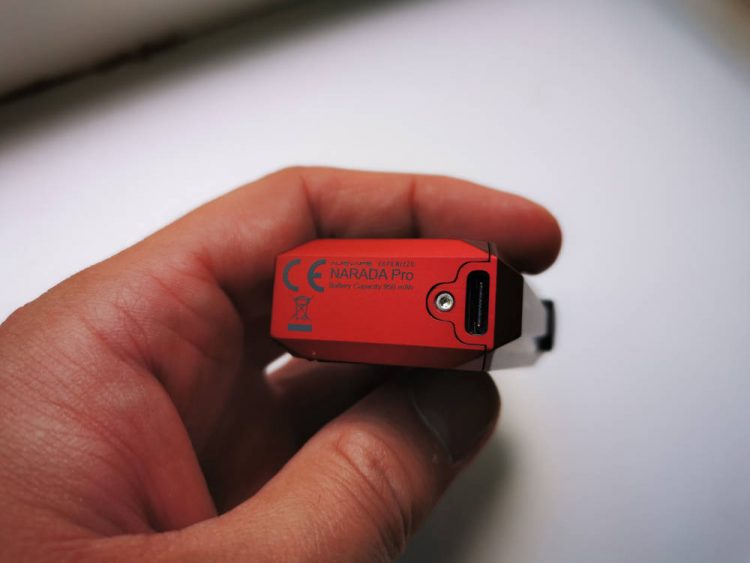 Even though battery life isn't the most impressive feature of the Narada Pro, this device has other tricks up its sleeve to minimize the impact of limited battery capacity. First of all, USB C charging lets you charge up the Narada Pro back to full in under 30 minutes, which is huge, and the really neat thing is that it comes with some high and medium resistance coil-heads that don't require that much power to deliver great flavor and decent vapor.
Performance really comes down to personal preference. As strange as that sounds, I genuinely think that whether you like the Druga Narada Pro or not comes down to your style of vaping. Because of the abysmal airflow control system, which basically doesn't block airlfow at all when fully closed off, you can barely pull off a loose mouth-to-lung (MTL) draw with the 1Ω coil-head, so you can forget about tight, cigarette-like draws with this thing.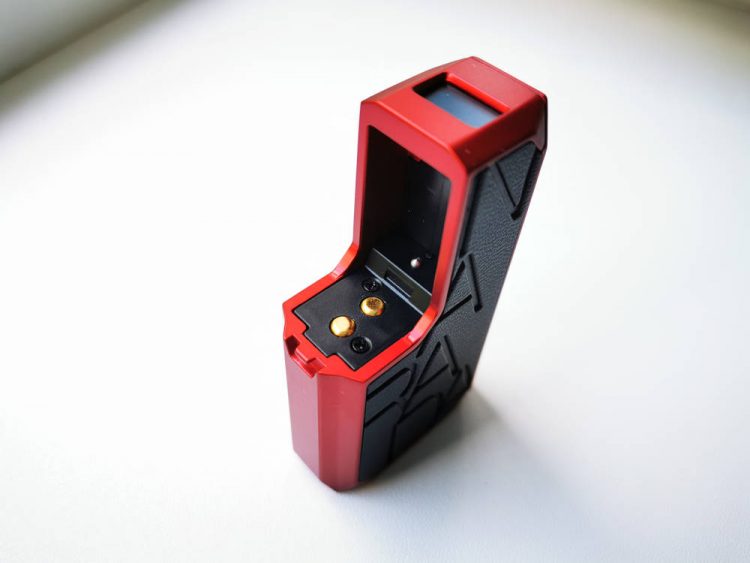 Direct lung vaping is where it's at with the Narada Pro, but there are some things to consider. When using the provided 0.4Ω mesh coil-head, you can only do a restricted lung hit, which I personally prefer over a loose DL draw any day, but we all have different preferences. If you want an airier draw, you'll have to use the RBA base, which requires a bit more work and tinkering.
I hope Augvape comes out with some more coil-head options in the future, as two is cutting the list a bit short in my opinion. They're good coil-heads, but because of the airflow control, or lack there of, I feel like you can't get the most out of them, which is a pity.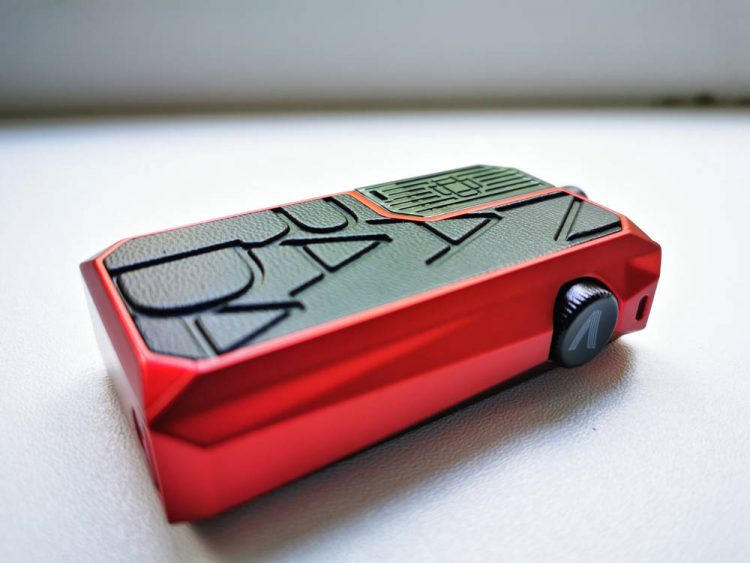 Flavor-wise, I really can't blame the Narada Pro. The flavor was crisp, there was no funny aftertaste even when I first filled the pod, so it's really strong in the flavor department.
Conclusion
I've been seeing a lot of the Druga Narada Pro both on Instagram and on Reddit, and I have to say that the hype is real. This is currently one of the best all-in-one devices on the market, especially if you're looking for something compact that can be used with an RBA, or if you prefer a restricted direct lung draw. It has a lot of things going for it, from build quality to vaping performance, but sadly the poorly designed airflow system is holding it back from being truly exceptional. Hopefully Augvape address this issue in a version two.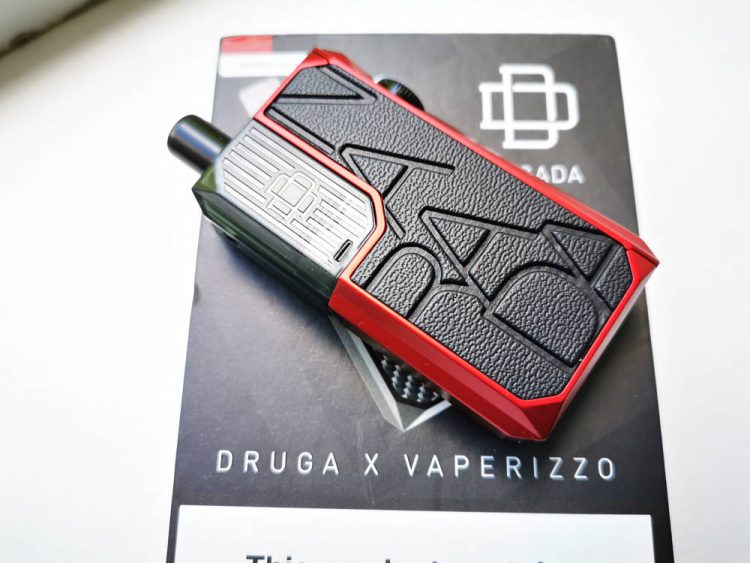 The Augvape Druga Narada Pro was sent to me directly by Augvape, for the purpose of this review.
Pros
compact design
good build quality
RBA compatible
USB C fast charging
Cons
abysmal airflow control
only three color variants