VooPoo Vinci Review
VooPoo Vinci
Get a great price on the VooPoo Vinci advanced pod system from from a reputable seller.
I've had the chance to review quite a few VooPoo products lately, from the Drag Nano to the Find S Trio, but to be honest none of them really impressed me the way the original Drag 157W mod or even the Drag 2 did when they came out. It's been a while since the Chinese manufacturer launched a true winner, but I really had high hopes for the Vinci all-in-one mod. It looked really nice on paper, but I'had been disappointed before, so I tried to hold back my excitement and go into this review with reasonable expectations. Read on to find out my thoughts on the new VooPoo Vinci.
A Look at the Contents
The VooPoo Vinci all-in-one mod comes in a small, rectangular cardboard box with a picture of the device, as well as pictograms depicting some of its main features on the front, and a list of package contents, some mandatory warnings, and a scratch-and-check authenticity sticker.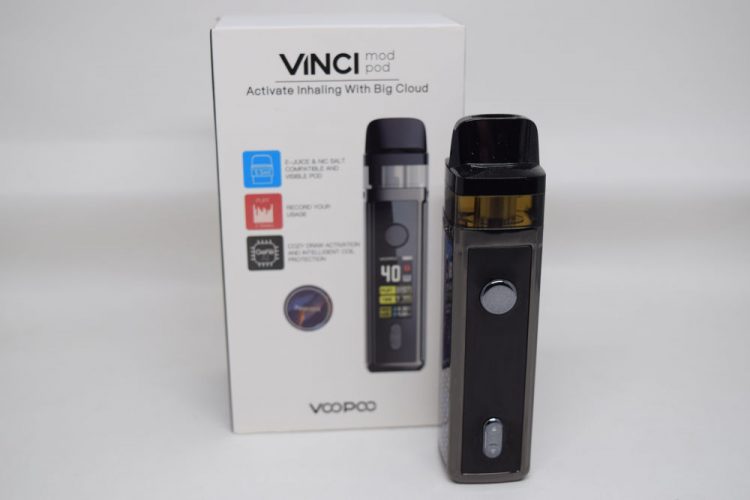 Inside the packaging we have the Vinci mod alongside two sealed blister packs containing the two included coil-heads. Underneath we have a separate box which holds the accessories – a micro-USB charging cable, a user manual, and some cards that I myself just ignored. It's a decent offering, on par with what most similar kits contain. I'm glad to see VooPoo including two coil-heads, just in case something bad happens, or one is a dud, and I hope to see other companies follow their example in this regard.
Design and Build Quality
The VooPoo Vinci mod measures 104mm x 23.5mm x 23.5mm and is made primarily of zinc alloy with various decorative inserts – from plastic to carbon fiber imitation and resin. It's got that squarish look of the OBS Cube, and feel just as solid in the hand. I'm not saying you could drop it off a building and it would be as good as new, but the materials are of decent quality and seem really well put together.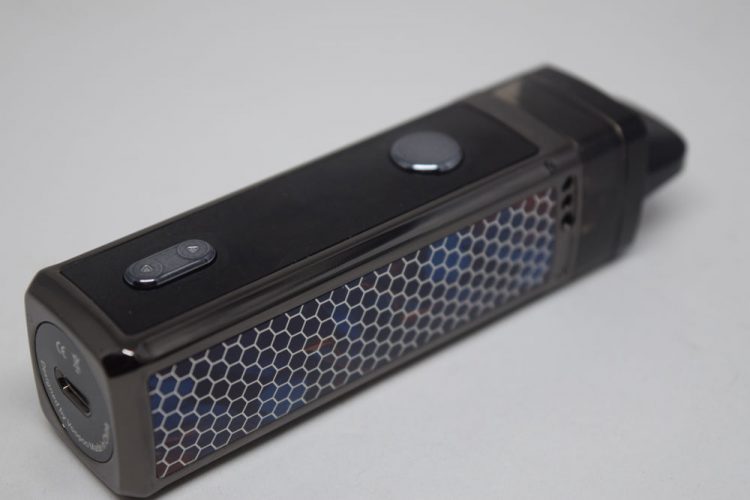 It might look like a larger pod system at first glance, but the VooPoo Vinci is more than that. I'll call it an all-in-one for now, for lack of a better name, but I personally consider it an inspired hybrid between and pod system and a classic all in one. It offers the convenience of a vape pod, but also offers nice customization options, replaceable coils and some serious battery life.
Starting from the top, we have a very large plastic pod featuring a large but thing mouthpiece that fits comfortably in your mouth. The e-liquid capacity is an impressive 5.5ml, which is the largest I've ever see on any device that wasn't an RTA or sub-ohm tank. The fill-port is located on one of the four sides of the pod, and is sealed by a silicone plug. On the bottom, we have four magnets – one on each corner – which do a good job of keeping the pod in place.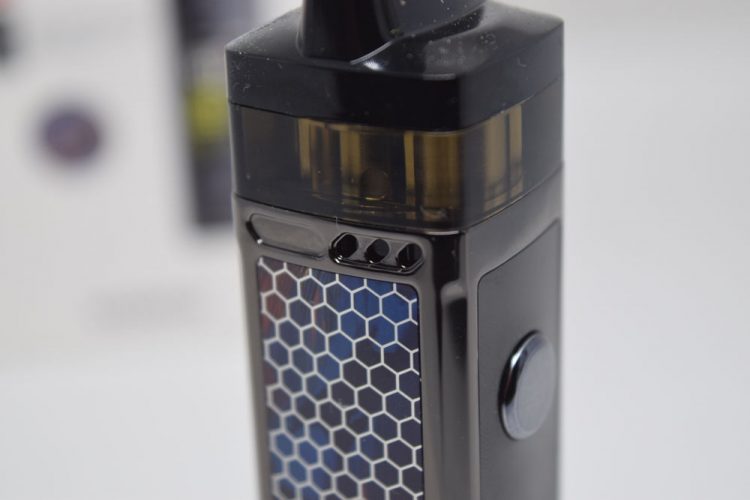 The Vinci pod doesn't come with a pre-installed coil-head, so you'll have to insert one yourself. Luckily, that's really easy to do, as they use the same plug-and-play coil heads that the Find S Trio pod system does. You just push it in to the large hole on the bottom and you're ready to go.Just make sure to let the coil soak up the e-liquid for a few minutes before vaping for the first time.
The mod itself features decorative panels on two sides, a metallic side bearing just the VooPoo and Gene Chip logos, and a control panel, where you'll find all the buttons and a generous, color display. On the bottom of the device, we have the micro-USB charging port.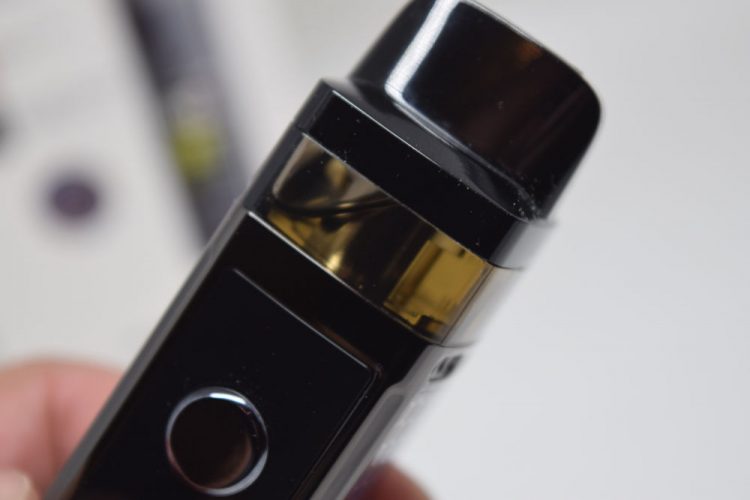 Now, the Vinci does have a nice, round, clicky fire button, but it's not necessarily a manually-activated device. It can be, but it doesn't have to. You see, this is one of those really clever devices that feature both a fire button and a built-in draw-activated sensor, so you can use it both as an automatic or a manual. How cool is that? Pretty cool, although, to be honest, I do believe Uwell did it first on their popular Caliburn pod system.
As I mentioned, the display is very generous for a device this size, and it's colored and extremely bright to boot. You get a lot of information on screen, from the current wattage and battery life indicator, to a puff counter and puff time, and even coil-head resistance, real-time voltage and the mode the Vinci is in (Auto, Manual, Auto&Manual).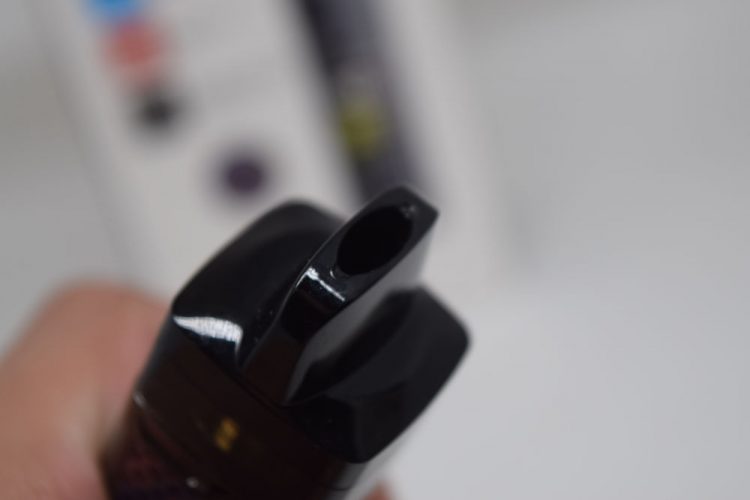 Oh, and one really important I forgot to mention – the Vinci features a funky airflow system. First off, it's not really adjustable, and for this type of a device that's a bit of a con. I mean, if the Lost Vape Orion Plus and even the Eleaf Tance Max could get that feature, so could the Vinci, I'm sure. Anyway, we have to work with what we have. The pods only fit two ways, and depending on how you insert them, the airflow will be different. One way, all of the three slots on each side are exposed, and that will give you lots of airflow for a very loose direct-lung hit, while the other way will only leave one hole open on each side, which will give you a more restricted direct-lung hit. So you do get some airflow adjustment, kind of, but the Vinci could definitely have been better in this department.
Menu System and Navigation
While the VooPoo Vinci doesn't have a menu per se, it does have some interesting features, and even some smart one that I'd like to mention. To start with, the Vinci will automatically suggest the wattage you should vape at whenever you attach a new pod, or even an old one. So let's say you decide to use the 0.8Ω coil-head. Whatever wattage the mod is set at, the moment you attach the pod, it will jump to 12W. That's what the mod considers the ideal power for that resistance. Now, you can adjust the power output with the up and down buttons located under the display, but if you detach the pod and simply plug it back on, the wattage will once again jump to 12W.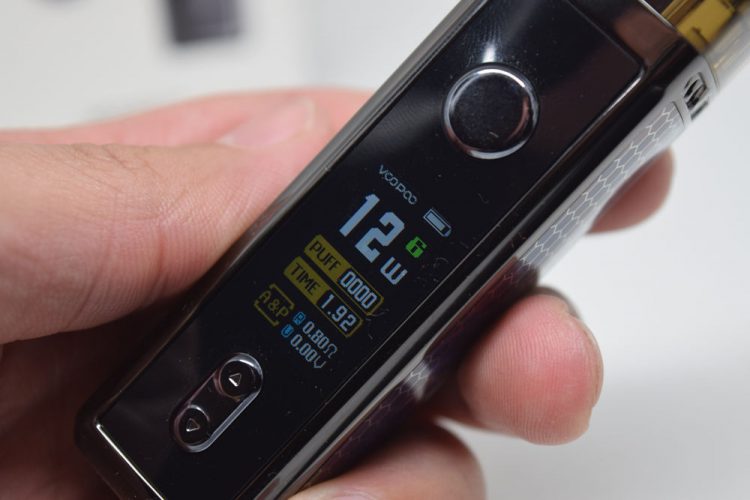 I personally like the feature, because it allows beginners to use the Vinci without having virtually any knowledge of Ohm's law. As long you don't mess with the mod's original settings, you should be fine. It may not give you the best vape possible, but the output tends to be on the conservative side, so the risk of getting a dry hit as long as you have enough e-liquid in the pod is minimal.
The Vinci also goes into sleep mode after about an hour or so, when it wakes up, it also reverts to its own preferred wattage for whatever coil-head you have on. That is kind of annoying, because you basically have to readjust your wattage every morning. It's a nice idea, but you need to be able to turn it off.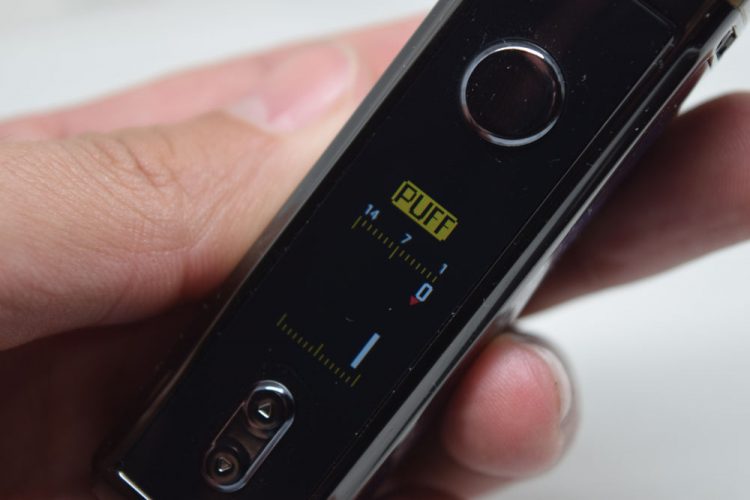 The VooPoo Vinci also has a feature that allows you to track your daily puffs over a period of 14 days. Just keep the up and down buttons for a couple of seconds, and you'll see a graph of your puffs over the last couple of weeks show up on screen. To exit, just wait a few seconds, or long-press the fire button.
By pressing the up and the fire button at the same time you can lock the buttons of the Vinci, and that includes the fire button, so you can store it in the pocket without worrying about it firing accidentally.
Finally, I mentioned that this all-in-one features both manual and automatic battery activation, or both at the same time. You can scroll through these three modes, labelled A, P and A&P on the screen, by pressing the fire button three times consecutively. In A&P, you're free to simply draw on the mouthpiece or press the fire button; both will activate the built-in battery.
Battery Life and Performance
One of the main advantages of using a device like the VooPoo Vinci over standard pod systems is battery life. It comes with a built-in 1,500mAh battery, which is over triple what vape pods like the Smoant Karat, VEIIK Airo or Suorin Air offer. That doesn't mean it will last you three times as long if you have at the maximum output of 40W with the included mesh coil-head, but it will last you even more than that if you use it at 10W-15W, with the 0.8Ω coil-head. It all depends on how you use the device, but there's no denying that 1,500mAh is a pretty impressive battery capacity for such a compact device.
The VooPoo Vinci can also be used as a passthrough, while it is charging, and features 1A charging, which means a depleted battery can be charged back to full in about an hour and a half.
In terms of performance, I'll cut right to the chase, the Vinci impressed the heck out of me. If you're looking for an ultra-compact all-in-one vaping device to replace your standard setup when you're out and about, you'll have a hard time finding anything better. Both the 0.3Ω mesh coil-head and the 0.8Ω standard wire coil-head offer excellent flavor and vapor production, with the lower-resistance one excelling in vapor production and warmth, for obvious reasons. But whichever one you decide to try first I'm sure will impress you.
Compared to standard pod systems, or even other all-in-one system, the VooPoo Vinci is on a whole other level, as long as you're a direct-lung vaper. If you're looking for a restrictive draw, similar to that from a tobacco cigarette, you'll probably find it somewhat disappointing. Even with the higher resistance coil-head, and with most of the airflow slots on the pod sealed off, I could hardly even do a mouth-to-lung (MTL) draw. The coils included in the kit are simply not designed for that.
I even tried using the mod in draw-activated mode (Auto) and covering one of the two exposed airflow holes withe my thumb to make he draw more restrictive, but all I achieved was a very restrictive direct-lung hit. MTL just doesn't work with this kit. Luckily, the Vinci is compatible with VooPoo's entire range of plug-and-play (PnP) coil-heads, which includes a couple of MTL options, so you may be able to do MTL after all. It just doesn't work out of the box.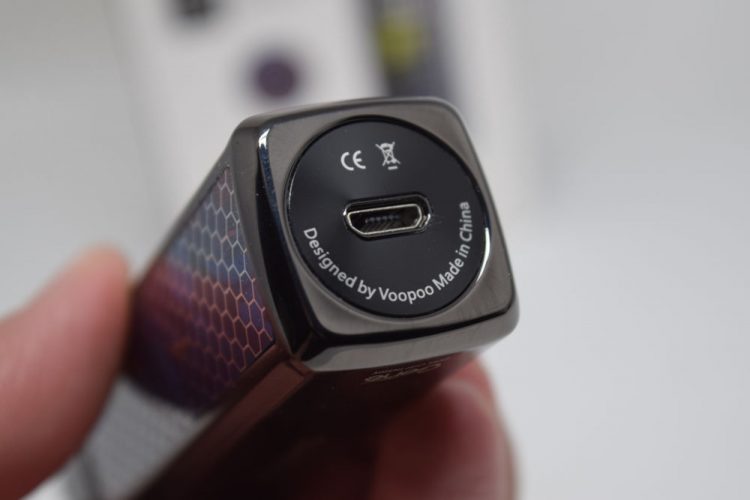 I'd be interesting to try an MTC coil-head with the Vinci in Auto mode, because the switch isn't the most sensitive one. With the stock coil-heads it seemed to require a strong direct-lung draw to switch on, while a more gentle MTL one only rarely worked.
But as I said, if you're looking for a direct-lung vaping device, the VooPoo Vinci will most likely impress you both in terms of vapor production and flavor intensity. This is what the VooPoo Find S Trio should have been, in my opinion.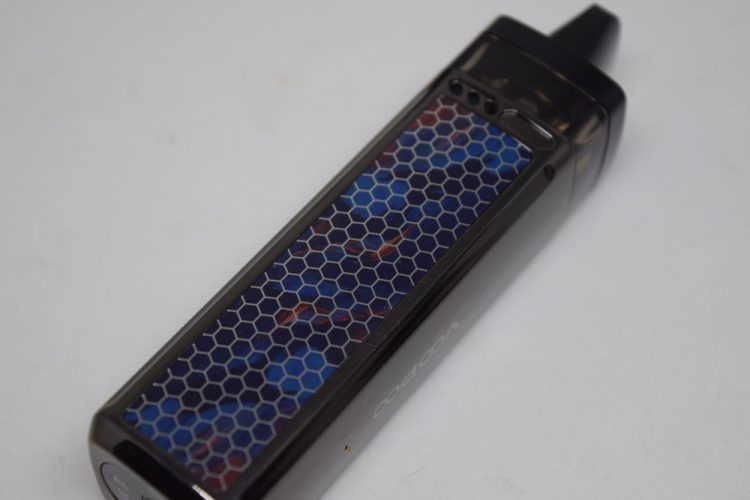 Conclusion
I've been waiting for a VooPoo device to hype me up the way the original Drag mod did back in the day, and luckily the Vinci is one such device. It's solid yet compact, packed full of smart features that you're just not going to find in other vape mods this size, it's easy to use and performance blows vape pods and most other all-in-one devices out of the water. Did I mention that it even comes with a color display?
Is the Vinci the perfect all-in-one vape mod? Definitely not, the airflow could be a lot better, I'd love to see an MTL-ready coil-head included in the kit, that smart wattage adjustment feature could have been implemented better, but as a whole I honestly think it's a damn good vaping device.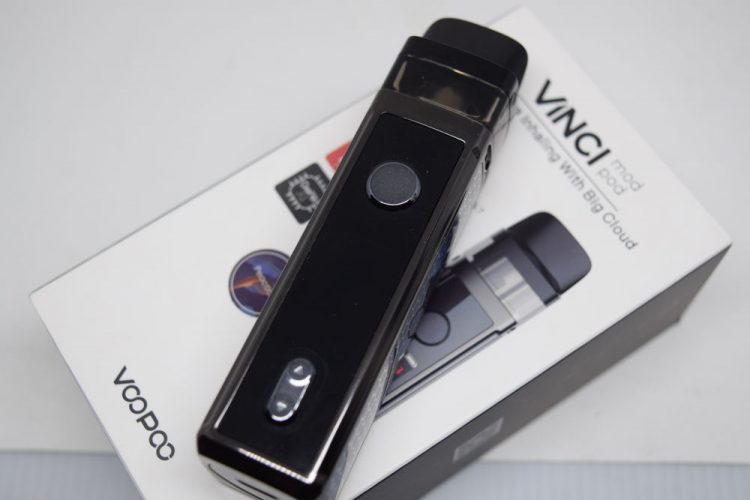 The VooPoo Vinci was sent to me by VapeSourcing, for the purpose of this review. They currently have it in stock for $46.99.
VooPoo Vinci
Get a great price on the VooPoo Vinci advanced pod system from from a reputable seller.