Black Note E-Liquid Review
Buy Black Note E-Liquid
You can find the entire selection of naturally-extracted tobacco e-liquids at the best prices only on BlackNote.com
E-liquid companies have been trying to create authentic tobacco flavors for over a decade now, but the results, although not always disappointing, have rarely come close to meeting vapers' expectations. However, newcomer Black Note E-Liquid claims its line of NET (Naturally Extracted Tobacco) juice actually captures the essence of tobacco, offering a vaping experience that's bound to finally please fresh ex-smokers.
Naturally extracted tobacco e-liquid is a hot topic in the vaping community these days, with many saying they are the standard by which all tobacco juices should be judged. I hadn't had the chance to actually try NET e-liquid when Black Note got in touch with me about doing a review of their premium line, so I jumped at the opportunity. Ever since I started vaping four years ago, I have been looking for that Holy Grail of tobacco e-liquids, the elusive concoction that could make ex-smokers transition to electronic cigarettes a lot smoother. Is Black Note the tobacco juice we've all been waiting for? Check out the review below and find out:
Let me start off by saying that packaging-wise, Black Note is miles ahead of the competition. I've reviewed dozens of e-liquid and e-cigarette companies, many of which actually put some work in the packaging and design of their products, but none of them even compare to these guys. Everything from the elegant musical theme finely integrated into every element of the products, to the high quality materials used and the vintage fonts reminiscent of the early 1900's simply scream quality and attention to detail.
Every bottle of Black Note e-liquid you order comes in a classy cardboard tube with a worn paper finish featuring a variety of important information about its contents, like a short description of that particular tobacco blend, nicotine level, batch number and the usual warnings. Design elements like the Black Note name and logo and the faux stamp are embossed on these cylindrical cardboard tubes, which adds to the general quality feel of the packaging.
The glass e-liquid bottles carry the same style of worn paper labels featuring most of the same information presented on the cardboard tubes. Their classic medical bottle shape and dripper cap are not only practical but fit the vintage Black Note theme perfectly.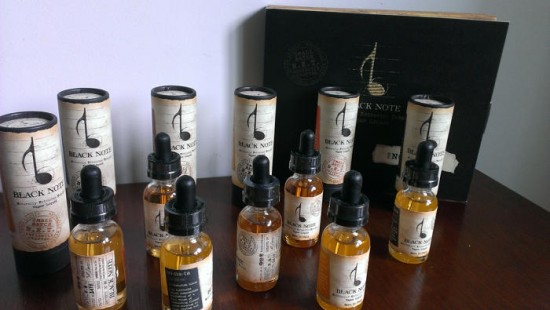 And there is the Notebook, a more convenient option for those who want to try all 8 Black Note tobacco juices without spending a fortune. It's basically a stylish notebook-shaped cardboard box containing all the available flavors in 7.5 ml bottles. One thing that really caught my attention was the short preface on the inside of the Notebook cover. In it, Black Note draws an analogy between the saxophone and authentic tobacco flavors, in that as modern technology has failed to perfectly imitate the complex and rich sound of the saxophone, so to have e-liquid companies failed to artificially recreate the taste of tobacco. It's small details like this that make Black Note's branding stand out from the competition.
These guys have obviously invested a lot of time and money into their brand and packaging, and they are indeed very impressive. However, these investments are also reflected in the end price of their products. At $29 per 30 ml, Black Note e-liquids are among the most expensive on the market. The Notebook is pretty pricey as well, at $58 for a total of 60 ml. That's basically $1 per milliliter of juice, which is above the market average, and is sure to put a lot of people off even giving Black Note a try. But I'm pretty sure this was a calculated risk. After all, Black Note makes it pretty clear that they are a high-end brand that's worth every penny to those who can afford it.
Now let's talk about what makes Black Note e-liquid special – their natural tobacco extraction process. They have thorough explanation of it posted on their website if you're interested, but basically they take some of the finest tobacco grown in Italy, Greece and Cuba and  extract the flavor through cold maceration. This steeping process takes 6 to 8 weeks, but it protects against bitterness and harshness and ensures that the vapor will deliver a smooth throat hit.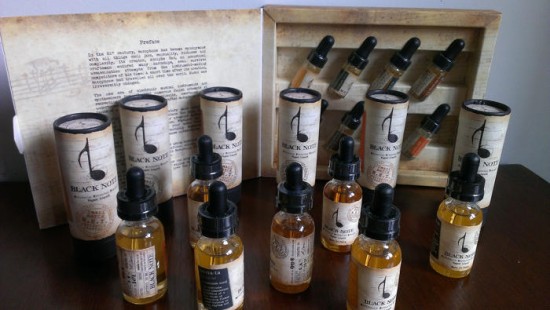 Black Note takes great pride in the fact that their e-liquids contain no artificial flavors, sweeteners or additives like the highly controversial Diacetyl, Acetyl Propionyl ,Ethylene Glycol, Diethylene Glycol, Acrolein or Acetoin. Other NET e-liquid companies claim the same thing, but Black Note is actually the very first in the world to provide a lab report, completed by an Independent United States Laboratory, as proof. You can download a copy of it from their website.
All this is truly impressive, but it means little if the actual flavors don't live up to the hype. And, after being blown away by the branding and reading all this interesting info about Black Note naturally extracted e-liquid, I had really high expectations. After all, it seemed to be everything I had been waiting for ever since I switched to vaping as an alternative to smoking. But you see, that's the thing, four years without smoking a single cigarette is a long time, and my senses just aren't used to tobacco anymore. I always had it in my mind that when I found that perfect tobacco juice, it would blow my mind. And Black Note did just that, but not in the way I expected.
The Black Note e-liquid line consists of 8 different tobacco flavors named after classical music terms: Prelude, Sonata, Adagio, Legato, Forte, Solo, Cadenza and Bravura. You have to admit, these names are a hell of a lot more inspired than other known tobacco flavors, like "RY4", "555" or "Red". Anyway, let's check them all out, individually: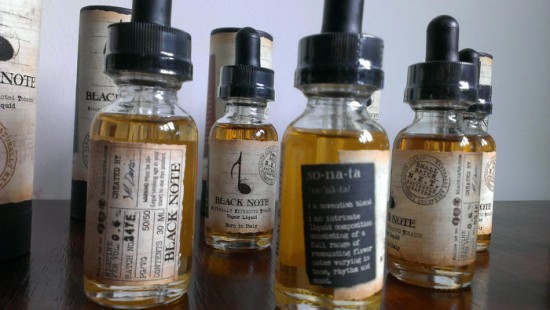 Adagio: this was the first one I tried, and it was a very weird experience, let me tell you. Before dripping the juice in one of my RDAs, I wanted to take a sniff and let the aroma of Havana tobacco kick-start my senses. I was stunned. My hopes of what Black Note would taste like evaporated instantly. This stuff smelled like feet; yes, musty, sweaty feet. I could not believe it, so I took another sniff, but my nose simply confirmed my first impression.
When vaped, most e-liquids taste very differently than what they smell like, so I decided to give Adagio a try despite my awful first impression. I filled up my Plum Veil RDA (0.5Ω single coil), cranked the SMOK X CUBE II mod up to 30 W and prayed for the best. This was a totally different story – I got a very rich, very bold taste of smoked tobacco, but none of the sweetness mentioned in the description on the bottle.
This was obviously an improvement, but I still didn't find this juice enjoyable. In fact, after a few hits, it made me a little sick to my stomach, so I stopped using it for a while. Something wasn't right here, and it didn't take me very long to figure out what it was. As I mentioned, I hadn't tasted real tobacco for a relatively long time, and I remembered that during my years as a smoker, I had multiple attempts of quitting. I once went for six months without lighting up, and when I finally relapsed, that first cigarette tasted so bad it made me sick. This was exactly the same thing. It wasn't the Black Note e-liquid, it was me. These guys promise authentic tobacco taste, and the Adagio definitely delivered just that, but my senses just didn't respond the way I expected them to.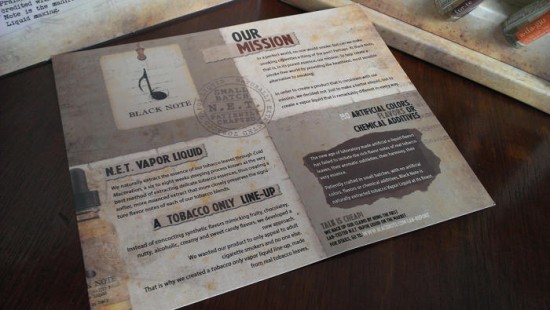 As soon as I realized what the problem was, I decided to take it slow and allow my senses to get reacquainted with the taste of tobacco. I would take a couple of hits of Adagio, then switch to my regular vapes, and the NET juice started to grow on me. After only a day, I was really enjoying it, but I waited another two before moving on to the other flavors, just to be sure.
Starting off my Black Note experience with Adagio was probably not the greatest idea. It turned out to be one of the richest and boldest tobacco flavors in the Black Note line. I was never a big fan of cigars – and I have actually always found the smell of cigar smoke disgusting – but this proved to be a real treat, eventually.
Prelude: the name is a dead giveaway, but I was apparently dumb enough to miss it  – this is the Black Note flavor you want to start with. It's a very clean, very mild Virginia tobacco, and even has a slight sweetness to it. I don't mean like candy sweet, it's more of a subtle sweet note, but it's enough to make it more palatable. Prelude has the makings of an all day vape for anyone looking for a genuine yet mild tobacco flavor.
Cadenza: back when I was smoking, I never really knew what kind of tobacco blend was in my favorite brand of cigarettes, but after trying Cadenza, I know there must have been some basma in it. I hadn't even tried the five other Black Note flavors yet, but I knew that this would be my favorite. I never thought someone would actually come up with a juice that replicates the taste of tobacco so accurately, but the Cadenza proved me wrong. The vapor has a strong natural tobacco aroma to it, but at high wattages, it also has a smoky undertone which makes vaping it a lot like smoking. The similarity is frankly quite scary. Not to mention that after taking a sniff of the atomizer immediately after taking a hit, I found that it smelled exactly like burned tobacco. I know I'm not wrong about this because my father still smokes and I smell it on him every time we meet. I have a feeling that's just the gunk  build-up on the atomizer heating up every time I fire it, but still, it's damn realistic.
If you're a fresh ex-smoker looking for an alternative that's similar to your old vice, I strongly suggest you give Cadenza a try. It will blow your mind!
Solo: this is the only menthol tobacco in the Black Note e-liquid line. It consists of smooth Virginia tobacco mixed with natural menthol oils, which – in line with Black Note's all-natural approach – are obtained through a special extraction process. To be perfectly honest, I thought the strong menthol overpowered the mild Virginia tobacco, but then again I was never a menthol smoker, so maybe that's what it's supposed to do.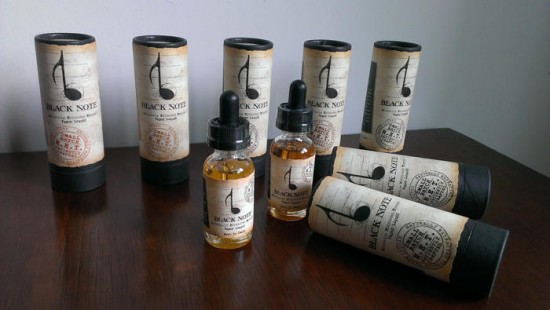 Bravura: this e-liquid is made with perique tobacco, which is obtained through pressure-fermentation and is known for its strong taste and fruity notes. Perique is often used in pipe tobacco blends as it is considered to strong to smoke by itself. My senses couldn't detect the fruitiness in the Bravura, but I definitely got a rich, slightly sweet tobacco taste.
Legato: definitely my second favorite Black Note flavor, right after Cadenza. I'm no tobacco connoisseur, but this flue-cured Kentucky tobacco has got to be among the best. Legato is a mild vape – not as mild as Prelude, though – but flavor-wise it's simply incredible. Along with Cadenza, Legato was most reminiscent of my smoking days, and after doing a little reading on flue-cured tobacco, it made sense. This is, by definition, a type of tobacco used in cigarettes and, along with burley, accounts for more than 90% of US tobacco production. Legato is another must-try for anyone looking for a truly tasty tobacco flavor.
Sonata: this one is made with Cavendish tobacco, which, according to the official Black Note description, involves "a unique process of cutting and curing designed to bring out the natural sweetness of the tobacco leaf". I can't say all of Black Note's description of their juices have been spot on, but I wholeheartedly agree with this one. Sonata is the sweetest of all Black Note e-liquids, but also one of the most flavorful. However, it's a more natural tobacco aroma, lacking the smoky notes of Cadenza or Legato.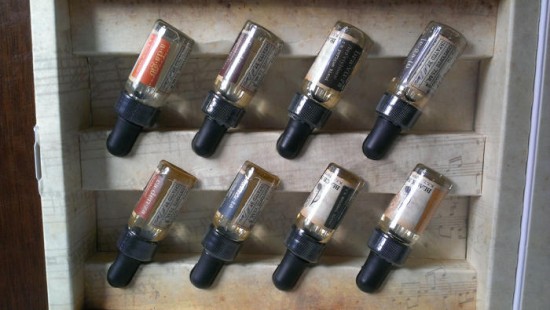 Forte: the name of this last flavor – "forte" is Italian for "strong" – suggested a strong harsh tobacco, but, like most of the other e-liquids in the Black Note lineup, it was all about the flavor. Forte has a very clear, mellow tobacco taste owing to the Italian burley grown in the volcanic soils around Naples.  Out of all the eight flavors, I think Forte makes the best all-day vape. It's not very strong, the flavor is to die for and there's a hint of sweetness in it as well.
Black Note offers its unique tobacco flavors in five different nicotine strengths, from 0.0% up to 2.4%. I opted for 0.6% as in a good RDA and at a high enough voltage/wattage it delivers a very good throat hit. I tested the e-liquids in a variety of RDAs, including Plum Veil, Dark Horse, Mutation V4 and Tugboat on a SMOK X CUBE II at around 30 watts, with 0.5Ω resistance. Another thing I noticed was that despite being a 50/50 propylene glycol-vegetable glycerin Black Note e-liquid delivers crazy amounts if vapor.
On the down side, these juices appear to gunk up coils faster than Max VG e-liquids, which is kind of strange. It might have something to do with the NET process, I don't know, but the gunk buildup on my coils after just a few hits was crazy. Still, I guess it's a small price to pay for these phenomenal tobaccos.
The retail price of Black Note e-liquid is definitely not small, though. Even for premium juice, the $29 price tag is about 30% above the market average. Some people just can't afford to pay so much, which is a shame, because they're missing out on some stellar tobacco flavors. There are other NET e-liquid companies out there that you can try, maybe even some that sell cheaper stuff, but I can't promise you'll be satisfied. I can however vouch for Black Note. These tobacco juices are the real deal, and if you can afford to give them a try, I'm sure you won't be disappointed.
Just remember to give your senses to readjust to the taste of tobacco, if you haven't smoked in a long time. Black Note will reward you for your patience.
Buy Black Note E-Liquid
You can find the entire selection of naturally-extracted tobacco e-liquids at the best prices only on BlackNote.com