Trabuco Vapors E-Liquid Review
Trabuco Vapors is a Naturally Extracted Tobacco (NET) e-liquid manufacturer based in Orange County California. What sets these guys apart from other NET juice companies I know is the fact that they top the main tobacco base with light notes of vanilla, caramel, graham cracker and other delicious flavors. This is their way of offering customers the best of both worlds – an authentic tobacco flavor reminiscent of their old smoking days, and tasty desert flavors that make vaping so much more enjoyable.
Chas and Robert, the guys behind Trabuco Vapors started the company back in 2012. As former pipe enthusiasts, they missed the subtle tobacco notes from their puffing days, but most tobacco e-liquids available in California were either too straightforward, or tasted nothing like real tobacco. So they began looking into ways of creating their own authentic tobacco juices, and that's how they learned that they could safely extract the flavors directly from the source. They describe it as a "Eureka" moment.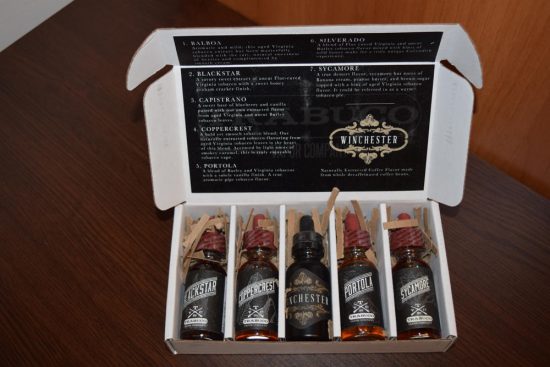 After coming up with a cold extraction method that allowed them to capture the realistic flavors of various tobaccos, the guys started talking about the kind of products they wanted to make and agreed that combining tobacco varieties with delicious dessert flavors was the way to go. They started off with four original flavors in 2013, and have been expanding their line ever since. They also created a coffee-flavored e-liquid with naturally-extracted coffee, which they were kind enough to send me for this review.
The Trabuco Vapors "Signature" line currently consists of seven flavors – Blackstar, Coppercrest, Sycamore, Capistrano, Portola, Balboa and Silverado, all of which are named after iconic places from Orange County, California. The come in three nicotine strengths (3, 6 and 12 mg/ml) and are high-VG, although I don't know the exact VG/PG ratio. I know that at one point Trabuco Vapors e-liquid was 100% VG, but they now have PG listed as an ingredient as well.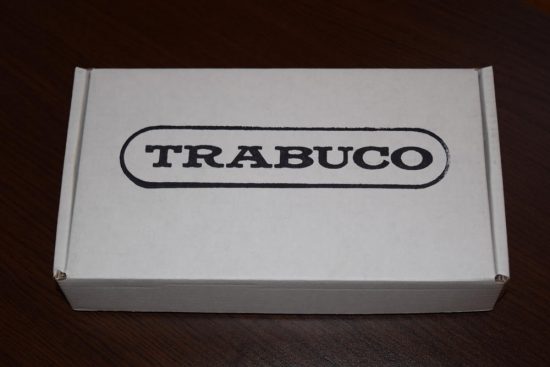 The e-liquids come in the classic 30 ml cough syrup-style dropper bottles and have very well designed, informative labels. On the front, every individual flavor has its own artistic design, the name of the flavor and the Trabuco Vapors logo, and on the back, you have these vintage form that mentions the variety of tobacco used, the added flavorings, nicotine strength, batch number, the date it was bottled on, a serial number and an inspection stamp. This is definitely one of the best labeling I've seen in my years as a vaper.
I only received four of the seven Trabuco Vapors juices for this review, plus the coffee-flavored "Winchester", but they were enough for me to get a good idea about the quality of the entire line. But before we discuss the flavors, I just want to mention that it's been a while since I've vaped tobacco flavors. In fact, I think the last line I've tried was Black Note, another NET juice brand, and even though I remember loving it, it's still a big change from the custards and donuts I usually vape. I went into this review with an open mind, but having been off tobacco for a long time, I probably don't appreciate them as a person who loves the taste of tobacco would. So please, take my impressions with a grain of salt.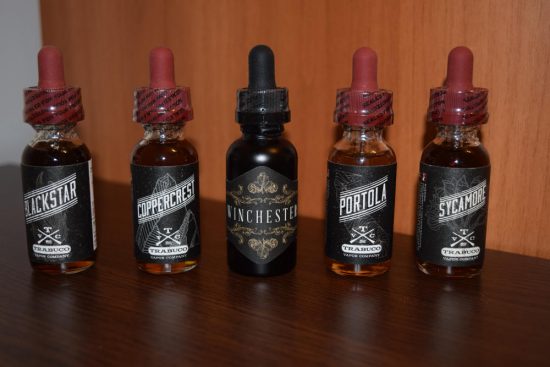 Portola – named after Gaspar de Portola, the founder and first governor of Alta California, Portola is a blend of Virginia and Burley tobaccos, with a (very) subtle vanilla flavor.
Taking a whiff of the juice before dripping it in my Nixon RDA, I didn't get as strong a tobacco aroma as I was expecting. There was definitely some tobacco in there, but I also got a strong smell of alcohol, and just a tiny bit of vanilla. But that last one is so subtle that I probably would have missed it completely, had I not read the flavor description beforehand.
This was the first Trabuco flavor I tried, and it took a while for me to get used to it. Having been off cigarettes for about 7 years now, it just tasted really strange to me at first. But after a few draws, and a couple of sips of whiskey, it started to grow on me. First of all, the taste of the vapor doesn't match the smell of the raw juice at all. The tobacco is much stronger than I originally thought, completely overpowering both that alcoholic taste and the vanilla. All that's left is a subtle sweetness that compliments the bold tobacco quite well.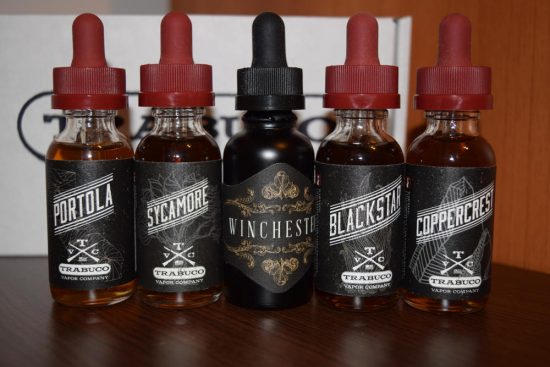 I was never a tobacco connoisseur, so I couldn't really tell you if Portola really tastes like Burley and Virginia, all I can say is that whatever tobacco is in this stuff, it's very flavorful.
Sycamore – named after the trees that covered most of Orange County, California before they were cut down to make room for housing complexes and parking lots, Sycamore "has notes of Banana cream, peanut butter, and brown sugar topped with a hint of aged Virginia tobacco flavor."
Now this was much more to my liking! Don't get me wrong, Portola is awesome if you prefer a bold, pungent tobacco flavor, but Sycamore is much sweeter and has milder tobacco flavor, with a delicious banana finish. Sycamore is a layered vape, with the mild Virginia tobacco coming in strong on the inhale, followed by the sweetness of the brown sugar, and the creamy banana on the exhale. Finally, the aftertaste is all nutty peanut butter.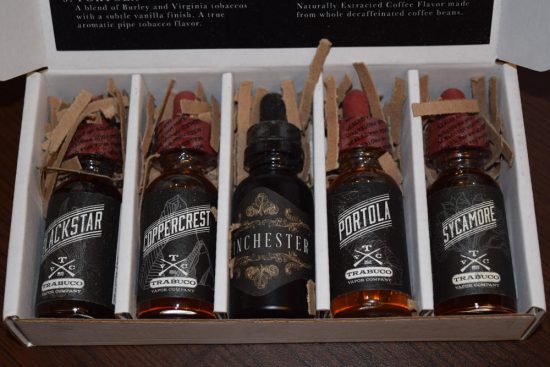 Because of the mildness of the Virginia tobacco, the sweetness and the strong banana flavor, I would even call this an actual tobacco vape, but actually a really good dessert vape that just happens to have some authentic tobacco in it.
Coppercrest – named after Coppercrest Mountain, this juice has an aged Virginia tobacco base with subtle notes of smoky caramel to make it even more palatable.
With Coppercrest we're right back into tobacco territory, but either I'm getting used to the taste of tobacco again, or Burley is just too harsh for my taste, because this aged Virginia flavor is much milder and more enjoyable than Portola. The smoky caramel may be light, but what it lacks in flavor it more than makes up in sweetness. Coppercrest is much sweeter than you would expect a clean Virginia blend to be, but it doesn't overshadow the rich aroma of the tobacco at all, if anything, it just makes the vaping experience more enjoyable. But then again, I have a sweet tooth, so my opinion is subjective.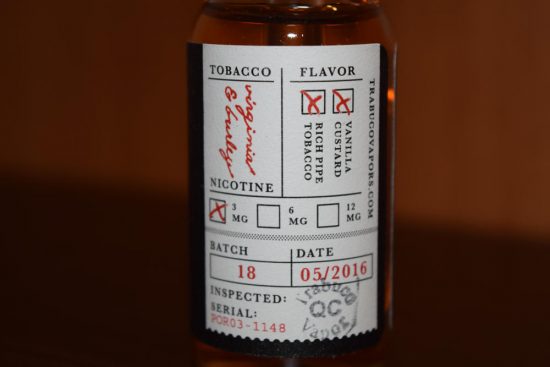 If you can only afford to try one tobacco flavor from Trabuco, I suggest you got for Coppercrest. It's got a pleasant, realistic tobacco taste, but it's milder than Portola.
Blackstar – named after the remote mountain canyon of Orange County, Blackstar is "a savory sweet extract of uncut Flue-cured Virginia tobacco with a sweet honey graham cracker finish."
I had no idea that tobacco and graham cracker go so well together until trying Blackstar. The mild Virginia tobacco base blends perfectly with the honey-sweetened graham cracker to create a whole new flavor that offers the best of both worlds – tobacco and dessert. Out of the four Trabuco juices I've tried for this review, Blackstar is definitely the most well balanced, with neither flavor overpowering the other.
If there's one negative I could mention about Blackstar is that it tends to gunk up my coils much faster than the other three e-liquids. It's also the darkest of them, which combined with the sweetness of the crackers, makes it somewhat of a coil killer. Still, having to clean or replace your coils more often is a small price to pay for such a delicious vape.
And that brings us to the star of this show, at least as far as I'm concerned, Winchester, or as I like to call it, my vaporized cup of joe.
To make delicious coffee e-liquid, Trabuco starts with certified organic Peruvian coffee beans that are first decaffeinated using the Swiss Water process. The natural flavor of the beans is then naturally extracted using USP Vegetable Glycerin to form the base of a juice that's bound to please coffee lovers.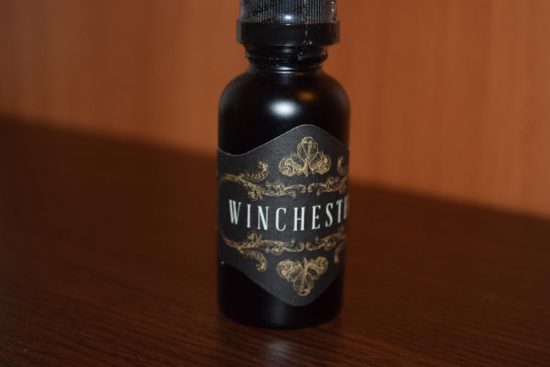 I don't usually vape coffee-flavored juices, mainly because the ones I tried in the past didn't really do the real stuff justice, but Winchester is proof that good coffee vapes actually exist. This stuff smells a lot like the cold drip I make during the summer, but with an added layer of cream to make it a bit smoother. The aroma of mild roasted unsweetened coffee is faithfully reproduced with every draw you take and the light cream notes leave your mouth feeling velvety. And if you're worried about Winchester being unsweetened, don't be, the natural sweetness of the Peruvian coffee is enough to make it enjoyable. As I take another toot of Winchester, all I can tell you is that vaping this stuff is utter bliss.
The consistency of Winchester is a bit strange for a high-VG e-liquid. It's almost water-like, for some reason, so there's a chance it will flood sub-ohm coils with particularly large wicking slots, but I recommend vaping this in a good RDA that can bring out its delicious flavor.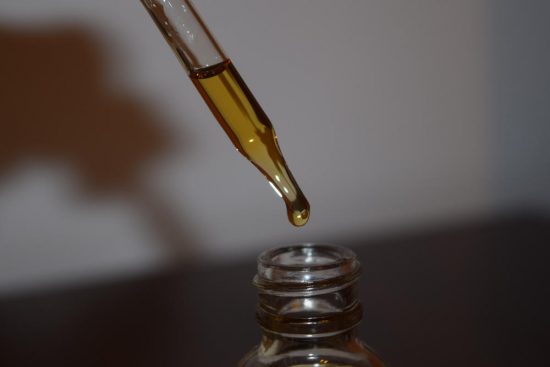 Also, like Blackstar, this is a dark juice, so it tends to gunk up coils pretty fast.
I had never heard of Trabuco Vapors before being contacted by the company to review their line, but I'm definitely glad I had the chance to try out all these amazing e-liquids. Obviously, I liked some flavors more than others, but as a whole, this is a stellar collection. Whatever your preference of tobacco, you're bound to find one of its unique concoctions to your liking, and the coffee-flavored Winchester is the cherry on top. If you're looking for an authentic tobacco juice, I suggest giving Trabuco a shot, it will surprise you!