Bloog Viquid Review
A few months ago, Bloog E-Cigarettes announced the launch of a new line of e-liquids made in an FDA-registered pharmaceutical facility, using only US-sourced ingredients that have achieved USP designation. Called 'viquid' the new line is being touted as the first pharmaceutical grade e-liquid in the industry.
Bloog is making their new viquid sound very impressive, but you have to take their claim with a grain of salt. After all, they can call it pharmaceutical all they like, but until it gets FDA approval as medicine, it's still just e-liquid made to FDA standards. It's a pretty big difference, and they're certainly not the first to use USP-grade ingredients and sterile laboratory facilities to produce their e-liquids.
That being said, moving from run of the mill e-liquids made in China to a superior line created in an FDA-registered and DEA-certified facility that abides by Good Manufacturing Processes (cGMP), is a huge leap forward for Bloog, and great news for their customers.
Bloog Viquid is made by NicoPremia, a pharmaceutical facility, located in Bucks County, Pennsylvania,  that specializes in creating e-liquid. They apparently even make their own nicotine through a proprietary process that "produces a nicotine noted for its superior flavor profile and stability". I must say I was a bit confused after reading that on their website, as I was under the impression pure nicotine is a flavorless, odorless substance…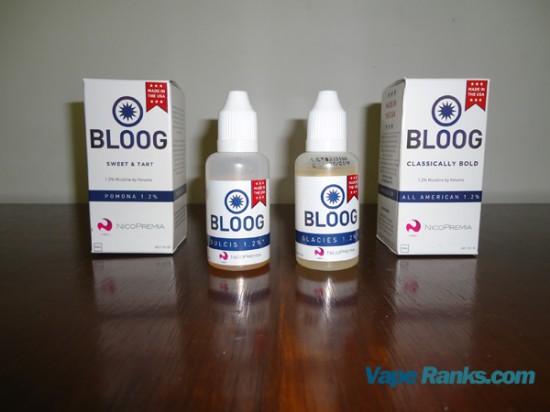 The first thing I liked about the new Viquid juice was the packaging. The plastic bottles come packed in cardboard boxes, which means they're not sitting on a shelve somewhere exposed to light for God knows how long before being shipped out, and feature proper labeling (ingredients and health warnings).
For now, the Bloog Viquid line consists of just four different e-liquids: All American, Glacies, Dulcis and Pomona, with more to be added in the near future. Bloog have been kind enough to send me all their available flavors for review, so let's have a look at all of them individually:
All American – If you're fresh off cigarettes and want to give Bloog Viquid a try, this is the juice you should be looking at. On the company's official site it's described as having a "bold that most resembles a traditional cigarette". It's indeed a very good tobacco e-liquid, but it's a tad sweeter than I expected after reading that. Having tasted Bloog's imported juices in the past, I'd say it's a combination of their 555 and Red, but much clearer and smoother. It also delivers a pretty strong throat hit, even at 1.2mg/ml nicotine concentration, and has no weird aftertaste, which is always a plus;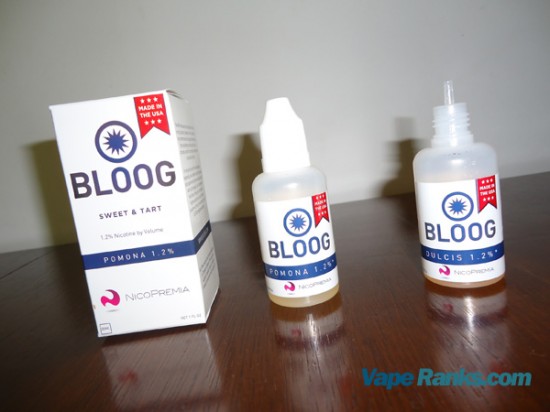 Dulcis – I've always been a big fan of RY4 e-liquid. For some reason, the combination of tobacco and caramel, always appealed to me, so after reading that the new Dulcis is "great for RY4 fans", I was pretty excited. Luckily, this new Bloog flavor did not disappoint. It has the boldness and strong throat hit of the All American tobacco, but with an added caramel undertone that's simply to die for. It's not overly sweet, like other caramel juices I've tried, and really complements the tobacco flavor. If you like regular RY4, you're going to love Dulcis.
Pomona – When I first reviewed Bloog e-cigarettes, their signature Bloogberry e-liquid was one of the things that convinced me to give them a high rating. It was, and still is the best berry e-liquid I have ever vaped. It's still available as an imported juice (from China), but it has also inspired the new Bloog Pomona viquid. This one's not as good though, in my humble opinion. While the Pomona has a sweet blueberry flavor which is bound to please berry lovers, it's nothing special. It tastes exactly the same as the blueberry from Vapourlites, to be honest, which is not a bad thing, it's just not as good as the original Bloogberry.
Glacies – Most menthol flavors I've tried so far were really strong, mouth-freezing concoctions, but the new Glacies from Bloog is different. It's got a clear minty flavor, but it's milder and smoother than most menthol e-liquids. Although I'm not really a fan of menthol, and have never considered it an all-day vape, I found myself craving a few puffs of Glacies every day, so I definitely recommend it.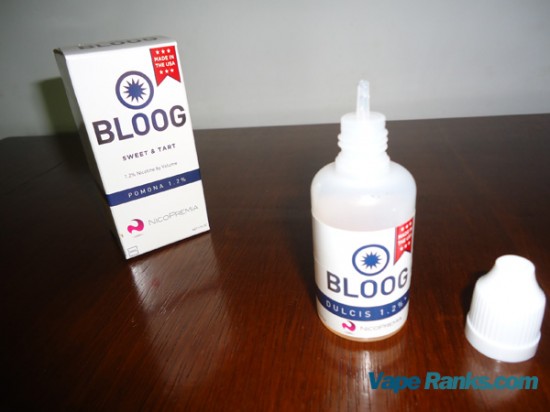 All in all, I'd say the new Viquid e-liquid line from Bloog is off to a good start. It might be limited to only four flavors, for now, but if these are a sign of things to come, you can expect the upcoming flavors to be top quality as well. I was particularly impressed with the Dulcis, but I'm pretty sure there are a lot of vapers out there who love the Pomona, as well. Ultimately, it's just a matter of taste.