Vapourlites E-Liquid Review
British e-cigarette company Vapourlites claims their Pharma+ line of vaping e-liquids "is of the highest grade currently available to buy in the UK today". That's a pretty bold statement, considering the controversy surrounding the quality standards of e-liquids today, but Vapourlites say their juices contain only pharmaceutical grade ingredients and are developed and manufactured in their own UK laboratories. I read all this on their official website, but I had no clue of how their e-liquids actually tasted, so when a company representative got in touch about doing a review, I got my chance.
As we reported last year, the UK will regulate electronic cigarettes as medical products come 2016, and it looks like more and more vendors who want to stay in the business after that critical moment are starting to make the necessary adjustments. While using pharmaceutical grade ingredients isn't nearly enough to get your products approved as actual medicine, it's definitely a first step in that direction, and one that Vapourlites has already taken.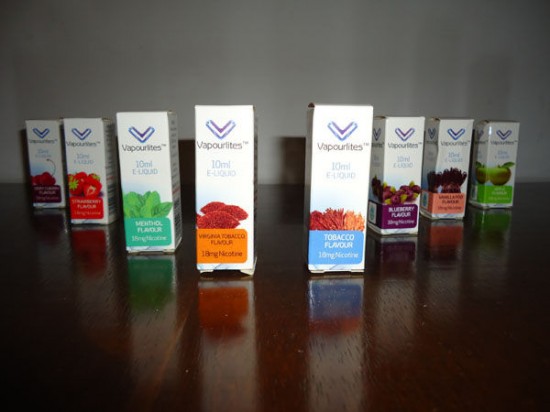 Although medical regulation for e-cigarettes is bound to do more harm than good, the use of clean e-liquids blended in safe laboratories is bound to give a lot of vapers peace of mind, especially with all the unsubstantiated rumors about the industry's low quality standards going around. So even before going into details about the quality of Vapourlites e-liquid, I'd say the high manufacturing standards are already a big plus for this company.
Now let's talk about the juices. When I received by review samples, Vapourlites was offering a total of eight different flavors – Tobacco, Virginia Tobacco, Menthol, Vanilla Pod, Very Cherry, Apple, Strawberry and Blueberry. Since then, they've added four more – Grape, Ice Mint, VY4 and Red Tobacco – which I have yet to try. As you can see, Vapourlites specializes in clean, basic flavors, instead of mixing them together to try and replicate popular desserts or drinks, like a lot of other companies do. Is that a good thing? It depends on your taste I guess. I can definitely appreciate a nice, clean strawberry flavor, but I'm also crazy about Menthol Red X, a raspberry-menthol combination by Liquitine.
Vapourlites e-liquids come in a 80PG/20VG ratio that guarantees a clean flavor, strong throat hit and decent vapor volume. I opted for 18mg/ml nicotine strength, which may be a bit too strong for the average lights ex-smoker, but they do have a 10mg/ml strength as well. For this review I used a standard eGo battery (as recommended by Vapourlites) with Kanger EVOD BCC clearomizers. Let's check out the flavors: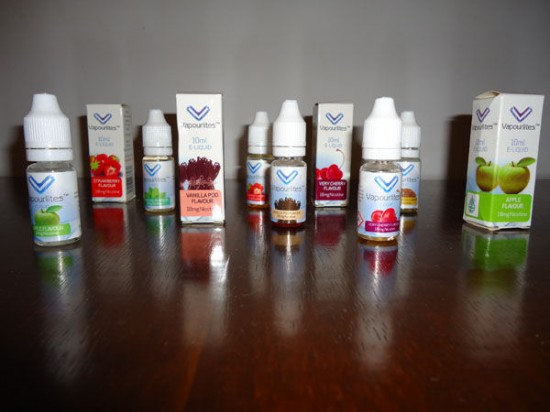 Tobacco: I'm still searching for that perfect tobacco juice, you know, the one that nails the taste of an  actual cigarette. Unfortunately, Vapourlites isn't the one either, but it's still easily one of the best tobaccos I have ever tried. It has that pungent tobacco flavor that I loved back in my smoking days, along with some nutty notes and added sweetness, and best of all, it doesn't have a chemical aftertaste. I've tried quite a few tobacco flavors that seemed ok at first but left a terrible taste in my mouth that made me sick to my stomach. Not Vapourlites, though. I went through the 10ml bottle in less than a week, and enjoyed every last drop.
Virginia Tobacco: After trying their classic Tobacco, I didn't think Vapourlites could improve their flavoring too much, but boy was I wrong. The Virginia Tobacco blows the classic Tobacco out of the water, if you ask me. After just sniffing the bottle I knew I was in for a treat, and it did not disappoint. If you're looking for something that actually tastes like a cigarette, you have to try the Virginia Tobacco. It's not quite as sweet as the regular Tobacco, and doesn't need any nut flavor to replicate the taste of genuine tobacco. I don't know what flavors they actually use for this, but it's really, really close to proper tobacco.
Menthol: It's what it should be – a clean, cool vape that leaves you with a pleasant minty aftertaste. My taste buds didn't detect any weird notes on this one, which was great. The Vapourlites Menthol is a great basic vapor that's bound to please menthol fans. That's really all I can say.
Vanilla Pod: I'm not a big vanilla fan, I never have been. I don't hate the taste, I just like vaping other flavors a lot more. That said, the Vanilla Pod is on par with all the other Vapourlites e-liquids. Basic, clean vanilla flavor, great throat hit, no chemical aftertaste. Goes great with coffee when you're out of tobacco juice. Damn these small 10ml bottles!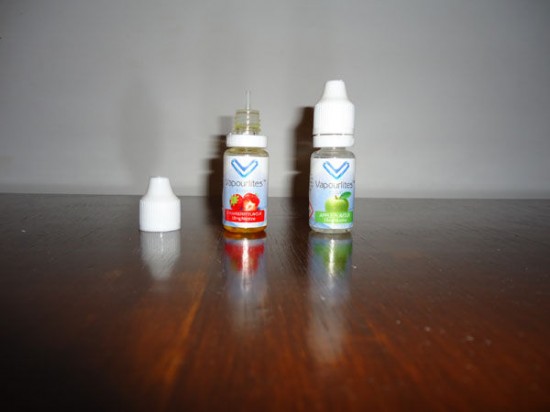 Very Cherry: I'm a big fan of fruity flavors, so I was really curious about the Very Cherry from Vapourlites. It's the strongest cherry flavor I've tried, by far. Like BAM!, in you face, kind of cherry. Obviously, this is an artificial cherry flavor, like that of cherry candy or cherry drinks, so it doesn't taste like real cherries, but if you're ok with that (I sure am) you're going to love Verry Cherry.
Strawberry: Again, very strong strawberry candy flavor, no weird aftertaste, perfect for berry fans.
Blueberry: This was my least favorite Vapourlites e-liquid flavor. I'm a huge blueberry fan, and the old Bloogberry from Bloog E-Cigarettes is probably my all-time favorite juice, but this one isn't quite as good. The flavor is just as strong as the Verry Cherry and Strawberry, it's just the taste I have a problem with. I thought it was way too sweet, to be honest, but taste is subjective, so feel free to try it for yourself.
Apple: A great green apple flavor that actually tasted very natural to me. It's not as sweet as the other fruit flavors from Vapourlites, and the flavor is also not as strong. If not for the throat hit from the nicotine, I could swear I had just bitten out of a juicy Granny Smith apple. Definitely a must try if you like this fruit.
Overall, I was very impressed with the Vapourlites Pharma+ e-liquids. The Virginia Tobacco is great for fresh ex-smokers looking for something close to the taste of cigarettes, the fruit flavors are very strong, and I couldn't pick up any chemical taste on any of them, which was awesome.