iJoy Combo RDTA Review
The iJoy Combo RDTA is a rebuildable atomizer the likes of which I have never seen before, and I'm willing to bet, neither have you. From the outside, it looks like an almost perfect replica of the Limitless Plus RDTA, which kind of makes sense considering that the two companies have (or had) some sort of partnership going on, but on the inside, the iJoy COMBO RDTA is a whole other animal. This thing has not one, not two, but six available building decks – only two of which come included in the kit – as well as an RDA deck and a pre-made coil head, which is actually a disposable deck with two fused coils. Whatever build you want to try, whatever type of wire you want to use, with the iJoy Combo RDTA, you can do it.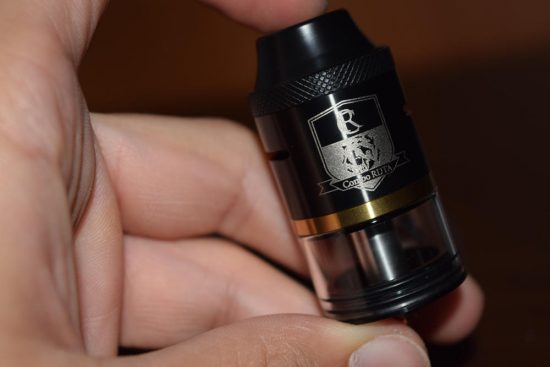 The iJoy Combo RDTA kit is one of the most bountiful vaping packages I have seen in a while, probably ever. It contains the highly acclaimed Limitless Plus-style RDTA, two interchangeable build decks – one Velocity-style and one Goon-style – a pre-made coil head, a spare glass tube, a spare top cap for 510 drip tips, a bag of goodies (colored o-rings for the tank, a plastic deck adapter for single coil vaping, a 510 delrin drip tip, a bunch of extra screws and even a spare positive pin. You also get a Phillips head screw driver and flat screwdriver. It really doesn't get much better than that, especially for an average price of around $40. The RDTA alone is worth that much, but with all the extras included, it's practically a steal.
You'll notice that there is no user manual in the contents list above. That's because iJoy doesn't include one, so if you're not familiar with RDAs, RDTAs and installing coils, don't look for help in the box. The Combo RDTA is aimed exclusively at advanced vapers who know what they are doing. So if that's not you, I'd recommend starting with something a lot simpler and slowly working your way to this type of complex atomizers. Yes, it does have that pre-made coil that comes with its own deck, and it works reasonably well, but you're not getting the whole Combo experience.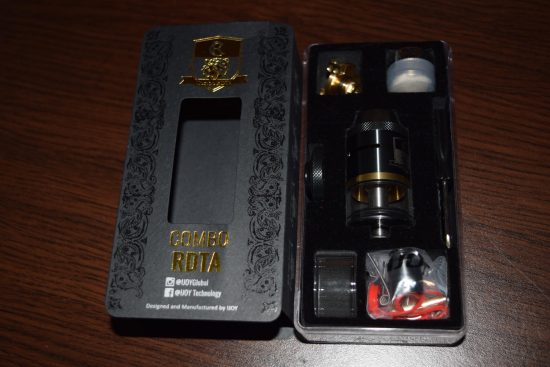 As I mentioned in the opening paragraph, at first glance, the iJoy Combo RDTA looks almost identical to the Limitless Plus RDTA. Now, ever since iJoy and Vapor Hub, the US-based parent company of Limitless, started working together, we've seen the Limitless logo on quite a number of Chinese products that had clearly not been designed by the American company – like the iJoy/Limitless Lux – but the Combo RDTA is clearly a Limitless Plus on steroids, only it says "designed and manufactured by iJoy" on the box and there's no mention of Limitless. The story is that this has led to a rupture between the two companies.
Both sides have posted their own version of the story on social media, but basically Limitless is accusing the Chinese of stealing their design and the idea for interchangeable decks, while iJoy claims that the Combo RDTA is their own idea, adding that Vapor Hub had defaulted on payments. So it would appear that the two companies are no longer on good terms, and that the device I'm talking about in this review is the main reason for that.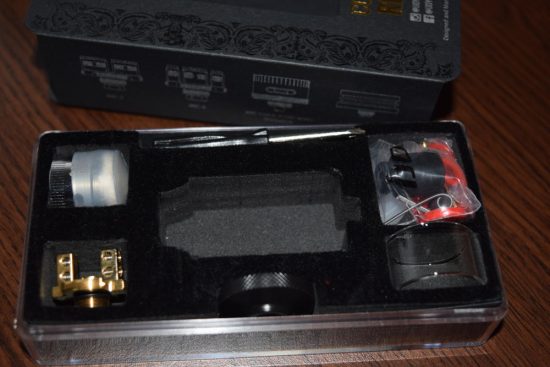 Controversy aside, the Combo RDTA is a killer device. If you're the kind of vaper who loves doing builds and experimenting with different types of decks and wires, this thing will probably save you a small fortune, because you no longer need a bunch of different atomizers. It's a 6-in-1, for crying out loud.
If you're familiar with the Limitless Plus RDTA, you'll probably want to skip the next two paragraphs, because you won't learn anything new. The iJoy RDTA is 25mm in diameter and 53mm tall. iJoy claims that it has an e-liquid capacity of 6.5ml, and I'm not going to argue with that, but I only managed to put in around 6ml, because I didn't want to risk it overflowing through the fill port. The port is located on the side of the atomizer, but you have to remove the top cover to access it. The fill port is nice and large, making it easy to fill the tank with virtually any size dropper or unicorn bottle. The great thing about it is that it's sealed by the rubber o-rings of the RDA cover, making leaking a non-issue even when tilting your mod to improve wicking.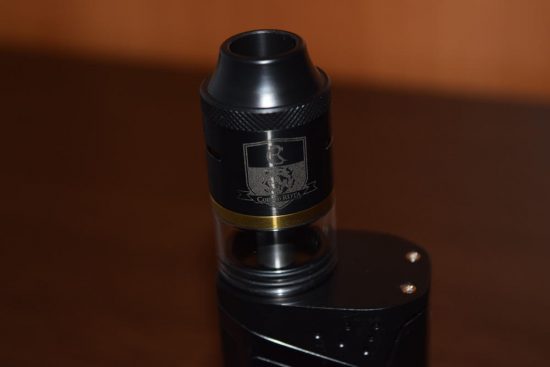 The iJoy Combo RDTA comes with a delrin chuff drip tip, that can easily be replaced with a classic 510, simply by switching the top cap of the device with the extra one included in the package. The RDA cover is made of stainless steel and has these huge adjustable airflow slots that provide the airiest vape I've ever enjoyed on an RDA/RDTA. We can'really talk about the deck yet, because it doesn't have just one, but a total of six, as well as the pre-made coil head and an RDA deck. The tank itself is pretty standard, and so is the base.
Okay, so let's get to what really makes the iJoy Combo RDTA so special – the interchangeable decks. The Chinese company claims that they are all made of stainless steel and gold plated to improve conductivity. The atomizer comes with one deck pre-installed, but if you want to change it, you can easily do so by unscrewing the positive pin on the bottom, taking it out and just screwing off the mounted deck. Then, just screw on the other deck of your choice, put the pin back in, and you're good to go. It's a really simple and ingenious design that makes changing the decks quick and effortless.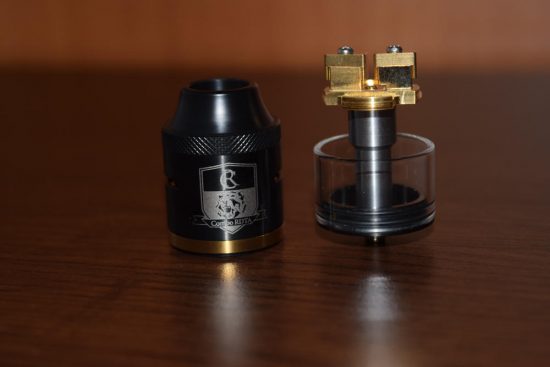 The Combo RDTA kit only comes with two of the six available decks, but I for one consider them to be the best of the six currently available. We have the tried-and-true Velocity style deck with the two big-ass posts and huge slots that should fit any type and gauge of wire on the market these days, including alien wire and ribbon. If you've ever built on a Velocity deck before, you already know how great it is compared to classic RDA decks, so I'm not going to praise it any more.
Then, we have the real star of this kit, the popular Goon-style deck. Virtually every reviewer I follow on YouTube has at least talked about this innovative deck at least once since it came out, in March, 2016. The special thing about it is that instead of wire slots and screws, it uses a clamp system to fasten the coils in place. This gives you way more room to maneuver and improves conductivity, because you no longer have to stack beefy coil leads one on top of each other to make them fit through the wire holes. It might seem like a pain to insert the coils at first, but that's just until you realize that it doesn't have to be perfect. As long as the leads get pressed down into the two clamps, you should be just fine.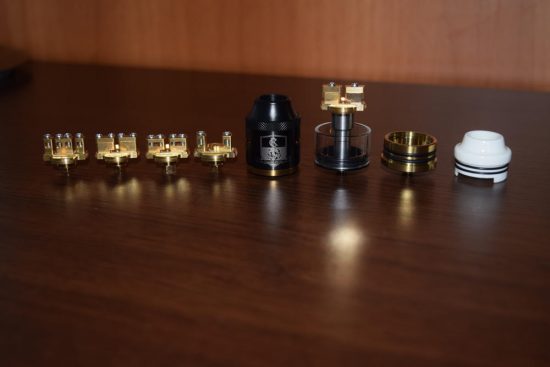 And in case you're curious, iJoy doesn't include the original Goon deck into the kit, but the upgraded one, with the spring-loaded screws that open up the clamps as you unscrew them and close it back down as you screw them back in. This thing is a tiny wonder, believe me. This was my first experience with a Goon-style deck, and I have to say that the hype is real. As I write this review, I'm actually vaping on the Combo RDTA with the Goon deck, and it's absolutely fantastic. Coils line up with the air slots perfectly, the leads stay firmly in place and the vaping experience is divine.
As I said, these are the two best decks of the lot, and you get them both included in the package. But, if you're curious about the four other decks available, you can buy them separately, as well as the RDA base, for about $10 each. The guys at Heaven Gifts were kind enough to send me all the extras for this review, so I took some photos of them for reference. I'll admit that I didn't try out all of them, though, simply because I had tried other decks like them before, and because I believe that the two I discussed above are the best, anyway.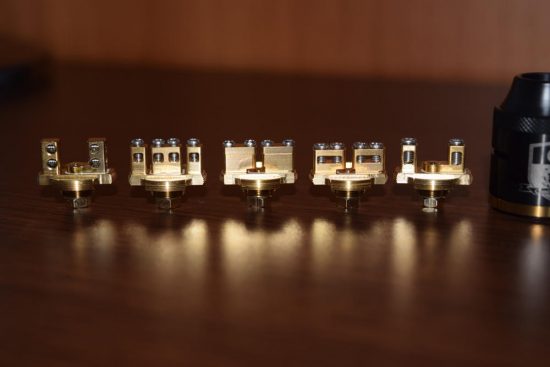 Here's what the other four available decks are: you have the classic two post deck, another classic four post deck (both with huge wire holes), the original Goon-style deck (without the spring loaded springs) and a hybrid Goon/classic deck with two massive, hollowed-out posts and four thick screws to tighten down the wires.
They all look well designed and sturdy as can be, but unless you really want to have the whole collection of decks, or for some reason hate both the Velocity and the Goon, there's really no need to spend extra on any of these decks. The two that come with the RDTA are more than enough for anyone, if you ask me.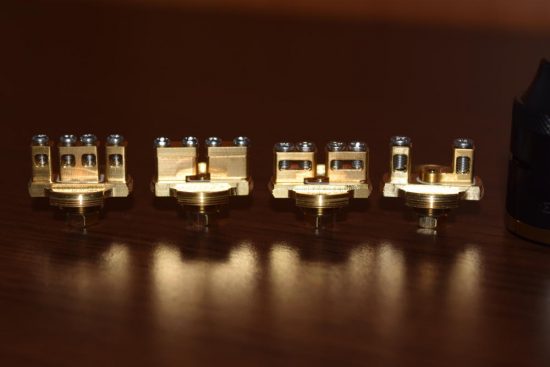 However, if you really want the whole iJoy Combo RDTA experience, the one thing that's really worth a few extra dollars is the RDA base. Unfortunately, it's only available as a separate purchase, but it's worth it, mostly because of the huge well that acts as a reservoir for e-liquid. You can just fill it up with juice and the cotton is going to wick until it dries, saving you the effort of dripping every couple of hits. The machining is nice as well, and it's just a nice thing to have if you ever feel like using this thing in RDA mode.
There's also a white ceramic chuff cap that you can buy separately, but it doesn't affect the performance of the RDTA in any way, it's just something extra that you can spend some bucks on.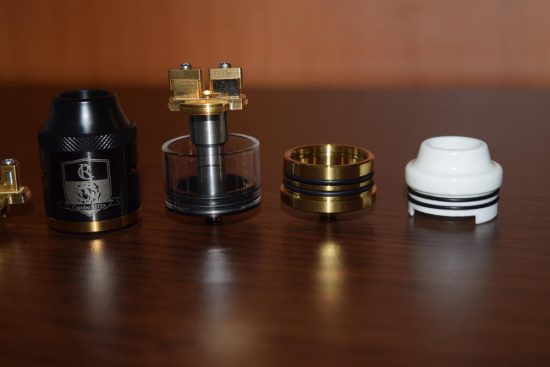 Like that of any Genesis-style atomizer, the performance of the iJoy Combo RDTA relies heavily on proper wicking. Since the juice tank sits under the heating elements, you have to make sure that the cotton leads reaching into the tank are just the right size and thickness. Otherwise, you're going to get dry hits, or the vapor is not going to be as tasty as it should. I for one am currently using the two Kanthal coils included in the iJoy goodie bag, with some Cotton Bacon. I cut the cotton right where I could see the tips of the leads reaching into the tank, and made sure that the cotton strands were thin enough not to block the deck slots completely. So when I tilt my mod, I know that the juice can make its way to the coils. If you've never used an RDTA before, getting the wicking right on your first try is pretty tough, but I suggest watching some YouTube tutorials, and try again.
Provided you coil and wick it right, the iJoy Combo RDTA is a spectacular tank. Vapor production is off the chart with my current 0.15Ω dual-coil build at around 90W, and the flavor is not too shabby either. Keep in mind that this is primarily a vapor tank, not a flavor one, so if you're a mouth-to-lung flavor chaser, you probably won't be very impressed. However, I found that by closing the airflow slots halfway, you can actually increase the intensity of the flavor considerably, while losing just a tiny bit of vapor. To be honest, keeping both of them fully open made the vape way to airy for me. I felt like there was no restrictions to the draw at all.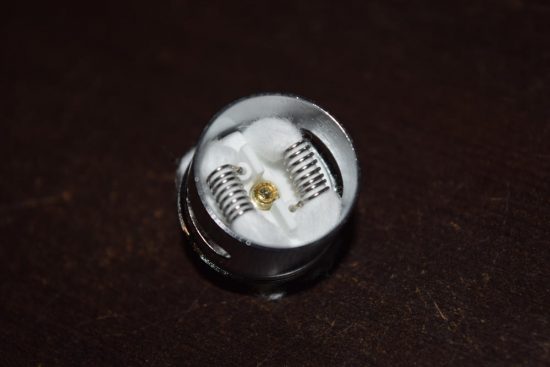 I've experienced no leaking in the two weeks using the iJoy Combo RDTA, but keep in mind that this is a Genesis style device, so you're bound to get a little juice on your fingers from time to time, either when refilling the tank, or simply when taking off the RDA cap to check the coils. It's definitely not a con, though, just the way this system works.
The one thing you should be wary of before buying this awesome RDTA is that it's a juice guzzler, especially when using fancy dual coil builds. I've gone through a whole 30ml bottle of Max VG e-liquid in a day, which I've never done before (and I didn't even use it exclusively), so I for one am not going to be using it regularly, for financial reasons. It's a nice thing to  whip out on occasions, or if you can get quality e-liquid for cheap, but otherwise it's going to burn a hole through your wallet.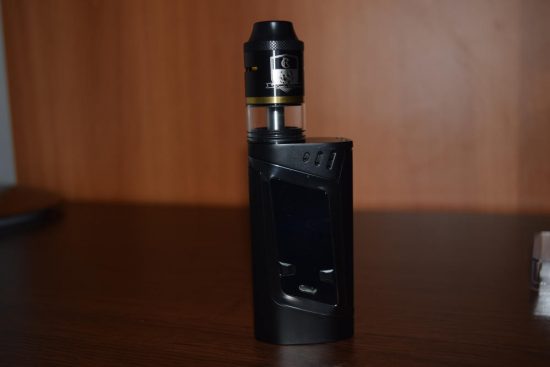 So, would I recommend the iJoy Combo RDTA? Most definitely! This is a game changer, for sure, and unless you already own a Limitless Plus atomizer, you should really consider adding it to your collection. The standard kit alone is fantastic, but there are so many extras available, if you feel like experimenting with different decks and coils builds, and you can even use it as an RDA. For just around $40, you really won't find a better Genny out there right now.