Joyetech Cuboid 150W Review
Joyetech has been on a roll for quite a while now. They released the awesome Cubis leak-proof tank that we got a chance to review earlier this year, and they recently launched the eGrip 2, which I've been using for a few days and will be posting a review of shortly. The Cuboid 150W box mod has been around for a few months now, and has been virtually flying of the shelves ever since, so I've only been able to get my hands on one a couple of weeks ago. I was drawn to this device the moment I laid eyes on it and I couldn't pass up the opportunity to test it and share my experience with you guys. So let's take a look at the Joyetech Cuboid 150W mod:
The Cuboid comes in a sturdy white cardboard box with a picture of this beautiful vaporizer on the front, and some basic information and the package contents on the back. Inside, we have the gorgeous looking mod in a foam holder, and underneath that there's a USB data cable and a user manual. It's a fairly austere offering, but considering you can buy it for well under $45 nowadays, it's actually a pretty good deal. Let's not forget that this is an advanced dual-18650 battery mod packed full of useful features.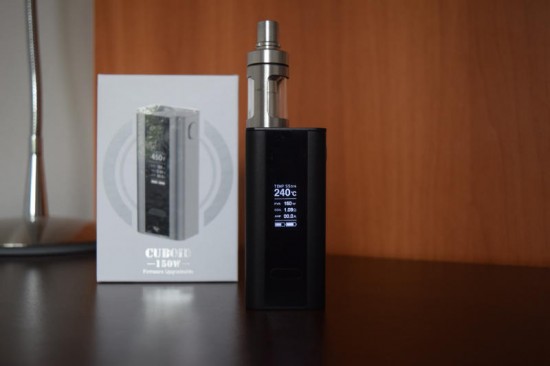 Speaking of dual-battery vaporizers, the Joyetech Cuboid is by far the most compact such device I have ever used. Yes, it's also just a bit taller than most dual-18650 mods, but it's so much thinner, and feels much better in your hand. If I were to compare it to a similar size device, it would have to be the single-battery Koopor Mini, which is insane. You basically get the battery life and power output of a dual-battery mod in the body of a single-battery device! According to the Joyetech website, the Cuboid is 42mm wide, 28mm thick and 91.5mm tall. That's impressive for such a device that can deliver up to 200W of power (with a firmware update).
The Cuboid 150W mod comes in three different colors – stainless steel, black and grey. I received the black version from the guys at Aspen Valley Vapes, for the purpose of this review, and I noticed that it's a bit different than the stainless steel one. It's got a matte finish, whereas the stainless one is a shiny fingerprint magnet. I would say the stainless steel one looks better with the contrasting black display on one side, but if you hate greasy fingerprints, go with the black.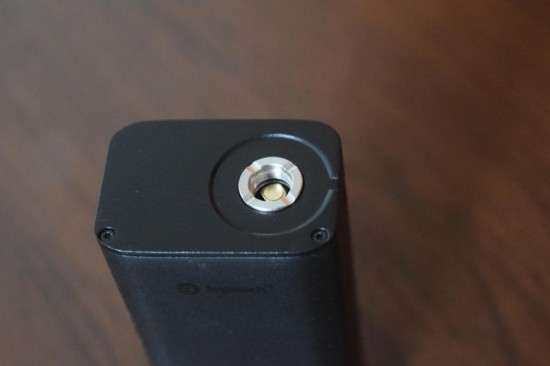 I, for one, fell in love with the simplistic yet elegant design of the Cuboid the moment I saw it. It's not as visually impressive as the Vaporesso Target or Vaptio Ascension S150, but if you appreciate simplicity and functionality, you're going to love this device. On top of the device, we have spring-loaded 510 connection with a gold-plated pin, and on the button we have a very well-made battery door. The fire button is positioned on one of the lateral sides, while the other accommodates a strangely-placed micro-USB port. I say "strangely", because these are usually found either on the bottom, or at least in the lower part of the mod. On the Cuboid, it sits very close to the 510 connection. Apparently, that's because in order to make this mod so compact, Joyetech managed to somehow fit the circuit board in the upper part of the device. Finally, on the front side of the Joyetech Cuboid, we have a large display and a oval button that actually works as the '+' and '-' buttons. It's a bit confusing, but well get to that.
The battery door is hinged and features a little tab that you pull back to open the door. After you put in the batteries, just press it down and it locks into place. It's a nice, efficient solution that I like much more than the solution on the new SMOK H-Priv and R-series mods, for example. The fire button is nice and clicky, and although it rattles quite loudly if you give the Cuboid a good shake, I didn't notice any rattling in normal usage conditions. The one thing I was disappointed by was the scratched glossy display cover. It's not by no means a deal-breaker, but it could easily be avoided by using a simple plastic foil protection.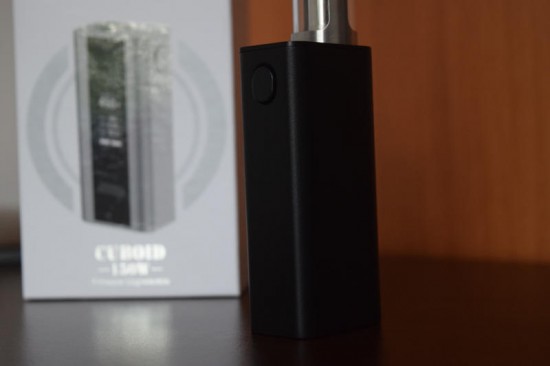 The Cuboid 150W is a firmware upgradable device. In fact, like all other dual-18650 mods, the micro-USB port can only be used for upgrades, not on-board battery charging; you'll need an external charger for that. One of these firmware updates increases the power output of the Cuboid from the original 150W to a whopping 200W. However, Joyetech has chosen not to advertise their box mod as a 200W device for the simple fact that the two 18650 batteries can not sustain that kind of power output once their charge levels drop under 3.8 volts. Still, if for any reason, you need to go over 150W, the Cuboid can take you there.
Another thing that makes the Joyetech Cuboid different front other advanced mods I've tried recently – apart from the compact body –  is the circuit board. I'm not sure exactly what model it is, but it's definitely not the popular DNA200. This doesn't really affect the performance of the device, but the different button combinations and settings do take some getting used to. You click the fire button five times in rapid succession to turn the Cuboid on or off, but other than that, everything, including the display is different from DNA200 devices.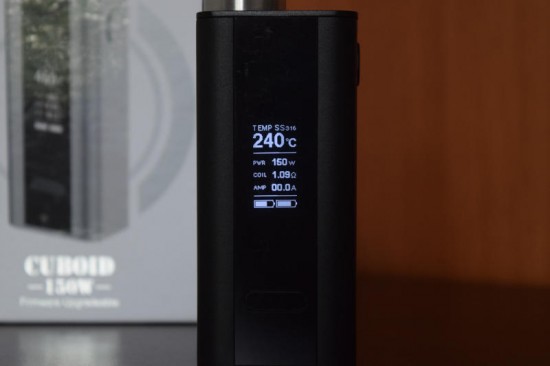 So let's go through the different commands: quickly pressing the fire button three times will let you scroll through the different settings. You'll notice that the first line on the display will start flashing on and off, and pressing the left side of the oval button – which we will be referring to as '-' – I mentioned earlier allows you to move down to the other lines (voltage, coil resistance and amp load). When the first line is flashing and you press the right side of the oval button – which we will be referring to as '+' – you'll be able to scroll through the different modes (wattage mode, temperature mode for Ni200, titanium and stainless steel, as well as TCR mode). To select the desired mode, just press the fire button once. In wattage mode, you can only move down to the "amp" line, and pressing the '+' you'll be able to change to puff counter or puff timer. In temp mode, you can move down to the 'Powr' field and change the wattage, and resistance to lock in your resistance.
You can switch stealth mode on or off by pressing the fire button and '-' key simultaneously, or lock the settings buttons by pressing the '-' and '+' keys at the same time. There are also a bunch of commands that you can do while the Joyetech Cuboid is offline, including setting the different TCR modes, and checking the voltage of the batteries, but I didn't really find them that useful, so I'm just going to let you discover them for yourself, if you're interested.
I found messing with all the different settings and button combination a bit cumbersome, especially since the '-' and '+' buttons are not marked on the Cuboid and I found myself constantly forgetting which was which, and which one I had to press in order to do what I wanted. In my opinion, they could have made the mod much easier to navigate, but I admit my opinion is subjective, seeing as I am not accustomed with Joyetech's s system.
One last thing I wanted to mention before wrapping up, which I personally haven't seen before – the Cuboid's OLED display has separate battery level icons for each battery. That's really interesting, because if you accidentally insert a fully charged battery and one that really needs recharging, you'll see it on the display, instead of a single, half-full battery icon. This also makes it possible to see if one of your batteries tends to deplete faster than the other, so you can replace it. It's a nice, unique feature that I'm willing to bet other companies will adopt in the future.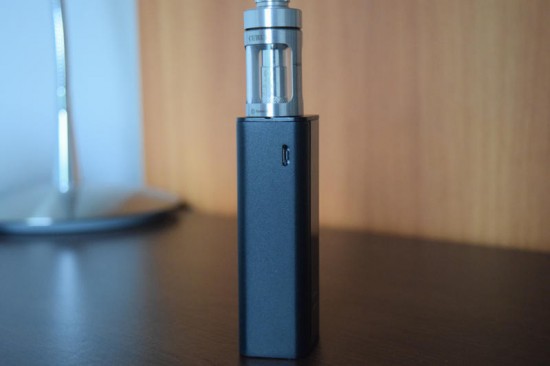 Performance-wise, the Cuboid has been fantastic. There are no annoying delays when you press the fire button, it's been reading resistances correctly, despite what other reviewers have reported, and it even seems to be working well in temperature mode, although I've only tried it with stainless steel and only out of curiosity, as I am really not a big fan of temp. control vaping. I've had no problems with it whatsoever, so I can confirm that the Joyetech Cuboid is a solid performer.
As I mentioned in the beginning, the Cuboid has been out for about six months now, but while it may not be considered a hot item these days, it's in no way obsolete. It comes with all the features of newer devices, and even if Joyetech comes up with some new tricks, you can easily bring it up to date with a simple firmware upgrade. The form factor remains one of its main draws, as I have yet to see another dual-battery device this compact, and the price is extremely hard to beat. Under $45 for such a stylish, high-power device is basically a steal, so I'd be crazy not to recommend it.