Joyetech Cuboid 200W Review
The Joyetech Cuboid 200W is a triple-19650 battery mod with a high power output and long battery life. What I found very interesting about this device is that apart from the name, it has almost nothing in common with the original Cuboid, which was powered by just two batteries and had a completely different design. For some reason, the Chinese manufacturer decided to go a completely new way with the second generation Cuboid, and in this review, we'll try to find out of they made the right decision.
A Look at the Contents
The Cuboid 200W comes in the standard Joyetech packaging, a white cardboard box with the picture of the device on the front, and the list of contents and company information on the back. Inside the box, we have the Cuboid 200W mod sitting in a styrofoam holder, and underneath that we have a micro USB cable for charging/upgrading, a beefy user manual translated in various languages, and a silicone sleeve for protecting the paint finish of the device for a longer period of time.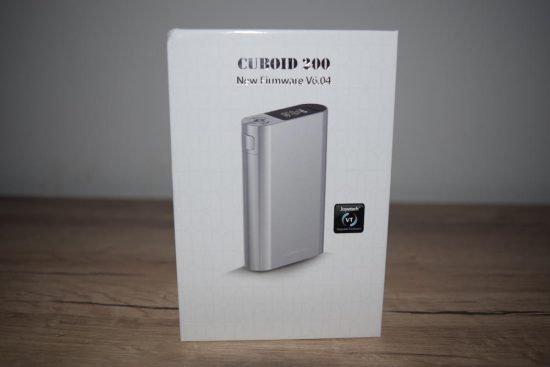 This is basically your classic mod kit, with the only surprising element being the protective sleeve, which companies usually sell as an extra, if at all. It's a nice accessory to have, especially if you want yo keep your mod looking pretty.
Design and Build Quality
The original Cuboid had a square-ish shape worthy of its name, but the new 200W version looks absolutely nothing like a cube. It doesn't even have any corners or edges, as everything is rounded off to make it more comfortable to hold. It worked, but I still wouldn't call this mod ergonomic, because of its sheer size. The Joyetech Cuboid 200W measures 99mm, by 63mm, by 22 mm, making it one of the tallest and widest mods I've ever used. It's very thin for its size, though, but I really wouldn't say that's a good thing, because it means that you can only fit 22mm atomizers on it without any overhang. Anything over 22 just looks very weird, which in itself is weird, because here you have a 200W device that you can't really use with large tanks like the SMOK TFV8 or Geekvape Avocado 24, for example. They work just fine, but the combination is an eyesore.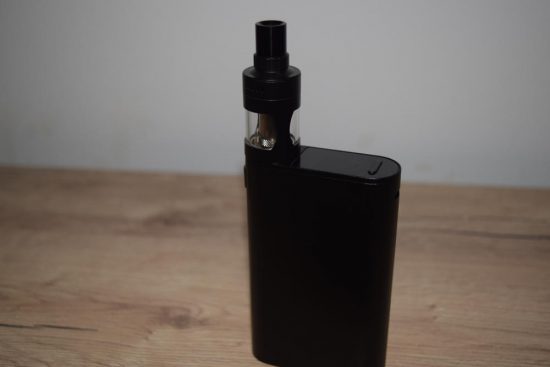 I would say that the limitation to 22mm atomizers is one of my main gripes with the Joyetech Cuboid 200W. I just don't know what the designers were thinking when they decided that it was a good idea, and I can't imagine any knowledgeable vapers ignoring this problem. With most dual-18650 battery mods now easily accommodating atomizers up to 25mm in diameter with no overhang, having a triple battery device that only has enough space for a 22 is stupid. And when I say large tanks overhang on this thing, I'm not exaggerating one bit, they overhang on three sides!
Anyway, moving on, the Cuboid 200W has a very familiar general design. If you didn't know what it was and the OLED display was turned off, you would probably mistake it for a power bank. That's exactly what it looks like. I don't hate the way it looks, but I can't say I like it either. It's a power bank-shaped vaping mod, basically.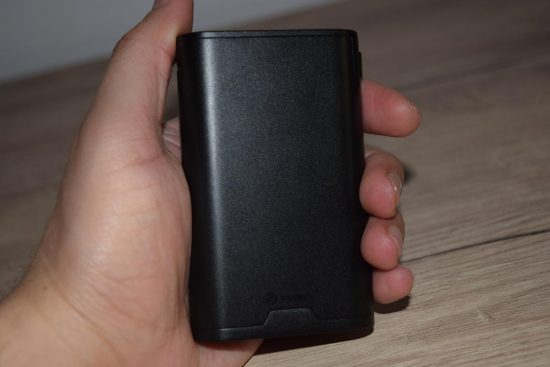 The power button is located on one of the narrow sides of the mod, right under the 510 connection, making it easy to press with your index finger, while on the opposite side it has a mini USB port for charging and upgrading. While this device supports on-board charging, I really recommend getting an external charger, it's safer. The OLED display and menu navigation buttons are located on top of the device, right next to the 510 connection. It's similar to the SMOK X Cube 2 and H-Priv in that regard, and while some would argue that the screen could be compromise by leaking e-liquid, it seems pretty well insulated, in my opinion.
The screen is large and bright enough to see clearly, even in bright sunlight, and the buttons are nice an clicky. The sample I received for this review had no button rattle at all, which I liked.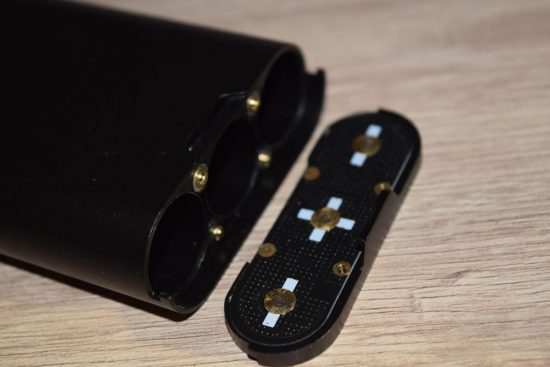 That brings us to the second major con I found while testing this mod, the battery door. Located on the bottom of the mod, it just snaps off completely, which I remember criticizing on the old SMOK R200 device, when it came out, last year. I can understand having a completely detachable side cover, like the sliding magnetic door of the X Cube, but when it's a smaller bottom battery door, how hard can it be to add some hinges? That's just so much more convenient.
But the lack of hinges is not what I found most frustrating. It was having to close the door after inserting the three batteries. The door is pressure locked, so you first have to press it down over the batteries, and then slide it in towards the mod, which is much tougher than it sounds. You really have to put a lot of effort into pressing down, and even if you do manage to slide it in on your first try, it's not always going to be perfect. Sometimes, just one of the sides will be perfectly aligned, and the other will be sticking out, making it impossible to place the mod upright, without it falling down to one side. It's a really bad battery door, probably the worst one I've ever seen. The one good things I can say about it is that it doesn't rattle at all and that when it's closed properly it is locked in place.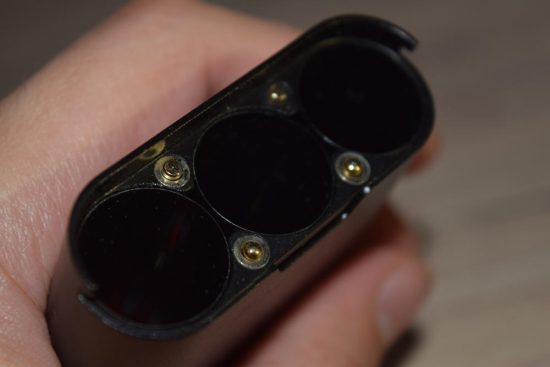 Design is the main weakness of the Joyetech Cuboid 200W, in my opinion. From the uninspired design, to the overhang of larger atomizers and the frustrating battery door, it doesn't really have a lot of things going for it.
Menu System and Navigation
The menu and navigation systems on the Cuboid 200W are pretty much the same as on the other Joyetech advanced mods I've reviewed in the past, the only thing that is different is the location of the display, on top of the device.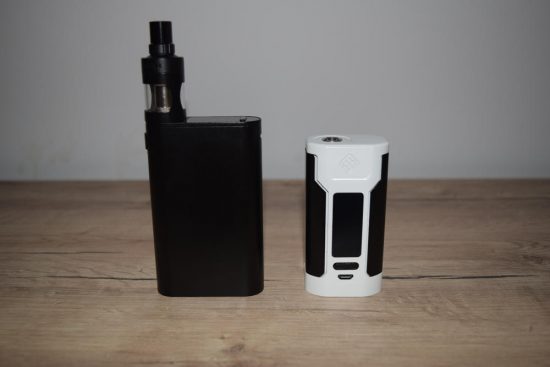 To turn the mod on/off, all you have to do it press the fire button five times in rapid succession. You can adjust the wattage/temperature by using the "+" and "-" buttons at the bottom of the display, and to access the menu, you have to press the fire button three times rapidly. You won't actually go into a menu, but you will see the top most icon on the screen start to blink. That's the "mode" icon, and the blinking means that you can switch between wattage, temperature and memory modes, or browse to another setting, based on what button you press.
Knowing what button to press and when is key to navigating this menu system, and as I've said numerous times in the past, it's a bit hard to get used to. That's because pressing the wrong button at any time will just mess up the process completely and you'll have to start over. Just keep in mind that the "-" button is mainly used to jump through the possible settings, and the "+" button is used to actually adjust or change those settings. This is definitely not my favorite menu system, just because it's frustrating and confusing for beginners, but if you have the patience to fiddle with it, you will eventually get the hang of it. I hardly mess up the button presses anymore, but then again, I've had lots of practice with Joyetech mods.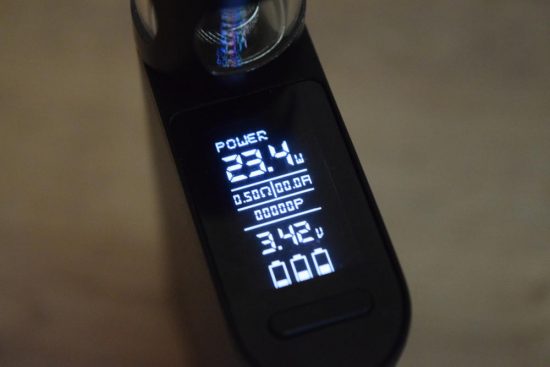 The new Cuboid 200W has pretty much all the features you would expect from a modern advanced mod, including three different modes (wattage, temp. control and memory), a pre-heat function, three supported materials for temperature control (stainless steel, Ni200 and titanium), adjustable wattage for temperature mode. resistance lock stealth mode, key lock, puff counter and more. All you have to do is figure out how to make the changes in the menu.
The display of the Joyetech Cuboid 200W was a nice surprise. I particularly like the individual battery indicator for each of the three batteries, which allows you to see if any of them depletes faster than the others, so you can replace it with another. But I suggest you always use "married" batteries, to avoid such problems. The screen is also very bright and features all the necessary information, including wattage/temperature, atomizer resistance, amps, the number of puffs you've taken since the last reset, and real-time voltage.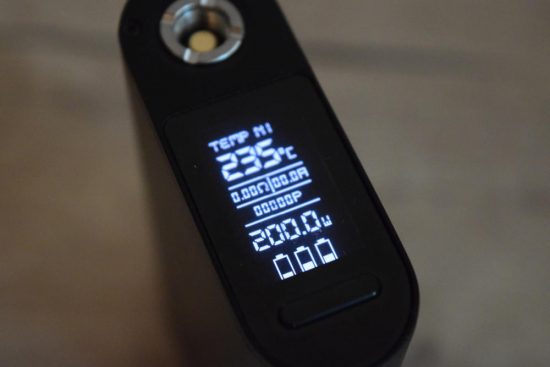 Battery Life and Performance
The Joyetech Cuboid 200W is powered by three 18650 batteries, so you can expect to vape quite a bit longer with it than with a dual-battery mod, like the SMOK Alien 220W, for example. I have been using it with three LG HE2 2500mAh batteries, and it's lasted me about one and a half days to two days, on average, depending on how heavy I was using it. That's pretty decent, considering I am what you would call a heavy vaper, and I rarely use it below 60W output. I am pretty happy with that battery life, and, in my opinion, it's on par with other triple-battery mods, like the Wismec Reauleaux RX200.
Obviously, battery life on variable wattage devices, especially those powered by external batteries, varies on a number of factors, like the power output, battery capacity and how much you vape, so please take my personal experience as such, it was just MY experience.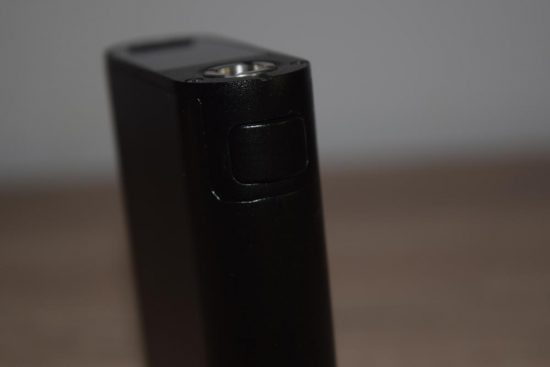 The micro-USB port can be used both for charging and upgrading the firmware, but I suggest using an external charger instead, and only used on-board charging when you absolutely have to. It's a lot safer, and you don't have to keep wondering why the mod is getting hot while you're using it to charge the batteries. Unfortunately, the Cuboid 200W doesn't support 2-amp charging, so charging depleted batteries takes a while.
In terms of performance, I was very happy with the Joyetech Cuboid 200W. As usual, I mostly used it in wattage mode, as I am still not a big fan of temperature control, and I didn't find any problems. The fire button is very responsive, as is the battery activation. The delay between the moment you press the button and when you hear the coil sizzling in the atomizer is almost non-existent, which is a big plus for me. And even though I lack the equipment and technical knowledge to properly evaluate it, the power output seemed pretty accurate as well, or at least more so than some of the devices I've reviewed in the past.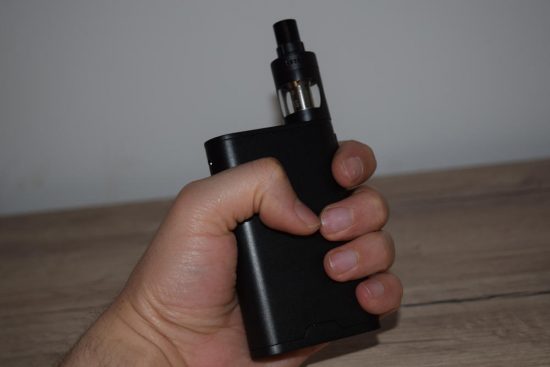 Now, does this device actually hit 200W output? Probably not, but it should be pretty close to that. Not that I will ever find out, since I rarely go over 100W. Double that would probably scorch my throat, and that just wouldn't be enjoyable. But this is a high-power mod, so if that's what you're looking for, you might find this interesting. It's a shame that it doesn't really go with atomizers over 22 mm in diameter, because if you're going to vape at, say 150W, you're probably going to go through a 22mm tank very fast. But, it is what it is.
Conclusion
I've been using the Joyetech Cuboid 200W for about two weeks now, and despite being very impressed with its battery life, power output and overall performance, I just can't get past its obvious design flaws, like the limited atomizer compatibility and the frustrating battery door, so I can't really call it a great device. It's a good mod, especially if you're interested in a triple-battery vaporizer, but it really could have been much better. Large devices like this don't really appeal to mainstream vapers anyway, and with the aforementioned faults, I really don't think the Cuboid 200W will be a commercial success. Better luck next time, Joyetech.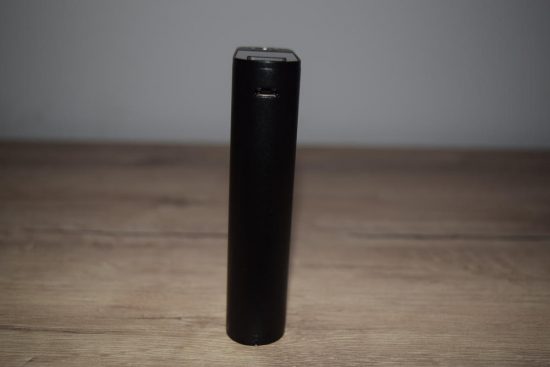 The Joyetech Cuboid 200W was sent to me for the purpose of this review by Vapor4Life.