Lost Vape Grus Review
Not too long ago, Lost Vape was synonymous with the Evolv DNA chipset, which made the company's products inaccessible to most vapers, due to the premium price. But then the Lost Vape Quest came around, and suddenly Lost Vape products became much more accessible. Basically, you can enjoy the same elegant design and great build quality, only minus the DNA board, and at a decent price. Today we'll be taking a look at the first vape mod in the Quest line, the Lost Vape Grus.
Lost Vape Grus Specifications
Dimensions: 94.6 mm x 30.5 mm x 40.5 mm
Weight: 136.6g
Material: zinc alloy
Batteries: 2 x 18650/20700/21700
Wattage range: 5W – 100W
Voltage range: 0.8V – 7V
Resistance: 0.1Ω – 5.0Ω
Lost Vape Grus Packaging and Presentation
The Lost Vape Grus 100W box mod comes in a rectangular cardboard box with a picture of the device (in the color it comes in) on the front, along with some pictograms of its main features, and a list of contents, the usual warnings, as well as an authenticity sticker, on the back.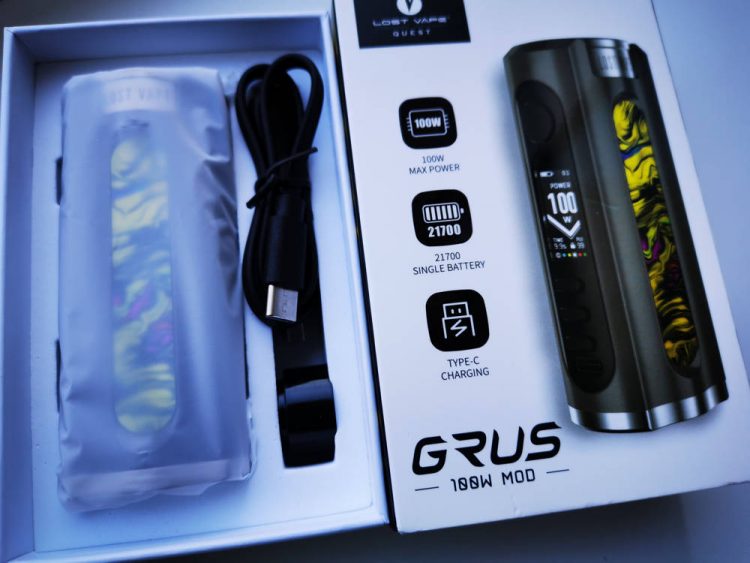 Inside the packaging, there's not too much to discover, as the kit only contains the Grus vape mod, a USB Type-C charging cable, a small adapter for 18650 batteries, and a user manual. That's about all there is to it.
Lost Vape Grus Design and Build Quality
I've not had the chance to try out as many Lost Vape product as I'd have liked, but I've always been a fan of their design. Elegant yet very functional is how I would describe their general design philosophy, and the new Grus mod fits that mod perfectly. It's a very eye-catching vape mod, but also ergonomic and features some interesting features that you don't see on many vape mods these days.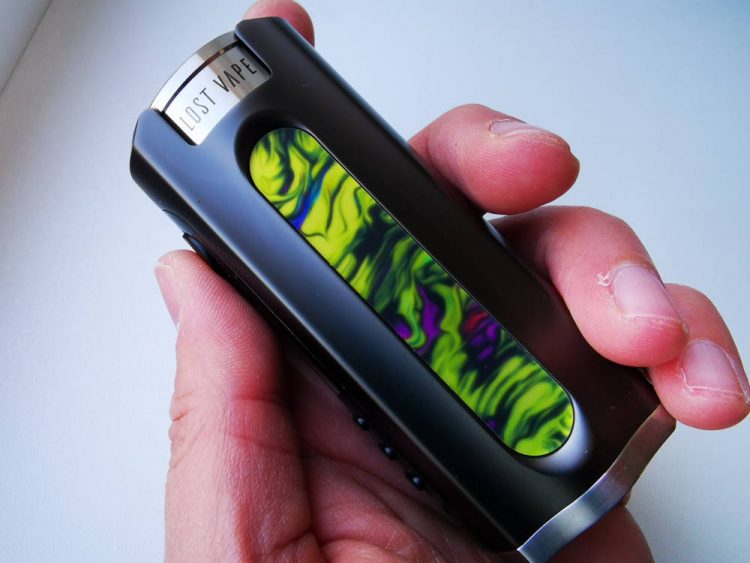 For example, at the top of the Grus mod we have a gigantic stainless steel plate and a centered 510 connection with a gold-plated, spring-loaded pin that accommodates atomizer up to 30mm in diameter, without any overhang. That's rare for dual-battery mods, let alone for a single battery device.
I personally don't use 30mm attys that much, just my Aromamizer Plus V2 RDTA from time to time, but I imagine that for those vapers that like big boys with huge e-liquid capacity mods like the Grus are very appealing. But you don't need 30mm, or even 28mm atomizers to use this vape mod. As you can see in the photos, it looks perfectly ok with 25mm ones. At least I think so.
The Grus 100W mod comes in black, stainless steel and gunmetal, with stainless steel top and bottom, and various decorative accents, from carbon fiber imitation to a nice, colorful resin imitation. Yes, sadly true resin is very rare these days, as a lot of manufacturers turn to plastic to cut costs. The Lost Vape Grus is no exception, as the decorative resin on my review unit is quite obviously plastic.
But the above is one of the very few disappointing things about the Lost Vape Grus. As I mentioned, I love the general design, the smooth machining and impeccable paint job, and above all, I love the weight of it in the hand. The Grus is a hefty device, for a single-battery mod, and that's ok. The extra weight makes it feel very solid in the hand, and complements the general high-quality feel of the device.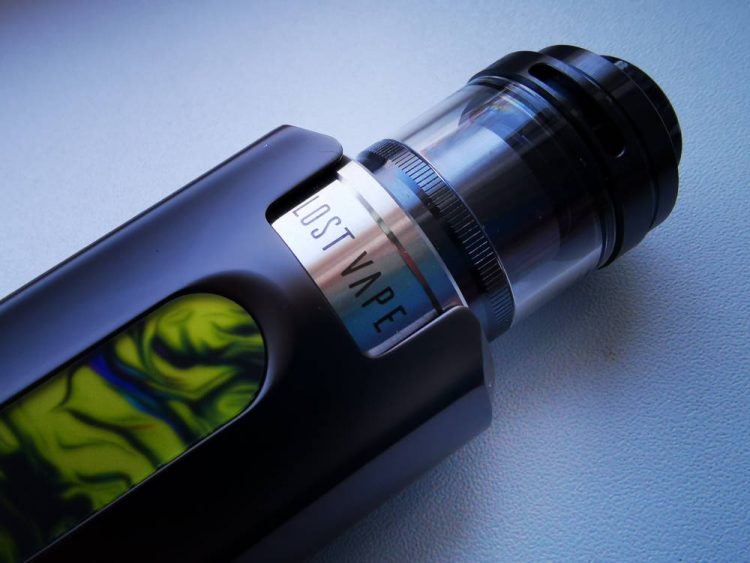 The Grus may be part of the more affordable Lost Vape Quest line of products, like the Lost Vape Q-pro we tested a while back, but it definitely has the look and feel of a premium product. There may not be a DNA board inside of it, but other than that, the Grus 100W is a Lost Vape mod through and through.
On the bottom, we find the same style of stainless steel plate we saw at the top, only with a screw-in battery door, similar to the ones used on the GeekVape Aegis 100W or on the durable Vaporesso FORZ TX80. It even has the same lift-up tab that this kind of doors usually have. You have quite a lot of twisting to do to get it off, but it's incredibly secure. No matter how hard you drop your mod, there is no chance of the battery flying out. I'm a fan, but it's a matter of personal preference.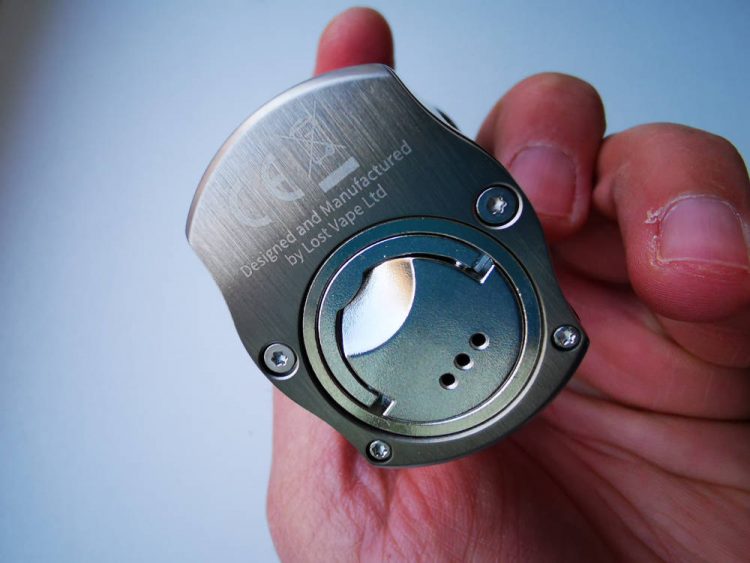 The Lost Vape Grus is marketed as a single 21700 battery vape mod, but it also works with 20700 batteries, as well as 18650 batteries, thanks to the included adapter. Obviously, a 21700 gives you the best battery life, but if you don't own that particular type, at least you have other options.
The command panel, where all the buttons and the display are, has a classic Lost Vape look. It reminds me of one of my all-time favorite vape mods, with the three button configuration and a charging port near the bottom, a round fire button near the top, and a rectangular display in-between. We'll go over the buttons later on, but I can tell you that the color display is fairly bright, has a decent resolution and a nice layout. It's not the best I've seen, but it's not bad either.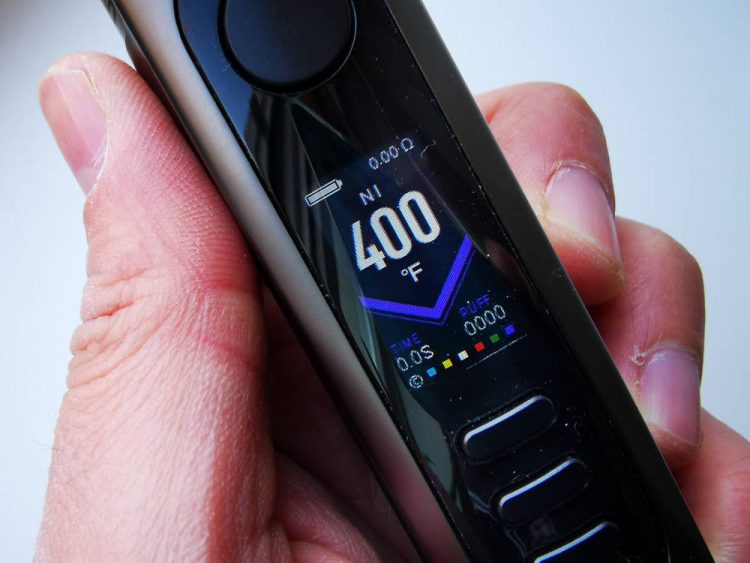 All in all, the Lost Vape Grus looks and feels like a premium vape mod, minus the spicy price. It's ergonomic, the build quality is way above average, and it's just one of the nicest devices I've ever tried.
Lost Vape Grus Menu System and Navigation
The Grus 100W has one of the simplest, most intuitive menu systems you can find on a vape mod. Granted, it's fairly simplistic, compared to the bells-and-whistles we're used to seeing on advanced vape mods these days, but if you're the kind who only cares about the basic vape stuff, you're going to like it.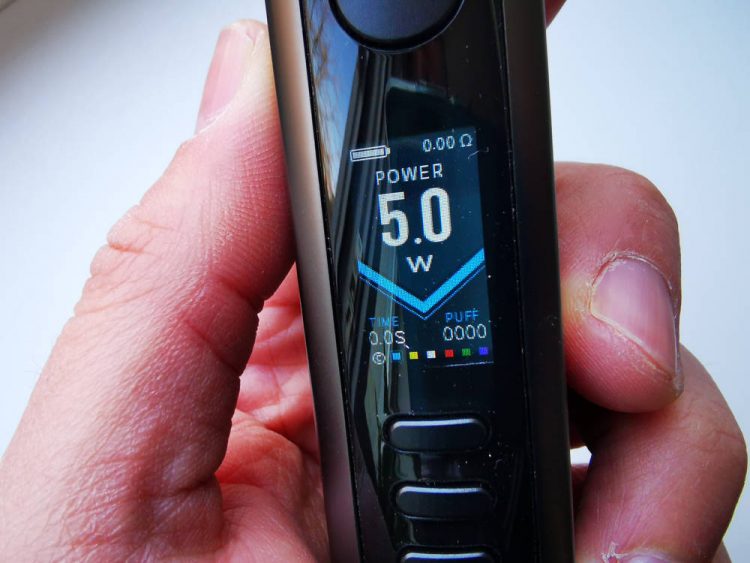 Technically speaking, the Lost Vape Grus doesn't even have a proper menu, as everything is done on the home screen. Remember those three buttons under the display? Well, the middle one is the 'Menu' button, and that's the one you want to press in order to scroll through the different vape modes. A short press of the Menu button will cause the current vape mode indicator to go from white to red, and you can then use the + and – buttons to scroll.
The Grus offers the classic wattage mode, a voltage mode, and temperature control for three different coil materials (stainless steel, titanium and nickel). There is no fancy smart mode, to custom curves, not even a TCR. This is a more classic approach, so if you want more features to fiddle with, you won't find them here.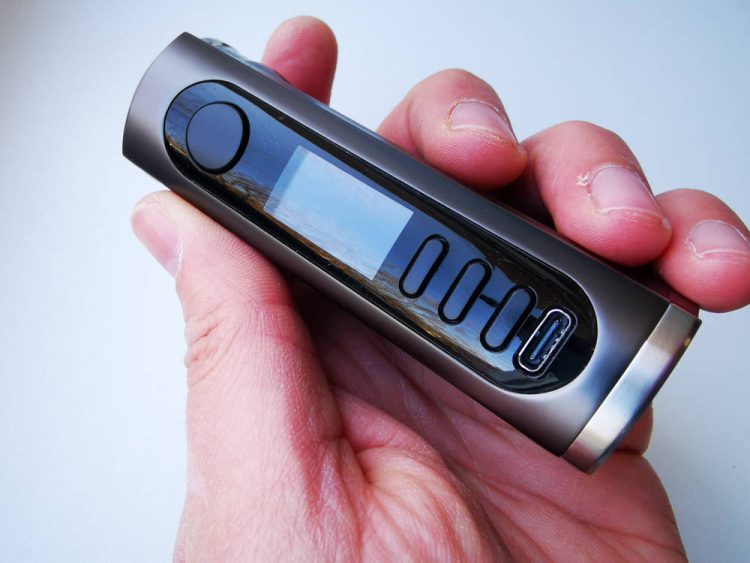 A long press of that Menu button will allow you to change the color of the screen. There are six colors available in total.
There are also a few button configurations you can use. Pressing the + and Menu button at the same time will lock all three adjustment buttons, leaving only the fire button active. The – button and the Menu button will reset the puff counter.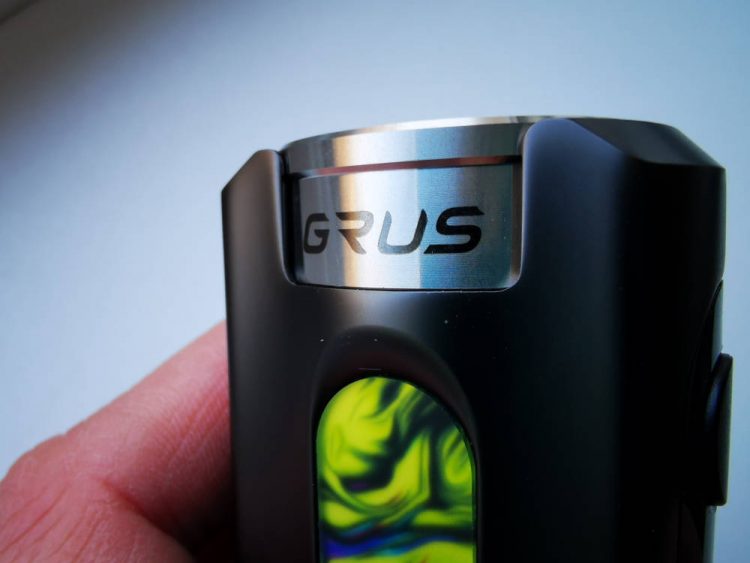 Lost Vape Grus Performance
The new Grus 21700 vape mod may not be powered by Evolv's premium DNA chipset, but I can tell you that Lost Vape's proprietary board does a decent job as well. It most likely lacks the accuracy of a DNA in temperature control mode, but with so few people actually vaping in TC mode these days, I doubt it will be a huge deal.
The Lost Vape Grus fires incredibly fast, feels very accurate in terms of power output, has quick power ramp-up, and does a decent job of reading coil resistances. Personally, I've been using it exclusively in wattage mode over the last couple of weeks, and I couldn't be happier with its performance.
As I said, it may not comes close to the pinpoint accuracy of a DNA in some areas, but as an average user, I found Lost Vape's proprietary solution to be a great alternative.
Conclusion
The Lost Vape Grus lives up to the company's reputation of making high quality vaping products. It's definitely one of the best vape mods in my collection, in terms of build quality and elegant design, and is no slouch when it comes to performance, either. The 21700 battery compatibility guarantees above-average battery life for a single battery mod, and you can use it with atomizers up to 30mm in diameter, without overhang. It has a lot of thing going for it, and I wholeheartedly recommend you give it a try!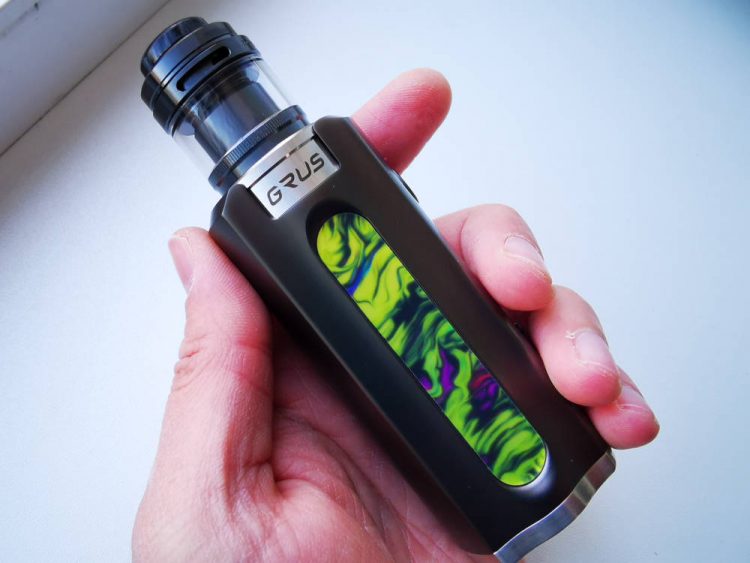 The Lost Vape Grus was sent to me by Sourcemore, for the purpose of this review. They currently have it in stock for $32.99, and you can get a discount by using the code LVG at checkout.
Pros
excellent build quality
elegant design
21700/20700/18650 battery compatibility
30mm atomizer compatibility
simple menu system
nice color display
Cons
light on features
on the heavy side