Wismec Preva DNA Review
When it comes to pod systems, there are literally hundreds of different brands and models to chose from, but if you're looking for a pod system powered by Evolv's advanced DNA chipset, there's only one name that comes to mind – Lost Vape Orion. Well, Lost Vape's unchallenged monopoly in the DNA pod system segment of the market has come to an end with the launch of the Wismec Preva DNA, a new pod system designed to take the Orion head-on and give it a run for its money. Let's see how the two devices compare:
A Look at the Contents
The new Wismec Preva DNA comes in a clear, plastic case offering a clear view of the pod system inside. Inside, you'll also find a small cardboard box containing the usual accessories – a micro-USB cable for charging and, in this case Escribe software customization, an extra refillable pod, a detailed user manual and an informative card about filling the pods, but also about the different power levels and the battery life indicator. It's basically your usual starter kit, with just a nicer packaging than usual.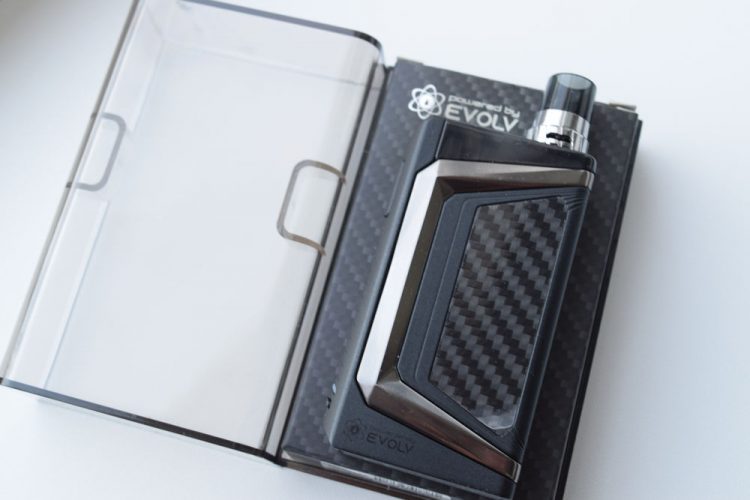 Design and Build Quality
Measuring 96mm x 43mm x 19mm, the new Preva DNA is a larger pod system than we're used to seeing, even slightly larger than its main competitor, the Lost Vape Orion. It actually looks like a compact box mod, which is definitely not a con, but something you should keep in mind when deciding whether to buy it or not.
Wismec's newest pod system is made primarily of zinc alloy and, unlike the vast majority of vaping devices, it comes in a single color – black, with carbon fiber-imitating side panels. I'm not sure why Wismec went for a single color option, especially one so conservative, when the device it's going up against comes in so many alluring versions (stabwood, resin, etc), but know that you won't be able to get this in anything but matte black.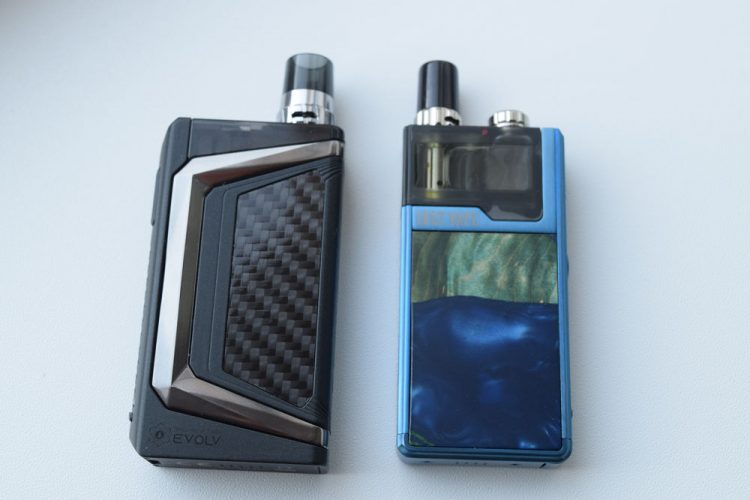 Apart from the carbon fiber stickers, the Preva DNA also features some decorative metal inserts on the sides which kind of remind me of the GeekVape Aegis. As a whole, the look of the mod vaguely reminds me of the original SMOK Alien, one of the most popular vape mods of all time. It's definitely not the most eye-catching pod system out there, but the overall build quality is decent, and as long as you prefer the classic black to more inconspicuous colors, you'll probably like the Wismec Preva DNA.
This is a manually-operated pod system, so we do have a power button on one of the thinner sides of the device, as well as an arrow-shaped power adjustment button, on the same side, but near the bottom. Pressing the power button and keeping it pressed will activate the battery, and pressing it five times in rapid succession, will turn the Preva on or off. The power adjustment button also has a battery and power indicator which lights up in different colors. Each press of the button changes the color, but you can change what color corresponds to what power level by downloading and installing Evolv's Escribe software and connecting the Preva to your computer.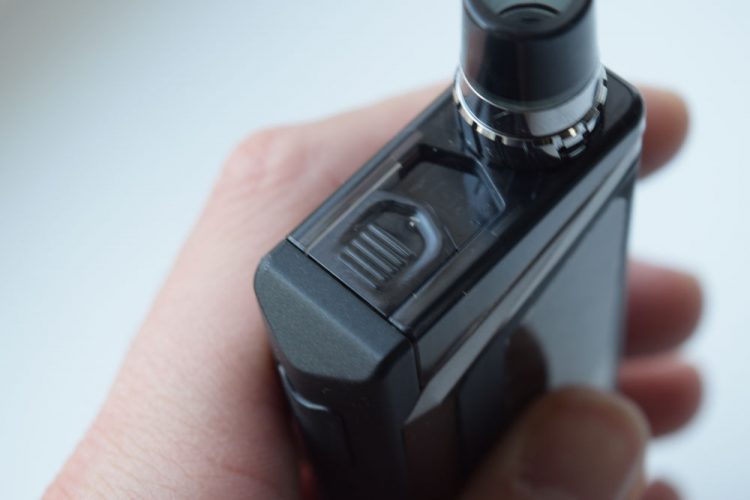 The Preva DNA pods are refillable, but unlike the Lost Vape Q-Pro, they don't feature replaceable coil-heads, so once the coil or the cotton wicking inside goes bad, you have no choice but to throw away the whole pod and buy another one. I know some people find disposable pods more convenient, but I do find replaceable coil-heads a more elegant and environment-friendly solution, and it looks like that's what people are asking for. Wismec may have missed the boat on this, but there is nothing stopping them from coming up with an upgraded pod version, just like Lost Vape did.
The kit I received for this review came with a pre-installed magnetic pod with an 0.25Ω stainless steel coil, and a spare pod featuring an 0.50Ω  Kanthal coil. They both have an impressive e-liquid capacity of 3ml, and feature a removable 510 drip tip, as well as adjustable airflow. But the thing I found most interesting was the top-fill port, which had a sliding lid instead of the classic rubber plug we've seen on most pods. All you have to do is slide the lid forward to reveal the large fill port, and pull it back when you're done filling. It's simple and effective.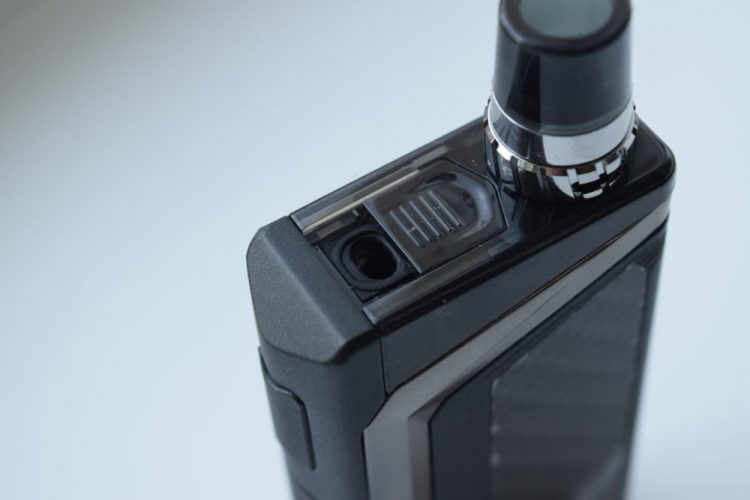 All in all, the Preva DNA is a solid, well-made pod mod, but in terms of looks and refinement, it doesn't even comes close to its main competitor, the Lost Vape Orion. The matte black and those carbon fiber panels, just can't compete against the elegant design and the multiple eye-catching materials Lost Vape pod systems come in.
Battery Life and Performance
One of the few departments that the Wismec Preva DNA actually has an edge over the Lost Vape Orion Plus is battery life, and even here, it's a modest advantage. While the Orion comes with a 950mAh battery, the Preva DNA features a 1,050mAh battery. That's a 100mAh difference, which most users who have used both devices probably aren't even going to notice. Still, this is one of the highest capacity, if not the highest, I've ever seen on a pod system, and that's certainly worth commending.
The Preva DNA also features fast, 1A charging, which means you won't have to wait for hours to go from empty to full battery, as well as passthrough functionality, which allows you to vape while it's charging. So even if you do happen to run out of battery, it's not the end of the world. Just make sure you keep an eye on the LED indicator above the power adjustment button, which lights up Green when the battery level is above 70%, yellow when it's between 30% and 70%, and red when it's under 30%.
The thing that really makes the Wismec Preva DNA stand out from the plethora of pod systems available these days is the DNA Go chipset powering it. It's the same board inside the Lost Vape Orion Plus, so you can expect pretty much the same features, including the Replay Mode, Escribe compatibility, as well as ultra accurate power output.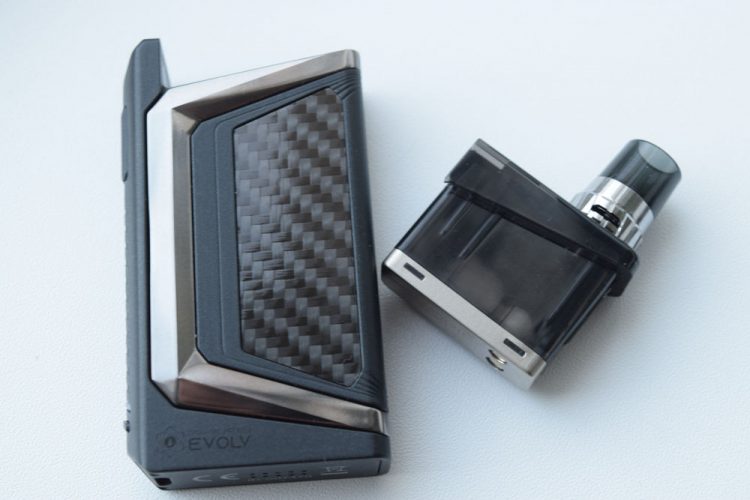 However, unlike the Lost Vape Orion Plus, the Preva DNA does not have replaceable coils, and the two irremovable ones I tested only really work for direct lung vaping. The higher resistance Kanthal coil does allow you to pull off a loose mouth-to-lung draw, but only with the airflow closed up completely, and even then, it's not the most satisfying MTL vape. It's doable, but the coils are not designed for that style of vaping, so the draw feels too loose.
If you're looking for a direct-lung pod system, the Preva DNA is a much more attractive device. The two available coil options work very well, and while neither is mesh, they still convey a very nice flavor, and plenty of vapor (especially the 0.25Ω one). The battery activation is very fast, as is the power ramp-up, and if you happen to get a really nice puff, you can use the Replay feature to replicate it, by keeping the small power adjustment button pressed for a couple of seconds.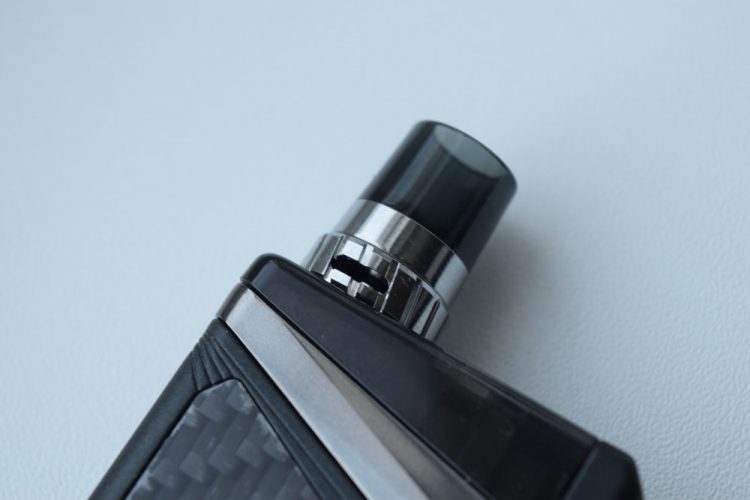 The adjustable airflow is a really useful feature, allowing you to control how airy the draw is, and the pods seem like they last a long time. I've been using this review sample for two weeks (not exclusively, though) and it still works great. I will say that the pods I received have a not very pleasant plasticky taste to them at first, but it goes away after a couple of refills, so it's not the end of the world.
Conclusion
As one of the very few DNA Go-powered pod systems, the Wismec Preva DNA was designed to take on the Lost Vape Orion Plus and the Lost Vape Q-Pro in the premium pod mod sector, but sadly it doesn't feel like it has any chance of stealing any market share. The build quality, while solid, doesn't even come close to that of the Lost Vape devices, especially when it comes to aesthetics, and in terms of performance, the lack of any real MTL options is a big con in my book. And last but certainly not least, the Preva DNA comes with disposable pods, instead of replaceable coil-heads, which is a big deal.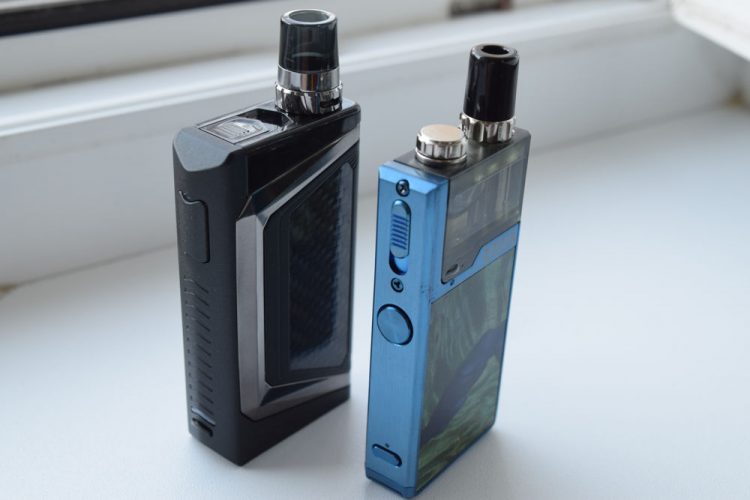 The Wismec Preva DNA was sent to me by Vapesourcing, for the purpose of this review. They currently have it in stock for just $53.69. That's a really good price for a DNA Go-powered device, but personally I would still pick a Lost Vape pod system instead.