Augvape Foxy One Review
Following the success of the original Foxy mod, the people at Augvape decided to keep the brand alive and have recently launched the Foxy One, a compact single battery vape mod that retains the stylish look and feel of its predecessor. So without further ado, let's take a look at the new Augvape Foxy One:
Augvape Foxy One Specifications
Dimensions: 37.6mm x 86 mm x 26 mm
Material: Zinc Alloy
Battery: Single 21700/20700/18650
Wattage range: 5-120W
Voltage range: 0.5-6.8V
Vaping Modes: Variable Wattage, Variable Voltage, Bypass
Atomizer compatibility: 25mm and under
Augvape Foxy One Packaging and Presentation
The Foxy One vape mod comes in a fairly standard packaging – rectangular cardboard box with a picture of the device on the front, and a list of contents, certifications, and authenticity sticker on the back.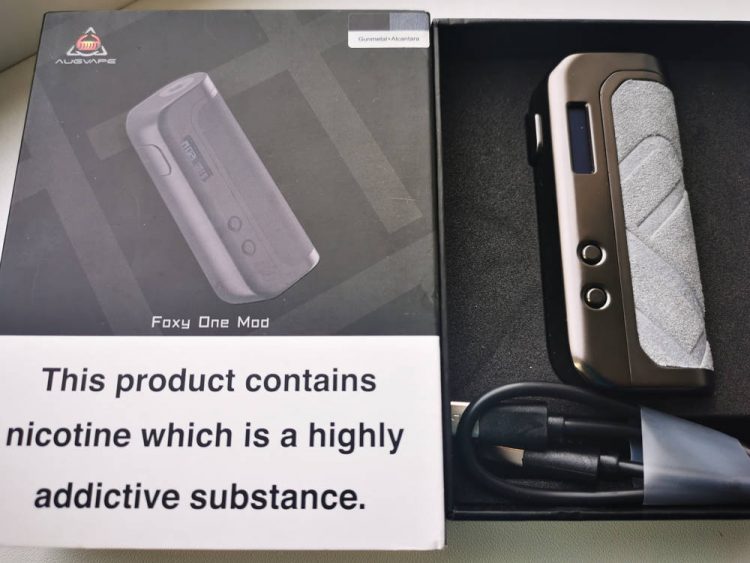 Inside the box we have the Foxy One, a USB Type-C charging cable, a flimsy user manual, and a warranty card.
Augvape Foxy One Design and Build Quality
The original Augvape Druga Foxy remains one of the best looking vape mods that I have ever reviewed, so the new Foxy One definitely has big shoes to fill, in that regard. Luckily, it manages to stay true to the original formula, for the most part, so I can confidently say that this is one of the most eye-catching single battery vape mods you can find, especially if you're on a tight budget.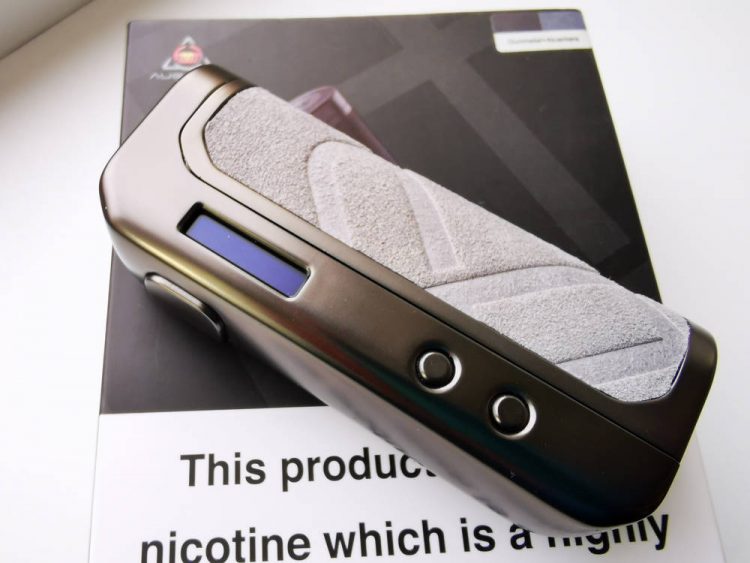 The best way to characterize the look of the Augvape Foxy one is a classic C-frame design, with the battery door sliding over the C-shaped frame of the mod. It's a tried and true design, but Augvape have definitely refined the formula a little bit.
Starting at the top, we have a classic 510 connection, with a gold-plated, spring-loaded pin, and a slightly raised stainless steel plate that is supposed to prevent you from accidentally scratch the paint if you screw on an atomizer too tight. The original Foxy introduced an ingenious Quick Release System to release the atomizer, but apparently it didn't catch on, as Augvape decided to opt for a classic connection this time around.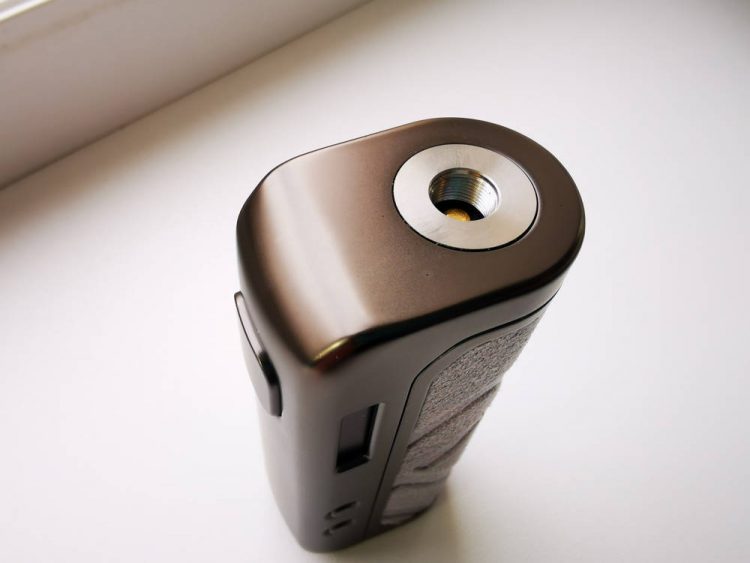 The compact size of the device prevents you from using it with atomizers over 25mm in diameter without any overhang, but then again, this is a single-battery mod, so you shouldn't even consider using it with 28 or 30 millimeter behemoths, like the Steam Crave Aromamizer Plus.
The beveled square fire button looks identical to the one on the original Foxy, and the smaller + and – located on the side of the mod look very similar to those of the original Foxy as well. That's a good thing, in my opinion, as it maintains the identity of the Augvape Foxy brand.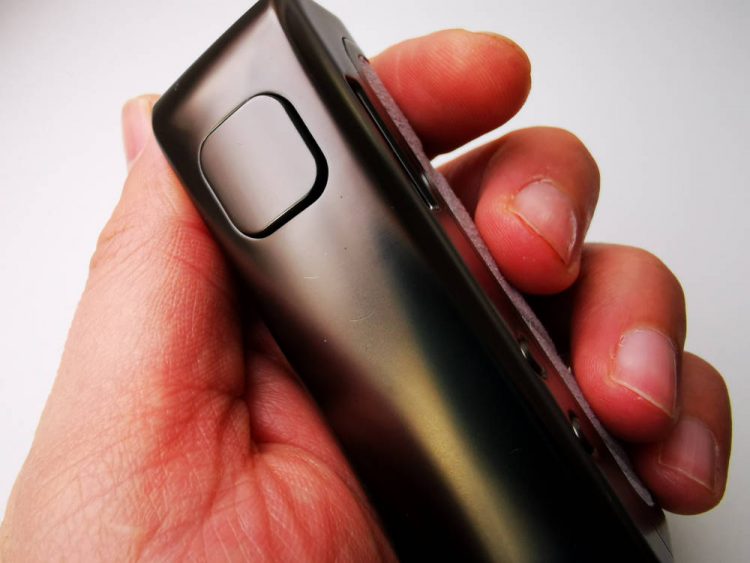 Just above the + and – buttons, on the side of the Duga Foxy, is a very small, black and white display. It's not the most impressive screen I've ever seen on a mod, certainly not on the level of an Aegis X or a Smoant Naboo, but then again the Foxy was never known for its vibrant display. The original had a tiny, rudimentary screen as well, so you could say Augvape is keeping on with tradition. The screen is bright enough, and shows all the necessary information, but it's just not pretty to look at.
If you've never used a C-frame vape mod before, you're going to have a tough time identifying the battery cover of the Foxy One. As a hint, just look for the Alcantara/leather covered part and try grabbing it and pulling it outwards toward the rounded off side. It's held in place by three pairs of magnets, but you don't need to much power to yank it off.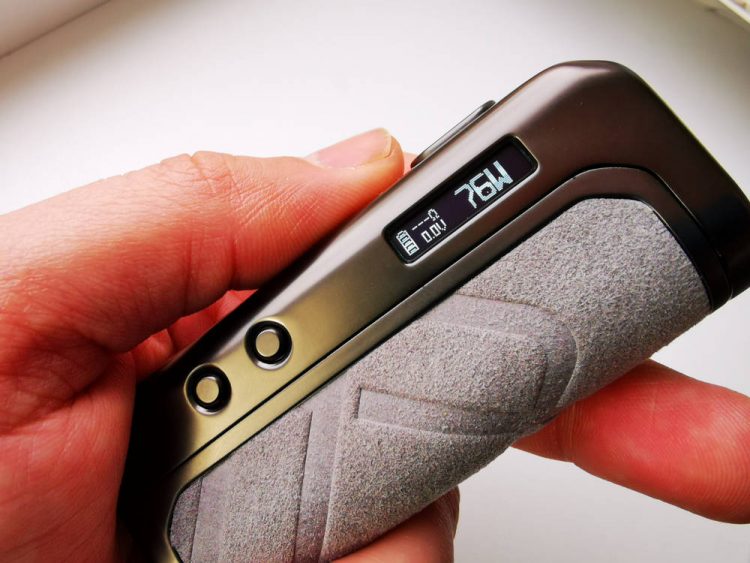 For this review, I received the gunmetal and Alcantara combination, which looks very interesting. However, I do have some reservation regarding the longevity of the fake Alcantara (no, it's not genuine). It just looks like the kind om material that gets dirty over time, especially since it spends a lot of time in your hand. The suede-like texture looks susceptible to wear as well, so I can't recommend it.
Luckily, Augvape also offers a leatherette option, and I would personally get that instead. The Alcantara might actually get a vintage look after a while, I've only been using it for a week now, but if you want the safer option, go for the leatherette.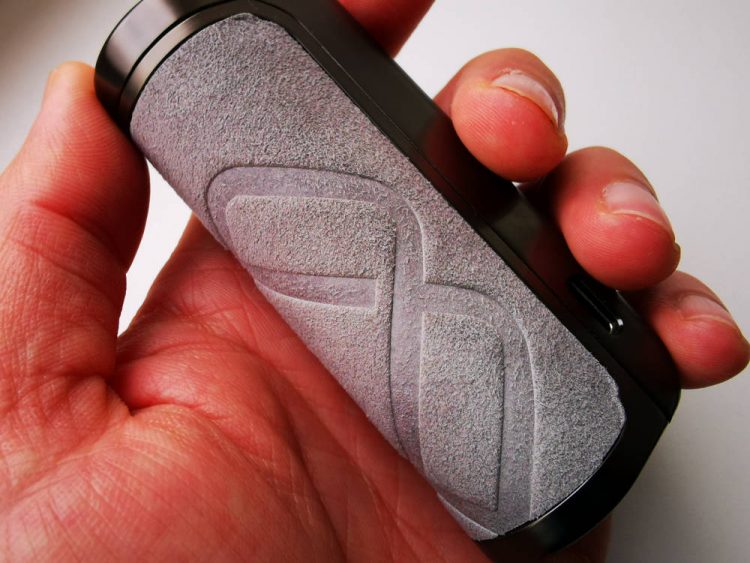 The battery door itself is very thick, compared to most other C-frame mods I've tried, like the old Smoant Charon 218W for example, so it feels very tough. It also has an inner edge on the bottom, so it catches the battery when you insert it from the top. You can use a 21700 or a 20700 battery without an adapter, or an 18650 battery with the included plastic adapter.
If you're going to use the Augvape Foxy One with an 18650 battery, you should know that your wattage output will be limited to 80Wm instead of the 120W you get with the two larger battery types, and that you might feel some minor rattling inside the mod, from time to time. It's not that constant annoying rattle we used to dread in the early days of vape mods, but it's definitely there, so be aware of that.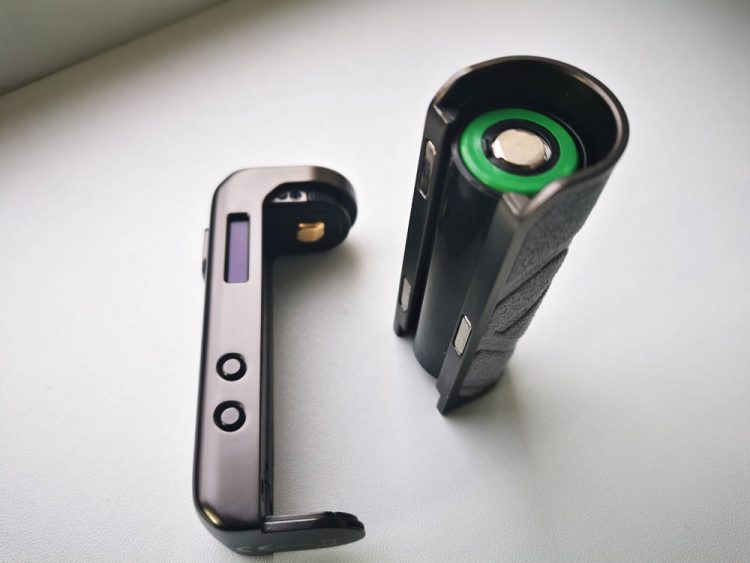 Another tip I want to offer, when taking off the battery door, don't set your Foxy One vape mod upright. It has a very narrow and flimsy base, so the heavier top will always tilt it forward and it will topple over. It's not the end of the world if that only happens once, but if it keeps falling, it could cause damage to the inner components.
I personally love the look and design of the new Foxy One, but I just wish Augvape had paid a bit more attention to the finishing touches. A closer inspection of the paint finish revealed a number of imperfections that could have definitely been avoided. It's not something you can see from a mile away, but it's visible. Other than that, though, I don't have too much to complain about.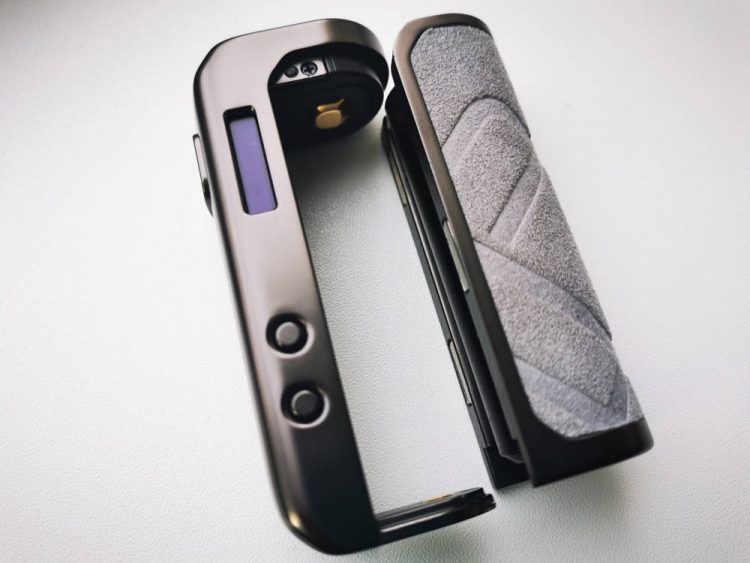 Augvape Foxy One Features and Navigation
Like the original Augvape Foxy vape mod, the new Foxy One is fairly modest in terms of bells and whistles. The mod only offers three vape modes – variable wattage, variable voltage and bypass – through which you cycle by pressing the fire button three times in under 2 seconds. That's basically all 90% of vapers use anyway, as temperature control isn't as popular as it was a couple of years ago, and I don't known anyone using custom power curves.
You can also lick the + and – buttons by holding them down simultaneously for a couple of seconds, but other than that, there aren't any adjustable features or settings to speak of.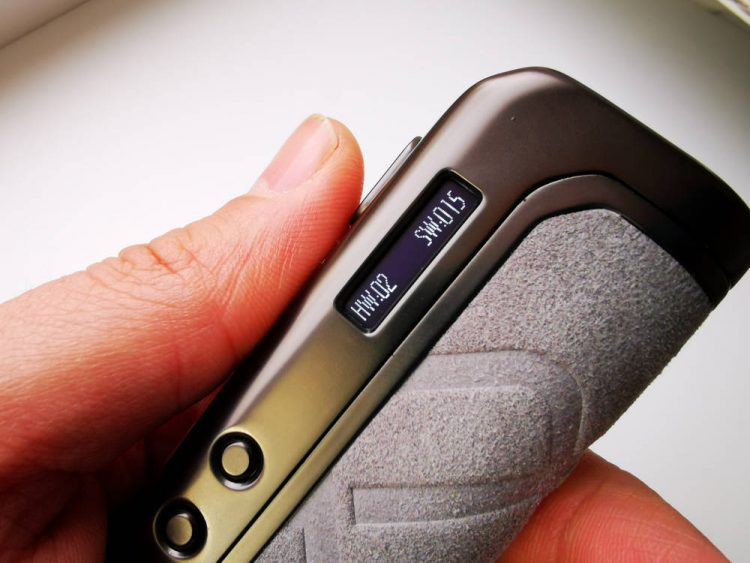 Oh, the hardware and software versions are displayed on screen for a few seconds, when the device is turned on, but that's not something you can control. To power the Foxy One on and off, just use the classic 5-clicks-on/5-clicks-off , using the fire button.
Augvape Foxy One Battery Life and Performance
In terms of battery life, the Foxy One offers a range of options, from the beefier 21700 and 20700 batteries, to the popular 18650. If you have a 21700 battery, I suggest going for that, as it gives you the best battery life and highest power output. But whatever battery compatible battery type you opt for, I suggest having at least a couple, so you can swap the depleted one for a charged one, so you don't have to wait for it to charge.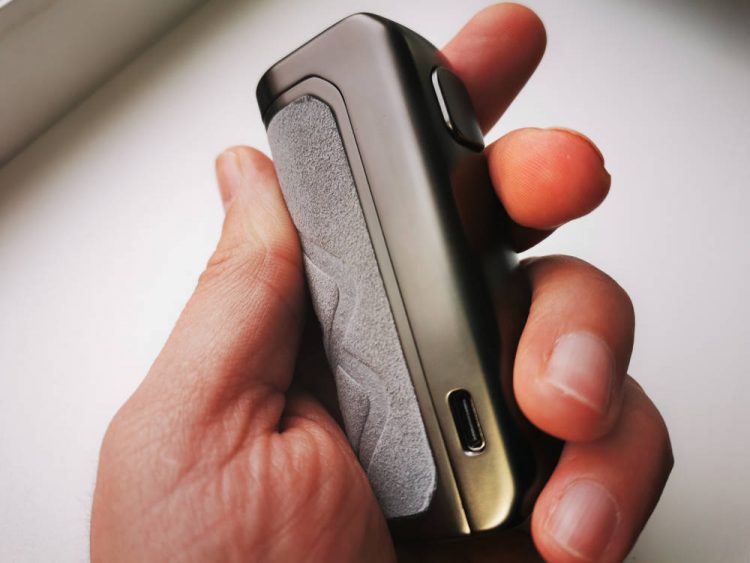 As always, I don't recommend charging batteries inside the mod, but if just can't be bothered to buy an external battery charger (the safest, most efficient option), you will be glad to know that the Foxy One features USB Type-C fast charging.
In terms of performance, there isn't much to say about the Augvape Foxy One, to be honest. It has a lightning fast fire button, and decent power ramp-up, it seems to be reading the atomizer resistance fairly accurately, and I've yet to run into technical issues, having it used it mostly in variable wattage mode.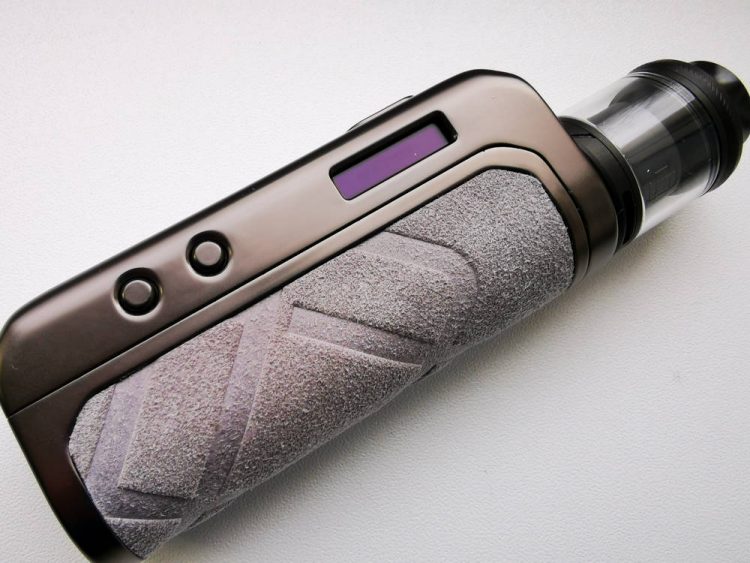 If you're looking for a vape mod that does what it's supposed to do, without the bells and whistles we see on most vape mods these days, then look no further than the Augvape Foxy One.
Conclusion
The Foxy One is not the most impressive vape mod I've ever reviewed, but it's definitely one of the slickest single-battery devices I've ever gotten my hands on, and considering that it's compatible with large 21700 batteries, that's saying a lot. It's also very compact and ergonomic for a 21700 battery mod, compared to most of its competitors. What it lacks in features and advanced options, it more than makes up in style and build quality. Although I like the overall look and feel of the mod, I will say that Augvape could have done a slightly better job on the paint finish, but I don't really have anything else to complain about.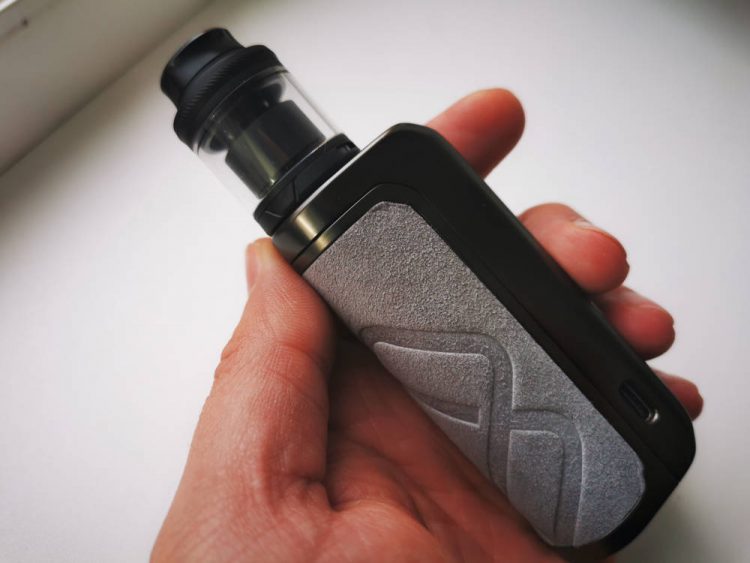 The Augvape Foxy One was sent to me directly by Augvape for the purpose of this review.
Pros
good build quality
slick and compact
21700/20700/18650 battery compatible
easy to use
USB Type-C charging
Cons
18650 battery rattle
tiny display