Pipe Sauce E-Liquid Review
Created by the cool people at ePipeMods, Pipe Sauce is one of the most popular gourmet e-liquid lines in the world and for very good reason. Hand crafted in the company's special US "Laboratorium", this premium e-juice has become the standard for many hardcore vapers, especially when it comes to delicious tobacco flavors.
Before we dive into the actual review of the flavors, I'd like to touch on the confusion the name "Pipe Sauce" often creates. Although ePipeMods also sells several e-pipe models, its e-liquids can be used with virtually any type of electronic cigarettes, from simple cigalikes to advanced vaporizers, granted, with varying results. And, while the word "sauce" may lead some people to believe that the juice has an increased viscosity, it's no thicker than any other vegetable glycerin-based e-liquid on the market. It would be a shame to let something as meaningless as a name, regardless of how misleading it may be, keep you from sampling what is without a doubt one of the finest e-liquids money can buy.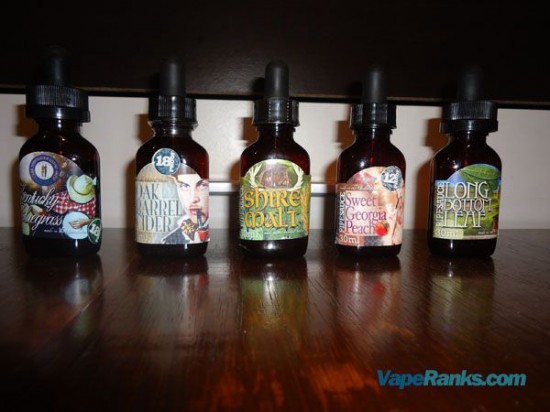 Long Bottom Leaf – Yup, the actual flavor names are just as confusing as the name of the line. Unless you're a big fan of J.R.R. Tolkien's fantasy books, you probably didn't know Long Bottom Leaf is a pipe-weed developed and enjoyed by the hobbits of the Shire. In real life, it's a fantastic tobacco vape that, for me at least, is to complex to properly describe. I just like to think of the taste as something cigarette makers would love their products to taste like. Yes, it's that good.
Unlike most other tobacco e-liquids, Long Bottom Leaf doesn't try to mimic the actual taste of cigarettes, not even that of dried tobacco, instead it offers an alternative that would makes you want to forget all about pipe tobacco. For lack of a better description, I will just resume to calling this e-liquid a tobacco flavor spiced to perfection.
By now, you've probably already realized I am a huge fan of Long Bottom Leaf. I've been hooked on it for a year now, alternating with the Shire Malt described below, for when my taste buds get to used to the flavor.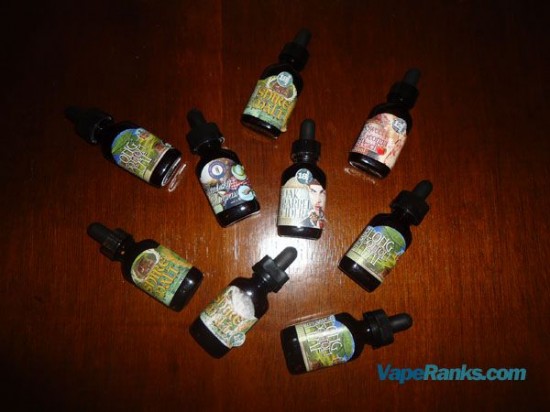 Shire Malt – Another big favorite in the Pipe Sauce e-liquid lineup, Shire Malt is very similar to Long Bottom Leaf, with a bit of extra… something for added sweetness. Again, I cannot clearly identify the undertones of this exceptional tobacco vape, but my money is on hints of coffee and chocolate, among others. Or it could simply be malt syrup, which I've never had the chance to actually try. On Wikipedia, malt syrup is described as dark brown, thick and sticky, with a distinctive flavor described as "malty".
Shire malt is a bit sweeter than Long Bottom Leaf, probably owning to the fact that malt syrup is supposed to be half as sweet and refined white sugar, but not overly so that it would be off-putting for someone looking for a good tobacco vape.
While both Long Bottom Leaf and Shire Malt e-liquids have a very strong smell, perfumy even, the vapor is rich yet mellow, with a very pleasant aftertaste.
Oak Barrel Cider – If you like apple cider, you're going to love this juice. It has a strong, clean apple flavor, not the artificial kind, but real, fresh apple, the kind that actually grows on trees. But there's more than a realistic fruit flavor to this e-liquid. Upon exhale, I'm detecting some floral notes, although I can't quite put my finger on what they are specifically, and there is some woody "oakness" to it as well, as the name suggests. It's a very tasty combination, that I can say.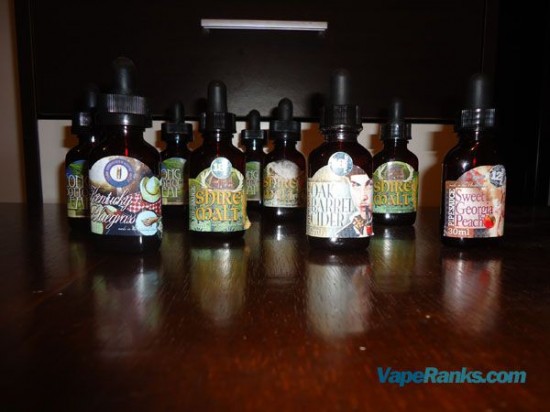 Sweet Georgia Peach – There are lost of peach e-liquids to choose from out there, but most of them taste like peach flavored soda or sweets. That's not necessarily a bad thing, but if you're looking for a realistic, not-so-sweet peach juice, I strongly recommend giving Sweet Georgia Peach a try.
On the ePipeMods website, it is described a "peach tobacco vapor", but whatever hints of tobacco you might detect are so gentle they do little else than complement the natural taste of peach.
Kentucky Blue Grass – Ever heard of "smokey blueberry"? No? Me neither, but this is what Kentucky Bluegrass tastes like. Tobacco notes are very discrete in the other two fruity Pipe Sauce e-liquids, but in this particular blend they definitely make their presence felt. It might sound like a strange combination, and you will find negative reviews of Kentucky Blue Grass online, but I for one am a fan. I'm a sucker for anything with berries in it, and the KBG juice is no exception.
One thing worth mentioning about this particular e-liquid is that the taste of tobacco is a lot stronger when it is vaped at higher voltages, while at the standard 3.7 volts the blueberry flavor overpowers it.
I haven't yet tries Grandpa's Cough Medicine, a tobacco juice with hints o absinthe and chai spices and the newly added PiperMint (smooth tobacco with a hint of menthol), but if the above mentioned Pipe Sauce e-liquids are anything to go by, they are definitely worth your money.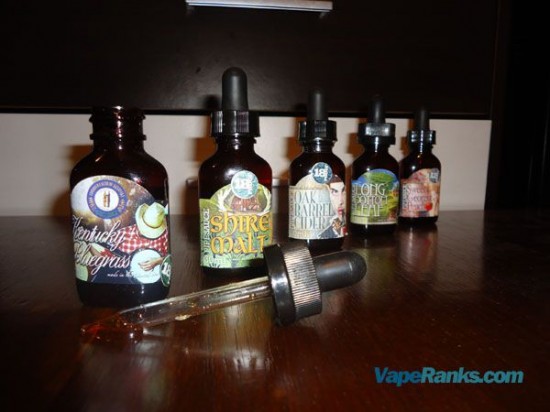 Pipe Sauce e-liquids come in 0,6, 12, 18 and 24 mg/ml nicotine strength and are made with a 95% vegetable glycerin base. That's great news for vapers allergic to propylene glycol, but it also means having to deal with the usual VG drawbacks. First of all, the juice might not seem that thick at first, but as you vape it, the stuff left on the bottom of your clearomizer really has the consistency of a sauce. Not only that, but it also changes color quite a bit. The Shire Malt I'm vaping at the moment goes from a nice amber nectar to a dark coffee-like sludge.
Vegetable glycerin-based e-liquids are known to clog up atomizers a lot faster that propylene glycol juices, and Pipe Sauce, unfortunately, is no exception. After a couple of refills, the atomizer wicks become noticeably darker, and after about 10 or so refills, you start to notice a change in the taste of the e-liquid. It's not a massive change, but it's noticeable, and topping off just doesn't fix it. To fully enjoy Shire Malt, one of the darker e-liquids in the Pipe Sauce lineup, I usually change the disposable atomizer every week.
All in all, Pipe Sauce is one of the best premium e-liquids money can buy. Whether you enjoy a good tobacco juice or juicy fruit flavors, you're bound to find something you like in this otherwise limited e-liquid lineup.