Beard Vape E-Liquid Review
I had known about Beard Vape Co. for a while now, and even though everyone was talking about how great its flavors were, I just didn't feel drawn to it for some reason. Maybe it was the numbered names of the flavors that just didn't appeal to me, or the bearded hipster logo on the bottles, I don't know,k but for some reason I just always bought other stuff. Then, one day, in order to reach a certain sum on my order and get free worldwide shipping, I bought the whole line, in 15ml bottles.
But even after buying it, I kept ignoring it. I went through all the other juices until I was almost all out of stuff to vape, so I got started on it. From the very first Beard Vape flavor I tried, I realized I had been an idiot. This whole line is freaking amazing!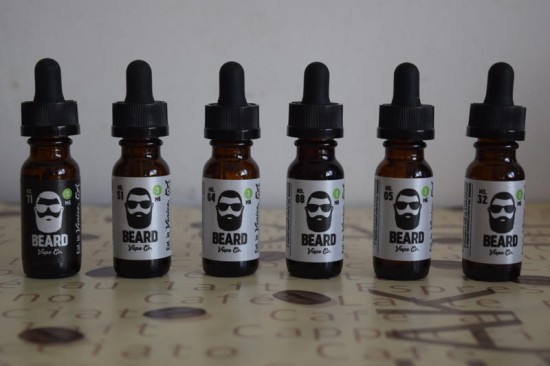 One of the first things I noticed about Beard Vape juices was that some appeared to be thicker than others, and after checking online, I learned that they had varying VG/PG ratios. I wished they had put that on the bottle, so you know what you're buying in case you're allergic to propylene glycol, or if you're just trying to stay away from it, like I am. Anyway, I put the actual ratios next to each of the flavors. All the e-liquids were 3mg/ml nicotine strength.
No. 64 (70VG/30PG) – Hands down one of the most amazing juices I have ever tried. I can't even begin to describe how unusual yet positively delicious this concoction is tastes, but I'm going to give it a shot anyway, otherwise what's the point of doing this review, right? The first time I vaped Beard No. 64, I could tell it had strong floral notes to it, but I couldn't put my finger on the flavor. I probably would have never thought of hibiscus, had I not read the flavor description on the Beard Vape website. There's also a bit of blueberry in the mix and a subtle sweetness, but the hibiscus definitely carries this juice. It's smooth, natural tasting and so flavorful!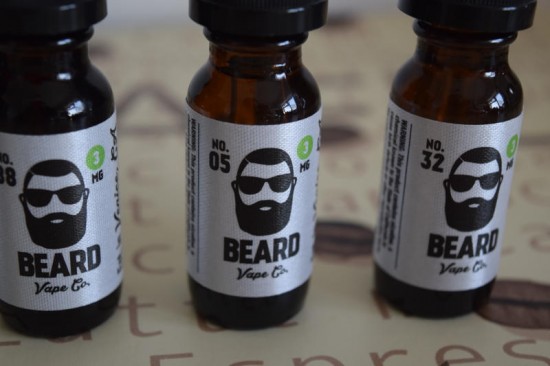 I loved the strong floral taste of No. 64, and I have to take my hat off to the Beard Vape mixers for making this stuff very flavorful without coming off as perfumy. That's very difficult to get right, but they managed to hit a perfect balance and definitely deserve props for it.  I've tried well over one hundred different e-liquids over the last few years, but I've never vaped anything like No. 64. It was a very nice surprise, and I've already ordered a couple more bottle of it.
No. 05 (60VG/40PG) – After trying No. 64, I was convinced it was the star of the Beard Vape juice line, but then I tried No. 05 and I wasn't so sure anymore. This tasty concoction is described as a "New York style cheesecake with strawberries on top". That's a pretty complex flavor to accurately produce in an e-liquid, and I'll admit that I missed the graham crust completely, but the rest of it was pretty on point. The natural-tasting strawberry is definitely the main flavor in this blend, and it's definitely one of the best strawberries I've ever vaped, but what really makes N0. 05 special is the creamy layer. There's a little vanilla in there, the sweetness is just right and it just makes the strawberries taste velvet smooth.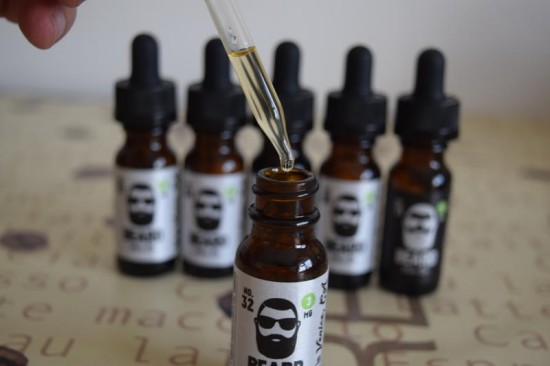 Just two flavors in, and I already have two prime candidates for my new favorite vape. If this keeps up, Beard Vape may just dethrone Cuttwood as my no. 1 juice line.
No. 51 (85VG/15PG) – if you're looking for a genuine custard vape, look no further than Beard Vape No. 51. This stuff is easily one of the most realistic-tasting custard juices I have ever tried – I'd say it's even better than Custard's Last Stand by V4L – and the only thing I didn't like was that the bottle lasted much too little than I would have liked. It was super creamy, sweetness was just right and there was no chemical taste to speak of. It's a simple flavor but one that is executed to perfection and that shares the smoothness of Beard Vape e-liquids.
No.88 (80VG/20PG) – this flavor is described as "a familiar chocolate mint cookie", but I just thought it tasted a lot like those After Eight mint chocolate thins I love so much. If you're not a fan of mint chocolate desserts in general, you're probably not going to like this juice, but otherwise, this is another great Beard Vape creation that you just have to try. I've vaped this chocolate and mint combination in the past, but never really found it to my liking simply because all the juices had a strong chemical taste to them. Beard Vape mixologists have somehow found a way to get rid of it, while still preserving the rich taste of dark chocolate and cool mint.
I've read some user reviews that claim N0. 88 tastes just like Girl Scout's mint chocolate cookies, but I've never tried those, or any other mint chocolate cookies, for that matter, so I can't weigh in on that.
N0. 32 (60VG/40PG) – The Beard Vape lineup had been nothing short of stellar to this point, and with just two more flavors to go, I was really kicking myself for not trying this juice sooner. I will confess that cinnamon funnel cake is not among my favorite desserts, so No. 32 was definitely not my favorite Beard Vape juice, but, objectively speaking, this is another very realistic flavor. Balancing a blend that happens to contains cinnamon is no small feat, because it usually overpowers every other note, but these guys nailed it. I don't know how they did it, but they managed to balance the cinnamon and doughy flavors to perfection. The sweetness is a again just right, so if you're a fan of funnel cake, I guarantee you'll love Beard Vape no. 32.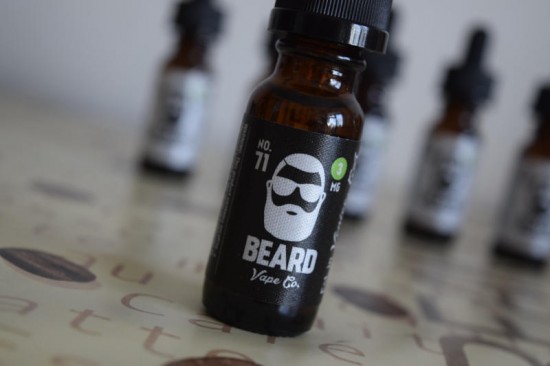 No. 71 – (70VG/40PG) The only real fruit flavor in the Beard Vape juice line, No. 71 is a mix of sweet and sour sugar peaches. It's a very well executed sweet-and-sour vape and one of the most flavorful peach juices I have ever tried. It reminded me a lot of Sweet Georgia Peach by Pipe Sauce, which was my first realistic peach vape and has remained a benchmark for all subsequent peach juices I have tried. No. 71 is the perfect choice for a hot summer day. It's refreshing, juicy and mildly sweet with some sour notes to balance it out.
If you haven't tried Beard Vape yet, I've got news for you – you're missing out on some of the best e-liquid on the market right now, so make sure you try some these amazing flavors the next time you decide it's time to try some new stuff. Whether you're into desserts, fruits or even floral vapes, Beard Vape has you covered, so don't ignore it like I did.