Rincoe Manto Mini Kit Review
If you're looking for a simple to use, lightweight and above all crazy cheap setup to get you started on your advanced vaping journey, the Manto Mini all-in-one kit is definitely worth your consideration. You get a single 18650 unregulated mod that does however offer all the protections of a regulated device, as well as a very basic but decent RDA. It doesn't really sound like a lot, but you can buy this kit for less than $25, which is less than most people spend on a sub-ohm tank.
A Look at the Contents
The Manto Mini comes in a yellow cardboard box with a picture of the included Manto Mini mod and Metis RDA on the front, and a list of contents, legal warnings and company information, on the back.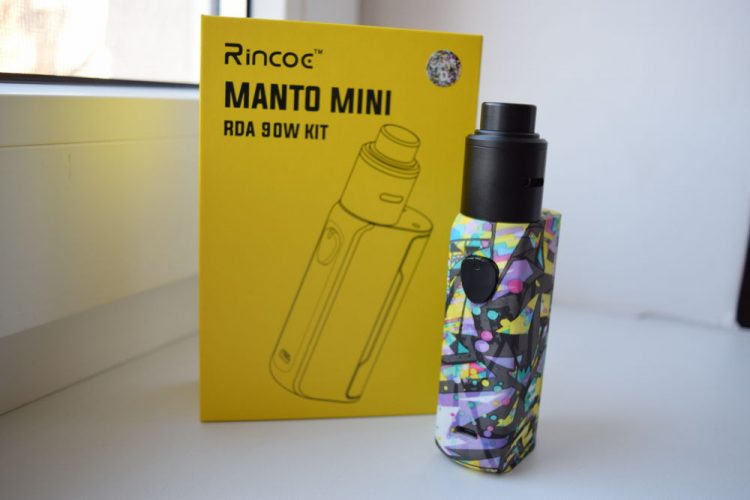 Inside the box we have the colorful Manto Mini mod sitting snug in a Styrofoam holder next to the 24mm Metis RDA and a short micro-USB cable for charging. You also get a small bag of accessories for the atomizer (small screwdriver, some spare screws and o-rings) as well as a user manual, battery protection card and promotional leaflets.
Design and Build Quality
The Rincoe Manto Mini is designed to be compact and lightweight. And when I say lightweight, I mean light as a feather. To be honest, the first time I pulled it out of the packaging, I though the company had messed up and send me a simple mockup instead of a functioning vape mod. It turns out that this thing is made out of polycarbonate, a plastic-like material that's not only incredibly light but very durable as well. Now, I didn't really put it to the test, and I don't suggest you do wither (unless you have $25 to burn, in which case, knock yourself and the mod out), but I understand that the Manto Mini is shockproof and can handle some punishment.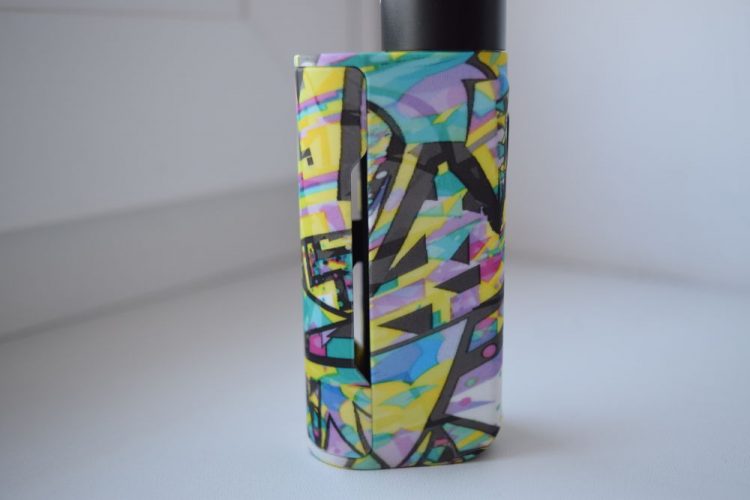 The Manto Mini measures only 80mm x 41mm x 25mm, which is really compact, even for a single 18650 vape mod. The polycarbonate has a rubberized finish that almost feels like resin to the touch and the mods come in a variety of paint finishes, from abstract designs to splatter patterns. It's a cool look, to be honest, and a refreshing break from the classic color combinations.
At the top, we have a standard 510 connection featuring a spring-loaded, gold-plated pin. The conection isn't centered but that wouldn't have made much difference, because the mod is only 25mm wide so any atomizer with a larger diameter than that would have given you some overhang. This way, however, the most you can get away with is 24mm.
On the front side of the Manto Mini we have a shield-shaped plastic fire button with a small LED light embedded in it, and a micro-USB port for charging, near the bottom. On the opposite side, we have a magnetic battery door held in place by two pairs of very powerful magnets. The plastic feel of the battery door doesn't really scream quality, but this is one of the sturdiest magnetic doors I've ever seen. Once it snaps into place, it requires some serious force to detach and there's no rattling whatsoever.
The battery compartment is nice and clean, features clear polarity symbols, as well as a textile ribbon to help you take out the battery easier. The one thing I don't like about the battery compartment is the pair of extra large venting slots on the side of the device. You can literally see the battery inside, or you can see right through the mod when a battery isn't inserted, and it just isn't a very good solution in my opinion. It looks unsafe, in my opinion. Let's say you put this thing in your purse and something pointy and metallic touches the battery inside the mod. If the insulation is perfect, you should be ok, but if your wrapper is damaged or accidentally ripped by that metallic object, you have a serious problem. The battery door is supposed to insulate the battery inside the mod, and this one does a poor job of that.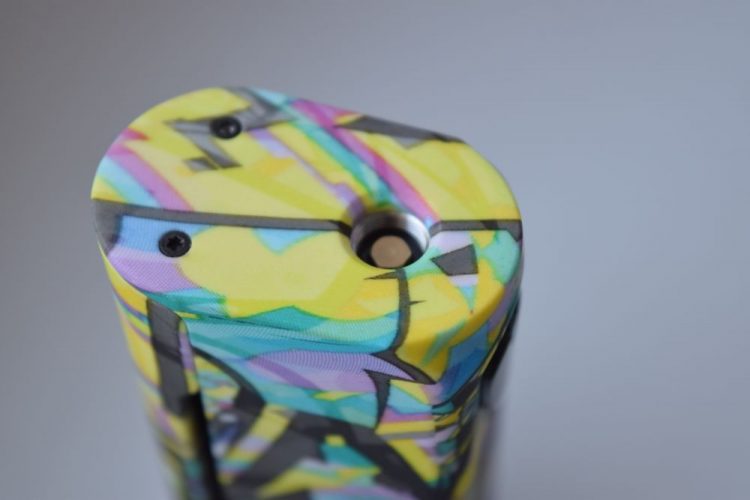 All in all, the Rincoe Manto Mini is a basic vape mod, with a lightweight if somewhat cheap-feeling body. But somehow, in this case that cheap feeling kind of makes sense because this really is a very cheap kit. So if that's what you're looking for, and it's what you expect, it shouldn't be an issue. However, the exposed battery can be a problem, and I highly recommend you always be care careful when storing the Manto Mini, making sure there's nothing metallic that can come in contact with the battery.
Battery Life and Performance
The Manto Mini is powered by a single 18650 battery and depending on the resistance of your atomizer, it can output up to 90W of power. Ideally, this device would have been compatible with 20700 or even 21700 batteries, as this would have improved battery life quite a bit. One 18650 battery won't last you very long, especially if you're using a low resistance build in your atomizer, so I highly recommend taking a spare battery with you when you're on the go.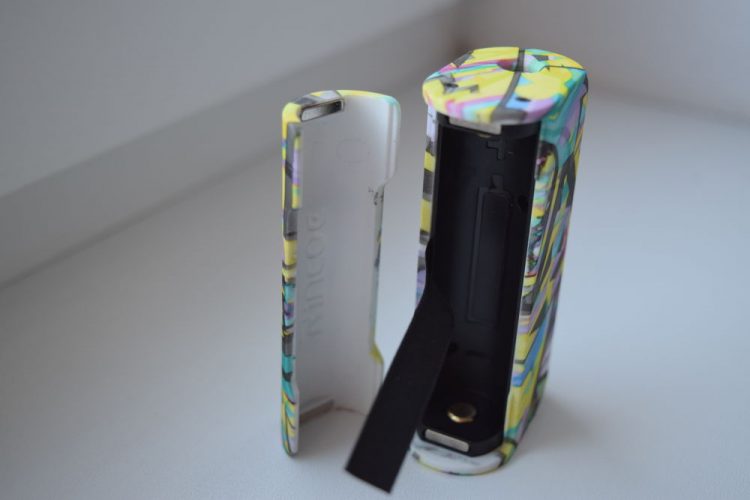 This is an unregulated device that pulls power straight from the battery. There's no variable wattage/voltage to set and no options to tweak. You just push the fire button and it fires whatever voltage is left in the battery, like a mechanical mod. But this isn't a mech. Even though there's no display or adjustment buttons, the Manto Mini does have a built-in PCB albeit only for protections. In case of a short-circuit, overheating, low battery voltage or reverse battery polarity, the mod will cut off power to protect you. It's basically the same system as in the Wismec Luxotic BF, a mechanical mod with built-in protections.
The Rincoe Manto Mini works with resistances ranging between 0.08Ω and 5Ω, anything below or over those values will cause the LED on the fire button to flash three times and the mod will not fire.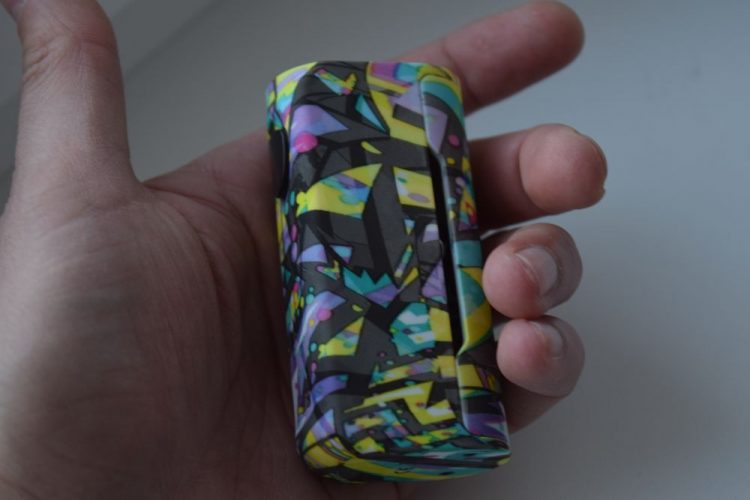 Performance-wise, the Manto Mini mod is comparable to a mechanical mod. It's a fast firing device, but because it pulls power straight from the battery, you tend to notice a drop in power as the voltage goes down. Luckily, you don't have to worry about the battery voltage dropping too low (under 3V) as the mod will cut off power for safety reasons.
The Metis RDA
The Rincoe Metis is a very basic RDA. In that regard it pairs really well with the Rincoe Manto Mini, which is a basic vape mod. It measures 24mm in diameter, features an 810 drip tip and a classic two-post build deck that's most suitable for dual-builds. The two airflow slots on the side of the barrel are mirrored, so you can't close one while leaving the other open. I personally would have liked a single-coil option, but again, you can't really complain too much about a kit that costs under $25.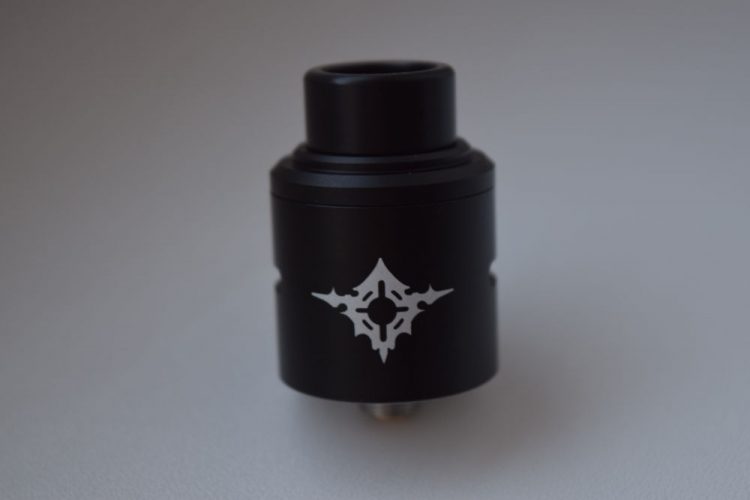 To be perfectly honest, this isn't the kind of RDA I'd use on a daily basis, because it's so rudimentary, but it definitely works for someone just getting into drippers and advanced vaping setups. It doesn't put out the best flavor, but you can chug some thick clouds with the right coil setup.
The Metis RDA isn't the most advanced dripper money can buy, but it's easy to build on, cheap and offers decent performance. What more can you ask for?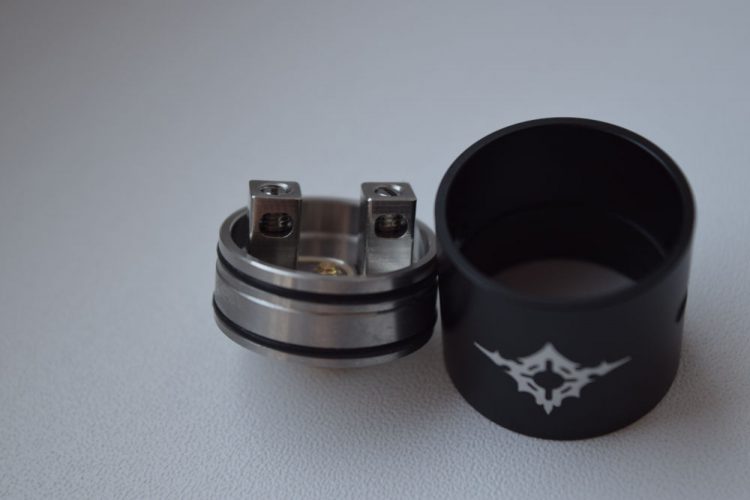 Conclusion
The Rincoe Manto Mini has its issues. The polycarbonate body of the Manto Mini mod feels cheap, the battery venting slots are a lot bigger than they should be, and it lacks any kind of features. The Metis RDA is a bare-bone device as well, although it does get the job done. But despite all its flaws, it's hard to ignore the incredibly attractive price point. This may not be the vaping setup of your dreams, but if you're looking for something very cheap, lightweight and that works as intended, the Manto Mini is at least worth your consideration.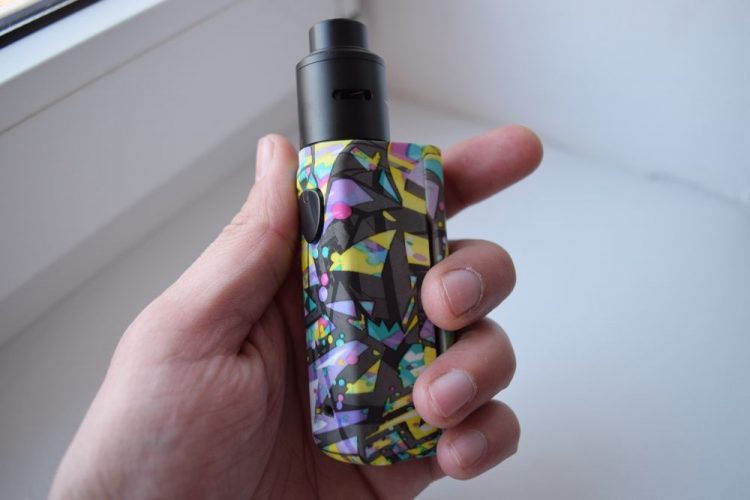 The Manto Mini was sent to me directly by Rincoe, for the purpose of this review.