Augvape Templar RDA Review
The Templar RDA from Augvape is a 24-mm single-post rebuildable atomizer that features an innovative "velocity clamp system" build-deck, a highly-customizable airflow control, as swell as squonk-mod compatibility. The Templar is being marketed as an all-round good RDA, offering both great flavor production and excellent flavor.
A Look at the Contents
The Augvape Templar comes in a tubular cardboard box featuring the Chinese company's logo, an authenticity seal and some social media icons, in case you want to keep an eye out for new Augvape products and promotions.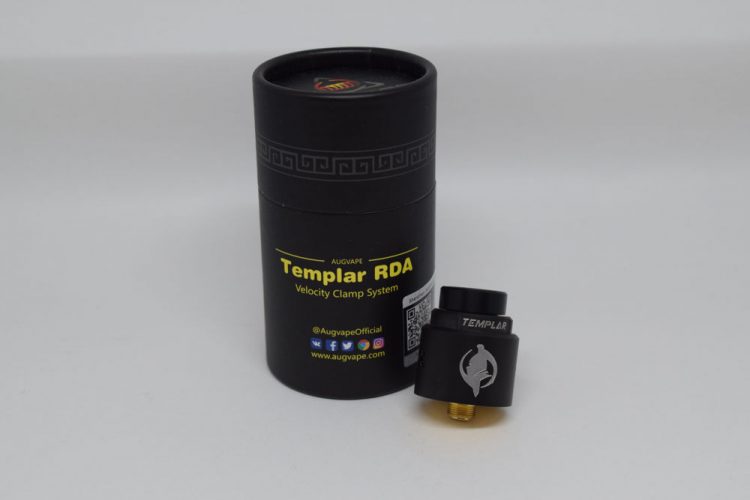 Inside the box, we have the Templar RDA placed in a circular Styrofoam holder, and if you remove that, you'll also find a frosted glass barrel with a built in drip tip, as well as a bag of spare o-rings, a hollowed-out squonk pin and an 810-to-510 drip tip adapter. Unfortunately, Augvape doesn't include any coils or even one of those small screw-drivers, which I consider a small con. If this happens to be your first RDA, you're going to have to buy some coils, or at least some wire to build them yourself, and that sucks. At least add a couple of cheap coils, like most other manufacturers, and leave it up to the buyer if they want to use them or not.
Design and Build Quality
One of the most appealing features of the Augvape Templar RDA is its size. Even though it measures a decent 24mm in diameter, it is considerably shorter than many of the other RDAs in its categories, and as someone who doesn't like atomizers sticking out too much from the mod, I consider that a pro.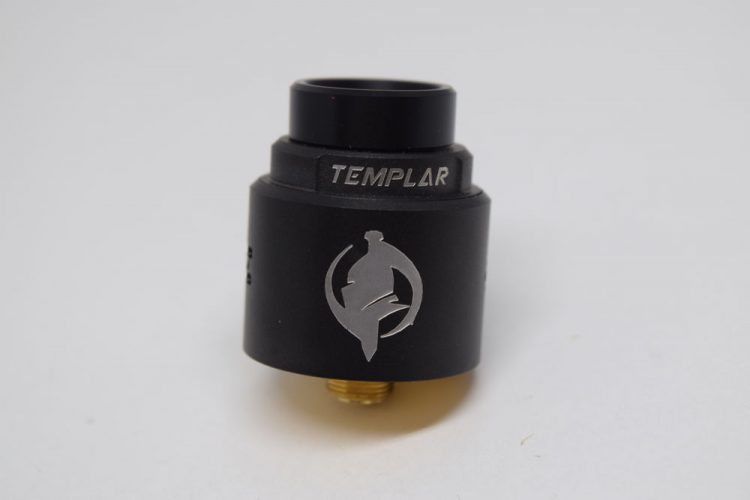 Starting from the top, the Templar features a Goon-style Delrin drip-tip, which I was a bit worried about considering the reduced height of this atomizer. I was sure spit-back was going to be an issue, with such a wide-bore and the coils located so close to my mouth, but it turned out to be a non-issue. Anyway, you can always replace it with taller 810 drip tips, or even a 510 tip, by using the included adapter.
The drip-tip connects to a removable top cap which you can rotate to the adjust the airflow coming through the air slots on the barrel. The top cap features a stepped design slightly similar to that of The Drop RDA, giving the user great control over how much air gets into the atomization chamber. You basically have three levels to work with, each of which can be adjusted as well, so you can tweak the airflow to perfection.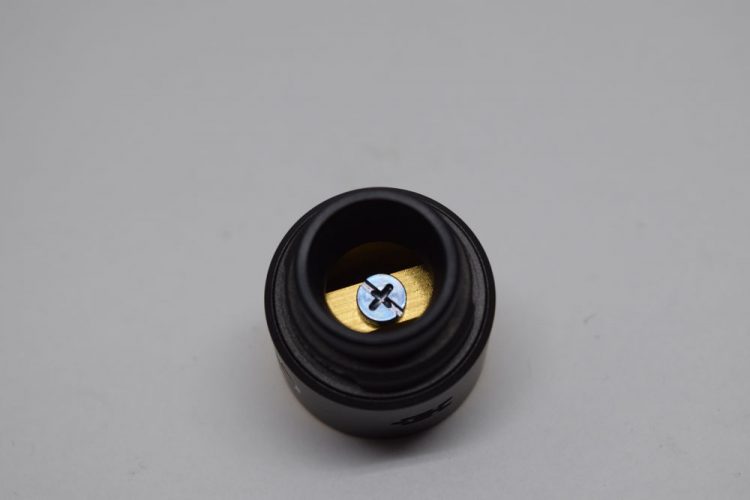 The stainless steel barrel of the RDA features the Templar logo, a nice design that combines a couple of blades with a warrior helmet, and a two airflow slots made up of smaller holes, on opposing sides of the barrel. These small holes are laid out on three rows, and by rotating the top cap, you can gradually block each of these holes to adjust the airflow. You can cover the entire front row of holes, the first two rows, or just one row and two holes from the second one, or even all three rows. You basically have a lot more control over the airflow than you do on most other RDAs.
However, the frosted-glass barrel included in the kit doesn't offer this level of airflow cusomization. In fact, it offers no airflow adjustment at all, just two slanted airflow slots on each side. It's ok, if you don't mind an airier draw, but I personally prefer the option to fine-tune the airflow. Also, this barrel has a non-removable drip-tip, so if you don't like it, there's nothing you can do about it.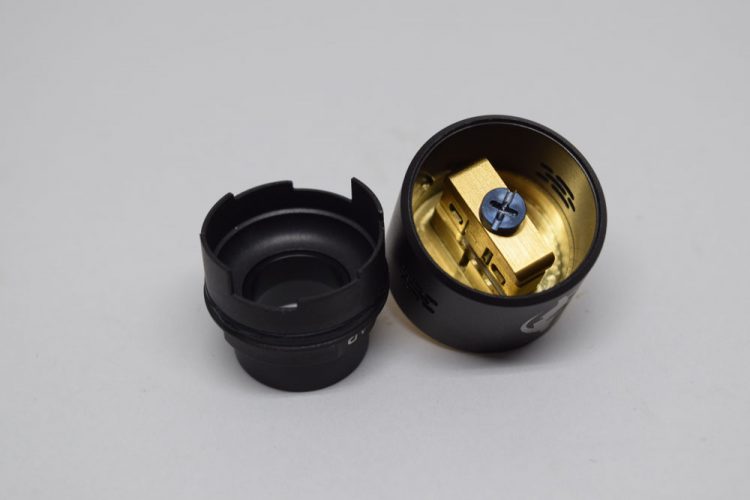 Finally, the base of the Templar RDA houses the build deck on one side, and the 510 connection pin on the other. The pin protrudes just a little bit, so I definitely would not recommend using this atomizer with a hybrid mechanical mod. You can also take out the 510 pin, and replace it with the hollowed out one included in the kit, for use with a squonker.
The Templar features a "velocity clamp system" build post, which I guess could be described as a Velocity-Goon build deck hybrid. You have four post holes, like on a Velocity Deck, but instead of four separate screws to secure each lead, you actually have a huge clamp and a single center screw which raises and closes the clamp. It's a very ingenious system, I'll give them that, but it is a bit harder to build on than a classic Velocity deck.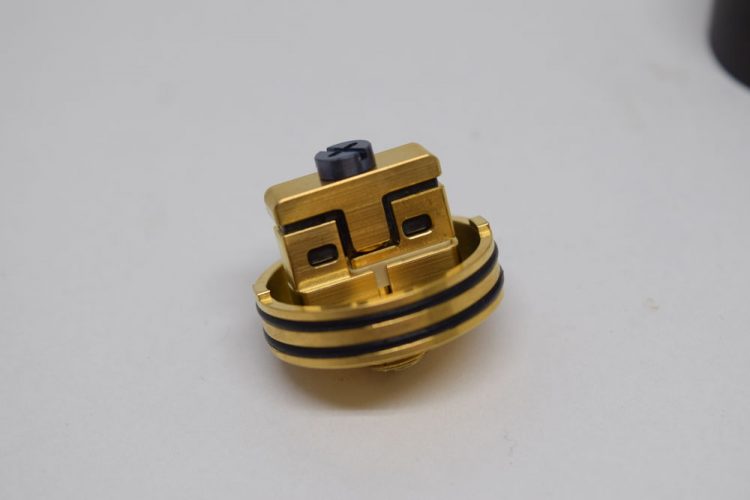 The juice well is not the deepest I've ever seen, but it's deep in enough to hold a few millilitres of juice, if you happen to overdo it with the dripping.
Setting Up
If you've ever built on a Goon-style deck before, you should have no problem setting up the Augvape Templar RDA. All you have to know is that the design of this velocity clamp system requires you to insert both coils before screwing that large center screw on top of the post, to lock them in place. That means you have to make sure that your coils are aligned just right before tightening down the clamp. Too close tot the center post and they could accidentally make contact with it. Too far, and they could touch the barrel or the stepped top cap. In both cases, you will get a short-circuit, and you don't want that.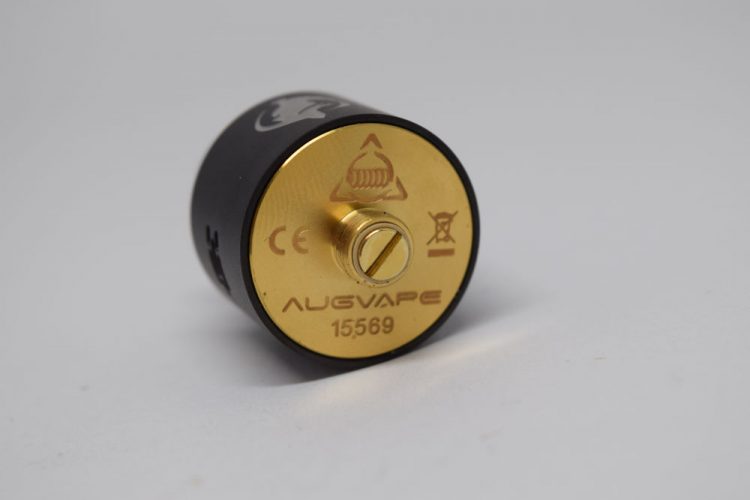 To start building on this deck, you will first have to unscrew that large screw on top of the center post and raise the clamp until you have all four wire slots completely exposed. Then make sure that both coils are inserted into both the positive and negative posts. I prefer to measure the leads of my coils and trim any excess wire before tightening down the clamp, as doing afterwards can be problematic. Inserting the two coils and tightening them down simultaneously, as opposed to one at a time, like on a Velocity build deck, can be tough if you're a beginner, but once you have some experience with this style of deck, it'll seem simple to do.
Once you've tightened the camp and locked the coils in place, just make sure they are aligned with the airflow slots on the barrel, and make sure to fire them up a few times to check if they light up correctly – from the center outwards, with no hot spots.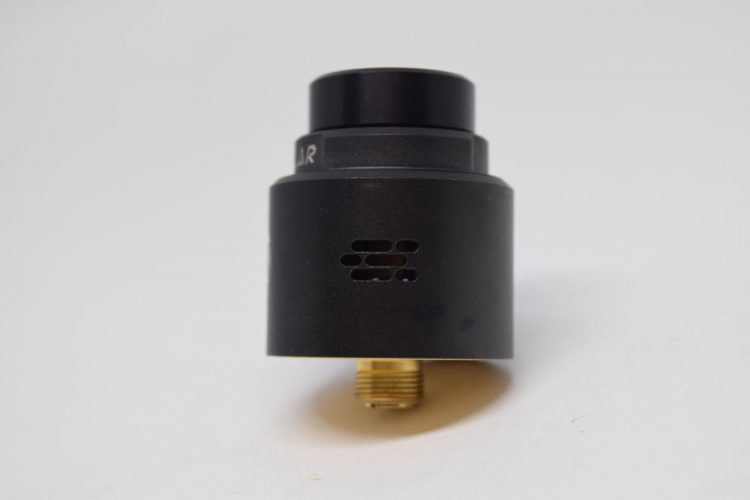 I found that the wicking is very straightforward with this RDA. I just bent my cotton leads on the outside of the build deck and clipped them right at the base of it. Then I tucked them into the juice well. If you like to tuck the cotton under the coils and plan on using the Templar with a squonker, you need to make sure that you are not blocking the two small juice holes at the base of the build deck, as that can hinder the flow of e-liquid when you squeeze your squonk bottle.
How It Vapes
To be completely honest, I wasn't too impressed with the Templar RDA at first. Its stubby body and wide-bore drip-tip seemed a poor combination that made it prone to spit-back, and the holes that made up the two airflow slots looked too small. However, that was only at first glance. After using this atomizer for over a week, I can say that my original assessment was a poor one.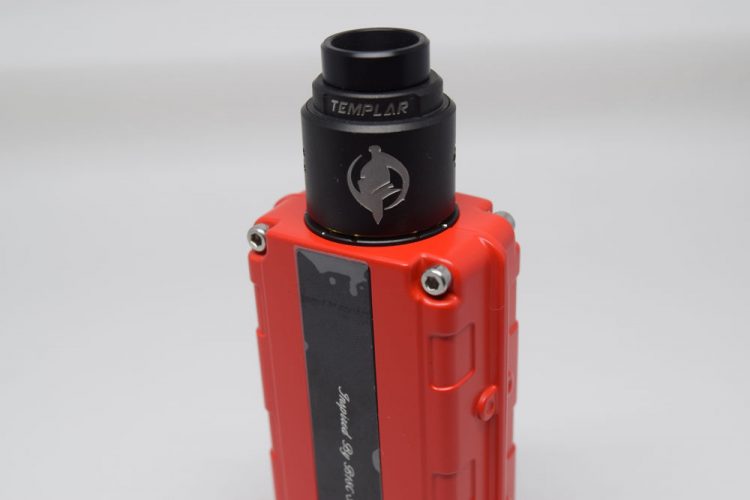 Not only did I never experience any spit-back, but the airflow system was so much better than I expected. Having the option to fine tune the amount of air that enters the atomization chamber to fit your vaping style is a huge pro. I've found that depending on what type of coils I'm using, I prefer more or less airflow, and the stepped design of the Templar top cap allows me to make adjustments accordingly.
The low profile of the Augvape Templar means that the coils are very close to your mouth. That means that the vapor reaches your mouth almost instantly, so it's warm and very flavorful.
In terms of vapor production, I can't say the Templar is the best RDA I've ever used, but it is definitely above average in this regard as well. Obviously, it depends on the coils and power output as well, but what I can say is that this little atomizer is perfectly capable of chugging clouds.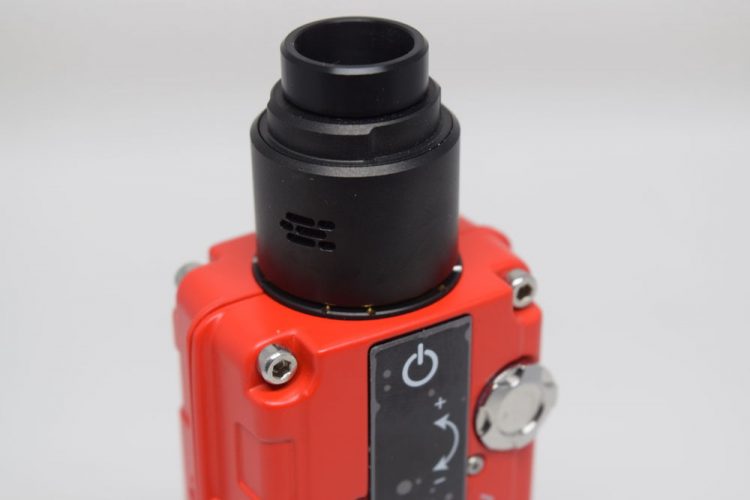 I really don't have anything negative to report about the Templar. The two silicone o-rings on the base do a good job of insulating it, so you shouldn't experience any messy leaking, the tolerance on the top cap is just right, meaning you can easily adjust the airflow without having to worry about it accidentally turning in your pocket. The wide bore drip tip means you can easily drip without removing the top cap.
Conclusion
The Augvape Templar is a neat little RDA that should please all but the pickiest of vapers. It may nit be the most innovative vaping device ever created, but it certainly takes some of the best features we've seen before and combines them to provide a great vaping experience. The deck may take a bit of getting used to for beginners, but it works just fine, and the stepped airflow system is one of the best I've ever used on a rebuildable atomizer.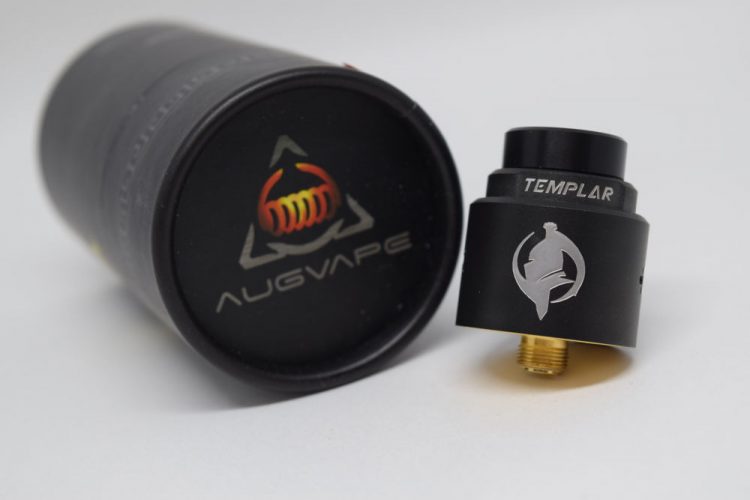 So if you're looking for an all-around great RDA that offers above average vapor production and great flavor at an affordable prize, you should definitely consider the Augvape Templar. It will surprise you, in a good way.