Sigelei Kaos Spectrum Review
The Sigelei Kaos Spectrum is a slick dual-battery device capable of firing at up to 230W. It also comes with a 2.5A fast charging feature, a nice-looking color LED display and a very interesting screen layout. But the one thing that helps this mod stand out from its many competitors is the bright customizable LED light show. The plastic ring around the screen lights up in different colors when you vape, so if you're looking to draw attention to yourself, this is just the thing.
A Look at the Contents
The Sigelei Kaos Spectrum comes in a square cardboard box with a picture of the mod and a background of light waves, on the front, and a list of package contents, device specifications, and legal disclaimers, on the back. Pretty much your average vaping device packaging, nothing wrong with that, but it's nothing to write home about either.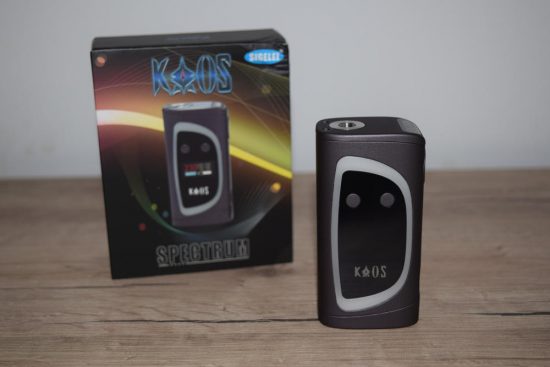 inside the box, we have the Kaos Spectrum mod sitting in a Styrofoam holder, and right next to it we have a small cardboard box which contains a micro-USB cable for on-board battery charging/upgrading. We also have a user manual, and an instruction card for the authenticity seal on the box, but in terms of stuff you can use, that's about it. It doesn't look very impressive, but this is your standard mod starter kit. So if you want one of these, you'll want to buy a couple of 18650 batteries beforehand.
Design and Build Quality
The Spectrum is a mid-size dual-18650 mod. It measures 88 x 45 x 30 millimeters, which puts it in the same category as the popular SMOK Alien, SMOK GX2/4 or the Wismec Predator 228. It also has the same general design, with rounded edges and a very ergonomic shape. Like all these other devices I mentioned, it's very comfortable in the hand, and the matte paint job along with a fake leather stickers on one of its sides ensures a very good grip.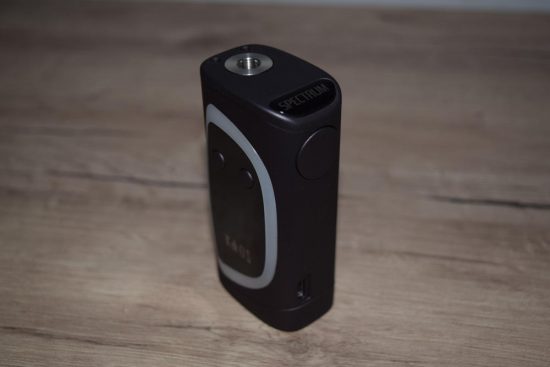 On top of the Sigelei Specttrum, we have a sturdy-looking spring-loaded 510 connection and a glossy piece of plastic that just says "Spectrum, so you don't forget what you're vaping on. At the bottom, we have the same style of battery door used on the Alien or the new iJoy Captain PD270. Just pull it out and push the lid up to open it, place the batteries in and press the lid back down and in. It's a really simple and effective system, definitely my favorite right now.
The big, round fire button is on one of the narrow sides of the mod, along with the micro-USB port for charging/upgrading. The smaller "+" and "-" buttons are located right above the display, which is kind of a weird place to put them, since trying to make adjustments with your thumb blocks your line of sight to the screen. So you have to keep the device at an angle just so you can see the changes you make on the display. Putting the buttons under the screen would have been much better, and I'm surprised that the designers didn't see this.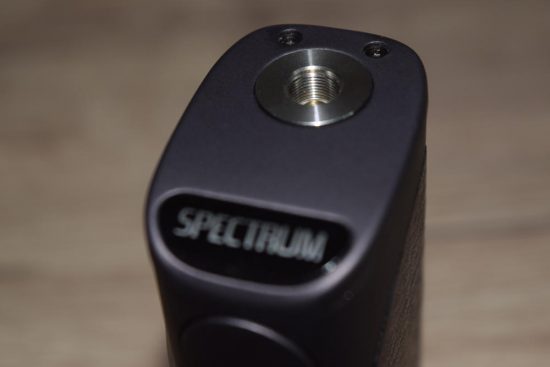 Around the display, we have an unimpressive-looking white plastic ring, which is actually one of the main features of this device. This is where the colored LEDs are located, so when you insert the batteries, that ring will light up. We've seen LEDs used for cosmetic purposes before, mainly by SMOK, on its popular X Cube 2 and the newer SMOK T-Priv, but the Sigelei Kaos Spectrum definitely has the brightest light show I have ever seen. You can virtually use it as a colored flashlight, especially if you set it to one of the lighter colors, like green or turquoise.
Finally, the display is not the most impressive I have ever seen, sadly. It's got some nice colors, which actually change as you browse through the wattage/temperature, going from green to red the higher you go, but it's way too dim for my liking. You can barely see it in bright sunlight, and it's not much better indoors, especially with the LED light show activated. It's not a deal-breaker, in fact, most people don't even notice this stuff, but this display was a bit of a disappointment to me, because it just felt like a missed opportunity to really make those colors stand out.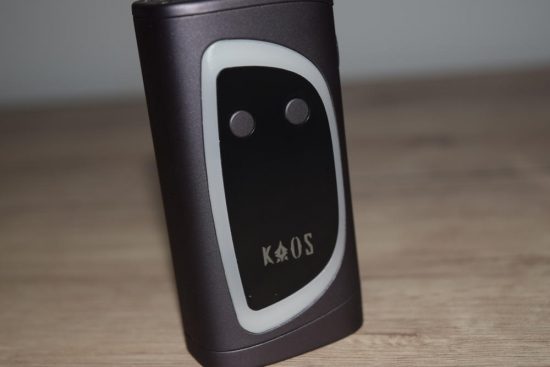 Overall, the Sigelie Kaos Spectrum looks and feels like solid, high-quality device. It has some weight to it, but still feels comfortable in the hand, it's got a nice design and the finish is top notch. It's definitely not perfect, though, and it's up to you to decide if the flaws are significant enough to keep you from giving it a try.
Menu System and Navigation
I had never tried a Sigelei mod before, so I really didn't know what to expect, but I was happy to find that the Kaos has a very simple ant intuitive menu system and navigation. To access the menu, just press the fire button three times, in rapid succession. It only has two main options, "Power TCR" and "Color Mode". The first one allows you to select between wattage mode temperature control and TCR, as well as select the type of material for temperature mode. Just browse over the desired option using the "+" and "-" buttons, and use the fire button to confirm.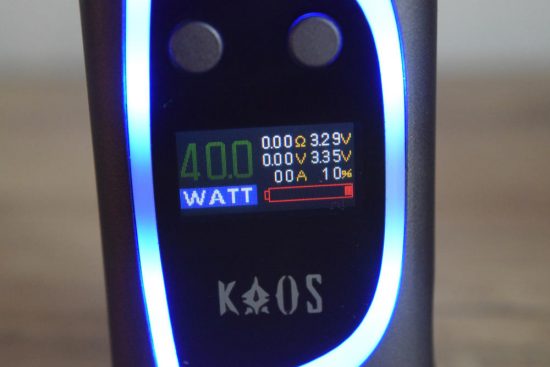 In Color mode, you can choose between six different colors (blue, yellow, red, turquoise, purple and green) and select when and if the lights come on. You can set the light show to "vaping only", "always on" and "light off". Those are all pretty self-explanatory. I've set it to come on whenever I press the fire button, and I haven't really noticed a significant decrease in battery life. These are LEDs were talking about, and even though they are very bright, they run on very little power. I haven't tried leaving it on all the time, because who does that?
One thing I do worry about with that "always on" feature is a low battery situation, where you're already running low on battery and you leave the Kaos Spectrum unattended for a long period of time, like overnight. Does it just drain your battery to dangerous levels, or does it have a safety feature that turns off the lights to prevent accidents. I haven't read anything about that in the manual, and I'm too scared to try it for myself. To be safe, just use the light show when vaping.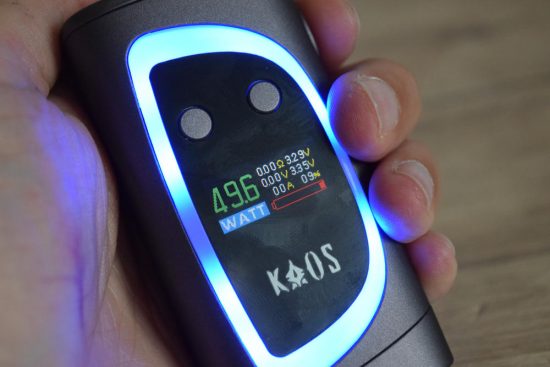 There are also a few features that don't show up in the main menu. For example, there is "preheat", which allows you to fire at a certain wattage for a few seconds, before jumping to your set wattage. You can set both the wattage value and the number of seconds in a special menu accessible by keeping the "+" button and the fire button pressed. You can also lock the adjustment buttons by keeping the "-" and fire buttons pressed. In case you mess up badly, you can return the mod to factory settings, by taking out the batteries, keeping the "-" button pressed and putting the batteries back in.
Lastly, I wan to touch on the layout of the display. I was a bit disappointed at first, seeing that the Sigelei Kaos Spectrum has a single battery life icon, whereas most other dual-battery devices nowadays have two. But then I noticed that apart from standard information like wattage/temperature, atomizer resistance, voltage and amperage, the Kaos display also shows the current voltage of each battery. So instead of relying on a simple battery icon, you know exactly how much charge is left in each battery. And it even displays a general percentage of the combined battery life right above the large battery icon. I though that was pretty cool.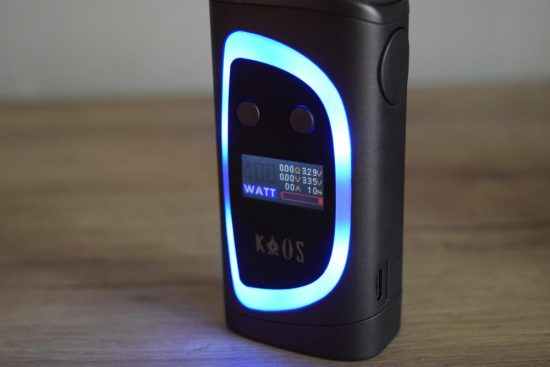 There were a couple of things that I didn't like about the menu. as well. First of all, the Kkaos doesn't have a scrolling accelerator, so if you want to go from 10W all the way to 230W, it's going to take you a while. Obviously, a round-robin option, where pressing the "-" button at 10W would take you directly to 230W would have made things a bit easier, but this mod doesn't have that either. Luckily, things like these can easily be fixed through a firmware upgrade, and hopefully Sigelei will do just that, if they haven't already.
How It Vapes
I know this is probably the part of a review that most people are interested in, but I really don't have anything interesting to say about this mod, Not because it doesn't perform well, but simply because it's essentially the same as other advanced mods I've used in the last couple of years. It doesn't bring anything new to the table, relying instead on tried and true technology and some visual gimmicks.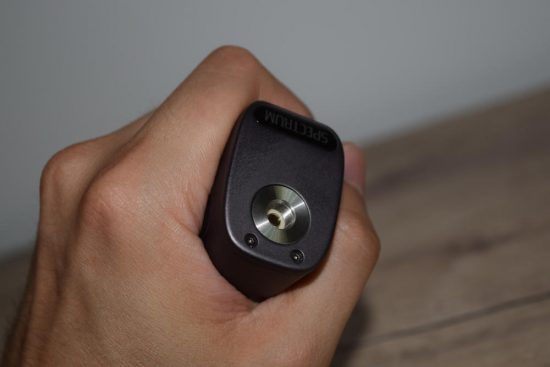 In wattage mode, the Sigelei Spectrum has a maximum power output of 230W. I haven't actually tested it to see if it works at maximum power simply because I wouldn't even dream of vaping at over 150W, let alone 230. Can it actually do 230W? Probably not, and if so, it certainly couldn't do it with any resistance, but if you met all the required conditions, it would likely be very close to that value. Other than that, the output seems accurate at the values I've been vaping at (60W -80W), I've experienced no misfires or any unusual behavior. The Kaos is very responsive, heating up the coil as soon as you press the fire button.
I haven't really played with the temperature control mode very much, since I'm not a big fan of it, but I did try it with a dual stainless steel build I had lying around just to see if it would regulate the temperature. It seemed to do a decent job, and it didn't jump out of temperature mode back into wattage mode, as some devices do when they get confused.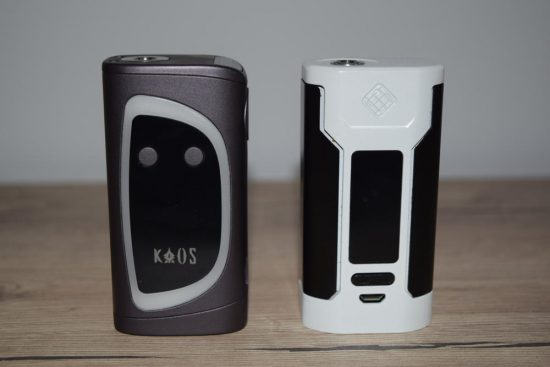 One thing that I found interesting, not necessarily in a good way, was that the Sigelei Kaos Spectrum only goes down to 10W. So if you want to use this device at 5W, you can't. I don't know how many people still vape at that low a level, but most other advanced mods do go down to 1W or at least 5W.
Overall, it seems like a solid mod, but if you're looking for more technical details, you may want to check out PBusardo's excellent video review as well.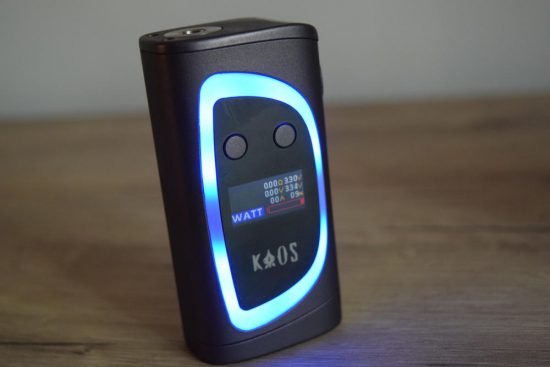 Conclusion
The Sigelei Kaos Spectrum is a fine edition to the already big family of dual-battery advanced mods on the market today. It has all the important features and built-in protection you need, as well as a cool light show, but if you're looking for something truly revolutionary, this isn't it. I can't really blame Sigelei for that, as the truth is manufacturers haven't really come up with something truly groundbreaking in a long time. Thy're just taking these tried and true features and repackaging them in all sorts of shapes and sizes. This happens to be one of the nicer ones, and even though it's got its issues, I would say that the Kaos Spectrum is worth the price.