The Cloud Company E-Liquid Review
The Cloud Company is a premium MAX VG juice line from Suicide Bunny, one of the most popular and controversial brands in the e-liquid industry. Following the massive success of their previous two juice lines – Suicide Bunny and King's Crown – head mixologist Pip Gresham decided a new collection aimed primarily at cloud chasers. And that's how The Cloud Company came to be.
A lot has happened since I reviewed the stellar King's Crown e-liquid by Suicide Bunny, most of it not so good for the Texas-based company. First there was the huge scandal about Suicide Bunny flavors being "chock full" of diacetyl and acetyl propionyl that really hurt its reputation, despite Pip and others in the vaping community providing lab test results that showed no cause for alarm. And then there was this hugely popular Reddit post accusing Suicide Bunny of mixing and packaging its juice in improper conditions. There was no actual evidence provided apart from mere allegations from a business partner and a self-confessed ex-employee (both anonymous), but it managed to damage Suicide Bunny's reputation even more.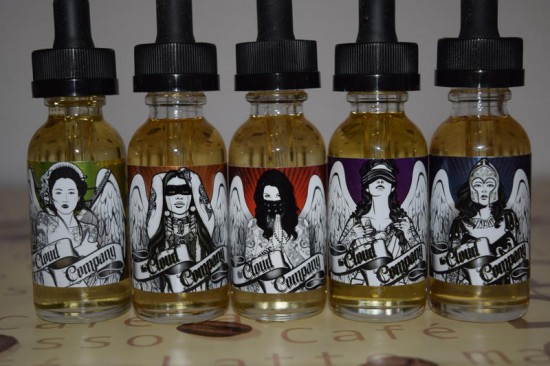 Now, I am not one to take sides, but I'm guessing that if the high-content of diacetyl or acetyl propionyl had been confirmed, Suicide Bunny would now be dealing with the same legal issues that Five Pawns is, and the same goes for their alleged hygiene problems. Furthermore, we all know that success attracts envy like a magnet, so that might also have something to do with the troubles of Suicide Bunny. That said, we users wouldn't have to deal with this sort of fears and uncertainty if the vaping industry were properly regulated. But instead of focusing on quality control, Government and the FDA seem far more interested in protecting Big Tobacco and filling budget holes by proposing a draconian set of rules that threatens to put small companies out of business. But I digress…
In terms of aesthetics, The Cloud Company follows in the footsteps of the company's original Suicide Bunny line. the 30 ml glass bottles feature colorful labels with well-executed drawings of tattooed female angels, all of which, I imagine, form The Cloud Company. Every flavor has its own angel and they are all visually impressive, but I wish Pip and her team would have put just as much work into the practical elements of labeling. The only warning mentioned on the bottles is "keep out of reach of children", there are no pictograms, no 18+ signs, no company information, and the nicotine strength is only mentioned through a number – in my case '3' – positioned in the bottom right corner of the label. I know these juices were developed with connoisseurs in mind, but, as a company, you have to be responsible and take everyone into consideration.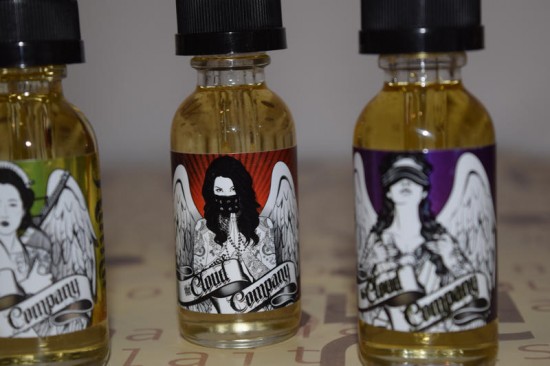 As I mentioned in the beginning of this review, The Cloud Company is a MAX VG line, and I've read somewhere that they are all around 90% vegetable glycerin, so it's recommended you vape them either in RDAs or high-quality sub-ohm tanks. The color of the five different flavors ranges from a yellowish gold to a light amber, but overall, the coloring doesn't differ as much as it does in other lines I've reviewed. Most importantly, there are no dark e-liquids, which are known to gunk up the coils faster. The Cloud Company only comes in 30 ml bottles, with a nicotine strength of 0,2.6,12 and 18 mg/ml.
After a very positive experience with King's Crown and three of the five Suicide Bunny e-liquids – I have yet to try the other two – I had my hopes up for The Cloud Company flavors. Let's see if they live up to the SB legacy:
Revel: just one puff of this and I was blown away by the intense, delicious flavors. After taking a whiff of the juice, I could already tell it was going to taste of cereal and citrus, but actually vaping it just amped these flavors tenfold. The first thing I could think of after that very first puff was how much the realistic cereal flavor resembled that of Cutwood Birdbrains, one of the best fruit cereal vapes I've tried. But while Brirdbrains has a strong, almost perfumy fruit cocktail taste to it, Revel just has a pleasant lemon taste to it that I for one can't get enough of. The combination of cereal and citrus is masterfully executed in this juice, and the result is mouthwatering.
Suicide Bunny describes Revel as "an interesting, flavor-morphing liquid, every inhale brings a new experience: hints of sweet cereal with fresh berries and cream one time, and a beautiful mix of berries and citrus in the next." I think calling this juice chameleonic is a bit too much, to be honest. The berries are so discrete that my senses rarely even picked them up. Yes there is something more to Revel than cereal and citrus, but it's always in the background, allowing these two flavors to shine both on the inhale and the exhale.
If you're a fan of fruit cereal, Revel is simply a must try. It retains the creaminess that defines all Suicide Bunny e-liquids, flavors are nice and crisp, and vapor production is what you would expect from a MAX VG blend.
Sky: only my second Cloud Company flavor and already another delicious lemon taste. I was already starting to wonder if it was a theme of the line. Stranger still was the cereal taste which obviously made Sky taste very similar to Revel. After reading the flavor profile, I learned that this juice is a "blend of savory, lemon cookie served with rich, sweet, creams are layered to provide a smooth experience." Lemon cookie sounds very different than fruit cereal, but in this case, they are actually very close, taste-wise.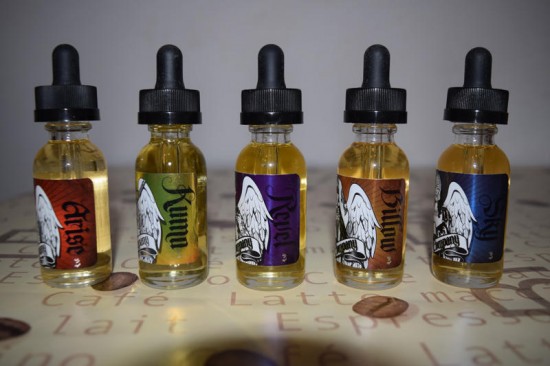 There are a few subtle differences between the two, for example, I thought was a tad sweeter and had a more pronounced cereal flavor, but the fact remains that they are very similar. Which, in my opinion is a bit strange, considering this is only a five-flavor line. Surely they could have come up with something a little different.
I'm not saying Sky is not a delicious juice, it is, but if you're going to buy more than one Cloud Company flavor, make sure you only get one of these two, since they pretty much taste the same.
Arise: of the five Cloud Company flavors, four of them are completely new blends, but Arise is an exception. According to the Suicide Bunny website, this juice is a pleasant twist on the original Mother's Milk, the one flavor that propelled the Suicide Bunny brand to the top of the food chain in the e-liquid industry. As a fan of Mother's Milk, I can say that Arise is pretty much the same thing, with the only twist being that this newer version is MAX VG.
If you're into big clouds of vapor and haven't tried Mother's Milk yet, then you need to get your self a bottle of Arise a.s.a.p. This flavor is what Suicide Bunny is all about – it's creamy, smooth and so incredibly flavorful. Just like its inspiration, Aspire has a delightful creamy custard base with a hint of fresh strawberry. It's complex, sweet, but not nauseatingly so, silky smooth and puts out tons of vaper. Simply put, it's awesome!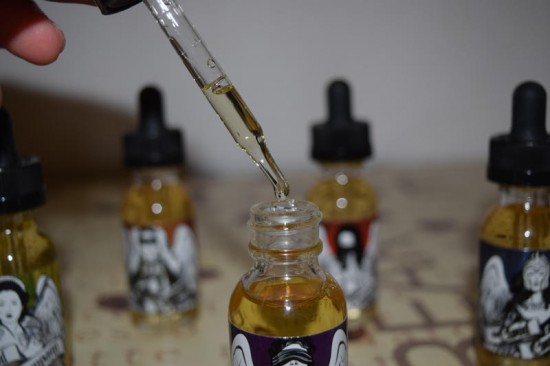 Billow: the new dessert flavor in my rotation, Billow is a creamy combination of salted caramel and coconut cake. The first time I vaped this juice I was surprised to find that the caramel dominated both the exhale and the inhale, with the coconut being only barely detectable. After doing some online research, I found some user reviews that mentioned that the coconut was bolder at lower wattages. I had been vaping at around 70 watts, so I toned my mod down to 50 watts and that indeed made the coconut stand out more.
If you're into sweet dessert vapes, I'm sure you will agree that Billow is yet another Suicide Bunny masterpiece. The caramel is just to die for and the creamy coating characteristic of all of Pip's creations just makes it irresistible.
The extra sweetness does have a downside though – Billow gunks up coils considerably faster than the other Cloud Company juices. I had to change my cotton after just a day, because the juice was starting to taste funny and my coils looked charred. It's not a big deal, but it's something you should keep in mind.
Kumo: The newest member of The Cloud Company, Kumo is a refreshing fruits smoothie with a smooth cream coating that has become  synonymous with the Suicide Bunny name. For some reason, the company webiste hasn't been updated to mention Kumo, but I found it described by many shops as a mix of fruits with sweet, tangy yogurt. I for one don't get any yogurt vaping this juice, just a strong taste of banana, some other tasty fruits I can't put my finger on, and cream. Good banana e-liquids are hard to find, but Kumo is one such rare gem.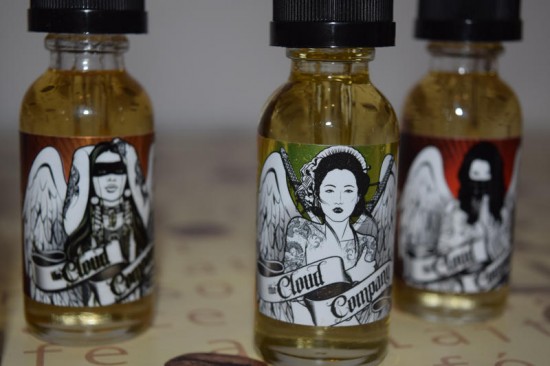 If you're looking for a light fruity vape, Kumo is bound to put a smile on your face.
Say what you will about Pip Gresham, but the girl has a talent for making delicious e-liquid, and The Cloud Company is yet another shining example of that. Once again, the hype is very real, so I recommend you get your hands on these flavors wherever you can find them, because I imagine they're flying off the shelves.