King's Crown E-Liquid Review
With literally thousands of different e-liquids on the market these days, it's getting harder and harder to find truly original flavors that make you go 'wow, what did I just taste?' Well, King's Crown, a new gourmet e-liquid line from the creators of Suicide Bunny, is one of those few exquisite juices.
First of all, to those of you who are unfamiliar with Suicide Bunny I have just one thing to say I  – you are missing out on what a lot of people in the vaping community are calling the most amazing e-liquid ever made. I myself only tried Mother's Milk and The OB, but they both blew me away. But more on that when I actually get around to reviewing the line.
Getting back to the matter at hand, I confess King's Crown made an impression on me even before I opened the bottles to take a whiff of the flavors. The four e-liquids that make up this new line come in clear glass bottles that allows a clear view of the delicious amber-colored juice. I had no idea what they tasted like, but the alluring colors made me want to put them in my tank and vape. The artistic labels were a touch of genius as well. At least three of them could easily pass as posters for popular medieval series like Game of Thrones or The Tudors, featuring a pair of hands holding up a jewel-encrusted crown, a prisoner bound in chains and the statue of a queen holding the head of her king to her chest. The fourth one depicts a gold pharaoh mask, which doesn't really match the medieval theme, but looks no less impressive.
Before we delve into the unique King's Crown flavors, I wanted to touch on an interesting detail that further separates this juice from everything else I have vaped before – the thickness of the juice. I used to think Suicide Bunny was unusually thick, even for a VG-based e-liquid, but King's Crown is downright honey-like. Fight Your Fate at least flows freely when you turn the bottle upside down, but The King, slowly drips on the glass like a thick syrup. In a recent interview with Vape Club, "Pip the Bunny", the mastermind mixologist behind Suicide Bunny and King's Crown said she tests her e-liquids in everything from a cartomizer to a RBA, to make sure that no matter what device they are using, everyone can enjoy her products. Well, I personally think the thickness of the juice makes that somewhat problematic.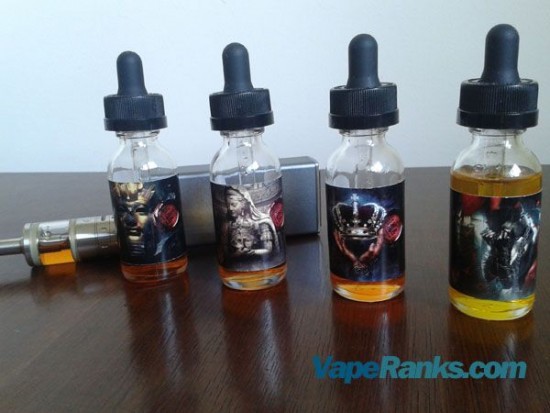 For this review, I vaped the King's Crown line in the Kanger AeroTank Mega and the Aspire Nautilus tanks, with 1.8Ω atomizer heads, and going over 4.2V would gunk up the coil so fast that after only the second refill I would start to get a nasty burnt taste. Changing the atomizer head fixed the problem, but those things aren't the cheapest, so I just turned down the voltage and managed to get a few extra refills without any burnt taste. I have yet to try these juices with a rebuildable, but I'm pretty sure that's the best way to enjoy them.
Now, on to the flavors:
Claim Your Throne: This one smells so good, I almost took a sip of it. So if you have a sweet tooth and self-control issues, try not to take a sniff of the juice before vaping it. It's an unbelievably flavorful yet delicate cocktail of cream, butterscotch and brown sugar that's bound to appeal to fans of dessert vapes. The butterscotch is just delicious and the cream adds a layer of smoothness I could not get enough of. It's not every day you find a juice that vapes as well as it smells, but Pip the Bunny got it just right with Claim Your Throne.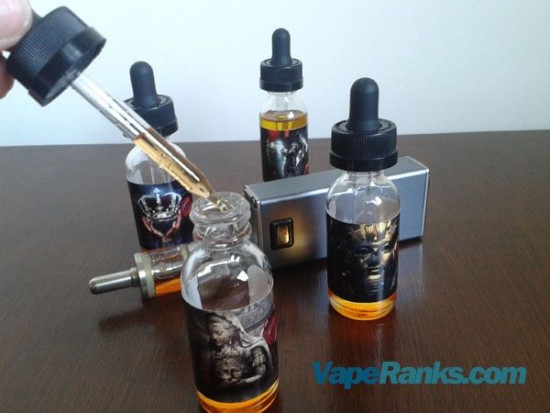 Bound by the Crown: Creamy custard mixed with juicy peach makes for an excellent vaping experience. I didn't know that before taking the mouthful of Bound by the Crown vapor, but I'll be sure to remember it. This one is not as sweet as Claim Your Throne, but the creaminess is again just perfect and the flavors are just a joy for the senses. On the company site, Bound by the Crown is described as "sweet custard, spice and ripened stone fruits", but I didin't feel any spiciness, and the only fruit I could identify was peach. However, it complemented the custard so well that I never felt anything was missing.
Fight Your Fate: I was eating a lot pineapple when I first started vaping Fight Your Fate and I thought this juice tasted a lot like the exotic fruit – sweet and tart at the same time. It turns out there is no pineapple in the King's Crown e-liquid, just a perfectly balanced mix of strawberries and lemons. It's not as creamy as the other juices in this phenomenal line, but I have a feeling that was intentional, in order to emphasize the sweet-yet-tarty flavor of this elixir. As a big fan of fruity vapes, I have to say this is definitely one of the best ones I've ever tried.
The King: As usual, I left the best for last. I don't know if the name is just a coincidence, but for me this is undoubtedly the king of the King's Crown e-liquid line. The King is a like eating a freshly baked peanut butter cookie that melts in your mouth, minus the many calories. I loved it so much that after vaping it exclusively for several days, I got a nasty case of vaper's tongue, and had to take a break from it for about a week or so. It was only after vaping it after that that I realized there was something else to it, but I couldn't put my finger on it. It was driving me nuts so I decided to investigate on vaping forums, and learned that there is a drop of tobacco in The King. It's subtle but complements the peanut butter flavor beautifully. I enjoyed the whole King's Crown line, but if I could only recommend one flavor, The King would have to be it.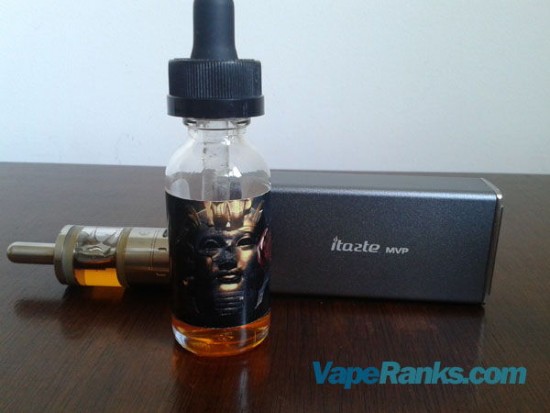 I got the King's Crown in 12 mg/ml nicotine concentration and even though the juices have a 70%+ VG base, the throat hit was more than decent. Vapor production was exceptional as well, and if not for the nasty gunk build-up issue, I would say King's Crown is close to perfection. At $22 per 30 ml bottle, it's certainly among the most expensive gourmet juice on the market, but you can tell this is high quality stuff and plus, you only live once, right?