Cuttwood E-Liquid Review
Cuttwood, a.k.a "The Sauce Boss", is a world famous brand of e-liquid from Los Angeles, California. Despite some serious controversy surrounding its most popular flavor a while ago, Cuttwood kept growing and is now one of the largest e-liquid companies in the business. But large and popular aren't always synonymous with quality, so let's takes a look at their lineup and see if all the hype is real.
Before we talk about each flavor individually, let's go over some general facts: Cuttwood premium e-liquids are all hand crafted in a state of the art laboratory in Los Angeles, using "only approved high quality ingredients and the best flavors in the world". They are 70% vegetable glycerin (VG) and 30% propylene glycol (PG), so while you can expect to get loads of vapor vaping them, thanks to the high VG content, the PG intensifies the flavors and the nicotine throat hit, making this a well-rounded e-liquid.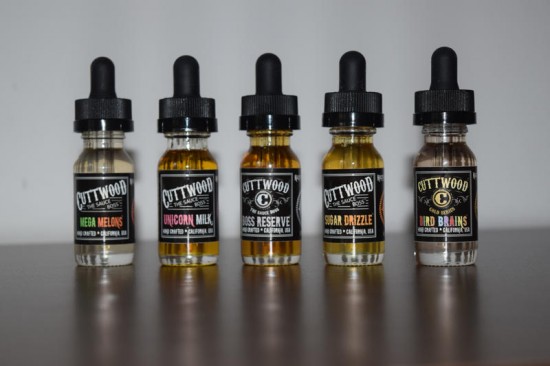 Because this is still a high-VG juice, it won't wick very well in clearomizers and basic CE4-style clearomizers. To get the best out of Cuttwood flavors I recommend using either a good RDA or a high-quality tank, like the SMOK TFV4.
Now on to the Sauce Boss flavors:
Cuttwood Boss Reserve – this clear golden concoction was the first Cuttwood juice I ever tried, so I thought I'd start this review with it. The first thing that caught my eye was the label, which is styled like that of a Jack Daniels whiskey bottle, which is befitting of an e-liquid with the word "reserve" in its name.
Taking a whiff of the juice before dripping it in my Plum Veil RDA, I could barely contain myself from actually taking a sip (please don't do that) as the smell of honey-sweetened cereal and ripe bananas drove my senses crazy. Actually vaping this amazing mix was even better and reminded me of one of my all time favorite juices, Viva las 'Nanas from Fa-Q Vapes. I got the same delicious nuts and bananas combination, but with something extra – a cereal-like taste that's apparently honey graham cereal. There is apparently "creamy milk" in it as well, but I didn't get that.
To say I enjoyed vaping the Cuttwood Boss Reserve would be a serious understatement. I loved it, and I would definitely recommend it to anyone looking for a delicious dessert vape.
Cuttwood Unicorn Milk – this one definitely tastes of milk, and the flavor is actually so realistic it blows you away the first time you vape it. There's a reason why Unicorn Milk is one of the most popular e-liquids on the market right now, with almost everyone who's tried it recommending it as the best strawberry milkshake juice money can buy. That might sound like an exaggeration, but it's really that good!
How they managed to create an e-liquid that tastes just like Nesquick strawberry milk shake is beyond me, but the flavor is almost identical. Yes, the strawberry tastes artificial and sweet, but it's supposed to in order to mimic that creamy, frothy milkshake we all used to love as kids.
Unicorn Milk is Cuttwood's top e-liquid flavor, but it's also the most controversial. In the beginning, this delicious juice used to actually look like strawberry milkshake as well. It was an opaque, milky concoction with a bit of pink mixed in. But when it transpired that they were using Titanium Dioxide to get that distinct milky look, the vaping community accused Cuttwood of putting people's health at risk. While titanium dioxide is regraded as generally safe for consumption by the FDA, that only refers to ingestion. Inhalation is a whole other matter.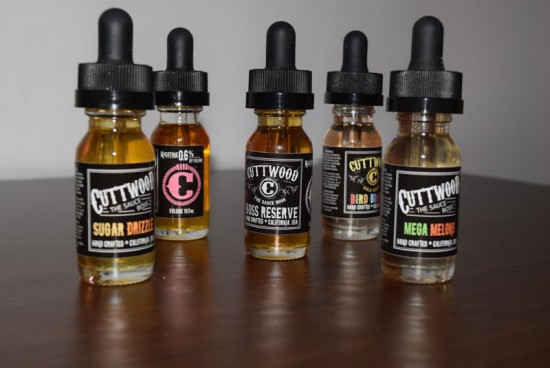 Luckily, Cuttwood decided to do away with their original formula, and launch a new clear version of Unicorn Milk that's just as tasty as the original, but contains no TD.
Cuttwood Mega Melons – Originally called "Big Melons", this Cuttwood e-liquid has the most confusing name. I obviously expected melons, but as I took the first hit, I was bombarded with a juicy cocktail of tropical fruit flavors. It was amazingly tasty and refreshing, but my senses were drawing a blank when it came to melons.
I was convinced that Cuttwood had messed up with this one, but I checked their website just to be sure. It was then that I learned Mega Melons is actually a "trifecta of mango, cantaloupe and papaya", which made a lot more sense. The mango and papaya are definitely the strongest flavors, but the perfumy aroma of cantaloupe is definitely in the backdrop as well.
If you're looking for a melon e-liquid, stay away from Mega Melons, but if you enjoy juicy, tropical vapes, this one is a must try.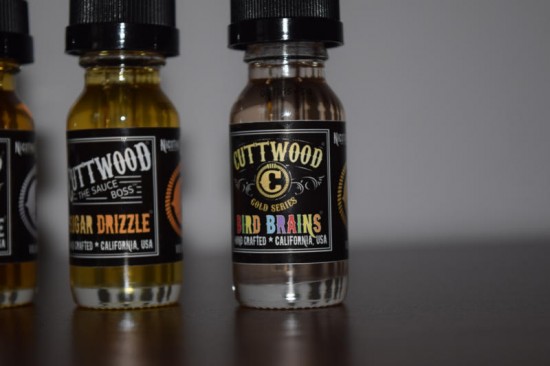 Cuttwood Sugar Drizzle – for some reason, Cuttwood loves renaming their juices. This one was originally launched as Sugar Bear, but for some reason, Sugar Drizzle made a lot more sense to them. The important thing is the flavor has remained the same.
I don't dislike cinnamon, but I've come to hate it with a passion when it comes to e-liquids. For some reason, most brands seem to think that putting a whole lot of it in their blends makes them more delicious, which as far as I'm concerned is never the case. Which is what sets Cuttowood Sugar Drizzle apart from any other cinnamon juice I've ever tried. This one is actually done right.
The cinnamon actually compliments the sweet, doughy taste of baked pastry, instead of overpowering it, which, trust me, is very rare.
Sugar Drizzle was my favorite morning coffee vape.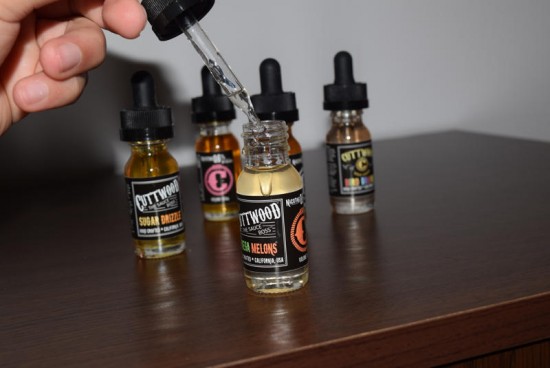 Bird Brains – The latest addition to the Cuttwood e-liquid line is also the most surprising. According to the company's website, this juice tries to replicate the taste of fruit cereal, and it really does, to some extent. I definitely picked up the surprisingly realistic cereal aftertaste, but only after having my senses bombarded by citrusy fruit cocktail that was a bit to strong for my liking, perfumy even.
I got used to it after a while, although the perfume taste still bothers me a little especially the first few draws after dripping juice into the atomizer. Bird Brains is certainly a surprisingly original e-liquid flavor that might appeal to fans of fruit cereal like Fruit Loops. It's not for everyone, though.
Apart from this last flavor, which I kind of have mixed feelings about, the rest of the Cutwood e-liquid line is nothing short of spectacular. Whether you prefer dessert, creamy or fruity vapes, Cuttwood has you covered and I can recommend you won't be disappointed.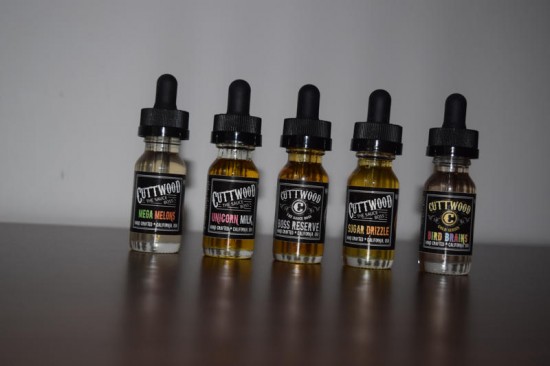 These premium e-liquids are on the pricey side, with a 16.5 ml bottle selling for about $12 and the 30 ml one for $22, but you get what you pay for.
My setup for this review of Cutwood e-liquids was the Koopor Plus 200 W mod and the Plum Veil RDA with dual clapton coils (0.30 Ω).