Liquid State E-Liquid Review
Liquid State is a US-based ejuice company that's only been around for six moths or so, but already has everyone talking about its flavors. True to its motto – Vape Your State – the Liquid State line features four different flavors, each representing a US State, more specifically a popular dish associated with that state.
The first thing that caught my attention while browsing for new e-liquids on an online vape shop was the vivid red color of the Liquid State bottles. They just jump at you like "hey, look at me" and I found it impossible to ignore. And I'm very glad I didn't because I would have missed out on some very interesting flavors.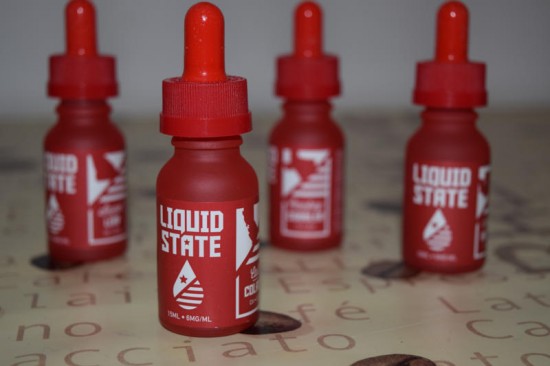 The labeling is very well done, with the Liquid State name and logo on the front of the bottle, the name of the flavor and a graphic rendition of the US State it represents, on the side, and all the necessary warnings and pictograms, as well as the ingredients list and company information on the back. I really could not ask for more, so kudos to them for a very responsibly-designed label.
The one thing I didn't like about Liquid State packaging – and this is becoming a very common issue – is the matte finish of the bottles. It's nice to look at, sure, but it makes it impossible to see the e-liquid level. Even holding the bottle up to a light bulb, I couldn't see how much juice there was left and I find that really annoying. Sure, I could transfer the contents to a clear bottle, but I shouldn't have too.
Another interesting thing while examining the Liquid State e-liquid label was that on the back is says "bottled by Cosmic Fog Vapors LLC for Liquid State Vapors". I guess that means they are working together in some way, and after having reviewed the Cosmic Fog e-liquid line, all I can say is that they could learn a thing or two from Liquid State when it comes to awesome juice.
Liquid State ejuice is 80VG/20PG and comes in 0,3,6 and 12 mg/ml nicotine strengths.
Now let's check out the flavors:
Sweet Leaf (Georgia): according to the description on the Liquid State website, Sweet Leaf is a sweet tea lemonade with a peach twist. I am not from the United States, but I hear summer in the South is synonymous with a glass of iced sweet tea lemonade, and if it tastes anything like this refreshing e-juice, it must be delightful.
I can't begin to tell you how much I enjoyed vaping Sweet Leaf. I have tried countless fruity summer vapes in the last 4 years or so, but I have never vaped anything quite like this. The realistic ice tea flavor was a huge surprise for me, and the subtle yet delicious lemon and peach notes just complimented it beautifully. Sweet Leaf is just what you need on a hot summer day – it's sweet but not overly so, flavorful and, most of all, amazingly refreshing.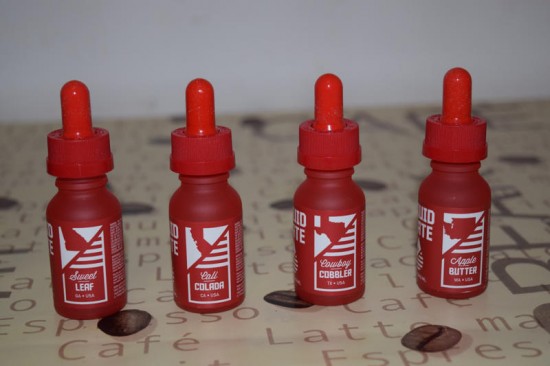 I recommend vaping this juice at around 60 watts or more to really bring out the sweetness and enhance the flavors.
Cowboy Cobbler (Texas): The Lone Star State would have probably been best represented by a good ol' barbecue flavor, but that would have been a bit weird to vape, I guess. Instead, Liquid State went for a delicious Southern cobbler. Cowboy Cobbler is described as "fresh blueberry pomegranate cobbler with sweet cinnamon and buttery graham cracker crust."
To be honest, I didn't even get a hint of pomegranate while vaping Cowboy Cobbler. I'm not saying it's not in there, but it's either too discrete for my senses or it is overpowered by the delicious blueberry filling, which tastes great, by the way. It's not a fresh blueberry, but a sweetened one, the kind you would expect to find in a cobbler. On the exhale, the blueberry is still the dominant flavor, but you also get that buttery crust and a pinch of cinnamon.
Cowboy Cobbler is a complex, delicious e-liquid that will definitely appeal to fans of blueberry desserts.
Cali Colada (California): I can't think of a better way to represent The Golden State than with a refreshing glass of piña colada, and that's exactly what Cali Colada tastes like. On its official website, Liquid State mentions mango, sweet pineapple and guava as the main ingredients of this tropical cocktail, but I'm surprised they left out the coconut, because you can tell it's there just by taking a whiff of the bottle.
I'm not even go into the details of this juice, since we all know what a piña colada tastes like. If you don't, please go to the closest decent bar and order yourself a glass of it, because you're missing out. Anyway, in a nutshell, Cali Colada is a creamy tropical vape that embodies sunny California perfectly.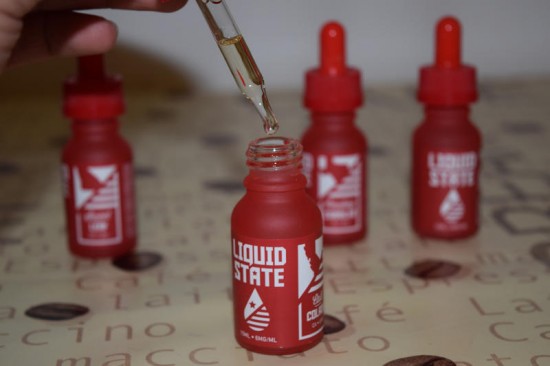 Apple Butter (Washington): this juice may be last on our list of Liquid State flavors, but it is by far my favorite one. According to the flavor profile posted on the Liquid State website, Apple butter tastes like "slow cooked to caramelized perfection and blended with spiced cinnamon" and "rivals your grandma's homemade apple pie. I'm sorry to say that grandma's pie never tasted as good as this. Granny, if you're reading this I'm sorry, but I'm just being honest.
Seriously though, Apple butter is hands down the best apple pie flavor I have ever vaped. What really sets this apart from other apple pie flavors I've tried is the moderate use of cinnamon. It's noticeable, but not spicy, allowing the caramelized apples and the delicious crust to shine. And boy, do they ever shine! The apples caramelized in brown sugar dominate this vape both on the inhale and the exhale, but the apple crust is always in the background as well, and the discrete cinnamon really rounds up this juice.
If you're thinking of only getting one Liquid State flavor to start with, make sure it's Apple Butter. It will rock your world and encourage you to discover the rest of the line.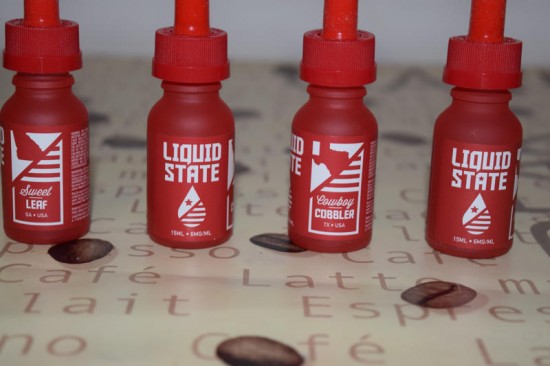 Regarding throat hit, I got all four flavors in 6mg/ml nicotine strength and they came off as a little harsh, especially the Cali Colada, so I would recommend getting them in 3mg/ml, if you plan on vaping them in an RDA at high wattages (over 50W). For this review, I used the Samurai Competition RDA (dual coil, 0.25Ω resistance) on the SMOK R80, at around 60 – 70 watts, depending on the flavor.
In conclusion, if you haven't yet tried Liquid State e-liquid, I recommend you make it a priority. It's really a very good line and I for one can't wait to see what these guys come up with next.