Victory E-Cigarette Review
E-cigarette starter kits are usually very similar, regardless of what brand you use. Sure they come in different sizes, have different graphics on them and included accessories slightly vary, but all in all they're pretty much the same. The Victory electronic cigarette is different. From the materials used for the packaging, to the battery model and even the contents. But is standing out from the competition enough to make Victory a winner? Read the review below and find out for yourself.
A Look at the Contents
Most electronic cigarette kits come in the usual durable flip top cardboard boxes, the kind used for packaging everything from chocolates to special presents, but for some reason Victory decided to go with a flimsy, almost paper thin box. It's not as easy to open as other packages I've tested, especially since the contents are sealed in another plastic container which has a kind of twist-open mechanism. To tell you the truth I wasn't put off when I got it, in fact I was pleasantly surprised to see a company doing things differently. But I like to keep things in order so I put everything back after I finished fiddling with the e-cig, and taking it out again every time I wanted to use it got cumbersome after a while. Don't panic just yet, that's not going to be a problem if you plan on using your e-cigarette daily and never put it back in its original box.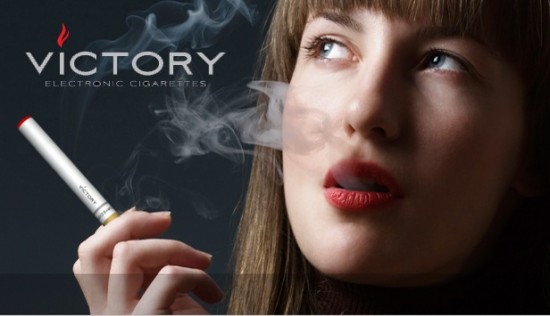 As I said, the packaging isn't the only different thing about Victory. Their standard kit, called Full Electronic Cigarette Starter Kit, costs $59.99 and only includes one rechargeable battery. That's pretty strange considering we're talking about a mini e-cig which normally stores enough power for just a few hours worth of vaping. For that price, most other brands throw in a second battery. But it also includes a car charger, not your typical standard kit accessory, although I can't begin to tell you how useful it is to vapers on the go. You also get the usual USB charger, a wall charger and 5 prefilled cartomizers.
The included car charger is a very nice surprise, but it's just not enough to compensate for a second battery. What is a user supposed to do when their only e-cig battery runs out of power, stare at the thing while it's charging?
Battery Life and Overall Performance
Over 90% of all brands who sell cigalike  e-cigarettes opt the KR-808D battery model. In fact, all the other brands I have reviewed in the past used the KR808. Apart from the tried and true eGo it's probably the most popular electronic cigarette battery in the world. For some reason, Victory decided to go for a 510 connection battery. I was intrigued, so I popped open a cartomizer from the blister pack and took a hit. Just a short draw filled my mouth with vapor. The little battery seemed to perform surprisingly well, but I wasn't sure if the impressive vapor production had something to do with the cartomizers or the e-liquid. So I got one of my blank 510 cartos, filled it with Liqua juice and tried it again. the result was pretty much the same, which left me wondering why other brands seem to prefer the KR808D, when 510 is obviously the more popular connection type. I still haven't found the answer to my question, but all I can say is the Victory performed beautifully. The automatic battery had a very responsive switch, the cut-off time was over 5 seconds, and vapor production was on par with the best I had ever tried.
But what about battery life? The Victory rechargeable battery is 78mm-long, just like the standard KR808D, and can store around the same amount of energy. I puffed on it for about four hours before the LED tip started blinking, letting me know it was time to recharge. Not bad at all for a battery this size, but without a second battery to keep you vaping while the other one is charging, it's just not enough. The charging cycle is about two hours, during which time you will not be able to vape unless you purchase a second battery separately. You could buy the Victory Mega starter kit instead of the standard one, but that costs $99.99.
Vapor production
As I mentioned before, I was really impressed with the vapor production of the Victory electronic cigarette. Quite frankly you would definitely have a hard time finding a better performing vaporizer this size. Vapor volume decreases noticeably as the battery runs out of power, but that's a common trait of all the e-cigs available on the market today.
E-Liquids, Flavors and Cartomizers
Like most other brands, Victory uses Chinese-made e-liquid, but I'm happy to report the flavors are pretty decent. The standard tobacco which came with the starter kit had a slight buttery taste, which I thought was a nice touch, and the blueberry and strawberry were surprisingly tasty. Generic Chinese juices often have a chemical or stale taste, but I didn't get anything like that from any of the flavors included in the sampler packs I received.
With just eight available flavors to choose from, it's clear Victory doesn't have the most impressive selection, but at least they are good enough to keep you from going back to smoking.
Conclusion
The Victory electronic cigarette definitely stands out from most of the popular brands in the industry, but not necessarily in a good way. It has great 510 connection battery which not only performs very well, but also allows users to experiment with a variety of accessories, like atomizers, drip tips or clearomizers, and the e-liquid flavors are pretty good. But these qualities don't make up for its biggest flaw. The single battery makes the standard starter kit pretty much useless to ex-smokers looking for an all-day alternative to cigarettes, and the two-battery package is just not worth the money compared to what other suppliers are offering for the same price. If you're curious about e-cigs, and plan to only use it occasionally, go ahead and give Victory a try, but otherwise…
Battery Life and Performance