VIP Affinity E-Liquid Review
VIP Electronic Cigarettes is one of the largest vaping companies in the UK. They offer a wide range of vaporizers, from basic cigalikes to advanced mods, as well as 11 different e-liquid lines. Today we'll be talking about VIP Affinity, a rather unusual juice line that focuses on eastern flavor, using exotic ingredients like green cardamom and rose syrup. This makes The four different e-liquids that make up the VIP Affinity collection pretty unique in a market that focuses mainly on dessert and fruit flavors.
VIP Affinity consists of four flavors – Serenity, Tranquility I, Karma II and Nirvana IV. As you can see, the names don't really give you any information about what they may taste like, which I for one don't like very much. As silly as e-liquid names like " Melon Overdose" may sound, they at least give you an idea of what to expect. With these four juices, you have to either check the flavor profile on the box – yes, they all come in small cardboard boxes – or read them on the VIP website. The names certainly fit the mystical, eastern theme of the line, but they are just too ambiguous for my taste.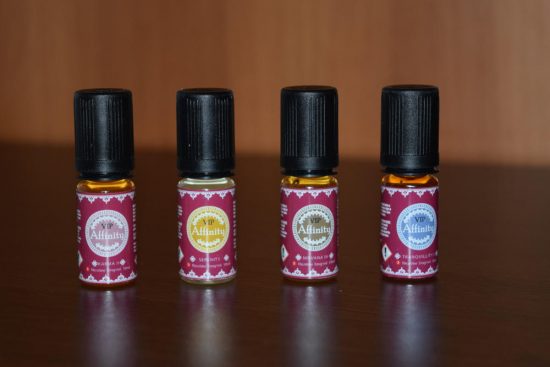 One thing that I found really odd about the packaging of VIP Affinity was the bottle capacity. All four flavors are 70VG/30PG ratio, which basically means they are designed for sub-ohm vaping, and yet they are only available in 10ml bottles. For most sub-ohm vapers, myself included, these barely qualify as samples, but if you like the juice and want to get more, you only have the option of buying more samples, which is both frustrating and more expensive than it should be. They would be suitable for low power devices, like vape pens and cigalikes, which have low-juice consumption, but the juice is so thick that it doesn't wick well in clearomizers and cartomizers. So I really have no idea what VIP was thinking when it decided to use 10ml bottles exclusively.
Otherwise, the packaging is top notch. Bothe the bottles and the cardboard boxes they come in feature all the necessary information, from ingredients  and nicotine strength, to batch number, best before date and health warnings regarding nicotine. The only small con I found here was that with the bottles being so small, the font is barely readable.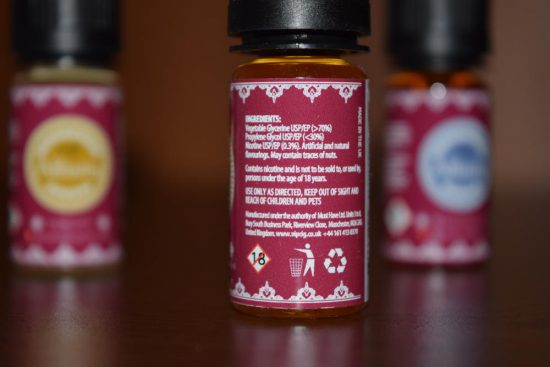 Before we get to the flavors, I just want to mention that I received my samples from VIP Electronic Cigarettes free of charge, for the purpose of this review. They all came in 3 mg/ml nicotine strength and were tested in my Digiflavor Lynx RDA, on the SMOK Alien 220W box bod.
Serenity – VIP describes this juice as "a magical mix of mangos, natural Greek yogurt and a drop or two of full fat milk," which, apart from the "magical" part, is actually pretty accurate. Mango is definitely the dominant flavor in this e-liquid, especially on the inhale, and it tastes surprisingly realistic. I'm a big fan of this tropical fruit, I love it in anything from smoothies to frozen desserts, and I can honestly say that this was the best mango vape I've ever tried. It's really strong, really juicy, and has not artificial taste whatsoever.
The fruity mango dominates the inhale, but on the exhale, you definitely get some serious tartness from the Greek yogurt. It's  a bit too tart for may taste, to be perfectly honest, but that's probably because I prefer sweeter vapes. However if you like genuine, unsweetened flavors, you'll probably love Serenity. The milk is not really detectable as a flavor, but the creaminess lingering in your mouth minutes after taking a hit definitely justifies its mention in the flavor description.
Tranquility I – "the sensuous taste of strawberries, blended with the exotic flavors of passion fruit and rich vanilla, all swimming in a lashings of smooth Devonshire ice cream." That sounds delicious, and it actually is, but I didn't find Tanquility I to be much different than Serenity. The combination of passion fruit and fresh strawberry doesn't taste that much different than the mango, and the strawberry and vanilla are very mild, so you're just left with another fruity tropical flavor. It's definitely not a bad juice, but if you're hoping for anything more than a fruity vape, you'll probably be a bit disappointed.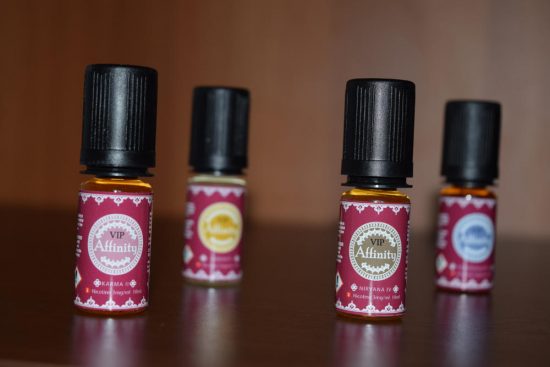 I personally loved Tranquility I just as much as I did Serenity. The strawberry and passion fruit mix is again very authentic, it's just a bit sweeter than the mango this time around, but still manages to retain a natural taste. If you're into juicy, fruity vapes, I suggest you give it a try.
Nirvana IV – "blends aromatic almonds with blissfully sweet brown sugar and rich organic milk." The two VIP Affinity flavors I had tried before Nirvana IV were really solid fruit vapes, but neither of them had that distinct oriental taste I was expecting. Luckily, this one more than made up for it.  There's just something about this silky smooth mix of almonds, creamy milk and brown sugar that makes me think on India, for some reason. I've never tried this combination of flavors before, so it was quite the revelation.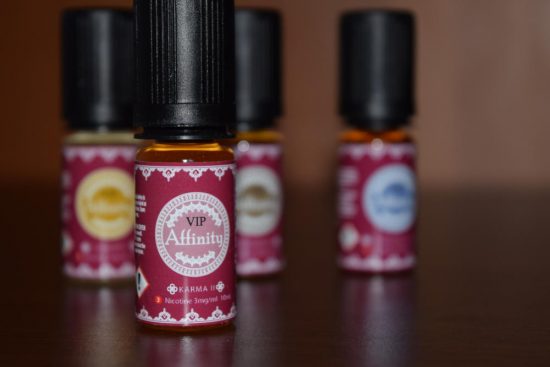 If you like almonds, or nuts in general and creamy vapes, Nirvana IV is a must-try. It's noticeably sweeter and smoother than Serenity and Tranquility I, but I wouldn't call this an all-day vape, simply because it's so rich and creamy that it can become slightly nauseating after a while. It'd definitely worth indulging in every once in a while.
Karma II – "blends sweet condensed milk, infused with aromatic green cardamom, with fragrant rose syrup to produce flavours that are both serene and spiritual." This is a very interesting, although unusual flavor combination. The rose syrup is quite strong, some would even call it overpowering, but there's certainly some spicy cardamom in there all throughout the vape. As someone who loves rose petal jam, I quite enjoyed the strong aromatic rose flavor, but if you're not accustomed to the taste of rose, Karma II is probably going to taste plain weird to you. Taste is subjective, but VIP deserves credit for coming out with such an original flavor profile. I for one have never vaped anything like this before.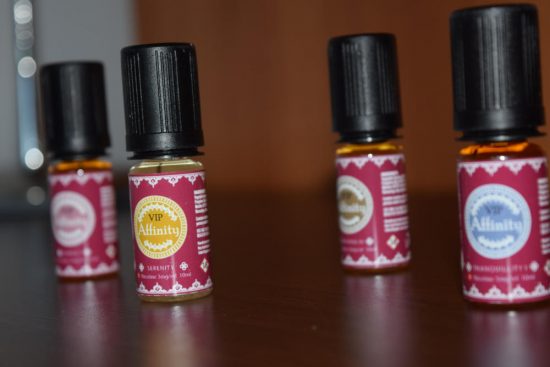 Karma II is a winner in my book. Vaping me takes me back to my childhood, when I used to sneak into my grandma's kitchen for a few teaspoons of rose petal jam, or when my mom would buy us rose-flavored Turkish delight. It fits the oriental theme of the Affinity line, and I'd definitely try it again, but only if I could buy more than 10ml of it.
The VIP Affinity e-liquid line was a very pleasant surprise. I wasn't expecting very much, going into this review, but I can honestly say that all four flavors are very well made and definitely worth a try. My experience with UK-made e-liquids hadn't been very positive, but this particular line was right up alley.