V4L Ultimo Vapor E-Liquid Review
Way, way back in the day, when KR808 cigalikes were at the top of the food chain in the vaping world, Vapor4Life was the most respected brand in the business. They had the best quality products, decent prices and awesome customer support. But one of the things I remember best about V4L is the impressive lineup of e-liquids – over 100 different e-juice flavors, ranging from tobacco and coffee to sweets and fruits. So when the company got in touch with me about doing a review of their new Ultimo Vapor line of premium e-liquids aimed at cloud chasers, I just couldn't pass up the opportunity.
Although I never got the chance to try out one of the old V4L cigalikes, I did review their proprietary Vapor Zeus e-cigarette, one of the most impressive vaporizers I have ever tried. It came with two bottles of WOW tobacco juice which I remember enjoying very much, so I had high hopes for the new Ultimo Vapor line. I only received three of the 10 available flavors, so I guess you could say this is a partial review, but I feel they were enough to get an idea about the quality of the line.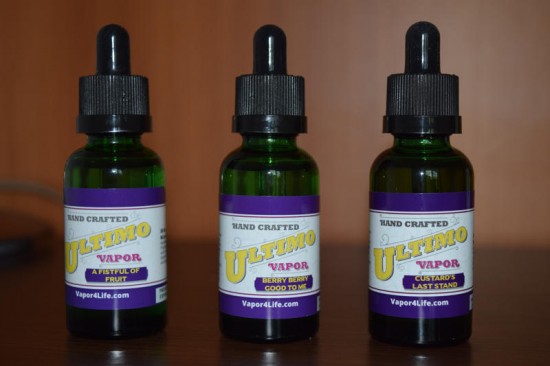 Ultimo Vapor e-liquids come in classic 30 ml glass bottles with a handy dropper cap, the kind used by most other e-liquid companies these days, but what sets V4L ones apart is the fact that they are green, which give them that vintage medicine bottle look. It's definitely not a bad thing, it's just something I noticed. Every bottle comes in a green-and-purple cardboard packaging and has a plastic wrap seal that guarantees that the bottle has not been tampered with.
But what I really liked about the Ultimo Vapor packaging was the fact that it features all the necessary warnings and e-liquid details. You have the VG/PG ratio on th front of the box – 60/40 for all ten flavors – ingredients, nicotine strength and even production and expiration dates on the bottom of the packaging. It's good to see a company taking all of these details seriously, but then again, I was expecting no less from Vapor4Life.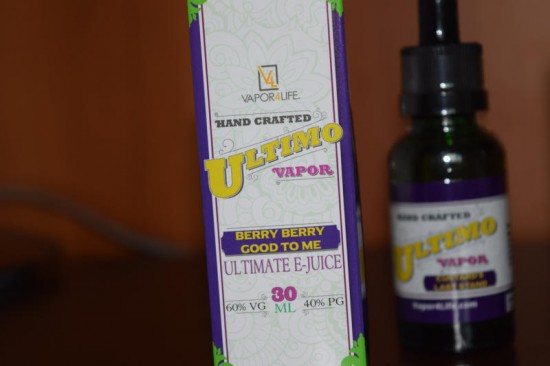 Let's take a look at the three flavors I received:
Custard's Last Stand – As the witty name suggests, this is a creamy vanilla custard juice that's designed with dessert fans in mind. I have tried my share of custard vapes over the years, and I have to say that Custard's Last Stand was one of the best. It just has that home-made custard flavor that just takes me back to my childhood, and it also has a honey sweetness about it that I love. The one thing I didn't like about it – and this applies to all three Ultimo Vapor flavors I tried – was the oily aftertaste it left in my mouth, which I attribute to the high amount of propylene glycol.
Seriously, why go for 40% PG in a premium line like this? It makes no sense if you ask me, and trust me when I say that it takes a toll on the quality of the juice. Custard's Last Stand is a great flavor, but the PG literally leaves a bad taste in your mouth. You get used to it after a while, but with so many other good e-liquids to choose from these days, you really shouldn't have to.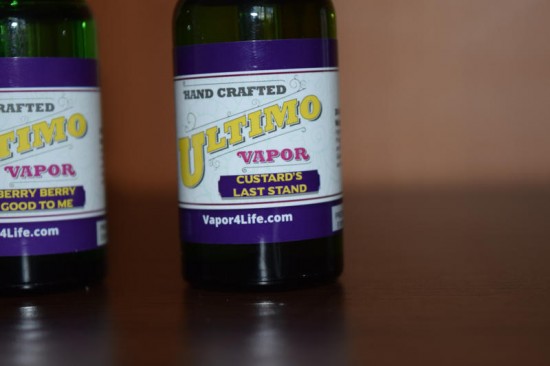 Berry Berry Good to Me – According to the V4L website, this "smooth blend of blackberry, strawberry, raspberry and blueberry creates the perfect mix of tart and sweet flavors." So it's basically a berry cocktail, and a pretty average one at that. The flavor is ok, not the best berry mix I've tried, but definitely not the worse either, but again the PG aftertaste just ruins it for me. Also, vaping Berry Berry Good to Me at high wattages in an RDA or sub-ohm tank, I got an intense, almost perfumy flavor that I really didn't care for.
I would say Berry Berry Good to Me is an acceptable berry mix flavor, but you can definitely do a lot better.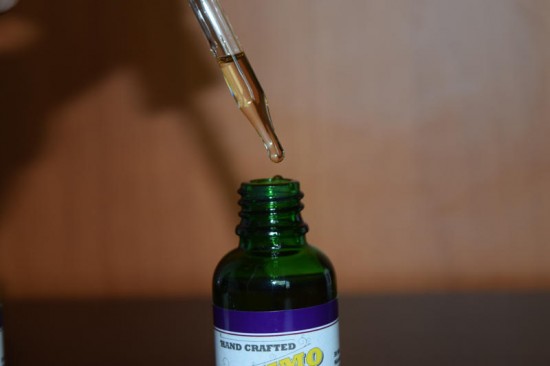 A Fistful of Fruit – This fruity mix of fresh kiwi, apple,and strawberry is apparently a homage to New Zealand, for some reason. "New Zealand is one of the most biodiverse places on earth, with white sands beaches, dense jungles, and rugged mountains. This mix of kiwi, apple, and strawberry mimics that diversity, and brings to mind the lingering steam that rises over thermal springs cocooned in thick green foliage," the official description reads.
The green apple flavor is the strongest of the three, especially on the inhale, but the notes of kiwi and strawberry also make an appearance. I would like to say that they linger in your mouth after exhale, but that's actually the nasty taste of PG, again. It's a shame really, because the flavor is above average, but it's ultimately ruined by the aftertaste. I'm sure fruit vape fans will actually enjoy A Fistful of Fruit, especially of they haven't tried other premium juices, but this flavor could have been even better.
Ultimo Vapor by Vapor4Life is marketed as a premium e-liquid line, and at $19.99 per 30ml, it's definitely priced as such, but the propylene glycol just ruins it for me. Granted, I only tried 3 of the 10 available flavors, but the 60/40 ration is fixed for all of them, so I assume it's a general problem. The flavors themselves were decent, but just not good enough to make up for the nasty aftertaste. It's unfortunate and disappointing, but I can't recommend Ultimo Vapor, not with so many better choices available these days.