VIP Arcadia Gran Reserva E-Liquid Review
VIP Arcadia Gran Reserva is a collection of artisan e-liquids from one of the most popular vaping companies in the UK, VIP Electronic Cigarettes. This high-VG range of juices currently consists of 12 different flavors that fall into the fruits and desserts categories, and features some very interesting flavor combinations.
Having already reviewed the VIP Affinity e-liquid line, I had some pretty high expectation from Arcadia Gran Reserva. To this day, I can't say I've tried a more intriguing combination of oriental-inspired flavors that Affinity, and I was hoping to again be surprised by some truly unique vapes. The flavor profiles listed on the VIP website certainly hinted at that, anyway.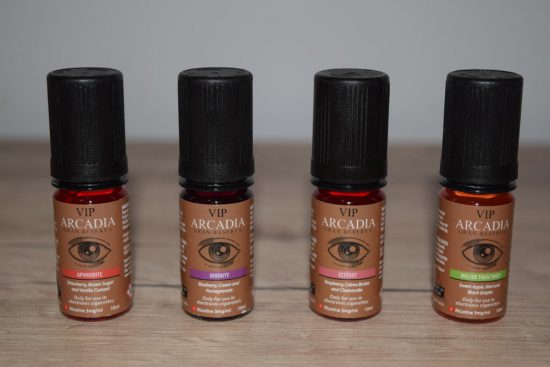 Packaging-wise, Arcadia Gran Reserva e-liquids are very similar to those of the VIP Affinity collection. They come individually packaged in small cardboard boxes with the Arcadia eye logo, flavor description and nicotine concentration all listed on the front, and all the other necessary information, like ingredients, age restrictions and the usual nicotine-related warnings on the back and sides of the box. And just in case you don't pay attention to the packaging, all this info is also presented on the labels of the bottles, although in much smaller font.
Unfortunately, there's no way they can make the writing any bigger, since, just like Affinity juices, Arcadia Gran Reserva juices only come in small 10 ml plastic bottles. I still can't wrap my head around the decision to only make high-VG e-liquids like these available in tiny containers. I can literally vape more than 10 ml in less than a day, so if I really like one of these flavors and want to enjoy it in my awesome SMOK TFV8 tank for a couple of weeks, I guess I just have to buy several dozens of bottles, and just carry a few of them with me wherever I go. It really doesn't make any sense not feature at least a 30 ml option as well.
One thing I was happy to see on the VIP website was that all their e-liquids are made with pharmaceutical grade ingredients and are diacetyl, acetoin, or acetyl propionyl-free, as confirmed by the test results available for download. There literally thousands of e-liquid manufacturers to choose from these days, but not all of them are as open about their ingredients as VIP are, unfortunately.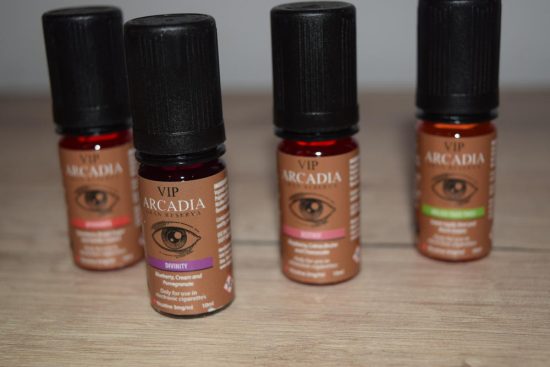 VIP Arcadia Gran Reserva e-liquid is 70%VG/30%PG and comes in 3, 6 and 12 mg nicotine strengths. I opted for the lowest nicotine concentration as I planned to vape them with a low-resistance dual-Clapton coil build, and anything over 3 mg/ml nicotine is too much to handle, at around 70W – 80W.
VIP only sent my four of the twelve Arcadia Gran Reserva e-liquids, but they were enough to get a pretty clear idea of what this line is all about. I tried all of them in my Ephro Nixon RDA, on the awesome SMOK G-Priv mod. Here's are my thoughts on them:
Holier Than Thou: this light pink-colored juice is supposed to be a combination of sweet apple, kiwi and black grapes. That sounds delightful, but it didn't taste quite like I imagined it would. Judging by the ordering of the flavors on the label of the bottle, I was expecting a bold apple taste with hints of kiwi and black grapes, but after going through half the bottle I still couldn't pick up any apple taste whatsoever. At least not the apple I was used to, anyway.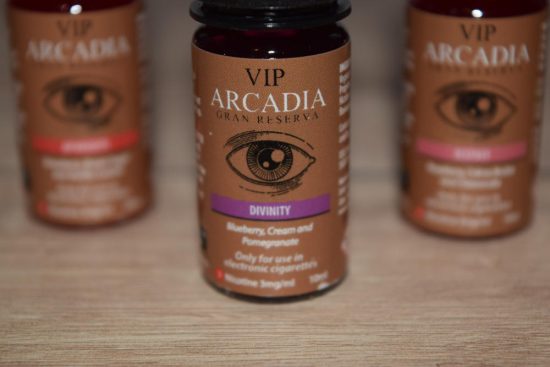 To me Holier Than Though tastes like a fruit cocktail, with the main flavor being a ripe, sweet strawberry. It's not listed on the bottle (I triple-checked) but that's what it tastes like to me. There is definitely some kiwi in there as well, and something that I guess could pass off as a black grape flavor, but only if we're talking about that stuff they use in "grape"-flavored soft drinks.
This wasn't the best fruit vape I've ever tried, but it wasn't bad either. I just found it confusing, especially after reading the flavors on the bottle and realizing it tasted nothing like I expected it to.
Aphrodite: the most beautiful e-liquid in Olympus is a bright pink and is supposed to taste like strawberries, brown sugar and vanilla custard. This juice wasn't what I expected either. Reading the flavor profile, I was sure it was going to be sweeter than regular strawberry vapes, and, in my mind, the vanilla custard was supposed to give it a nice, velvety smoothness. Well, it wasn't very sweet, and definitely not as smooth and creamy as I had hoped.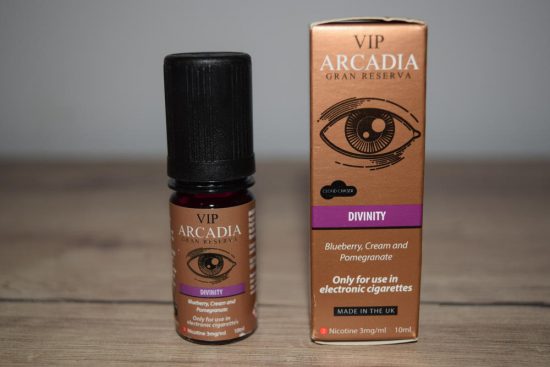 To be perfectly honest, Aphrodite tastes like strawberry. It's a good, tasty strawberry, but it's also a simple strawberry. Now that I think about it, the brown sugar and even the vanilla are pretty bland flavors, so maybe it makes sense that what you really get when vaping this juice is its strongest note, the fruity strawberry.
Divinity: this fruity concoction is bright purple and combines the taste of blueberry, pomegranate and cream. They kind of set the bar a bit high with name, but at least it has a pretty accurate flavor profile, unlike the first Arcadia Gran Reserva e-liquids I tried. And it actually tastes pretty nice, too. The blueberry is undoubtedly the dominant flavor in this fruity mix, with the pomegranate coming in a distant second. You can definitely taste it, but mostly on the exhale, and even then it's a pretty tame note. Not as tame as the cream, though. There may be some of it in this juice, buy I for one didn't get any.
Divinity is considerably sweeter than Holier Than Thou and Aphrodite, which kind of makes the juice taste like blueberry and pomegranate candy, rather than natural fruit. I don't mind that at all, but then again I have a notoriously sweet tooth.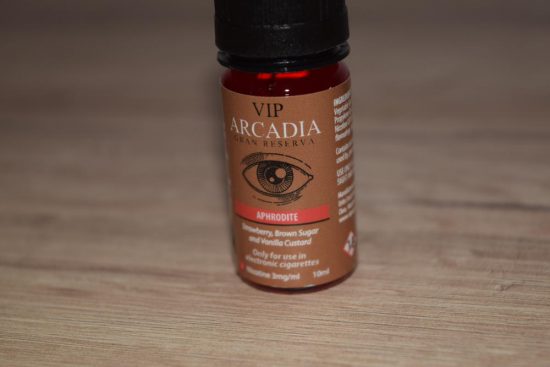 Ecstasy: this bright pink e-liquid definitely has the most interesting combination of flavors – raspberry, creme brulee and cheesecake. I can't imagine ever eating such a dessert, but it definitely sounds very intriguing. I was looking forward to vaping Ecstasy most out of the four VIP Arcadia Gran Reserva juices I received for this review, so I saved it for last. And I'm glad I did, because it was the best of the four, by far. It's a sweet, creamy raspberry that actually reminds me a lot of the raspberry cheesecake my wife makes. That stuff is delicious. It's refreshingly fruity, but also creamy and rich, and that's exactly how I would describe Ecstasy.
That said, I didn't get any hint of creme brulee in this juice, so I can't say that the flavor description on the bottle was on point. It's still a pretty good raspberry cheesecake, so if you're into that, give this stuff a try.
Overall, I can't say I was overly impressed with the VIP Arcadia Gran Reserva. Out of the four flavors I tried, a couple were pretty good, but the other two were rather bland fruit flavors, the kind you can find pretty much anywhere. There was no chemical aftertaste to any of them though, which is always a positive, but in this competitive market, you need a lot more than that to convince consumers.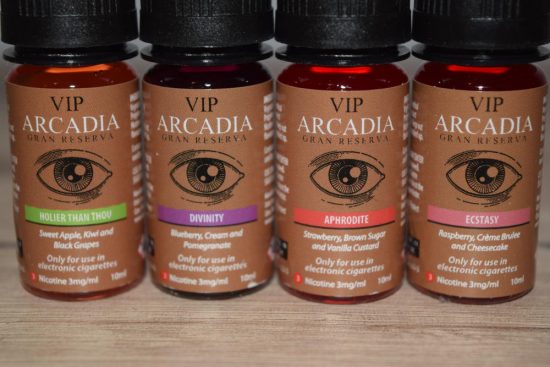 You can buy the Arcadia Gran Reserva e-liquid on the VIP website, for £4.50, but if you really want to try something new, I would recommend their Affinity collection instead. It's much better in my opinion.