During last week's painful Senate hearing on the issue of electronic cigarettes, during which senators like Jay Rockefeller practically eviscerated unprepared CEOs of several electronic cigarette companies, Miguel Martin,chief executive of Logic Electronic Cigarettes made it very clear he would rather throw his competitors under the bus for a bigger profit, rather than stand by them and fight for fair e-cigarette  regulation.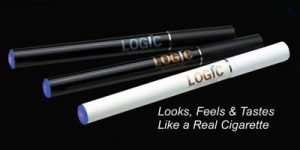 Sweet and fruity e-liquid flavors have long been the target of e-cigarette opponents who have used them as one of the main arguments in their theory that e-cigarettes are a gateway to smoking. Basically they are saying that flavors other than those of actual cigarettes are mainly appealing to kids, who will later become smokers due to nicotine addiction. Several scientific studies have proven that e-cigarettes are not a gateway to smoking, but when has science been known to stop the propaganda machine, right?
Instead of using the abundance of scientific evidence available to show the Senators that they had their facts wrong, Logic's CEO said he and his company would be in favor of an e-liquid flavor ban. "I would support and we would support a ban on candy or youth-oriented flavor profiles," Martin said during the hearing. "It's an adult product, so any flavor profile like bubble gum or candy or the litany of things that someone would deem to be youth-oriented I think is a mistake and it is contrary to the basis of this product, which is it's an alternative for adult smokers, and the key word there is adult."
But doesn't a seasoned corporate executive like Martin care about the huge loss in profits a potential flavor ban would incur on his company? Not really. You see, Logic doesn't carry any flavors other than tobacco and menthol, so a ban would only weaken his competition and strengthen the hold Logic and Lorillard-owned Blu already have on the e-cigarette market. Who cares if most vapers swear that it was actually the appealing flavors that helped them put smoking behind them, and that they now find tobacco flavor disgusting, right?
But banning flavors isn't the only topic on which Miguel Martin and e-cigarette opponents agree on. The Logic CEO also told Senators that he supports banning online sales without firm age verification. That sounds like a reasonable claim, but what is "firm age verification". Right now, the Logic company website has a verification system that requires visitors to type in their age. It's very similar to what most other adult-oriented websites use, and just as ineffective, but Martin said he takes great pride in it.
Unlike most of its competitors, Logic relies more on a very well developed chain of distribution to convenience stores and gas stations, and less on online sales, so I'm pretty sure Martin would agree to a total online ban of e-cigarettes, for the safety of the kids, of course.
Is it me, or is this guy trying to bring the stringent standards of Big Tobacco to the e-cigarette industry? And by that I mean playing nice with the FDA and policy makers and kill off the competition.
Miguel Martin was named CEO of Logic in 2013, after a successful career in the combustible cigarette industry, including time as vice-president of Altria, the maker of Marlboro. Under his leadership, Logic has become the second largest electronic cigarette brand in the United States, after Blu E-Cigs. Oh, and by the way, he is NOT an electronic cigarette user…