After examining how e-cigarette vapor affects lung cells compared to tobacco smoke, researchers at Central Michigan University College of Medicine concluded that vaping could lead to chronic obstructive pulmonary diseases (COPD) like emphysema.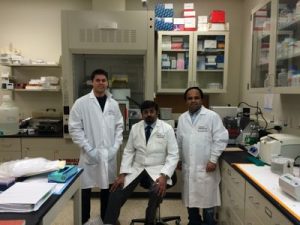 Dr. Neeraj Vij,  an associate professor of molecular and cell biology, and his colleagues at CMU exposed both human bronchial epithelial cells and live mice to e-cigarette vapor to test how they are effected, and found that even minimal exposure affected the protein process in the cells. "What we found is that e-cigarette vapor seems to impact the protein processing inside the cell which can lead to all sorts of inflammatory signaling mechanisms or toxicity producing programmed cell death," Vij said.
After exposing the bronchial cells to e-cigarette vapor for between one and six hours, researchers saw "significant disruptions" of the protein processing in the cells. Apparently even minimal exposure of just one hour had negative effects. "The team found even minimal exposure of e-cigarette vapor for one hour, disrupted the protein processes in cells," their study abstract states. "It is the same path cigarette smoke and second-hand smoke takes in our bodies."
"COPD/emphysema is not a genetic disorder," Vij said in a statement. "We have described the role of overall protein processing in this and in previous research, which has been confirmed by studies from other groups. What we are talking about is how these proteins are made and how they are degraded. This process of proteostasis in our cells has to be very — in layman's terms — tightly regulated, because if it goes off-balance, it's a big problem."
In a recent video, Dr. Neeraj Vij also expressed his personal opinion about electronic cigarettes, saying that he doesn't think they help people quit smoking or that they are a safer alternative to smoking, because they have their own toxicity. His opinion is based on some controversial studies which found high levels of formaldehyde in e-cigarette vapor.
Emphysema is one of several diseases known collectively as Chronic Obstructive Pulmonary Disease (COPD). It gradually damages the alveoli – air sac in the lungs – and thus preventing the lungs from carrying out their function of oxygenating the blood. Symptoms include shortness of breath and constant coughing. Treatments can slow the progression of emphysema but the damage it causes cannot be reversed.
This is now the second study that claims vaping can cause emphysema, the first having been presented in September 2014, during the European Respiratory Society Congress, in Munich.
Photo via WCMU