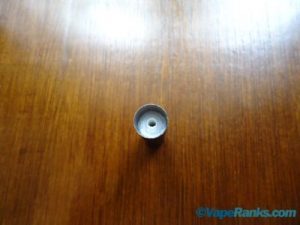 The filler is an absorbent material placed inside the flavor cartridge or cartomizer and designed to hold the e-liquid and regulate its flow to the atomizer in order to avoid flooding and leaking.  It is usually a light, cotton-like fiber that does very good job of retaining fluid. Still, some e-cigarette users are less than satisfied with the quality of basic filler material and constantly search for superior alternatives. Some swear by a material called 'Fluval', tea-bags and coffee filters and even cotton swab. I personally stick with the common fillers and don't recommend messing with any other substitutes.
One of the major issues of cartridge and cartomizer filler material is that it needs to be kept moist at all times. If you fail to add more e-liquid before the filler dries up, it will burn and refilling it after that happens is pointless. It will retain that disgusting burnt taste no matter how flavorful your juice is.
Filler material cannot be replaced, but there are a variety of ways you can clean your cartomizers if you want to re-use them with different e-liquid flavors. However, cartridges and cartomizers are usually very cheap, so most people prefer to throw them away after a few refills.