Poland, the sixth largest country in the European Union and one of the largest e-cigarette markets on the Old Continent, has chosen to implement the provisions of the Tobacco Products Directive more harshly than required by the EU, banning both online and cross-border sale of electronic cigarettes.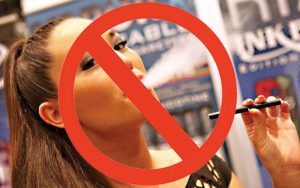 As a member of the European Union, Poland had no choice but to adopt the requirements of the Tobacco Products Directive, but instead of straightforward transposition of the rule set, it took advantage of the option to include additional requirements and restrictions, in order to make life even harder for Polish vapers and e-cigarette businesses. The national law passed by Parliament on July 8th also prohibits online  and cross-border sales of electronic cigarettes, virtually making them almost impossible to come by in areas where tobacco cigarettes are sold in every shop.
Miroslaw Dworniczak, a chemist, freelance science journalist and lecturer at the Department of Chemistry, Adam Mickiewicz University in Poznan, Poland, writes that the country's current Health Minister, Dr. Konstanty Radziwiłł, "is well known for his hatred of e-cigarettes and used to say frequently that e-cigarettes are as bad as conventional ones – possibly even worse." The two additional restrictions on e-cig sales were adopted under his leadership and are expected to come into effect this month, after the "vacatio lege" period – 14 days after the official publication of the law.
Polish vaping advocates learned about the additions to the TPD in December of last year and immediately attempted to contact authorities and discuss the important consequences they would have on the industry and public health. "Many e-mails were sent, accompanied by scientific papers on e-cigarettes, and there were also several phone calls and conversations. There were numerous official petitions sent formally to the Prime Minister, Ms. Beata Szydło, and another sent to the Polish President," Dworniczak says. "Alas nobody from the Ministry of Health would agree to meet representatives of the vaping community to discuss these most important issues and the campaigning failed to produce any changes in the proposed legislation. Of course we know the TPD has to be implemented, but not the additional requirements, with their capacity to cause unnecessary additional harm."
Not even the publication of a report by Professor Andrzej Sobczak, of the Silesian Medical University, who has been studying e-cigarettes and their effects of human health since 2011, was able to stop the crackdown. The conclusion of his scientific paper was very clear:  e-cigarettes are much less harmful for human health than smoking regular cigarettes. It was sent to the Ministry of Health , but once again, there was no response.
When the law comes into effect, Miroslaw Dworniczak expects the following to happen: "several hundred businesses selling only online will be just wiped out from the market, many people will lose their jobs, and, most importantly, hundreds of thousands of Polish vapers living in small cities and villages will immediately lose access to e-cigarettes and e-liquid." Also, the cross-border sales ban will make it harder for vapers to get their hands on products only available abroad.
All this sounds oddly familiar. With an estimated number of vapers ranging between 1.5 and 2 million, Poland is one of the largest markets in Europe right now. That was the case with Italy, until a few years ago, when authorities decided to crackdown on the industry. After admitting that the growing popularity of vaping had had a negative effect on the national budget (lower cigarette tax income), Government decided to impose a 58.5% consumer tax on e-cigs, which had an immediate disastrous effect.
Today, the Italian vaping scene is just a shadow of what it once was, and serves as a reminder that even the most successful industry can be brought to its knees by harsh regulation. Even though it has taken a different route, it seems that Poland wants to achieve the same goal as Italy, as far as vaping is concerned.
Source: Nicotine Post via Vaping Post