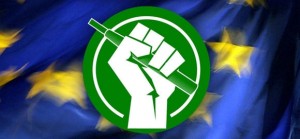 Your freedom as a vaper is under serious threat! The controversial New Tobacco Directive has recently been adopted by the European Union and will come into effect in 2016. Although some compromises have been made on the subject of electronic cigarettes, the included restrictions will the market as we know it and put e-cigs in the hands of tobacco and pharmaceutical corporations.
Here are some of the things you can expect to happen after the EU tobacco directive comes into effect:
e-cigarettes to be regulated as tobacco products (with a big tax to boot), or medical products if they are advertised as smoking cessation aids;
a likely ban on all refillable cartridges, forcing all vapers to give up their technologically superior e-cigs in favor of authorized products (most probably sold by tobacco companies);
a limit on the amount of nicotine in e-liquid, despite scientific proof that e-cigarettes deliver much less nicotine than conventional cigarettes;
a ban on electronic cigarettes that fail to deliver a consistent dose of nicotine, ignoring the fact that such technology hasn't even been invented yet;
electronic cigarettes to be subject to the same advertising restrictions as all tobacco products.
no cross-border sales of nicotine-containing electronic cigarettes;
Ignoring the fact that these restrictions violate basic principles of the European Union, they also arbitrarily limit consumer choice, based on misinterpreted scientific evidence and unsubstantiated health claims, halt the natural process of technological evolution, pushing the industry back into its stone age and allows national governments to classify e-cigarettes as medical products if they so desire.
The e-cigarette industry has vowed to fight the new regulations, but it can not do so at the moment, as the directive cannot be challenged until its implementation in 2016, but we, the users, have a mechanism to let the EU decision-making bodies no we are not pleased with their ruling.
The European Free Vaping Initiative (EVFI) is not just another petition to sign. It's an opportunity for vapers to directly address the decision makers of Europe so they can choose to ignore our opinion no more, allowing us to participate directly in the development of EU policies regarding electronic cigarettes. Sounds great, but there is a catch – we need one million signatures, and although there are millions of people using electronic cigarettes in Europe, few of those know or understand that their vaping privileges are about to be taken away.
For EVFI to be successful, we need to reach the one million signatures goal, with at least seven European Union nations reaching their national threshold, and right new things are not looking very well. With just a few tens of thousands of signatures, there is still a long way to go, and we only have until the 25th of November to make it happen.
If you care about the fate of an industry with the potential of saving millions of lives, and don't want to see it in the hands of tobacco corporations and pharmaceuticals, you need to get involved! Cast your vote of support, tell your vaping friends to do the same and let's show our leaders we can do more than just sit by as they ignore out opinions and best interests.
Check the European Free Vaping Initiative progress.