New research conducted by Dr. Gaston Ostiguy and his team at the Montreal Chest Institute shows electronic cigarettes are more effective than classic means of helping smokers quit.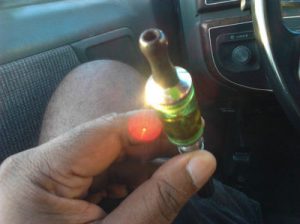 The study was carried out on a pool of 179 hardcore smokers who also suffered from various smoking-related health problems, such as respiratory and cardiovascular disorders, which made quitting all that much more important. Of the 179 patients, 75 used electronic cigarettes in their attempt to quit smoking, while the other 104 relied on traditional nicotine replacement therapies, like patches, gum or inhalers. After 30 days, 43% of the e-cig users had managed to kick the habit, compared to only 31% of the other group. Dr. Ostiguy will reveal the findings of this study in more detail today, during a presentation as part of the Quebec Tobacco-Free Week.
A staunch supporter of electronic cigarettes, Gaston Ostiguy is convinced they are very effective at helping smokers quit or at least reduce cigarette consumption. He believes the Canadian Government should acknowledge their potential in the fight against smoking and allow them to be included in the range of products traditionally accepted as quit-smoking aids.
"We know that the negative health effects of electronic cigarettes are 500 to 1,000 times lower than those of conventional cigarettes," Ostiguy told Canadian newspaper La Presse. Regarding the concern that e-cigarettes act as a gateway to smoking for minors, the renowned pneumologist cited a series of European studies that show only 1% of never-smokers have tried electronic cigarettes. "So this fear is unfounded," he concluded.
Dr. Ostiguy suggested that instead of worrying about potential health hazards associated with vaping, Government should rely on scientific evidence that currently shows e-cigs pose little or no risk, and worry more about the quality control. "The sale of electronic cigarettes should be permitted and regulated to help those who want to stop smoking. Currently we can only rely on the good faith of sellers for the quality of the products. Adopt a resolution, have quality products available to those who want to stop smoking," Ostiguy advised.
Although the sale of nicotine-containing electronic cigarettes is currently illegal in Canada, some key figures in the country's healthcare system share Gaston Ostiguy's views on these revolutionary devices. Gaetan Barette, Quebec's Health Minister, thinks "electronic cigarettes are a means to quit smoking that is clearly extraordinarily efficient", while Montreal-based cardiologist Martin Juneau has actively been advocating for the use of electronic cigarettes as an alternative to conventional cigarettes which are known to cause heart problems.
However, there are still a lot of people who appear unconvinced by the plethora of scientific studies that show e-cigarettes are indeed an efficient smoking cessation aid. Regarding Dr. Ostiguy's recent study, Mario Bujold, executive director of the Quebec Council on Tobacco and Health, said that "They are very short-term results, after only 30 days. It doesn't say much about the real efficiency of e-cigarettes. When you compare it with other studies done elsewhere, you see that the success rate after a year — which should be the measure we use — is much lower, maybe 15 to 20 per cent." He may be right, but even those smaller numbers are considerably higher than those reported for the number of people who manage to quit smoking by other means.
Dr. Gaston Ostiguy along with other colleagues from the medical field will meet with Canada's Minister for Public Health in February to present his findings and discuss the issue of electronic cigarettes further.
Photo: TwizShiz/Flickr