A recently published scientific review of two trials involving 662 smokers and 11 observational studies found that electronic cigarettes can help people quit smoking or at least cut down on analogs and that they have no short to medium term adverse effects on health.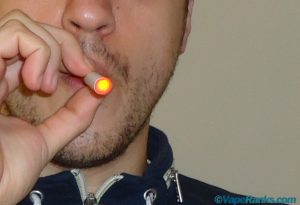 The independent review, co-authored by Prof. Peter Hajek, of the Center for Tobacco and Alcohol Studies at Queen Mary University London, and published by The Cochrane Library, the world's leading producer of systematic reviews, analyzed two randomized controlled trial on the efficacy of electronic cigarettes as smoking cessation aids, and reported some very interesting findings.
Around one in ten (9%) smokers who used e-cigarettes containing nicotine managed to quit within a year. Comparatively, 4% of the smokers in the second trial, which used nicotine-free e-cigs, managed to kick the habit. Looking at the smokers who couldn't quit after using electronic cigarettes, scientists found 36% of those using nicotine-containing e-cigarettes had managed to cut down the number of cigarettes smoked daily by half, compared to only 28% of those using the nicotine-free placebo.
The gathered data showed no evidence of adverse effects on health from short to medium term e-cigarette use.
"Although our confidence in the effects of electronic cigarettes as smoking cessation interventions is limited because of the small number of trials, the results are encouraging," Professor Hajek said. "Both trials used electronic cigarettes with low nicotine delivery and it is likely that more recent products are more effective, as previous research suggests that higher and faster nicotine delivery facilitates treatment effects."
After analyzing the findings of the review, Ann McNeill, professor of tobacco addiction at the Institute of Psychiatry at King's College London, said that "While the studies included were limited in number and used e-cigarettes which are now largely obsolete, the results are clear. E-cigarettes are helping smokers to quit or substantially cut down the number of cigarettes they smoke."
Professor Robert West, editor-in-chief of the medical journal Addiction and a long-time advocate of electronic cigarettes, said: "It's early days but it seems that these devices are already helping tens of thousands of smokers to stop each year."
But as positive and encouraging as these findings may be, they are apparently not enough to convince everybody of the immense potential electronic cigarettes have for helping smokers quit. "While e-cigarettes may help smokers who want to quit, we don't yet have enough evidence of the impact they are having on other people, particularly children and smokers who also use e-cigarettes", said Doctor John Middleton, vice-president of the UK Faculty of Public Health. He expressed concern that electronic cigarettes may create "a new generation of customers for the tobacco industry", thus undermining the immense progress the UK has made in the last decades.
Professor Hajek tried to explain the strong opposition faced by electronic cigarettes, sometimes from unexpected sources, like public health doctors. He believes it's due to the e-cigarette being 'disruptive technology' that threatens the interests of many, from tobacco companies to Big Pharma and even those with 'established public health positions'. He added that those who constantly make claims that e-cigarettes may contain some toxins should realize once and for all that they shouldn't be compared with 'fresh air' but tobacco cigarettes, which are known to be much more dangerous.