The US Preventive Services Task Force, a Government-convened group of experts conducted an in-depth review of studies on smoking cessation and concluded that there isn't enough evidence that electronic cigarettes actually help smokers quit.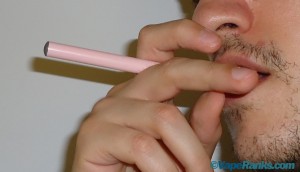 The group of experts reportedly analyzed a number of studies that investigated the effectiveness of various smoking cessation methods, for both adults and pregnant women, and wasn't particularly impressed with electronic cigarettes. In fact, the scientists claim that drugs that address nicotine's effect on the human body, nicotine replacement therapy and behavioral modification programs give smokers a much better chance to quit smoking, especially when used together.
"We have an embarrassment of riches in terms of a menu of things to offer patients who want to quit smoking," said task force member Dr. Francisco Garcia, Director and Chief Medical Officer of the Pima County Health Department in Arizona. "But every individual is different; some might respond better to behavioral therapy, some might respond better to varenicline, some might feel nicotine replacement is important to bridge them away from tobacco use."
As for electronic cigarettes, the US Preventive Services Task Force concluded that "there was not enough information to determine whether e-cigarettes are more helpful or harmful for smoking cessation."
Not exactly the most encouraging result, especially since we're talking about a group of scientist who had been assigned the task by the Government, which is sure to take their findings very seriously when it finally rules on the controversial issue of electronic cigarettes. But how exactly did they reach their disappointing conclusion?
Well, after taking a look at the list of e-cigarette-related studies they reviewed, I can't help but wonder why they ignored the ample scientific research that shows electronic cigarettes can help smokers quit? Taking into consideration just the studies we've featured on Vape Ranks in 2014 and 2015 alone, there was an abundance of research to choose from.
In December of last year, a trial review co-authored by Prof. Peter Hajek, of the Center for Tobacco and Alcohol Studies at Queen Mary University London, concluded that e-cigarettes can help smokers quit or heavily cut down on cigarettes, and a clinical study conducted by the Italian Observatory for Smoking, Alcohol and Drugs (OSSFAD) confirmed that heavy smokers can reduce their daily cigarette intake and even quit smoking completely with the help of e-cigs. Earlier in 2014, scientists at University College London had published the result of a survey that showed e-cigarettes accelerates smoking cessation.
In early 2015, France's INPES Health Barometer reported that around 400,000 people had quit smoking with the help of electronic cigarettes, and Dr. Gaston Ostiguy and his team at the Montreal Chest Institute published a study showing how e-cigarettes were more effective at helping smokers quit than traditional nicotine replacement therapies, like patches, gum or inhalers.
These are only a handful of studies we've covered in the last two years, provided only as examples of evidence that could have been considered if the US Preventive Services Task Force had actually been looking to provide a clear picture of the issue of e-cigarette effectiveness. There are others, but the fact is this group's review focused on negative or inconclusive research.
For example, the American Heart Association's policy statement on electronic cigarettes, which doesn't actually based on solid scientific evidence, but rather a somewhat justifiable animosity towards tobacco companies. The review also cites sources that don't really have anything to do with smoking cessation, like "Calls to Poison Centers for Exposures to Electronic Cigarettes", or that didn't primarily focus on the effectiveness of the devices in smoking cessation, like "Prevalence and Reasons for Initiating Use of Electronic Cigarettes Among Adults in Montana" or "Trends in Awareness and Use of Electronic Cigarettes Among US Adults".
All I am saying is that simply because they chose not to include evidence of e-cigarette effectiveness in their review, doesn't mean it doesn't exist.