As the widely-acknowledged inventor of the modern electronic cigarette, you would think Hon Lik is a very rich man, but in a recent interview with AFP, the co-founder of Chinese e-cig producing company Ruyan says the numerous copycats of his designs and the legal disputes with Chinese authorities have prevented him from reaping serious financial rewards.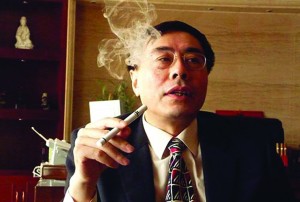 In the vaping community, 57-year-old Hon Lik is known as the father of the electronic cigarette. After losing his father to smoking-induced lung cancer, the Chinese inventor tried breaking his own pack-a-day habit with the help of nicotine patches. "In the evenings I sometimes forgot to take off my nicotine patch, which gave me nightmares all night," he told Agence France-Press. It was during one of these restless nights that he got the idea for the innovative device now used by millions of ex-smokers around the world. Hon dreamed he was drowning in a sea that turned into a giant cloud of vapor and says the nightmare inspired him to create a cigarette that produced vapor instead of smoke. After scribbling the idea on a piece of paper that very night, he spent a whole year perfecting the design. In 2003 he patented the invention and presented it to his bosses at a company called Golden Dragon Holdings, who were so impressed with the idea that they changed the name of their company to Ruyan, which literally means "like smoke". Hon Lik became a shareholder and Ruyan started mass-producing electronic cigarettes. By 2006, his creation had become so popular that Ruyan couldn't keep up with demand despite producing e-cigarettes for 24 hours a day. The future looked bright for Hon Lik, as he stood to make millions from his brilliant idea, but then something happened…
In 2006, a series of Chinese media reports put Hon Lik's electronic cigarettes in a bad light, by describing them as addictive and responsible for heart-attacks. The negative coverage put a serious dent in Ruyan's sales, and to make matters worse, rival  e-cigarette companies sprung up around China and US. He claims they all sold copycats of his original design with only minor modifications, without paying him a dime for the patent. Throughout the years Hon and his company have filed lawsuits against multiple US e-cig manufacturers, and have managed to settle with some of them out of court, but were ultimately unable to prevent most from continuing to cash in on his invention. "If I received just one mao (US$0.02) from each cigarette sold, that would be a huge amount," he says.
The influential tobacco companies in China were also wary of the competition they faced in Hon Lik's innovative electronic cigarettes and used their powerful lobbying machine to convince the country's tobacco sales administration to limit advertising options and recommend shops stop selling his products.
Because of all the troubles his company has faced, Hon Lik says he is not the rich man everyone thinks he is. He is chief executive officer at Dragonite International though, and plans to finally reap some financial rewards for his invention by teaming up with European cigarette company Imperial Tobacco. According to recent reports Imperial Tobacco will pay $75 million for his e-cigarette patents, although it's uncertain how relevant they are anymore in an industry that is evolving at a very high pace.
Hon Lik's biggest fear right now is that governments around the world will classify electronic cigarettes as medical products and subjecting them to standards they were not designed to meet, thus limiting users' access to them and vital technological advancements. Hong Kong adopted this measure and e-cigarette sales there are very low, but Britain also plans to regulate e-cigs as medical products by 2016. Luckily for the rest of Europe, the EU Parliament recently rejected the medical regulation proposal in the new tobacco directive.
The inventor of the electronic cigarette hopes his product will one day replace the harmful tobacco cigarettes, and is confident that he will ultimately get the recognition he deserves. "My fame will follow the development of the e-cigarette industry. Maybe in 20 or 30 years I will be very famous," he says.