The vast majority of electronic cigarettes may be made in China, but the rights to sell them in Spain belong to whoever registers their design. One Chinese-born businessman now stands to get incredibly rich, after he registered almost all the models available on the market.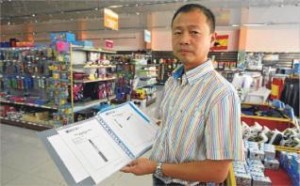 40-year-old Yi Hu Wang Ji came to Spain when he was only 10 years old, and is now one of the most successful businessmen in Valencia, with a network of 18 low-price shops. By most standards, Wang Ji can already be considered a wealthy man, but he stands to get even richer after he managed to take advantage of a very important detail in Spain's commercial law. Five ago, he imported about 100 containers full of children's scooters made in China, but soon received a visit from a fellow businessman who informed him that he had already registered the industrial design of the scooter and Ji couldn't sell a single one of them until he got his approval. The two didn't reach an agreement and Yi Hu Wang Ji ended up with thousands of scooters sealed up in the containers they came in. It was a significant financial loss, but the witty entrepreneur learned his lesson, and is now exploiting the same aspect of the Spanish law by registering every design of electronic cigarette sold on the market.
While most people thought they were just a passing boom, Yi Hu Wang Ji realized electronic cigarettes weren't going away anytime soon, and invested around €1.5 million ($2 million) in registering the designs of 137 different models, with 100 more pending. He now virtually controls the entire Spanish electronic cigarette market, and anyone wanting to sell the devices has to first go through him. He plans to register every new e-cigarette design they come  up with in China. The  businessman has already started sending out legal warnings to shops selling the products without his consent, and is now advertising himself in newspapers and on television as the king of electronic cigarettes.
Spain's electronic cigarette market is relatively new, and there are no official sales figures available, but with about 3,000 shops around the country selling e-cigs and more popping up every day, Wang Ji stands to become a very rich man. He hopes to build up and take advantage of this monopoly at least until big tobacco companies bring their own patented brands to the Spanish market, but experts believe he will have a tough time bringing his plan to fruition. A number of shops have already taken legal action against Yi Hu Wang Ji, in order to avoid paying him a fee for selling electronic cigarettes. Theoretically, Wang Ji is now the only person in the country with the right to commercialize the 137 e-cigarette models he holds registered patents for, and whoever else wants to do it has to strike a deal with him. His terms are clear: other sellers have to pay him 250 euros per shop, per month and sign annually renewable contracts. Ji says the conditions are negotiable.
It's kind of ironic how Hon Lik, the father of the modern e-cigarette, hasn't managed to cash in on the success of his invention, while this Spanish gentleman managed to do it so easily.
Photo: Levante – El Mercantil Valenciano
Source: The Guardian