A recent study on the levels of nicotine, nicotine degradation products and impurities in commercially available refill liquid for electronic cigarettes found that the nicotine content corresponded to the one specified on the bottle labels and that impurities were below the level where they would be likely to cause harm.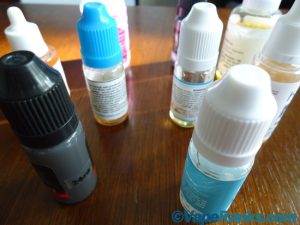 There has been a lot of speculation regarding e-liquid contents, and anti-nicotine campaigners have used the lack of scientific data as an argument in their war on electronic cigarettes. Luckily, a group of objective scientists has just released the results of their research into e-cigarette refill liquid. The study called Analysis of refill liquids for electronic cigarettes and published in the medical journal Addiction,  was conducted by Professor Jean Francois Etter in collaboration with Eva ZÄTHER and Sofie SVENSSON. Researchers analyzed 20 samples of e-liquid from 10 of the world's most popular e-liquid brands, trying to asses the nicotine content, nicotine degradation products, impurities and the presence of ethylene glycol and diethylene glycol. For those of you not familiar with these two chemical compounds, they are the two hazardous antifreeze ingredients that e-cigarette opposers have long claimed are used in e-liquid as well.According to the study abstract, gas and liquid chromatography were the measures used during testing.
"The quality of some brands was surprisingly good," said Professor Jean Francois Etter. "However, for some brands of e-liquids at least, the manufacturing process or control systems are probably below required standards for nicotine medications". Out of the 20 samples analyzed, 10 were deemed acceptable as medicinal products, while the other half contained up to five times the maximum amount of impurities specified for nicotine medications. The source of these impurities hasn't been established, but we can assume that: a) some producers are not using pure-grade nicotine for their e-liquid, either intentionally, to reduce costs, or unintentionally, being deceived by their suppliers; b) impurities are added during the manufacturing process, when the liquid comes in contact with various materials and flavors. Still, according to the study's official press release, it's worth noting that "if they are compared with tobacco, not with nicotine medications, the presence of impurities in e-liquids is less relevant, because even if e-liquids contained the level of impurities found in this study, 'vaping' (using e-cigarettes) would still be much less dangerous than smoking."
The e-cigarette study also mentions that the levels of nicotine in analyzed e-liquid samples correspond to those mentioned on the bottle labels, and that either ethylene glycol nor diethylene glycol were detected. As Dr. Konstantinos Farsalinos notes on his blog, this study has a series of limitations: "it does not give you any direct information about the results from use; it only gives you indirect evidence about the safety, based on theoretical knowledge or observations from other studies." It does however offer some useful insight into a subject widely ignored until now. It also raises some questions about manufacturing standards and control issues in the e-liquid industry.
Jean Francois Etter, a professor at the University of Geneva's medicine faculty, is one of the few respectable scientists who have conducted objective research into electronic cigarettes. He was also present at the EU workshop on e-cigarettes, where he said the science behind them was not fairly represented.
Source: Wiley Library via The Ashtray Blog