The rumors are true, ladies and gentlemen, electronic cigarettes CAN kill you! Famous Guns'n'Roses guitarist DJ Ashba recently revealed he went through a near-death experience after using e-cigarettes he bought from a mall in Poland. Don't forget, you heard it here first.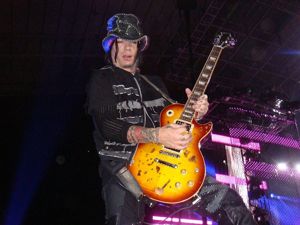 If the above sounds like a bad joke, the rest of this story is going to seem pretty crazy. So here's how it all played out. DJ Ashba, real name Darren Jay Ashba, posted a photo of him smoking a cigarette on Instagram, last Wednesday. A fan commented "I thought you quit the cigs, man?", to which the Guns'n'Roses guitarist replied: "I did quit for 9 months. However, I was smoking fake cigarettes that I bought in a mall in Poland which contained high doses of nicotine and antifreeze, which kills people." You hear that, people? Antifreeze in electronic cigarettes kills people, so be careful. Anyway, Ashba didn't stop there, he went on to tell an incredible story of how he almost lost his life to e-cigarettes. "Nobody knows this, but I was rushed to the hospital put on heart monitors and I had eight of the best doctors trying to save my life" the musician posted on Instagram. "Poison control confirmed that the nicotine intake that was going into my body from the fake cigarettes was equivalent to smoking 33 packs of cigarettes a day." What in the…? 33 packs a day from e-cigarettes?!? Did he use them virtually non-stop, or were the cartridges loaded with just pure nicotine? Sounds pretty incredible to me, but it gets better.
Ashba wrote that "After doing a full body CAT scan, the doctors were amazed that every organ in my body was in perfect condition. They advised me to start smoking real cigarettes because my body would go into shock if I just stop smoking, so now I can wean myself off of real cigarettes and hopefully quit for good this time." That's right, eight of the best doctors in the world advised him to go back to smoking tobacco cigarettes for a while so he could get better…I've never heard of anyone dying from nicotine withdrawal, but hey, I'm no doctor, what do I know? "We purposely kept this out of the press but that is the real story of why I am smoking right now," the rocker concluded his lengthy comment.
As I said, pretty far out stuff, and I would never have believed it, but there is actually a print-screen of DJ Ashba's Instagram comment, and you can see it for yourself here. After doing the rounds online it was picked up by various entertainment news sites, but so far there's been no confirmation of its veridity. I actually do hope it's fake, because otherwise DJ Ashba is talking pure nonsense or there are there are some really shady electronic cigarettes in Poland.
I'd say news like this makes it obvious why we need to have e-cigarettes banned, don't you agree? Sure, it's not the most reliable source, but come on, a man allegedly almost died using them. Someone alert Big Pharma and Big Tobacco, they have to get behind this!
Photo: Boyoli/Wikimedia Commons
Source: Blabbermouth