Cartomizers, or e-cigarette cartridges as some people still call them, are pretty cheap. In fact, one of the most selling points of most e-cig companies is that a single cartomizer is cheaper than a pack of analogs and lasts twice as long. Still, despite being advertised as disposable products, some people choose to clean and reuse their cartos.
Vaping forums are full of threads on whether cartomizers should be used more than once, and the community seems to be split in two on the subjects. Some vapers feel they are so cheap and easy to come by that it's just not worth the time and effort to try and clean them, while others have trouble simply throwing away something that still works great, just because getting new ones is so easy. I myself do clean my cartomizers once, after which I throw them away, but it is indeed a time-consuming process, so I can understand while not everybody is willing to do it.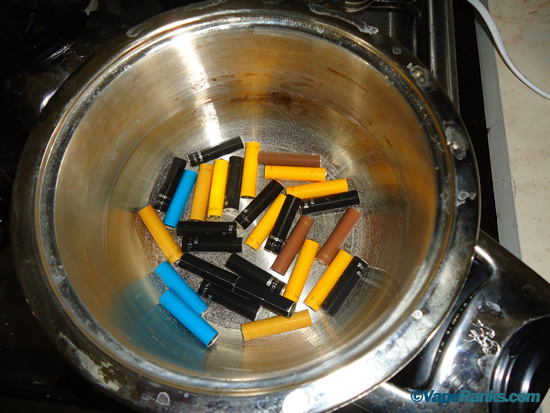 The vaping community has come up with a few ways of cleaning cartomizers, from simply letting tap water flow through them for a few minutes, to blowing hot water through them with a syringe and even boiling and drying them in the oven. There's really no best way to go about this, it's really a matter of what works for you. I personally prefer boiling my cartomizers. It really takes it's toll on the paper wrapping, and you have to repeat the process at least once, but I noticed it's the best way to get rid of that nasty gunk that builds up on the atomizer. I read using strong alcohol also does the trick, but I have yet to try that method.
Ok, so on to boiling the cartomizers. First thing I do is gather all my empty still-usable cartridges. Always remember, if you've already burned the filling of a cartomizer, cleaning it won't help one bit. You're never going to get rid of that burnt taste, so don't even waste your time on those, just toss them in the trash. After I've scoured my room for all the used cartos I can find, it's time for phase two – removing the plastic/rubber caps. You don't want to boil your cartridges with these caps still on, or you'll ruin them. Some cartomizers also have a rubber ring covering the polyfill, you'll want to remove those as well. Once you're done, head over to the kitchen.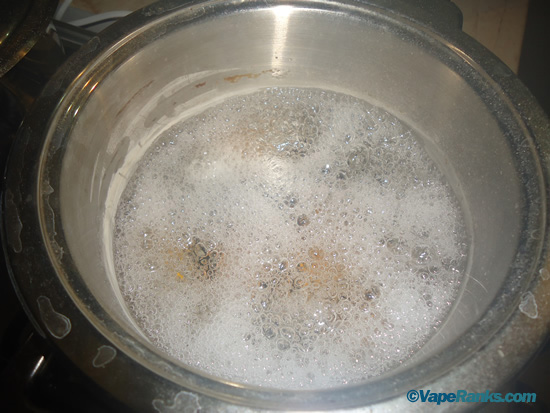 Next thing you want to do is find a pot (preferably one that you don't use for cooking), fill it with water, dump all your cartomizers in, and place it on the stove. Make sure you open a window before the water starts to boil. If you have a lot of cartridges that were filled with different flavors, once that gunk starts to dissolve, the smell can get pretty bad, and you also don't want to be inhaling those nicotine vapors. I usually let the cartomizers boil for at least 10 minutes, but other vapers recommend 5 minutes, to avoid damaging the filling and the metal coil. I, myself have never noticed any kind of damage to the cartos, except for the outer plastic foil and paper wrapping coming lose.
Once the 10 minutes are up, I dump all the water in the sink and rinse the cartomizers with cold water, for about 2 minutes. Then I put them back in the pot, fill up with water and boil them for another 10 minutes. If you can still sense some funny odors after the second boil, you can try boiling a third time, although that's pushing it a little bit. Two cycles have always been enough for me, but I've read a lot of reports about "funny tastes" from cleaned cartomizers, so there's really no guarantee you're cartos will be as good as new after this.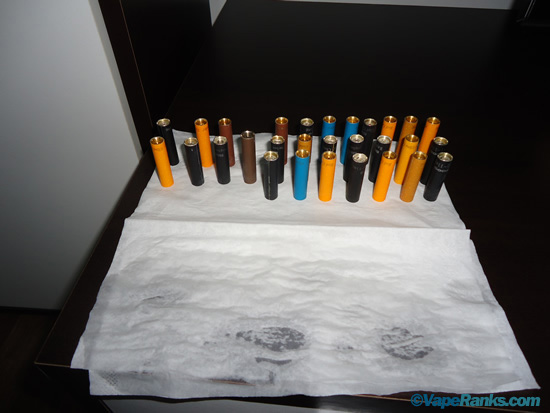 After you've boiled them a second time, it's time to rinse the cartos again, with clean water. As you can imagine, the inner filling is now soaked, and it would probably take forever for it to dry naturally. So to speed up the process, I try to eliminate as much as the excess water as possible, by blowing air through the battery end of the cartomizer. If you have dozens of cartomizers, blowing vigorously through each one can make you dizzy, so you can use something else, like a syringe or a baby nose sucker to flush the water out. After I've gone through all my cartomizers I set them upside-down on paper napkins, for a few minutes, and let gravity work its magic.
Some people will let the cartomizers sit for 12 hours before using them, but in my experience that's not enough. There's still going to be water in the filling and you're not going to get a very satisfying vape. Letting them sit for a longer period is an even worse idea, as mold can start to form inside the cartomizers, which can really cause serious damage to your lungs if inhaled. To make sure they're perfectly dry, I put mine in the stove for about an hour, at low temperature. After they've cooled off they're ready to be used.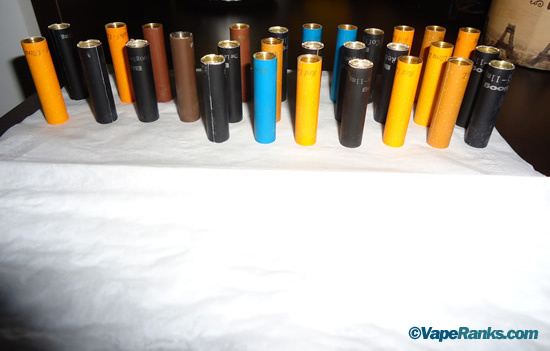 Cleaning cartomizers is not for everyone, regardless of the method used. I get a satisfying vape using cleaned cartos, but not everyone feels the same way. If you don't like the tought of throwing away working cartomizers, you can give it a go for yourself and see if you're satisfied with the results.