A scientific study recently published in the New England Journal of Medicine warns that electronic cigarette vapor contains high levels of formaldehyde, a known carcinogen also found in cigarette smoke.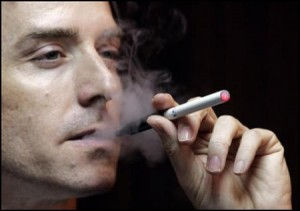 What's even more alarming is that the authors of this research claim the levels of formaldehyde were up to 15 times higher than from smoking cigarettes. "We are not saying e-cigarettes are more hazardous than cigarettes," co-author James F. Pankow, professor of chemistry and engineering at Portland State University in Oregon, told NBC News. "We are only looking at one chemical." But that is certainly the idea one gets when reading their findings, especially considering we are talking about a substance classified as carcinogenic by the FDA. So who could blame an uninformed vaper from fearing the worst and simply going back to smoking, thinking it is less dangerous, if only from the perspective of this one chemical?
Only there is more to this story than the authors and mainstream media want you to know. Dr. Konstantinos Farsalinos, a cardiologist and researcher at the Onassis Cardiac Surgery Center in Athens, Greece did some digging shortly after this study was published and made some interesting findings. It turns out that at low voltage (3.3 volts), formaldehyde was not detected, while at a high voltage setting (5.5 volts), they found high levels of the substance. Although the device and accessories used during this study were undisclosed by its authors, with the help of the online vaping community, Dr. Farsalinos learned that they used a top-coil CE4 atomizer and an Innokin VV V3.0 battery. It turns out that the atomizer had a resistance of 2.1 ohms, which means that at 3.3 volts, the energy delivery was around 5.5 watts, while at 5 volts it was a whopping 12 watts.
"It is more than obvious that the findings of very high levels of formaldehyde are a result of overheating," Dr. Farsalinos wrote on his website. "Lack of experience on e-cigarettes and no contact with vapers can result in such erroneous and unrealistic results, which can create confusion and misinformation both in the scientific community and among users and potential users of e-cigarettes."
Dr. Farsalinos compared the incorrectly done study with charring a piece of meat, detecting high levels of carcinogens and concluding that people who eat meat have a high chance of developing cancer. There is absolutely no doubt that there will be high levels of carcinogens in charred meat, but no one actually consumes it under these conditions, which renders the health warning invalid.
Vaping at high voltages with low resistance atomizers like the one used by researchers at Portland State University will almost certainly damage or burn the coil and overheat the e-liquid to a point where no vaper could tolerate more than one puff. But they couldn't possibly have known that since the experiment wasn't conducted in realistic conditions. "We simulated vaping by drawing the vapor — the aerosol — into a syringe, sort of simulating the lungs," David Peyton, a chemistry professor at PSU, told NPR. Then they just proceeded to analyze the contents of the vapor, unaware that it was not what vapers usually inhale.
But while the analysis of the high-voltage vapor was invalid, the low-voltage one was not, and Peyton acknowledges that they found no formaldehyde when the e-cigarettes were set at low levels. However, he is convinced a lot of people actually use the high settings on their vaporizers. "As I walk around town and look at people using these electronic cigarette devices it's not difficult to tell what sort of setting they're using, You can see how much of the aerosol they're blowing out. It's not small amounts. It's pretty clear to me that at least some of the users are using the high levels."
His suspicion is indeed confirmed by industry statistics that show more and more vapers are using second generation vaporizers that provide more battery life and vapor production. That, however, does not mean they inhale the poison professors Pankow and Peyton analyzed. Considering the settings and accessories that were used during their research, more than a mouthful of vapor would be unbearable for anyone, due to the known "dry puff" effect. The taste of the burned e-liquid is so unpleasant no one would take another draw. Using a high resistance atomizer lowers the wattage considerably, while producing the impressive plumes of vapor Prof. Peyton claims to have seen.
Unfortunately, the clarification provided by Dr. Konstantinos Farsalinos came too late. The media quickly picked up the findings of the study and, in familiar fashion, used alarmist titles to make matters even worse. I have no doubt that many casual and newbie vapers who read such articles have returned to smoking convinced that vaping is no better for their health.